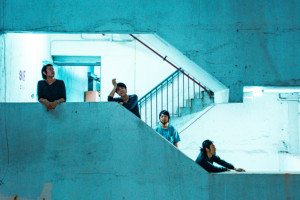 Leaf (bass), Jay (guitar), Frank (keyboard) and Travis (drum) from Life Was All Silence
Without following certain algorithms or trends for post-rock music, Life Was All Silence build a darkly lustrous and beautifully mystical soundscape to pacify troubled souls
There are always a number of underground gigs happening in Hong Kong, from Brooklyn daydreamers Beach Fossils to local shoegazers Thud, while local music festival The Week Hong Kong will return for its second edition from 15 April to 21 April at seven locations across Hong Kong. One of the most-anticipated post-rock headliners – Life Was All Silence – is known for their unhinged, complex and at times wonderfully serene tunes. We interviewed Leaf (bass), Frank (keyboard), Travis (drum) and Jay (guitar) from the band ahead of their performance on 19 April at Dummers' Ark to see what they have been exploring, both spiritually and musically, since releasing their acclaimed debut album The People in late 2014.
An interview with Hong Kong post-rock band Life Was All Silence
Hi, guys. Thanks for chatting with us. Firstly, where did the name Life Was All Silence come from?
Leaf: At first it was only Travis and I, and we were figuring out how to name the band. I was reading a manifesto by Luigi Russolo called The Art of Noises at the time, and I got really intrigued by the first line: "Ancient life was all silence". The article is basically about noise machines and how life was undisturbed and quiet in the past. I found this picture and the whole idea really appealing, that's why we adopted it. We left out "ancient" because it would probably be too lengthy for a band's name.
It's been four years since your debut album The People, how is life? What have you guys been doing or experimenting with the past few years?
Travis: I think we've all become more mature in the past few years. While teaching drum lessons full-time, I've also looked more into spirituality and meditation. Frank has become a father, Leaf got into pottery making and Jay does a lot of mixing and mastering for a number of bands, such as GDJYB, Emptybottles. and David Boring. The four of us, we don't really have a target saying when to release new stuff as we are quite a spontaneous bunch. Even though we've not been spending a massive amount of time on purely music making since our debut and a lot of touring, we've invested more time and energy in other parts of our lives.
So two of you guys now have just built a family, Frank has a child and Travis' wife is expecting, how is everything going with that?
T: Frank, if you have any complaints about your wife and family, this is your chance (laughs).
Frank: Everything is fine (laughs). Time management is really important when it comes to taking care of a baby. Even though I'm the youngest person here, it's funny how I have a family now. One time I tried to write a song about my son, but it didn't come through.
L: It's because we can't make happy music. We've tried plenty of times. Every one of us would insist that we could make it this time, and then we always failed.
T: I think I've grown a lot spiritually (but not religiously-speaking), that's why I've decided to have a child. I'm not as cynical and stubborn when it comes to outrage and despair towards the society as I used to be. I feel like there is still hope in terms of education. And I've become calmer and stronger mentally because of meditation. I mean, I still curse a lot and drink a lot, but you don't have to be a saint to do meditation. It does allow me to perceive things differently, and I become more aware of the possibilities in life.
Your recent performance at Föllakzoid's gig definitely shows a change in musical style. It seems calmer and more atmospheric whereas it used to be more explosive. What has changed exactly?
T: You could hear an obvious difference in our latest music because the new material is indeed a reflection of our matured selves.
Jay: I don't think we deliberately try to tone it down. One of our new songs is called Lie Is An Abstraction, that one is quite fierce. I think when it comes to defining the term "explosive", it doesn't necessarily mean that we have to be loud or we have to exude a type of rage. It is probably still confrontational, just in a less in-your-face kind of way.
T: There are many facets when it comes to human emotions and it's hard to convey that using just one type of sound. Music is just as multi-dimensional as human beings. That's why I think music really opens to variation across genres, there are no rules.
You guys have explained that there is storytelling in most of Life Was All Silence's music because it's always an interesting form of self-expression. Can you share with us some of the stories then?
L: I definitely need a good story backbone to figure out how to play the music well. One of our new songs, Be Given, is about a person from an undeveloped land having an exchange with an extraterrestrial, and how this unknown being sheds light on the human about past and future and all the mysteries in the world. There is a progression in the three movements of the song, documenting how their lives cross path and the way it has affected their thinking. And our old song Damascus is about warfare, nuclear weapon and the killing of innocent people. There are certainly quite a bit of repressed anger and disappointment in it.
How do you guys work together and come up with new ideas?
T: It's a lot of experimenting. Sometimes we just keep trying and experimenting, and end up never completing anything (laughs).
L: We have many ideas on our own, we share it and sometimes we get it done quickly. There are also times that we know that one of our members probably won't play this melody because we know each other so well, and then it's like nope on that. Or maybe one of us has a brief idea, and the rest of us will just get creative and conceive the rest of song together.
A lot of the songs you guys make are ten to twenty minutes long, which is pretty common for so-called post-rock music. At which point would you guys decide that the song has the exact right length and that it doesn't have to be longer or shorter?
F: I don't think we've put much thought onto the length. There are many phases in a song. While some people enjoy breaking them down and making them into different tracks, we just like to put them together as one whole piece.
J: We don't just label ourselves as a post-rock group, there are also some jazz and psychedelic influence. And sometimes we incorporate more percussion or ambience elements in our music. I guess we're trying to create a piece rather than just a song, and the length varies on its own depending on how we want to deliver the story.
What bands or artists do you guys personally like listening to?
F: Lately I really enjoy listening to this Chinese folk singer Di Ma, and also Marshmello.
L: I've always been a big fan of Godspeed You! Black Emperor. I love watching their live sessions. They are so unpredictable, slightly bizarre and really great. I also like listening to contemporary jazz.
J: Two of my all-time favourites are Japanese composer Ryuichi Sakamoto and German musician Alva Noto. They have really cool collaboration and the album The Revenant is my top pick.
T: I've been listening to a lot of jazz, African music, electronic and some frequency music, such as lambdoma.
J: Make sure to remember our new image (laughs)!
L: I think for those who haven't seen us play for a while, which is probably most people because we've only been doing a few tiny shows in our band room lately, they might be quite surprised by how much our sound has changed.
L: People should definitely catch the metal band Massacre of Mothman too. Shoutout to them! They are awesome.
Life was All Silence at The Week Hong Kong, Dummers' Ark, 8 Ng Fong Street, San Po Kong, Hong Kong, p. 2325 3528, 新蒲崗五芳街8號
Want to discover more new music? Learn more about the loudest band in New York A Place to Bury Strangers, listen to Chrissybaby Forever by singer-songwriter Christopher Owens or check out one of our favourite electronic acts Mount Kimbie.