Omakase Nigiri Platter – for you to go ham on fish
You think the red carpet welcoming at The Aubrey is the height of luxury? Wait till you're tickled pink with the amiable service and staff, enchanting interiors, and authentic Japanese cuisine.
There are bountiful ways to experience the heritage of a culture. One may wander to historic buildings left frozen in time, visit museums to marvel at the artifacts, or even explore the at-times obscure superstitions that have been passed down generations. Mandarin Oritental's latest addition – in partnership with Maximal Concepts, The Aubrey presents features from the Japonisme era. Japonisme refers to Japan's cultural influence in Western Europe. At The Aubrey, Japan's heritage is celebrated with the authentic culinary scene matched with paintings inspired by various artists.
We review The Aubrey
The story behind the name
The restaurant gets its name from Aubrey Vincent Beardsley, who was a 19th-century illustrator and author, and a prominent figure in Japonisme. Japanese woodcuts inspired his work and he often portrayed a more grotesque and erotic style of art. Seeing some erotic art around The Aubrey should come as no surprise.
An interior design enthusiast's heaven 
The layout of the restaurant is designed in a way that's supposed to portray a European art collector's home – one set in Europe during Japonisme. The luxe decor with its plush chairs provides cosy corners where your privacy goes uninterrupted. Upon entering the restaurant with its gorgeous red-carpet welcoming, you can seize your chance to grab your drinks at the main bar and then lounge at the drawing room.
The walls are carefully filled with well-selected pieces of art, often met with hanging preserved green plants. While most rooftop restaurants would decide to show-off the harbour views, The Aubrey has decided to go unconventional – the windows have thick frames, blocking much of the view and they all have curtains with bird prints, giving a truly homey feel. Besides, with the attention to detail from decor to food, you wouldn't even be tempted to look out the window.
#foodporn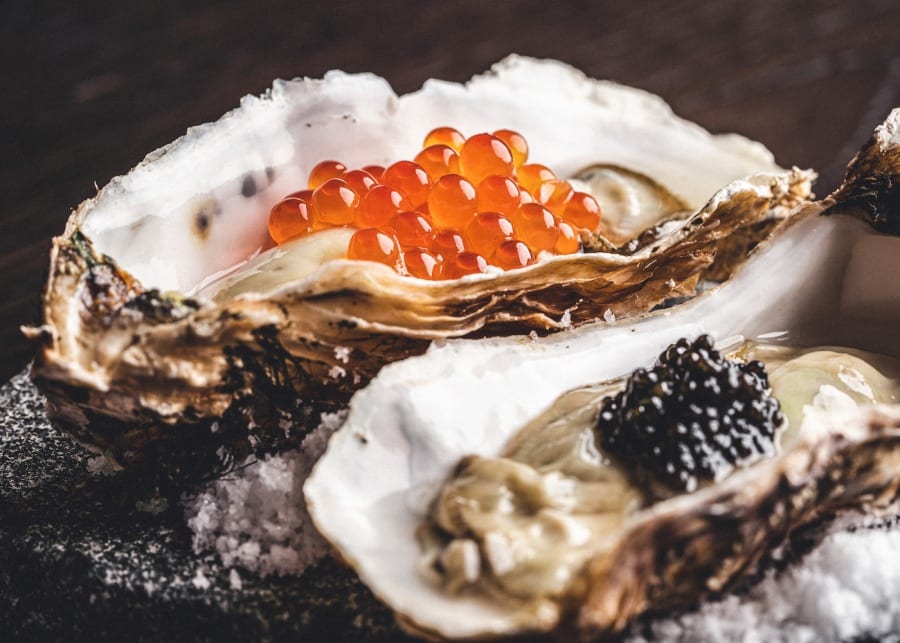 What we love about the ingredients is that they're sustainably sourced from small farms. The dishes remain true to their nature (no fusion experiments here if that's what you're looking for) and the unique flavours will keep your taste buds excited. We had the Omakase Nigiri Platter that delivers precisely cut seafood, served with soy sauce for some added flavour – and we'd happily have another plate of this platter to please our palate (again).
If you have a soft side for seafood, surely Japanese cuisine will not disappoint you. Every dish is a stand-alone for unique flavour and no one dish overpowers the other, they all compliment each other well. The Scallop Jelly is one way to start your feast – it's light and in all honesty, we don't recall having scallop carefully nestled in jelly-form elsewhere.
The appetizers and main courses served at The Aubrey are delicious to say the least, but a meal is not complete without dessert. Even if you feel like you've eaten up a storm, the dishes have a healthy twist that does not make one dwell into a food coma. When your dessert stomach is calling, you can opt for the white miso souffle, green tea and lemon donuts, monaka filled with red bean, or Hokkaido milk ice cream.
Chess inspired cocktails
We're keen on showing love to mixologists – curating cocktails is an artform. At The Aubrey, we were served chess-inspired cocktails (amongst others) from the hands of Devender Sehgal – chess has close ties to his Indian heritage. The names of the cocktails come from chess pieces and chess moves – we have the fruity, citrus drinks – Queen's Gimlet, The First Move, and Archer's Rokh. Perhaps, these names are familiar to you after binging The Queen's Gambit?
The Aubrey is the place to be for your next anniversary date, birthday get-together, or even if you just want good food with a unique surrounding at The Mando. We'll be back in our finest in no time.
The Aubrey, 25/F, Mandarin Oriental, 5 Connaught Road, Central, Hong Kong, p. 2825 4001