Let's work together to be more conscious! (Photography: fauxels via Pexels)
Make a difference by patronising these cafes, markets, and stores to champion the causes supported by social enterprises in Hong Kong.
As a fast-paced city packed with start-ups and entrepreneurs, like Womb and The Slow Mode, the number of social enterprises in Hong Kong is on the rise and we couldn't be happier about it. From delicious food and tailor-made clothes, to healthy farm-to-table and organic produce, check out our round up of social enterprises in Hong Kong to support everyone from the elderly, to the hearing-impaired, and mental health patients.
Social enterprises in Hong Kong
1. Cafe 8
Located on the rooftop of Pier 8, Cafe 8 is a social enterprise founded by The Nesbitt Centre in a unique collaboration with the Hong Kong Maritime Museum. The cosy cafe was created to provide a vocational training programme and employment opportunities for their students with learning disabilities, as well as those from other local NGOs and organisations.
This hidden gem offers a delicious menu packed with everything from salads and pastries to quiches, sandwiches, and pies. If you wish to eat your lunch outdoors, the viewing deck located outside the cafe offers stunning harbour views. With friendly service, free Wi-Fi, and even wine and beers, what more could you ask for?
Cafe 8, Roof, Hong Kong Maritime Museum, Central Ferry Pier 8, Central, Hong Kong, p. 3791 2158
2. Happy Veggies
Whether you're a vegetarian or not, this non-profit social enterprise is definitely worth keeping on your radar. With an aim to promote a healthy and environmentally-friendly food culture, Happy Veggies offers an array of delicious yet well-priced dishes that stand by five principles – less salt, sugar, oil, no MSG, nor processed ingredients.
What's more, Happy Veggies actively recruits the elderly and the hearing-impaired to provide employment opportunities and to promote self-reliance and integration into the community. This is one of our favourite social enterprises in Hong Kong.
Happy Veggies, Yuen Yeun Institute, Sam Dip Tam, Tsuen Wan, Hong Kong, p. 2490 9882
3. The Nest Coffee Shop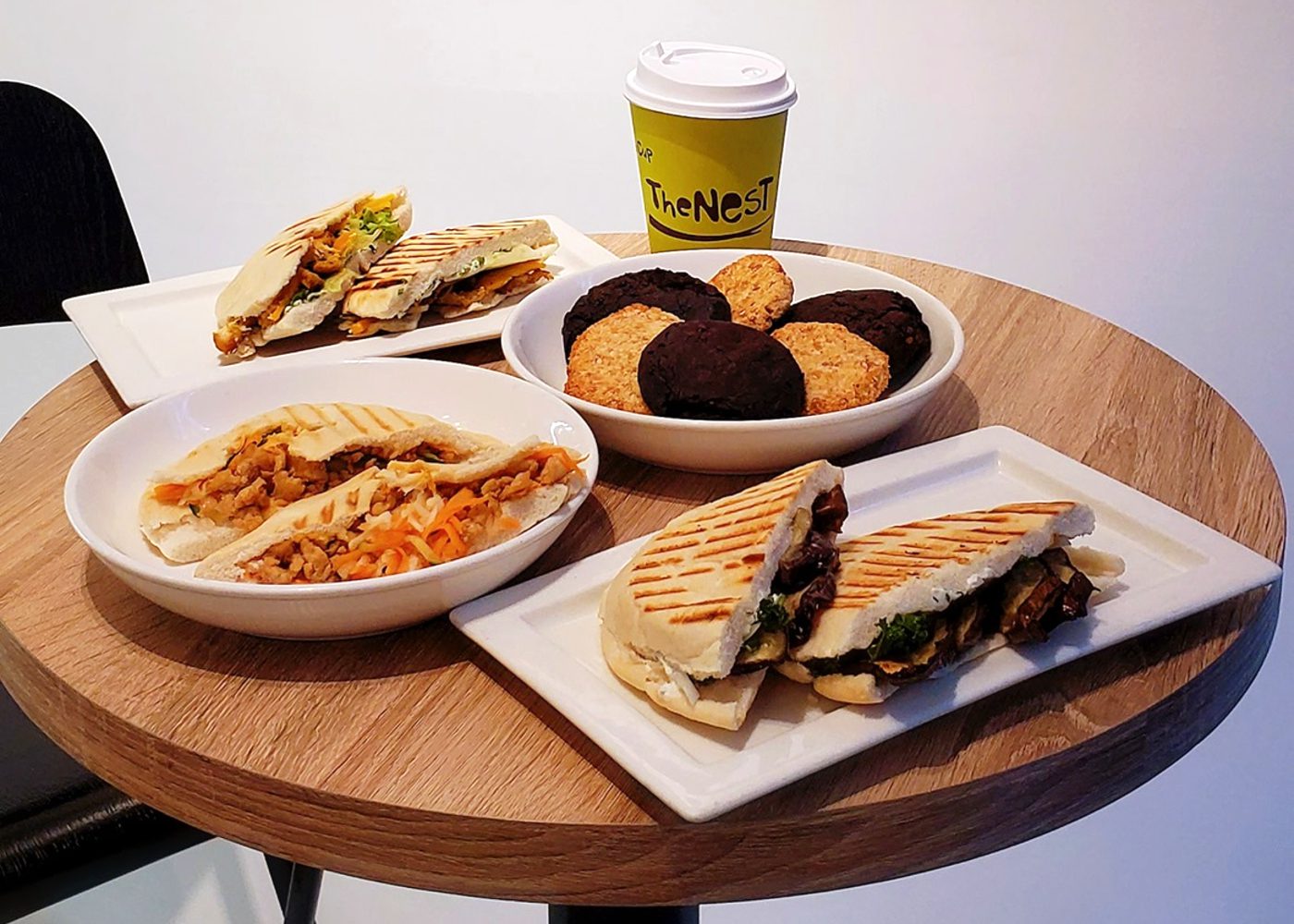 The Nest Coffee Shop is a great place to relax with a cuppa in hand. It's founded by The Nesbitt Centre (yep, the same as Cafe 8), which provides an English educational programme to support adults with learning difficulties. With the support of Operation Santa Claus, Uncle Russ Coffee, Pacific Coffee, and other local businesses, students participate in customer service and barista training programmes before helping out at The Nest on a part-time basis.
Open seven days a week, customers can enjoy a selection of hot and cold drinks alongside delicious pastries and snacks provided by locally sourced Eat My Cakes, Classified, and more. Satisfy your coffee (and cake!) craving at The Nest, all while supporting the community. What's not to love?
The Nest Coffee Shop has locations in Tsim Sha Tsui and Central.
4. Bonham Strand
If you're on the look out for social enterprises in Hong Kong that work in the fashion arena, then Bonham Strand has you covered. Popular for its quality bespoke apparel for both men and women, the award-winning tailor shop offers a wide range of the finest Italian and English fabrics that are the comfortable, durable, and stylish.
Each custom-fit suit, shirt, or outfit is crafted by master tailors who are not only committed to continuing the traditional style of Hong Kong tailoring, but also sharing their skills with youth-at-risk and physical rehabilitation patients from Caritas and CFSC. Each apprentice is taught how to make neckties and bow ties as they build their confidence and skill-set in garment manufacturing – a great way to kick-start a career in suit-making.
Bonham Strand, Suite B and C, 2/F, On Lok Mansion, 39-43 Hollywood Road, Central, Hong Kong, p. 2811 4768
5. Farmfresh330
Farmfresh330 is a chain of healthy living shops that provide organic vegetables, organic meat, and healthy, eco-friendly products. This social enterprise is run by New Life Psychiatric Rehabilitation Association, which provides a range of community-based rehabilitation services for people in recovery of mental illness. The produce sold at Farmfresh330 (and the affiliated Cafe330) are grown by students at The New Life Farm, without the use of chemical fertilisers or pesticides. Above all, as the only agricultural sheltered workshop in Hong Kong, Farmfresh330 not contributes to creating an ecologically balanced environment.
Farmfresh330 (農社330) has various locations across Hong Kong.
6. Gingko House
Established in 2003, Gingko House is a non-profit organisation that aims to provide top-tier cuisine with the help of chefs who've had previous experience working in five-star restaurants. In addition to offering a wealth of delicious Chinese and classic Hong Kong-style food with the use of organic vegetables grown by the restaurant itself, the social enterprise also promotes senior employment in the hopes of relieving pensioners' depression, and giving them a pleasant working life post-retirement. Now having expanded to include farms, cafes, and catering services, Gingko House has several branches across Hong Kong, so that you have plenty of opportunities to help out.
Gingko House (銀杏館) has multiple locations across Hong Kong.
7. Cookie Smiles
Do you like cookies? We do! And there's nothing better than delicious cookies that also make a positive impact on society. Established by the Edible Artists Global Academy Association (EAGAA) in 2020, Cookie Smiles is a local social enterprise that raises funds for different charities by handcrafting and selling a great selection of cookies, including strawberry snaps with strawberry drizzle, Purviz's chocolate crunch, and even treats for dogs. The platform also offers training for disadvantaged communities and provides job opportunities for the physically impaired.
Cookie Smiles, 3/F, On Lan Centre, 11-15 On Lan Street, Central, Hong Kong, p. 9315 0077
8. La Parole
La Parole might be the classiest social enterprise restaurant you'll find in Hong Kong. Using traditional recipes and the finest ingredients, this French restaurant aims to deliver a premium fine dining experience at an affordable price. Apart from the operating expenses, all income at La Parole is given to Benji's Centre, a non-profit voluntary organisation that offers speech therapy services to disadvantaged children in Hong Kong. If French cuisine isn't your cup of tea, head up to the seventh floor of the same building and try the premium Japanese dishes at Shou Zen, which is also run by Confiserie Benji Limited – the same social enterprise as La Parole.
La Parole, 3/F, The Pemberton, 22-26 Bonham Strand, Sheung Wan, Hong Kong, p. 2436 4099
9. iBakery
Born in 2010, iBakery has been baking up a storm under the Tung Wah Group of Hospitals. iBakery employs and trains individuals with disabilities to whip up delicious baked goods to help feed Hong Kong. This social enterprise operates a baking factory, cookie shops, restaurants, and snack kiosks. Stop by a bakery for madeleines, or one of the restaurants for an inviting meal made with social consciousness and care.
iBakery has various locations across Hong Kong.