Achieving an oil-free scalp is a breeze with these dry shampoo brands (Photography: @curology via Unsplash)
Braving Hong Kong's humid weather means putting up with bad hair days when your hair won't cooperate. These dry shampoo brands make our lives SO much easier and make styling less of a hassle.
Beating Hong Kong's heat doesn't just mean loading on sunscreen and flaunting your swimwear. Our humid (af!) summer means more sweat but washing your hair too frequently can strip away natural oils. When there's a little too much oil on your scalp, these dry shampoo brands in Hong Kong come in handy.
Best dry shampoo brands to shop in Hong Kong
1. OUAI
There are different formulas in OUAI's range of dry shampoos. Their foam spray got widespread attention as people weren't used to applying a colourless liquid on their scalp as a dry shampoo (but it works wonders!). Alternatively, you can shop their Super Dry Shampoo (the name says it all) or the Texturised Hair Spray that doubles as a dry shampoo. All these products are parabens-free, oil-free, and sulphate-free but they may be one the pricier side.
Shop OUAI on Sephora.
2. Living Proof
This one's for those that want to debate if dry shampoo cleans your hair or not. Living Proof's dry shampoo formula eliminates sweat, odour, and oil and actually cleanses your hair leaving it feeling fresh and ready to style. Extra points for the new advanced formula that adds softness and shine to your hair. The products are cruelty-free and also free from any nasties, only good stuff worth getting on your shelf!
Shop Living Proof on Sephora or shampoo.hk.
3. Briogeo
A charcoal-based dry shampoo that contains biotin for healthy hair? Yes, please! Briogeo's Scalp Revival Dry Shampoo detoxifies, cleanses and balances the scalp for optimal scalp health. It uses 98% naturally-derived ingredients – including clay, tapioca, and rice starches – to absorb excess oil from the roots. You'd definitely want to add a bottle of this to your cart if haircare is your priority. Bonus: also free from nasties.
Shop Briogeo on Net-A-Porter or Sephora.
4. LUSH
You can trust LUSH for a fab formula with a fresh fragrance. The No Drought Dry Shampoo infuses lime oil and grapefruit oil with cornstarch and talc. It leaves your hair feeling thicker, fresher and more toned with a matte finish. Massage the powder into your scalp and through the hair, then brush out and voila! This product is cruelty-free and paraben-free.
LUSH has multiple locations in Hong Kong.

5. Supergoop!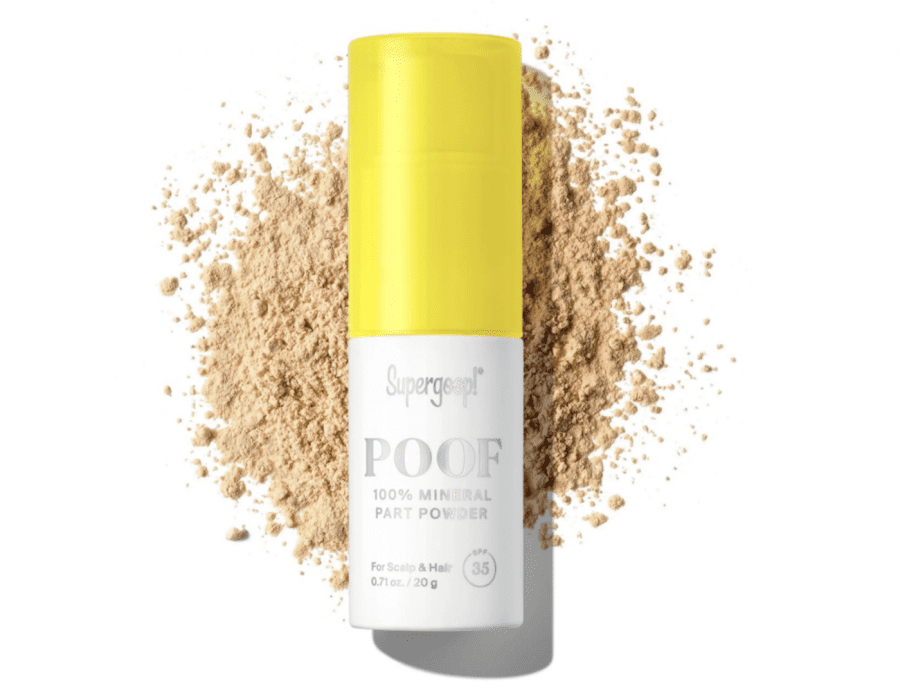 Though this dry shampoo may be a little heavy on your wallet, it's worth the big bucks. Given Hong Kong's heat and junk season in summer, we often forget the importance of keeping your scalp sunburn-free. Supergoop's Poof Part Hair Scalp Powder a mineral-based spray with SPF leaving hair full, voluminous, and wavy. Y'know, to get them beach waves before heading to the beach.
Shop Supergoop! On Sephora.
6. MoroccanOil
Introducing the first ever dry shampoo that comes in two different tones; dark and light, to best suit your hair colour and enhance your tones. It's beautifully fragranced, it's almost as if you shampooed your hair! It's reasonably priced and the argan-oil infused formula leaves hair healthy, shiny, and non-sticky.
Shop MoroccanOil at T Galleria.
7. Acure
If you're looking for quality dry shampoo at an affordable price, look no further – Acure is a well-known brand that comes in different fragrances and ingredients according to your hair needs. This powder-based dry shampoo is paraben-free, cruelty-free, and vegan (plus the packaging is recyclable!).
Shop Acure on iHerb.
8. Cornstarch
You know that sudden panic when you realise your dry shampoo has finished and you need to be out the door soon? We've been there! Desperate times call for desperate measures (that actually work!). Mix two tablespoons of cornstarch with two tablespoons of either cinnamon or cocoa powder – mixing some essential oils is optional – and give it a nice stir. Massage the mixture on your scalp and brush through and you're good to go!
Where to find cornstarch? Dig inside your kitchen cupboards.