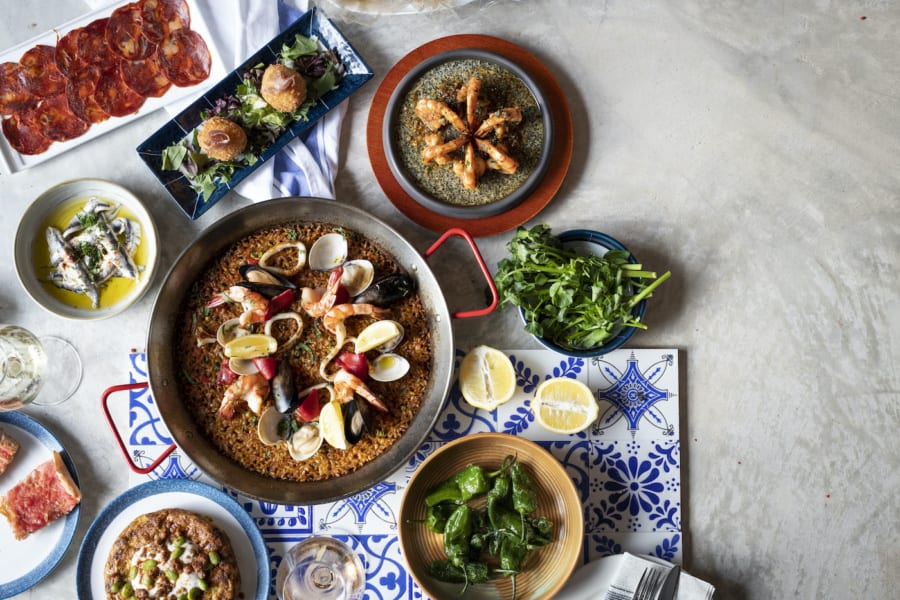 Enjoy an array of heart-warming Spanish dishes at Pastis Tapas
If you want to take your taste buds from Basque cuisine to Barcelona, Pastis Tapas is the right place.
We are always up for trying something new in the food world. We love the passionate chef at Aria, the refreshing concept at Soil to Soul, and the stunning views at Ye Shanghai. If you are someone who loves cosy family-style restaurants, you need to check out Pastis Tapas at Tseung Kwan O Waterfront.
Tell me about the restaurant vibe…
Nine minutes away from Popcorn, Pastis Tapas has a stunning harbour view and an enjoyable sea breeze, thanks to its great location at TKO Waterfront Park. With the huge Waterfront Pet Garden, the vibrant Monterey Place and brand new real estates nearby, Pastis Tapas has got all the qualities to be a great neighbourhood hangout. When we first entered the restaurant, we noticed the classy blue-and-white tiles as well as the rustic furniture. Even before we started eating, we were completely immersed in the restaurant's ambience.
The food ordering process
Before we jump into the food, let's give Pastis Tapas a round of applause for being so considerate— their menu comes with a QR code where you can quickly glance at the photos of each item. As someone who always gets confused by fancy Spanish words, we love how Pastis Tapas makes life easy for non-Spanish speakers. With the help of the images, English descriptions and Chinese translation, we were able to swiftly decide our order.
How's the food?
Whether you fancy appetisers like Croqueta de Trufa (truffle croquette; $98) and 30-month Iberico Bellota ($160); or filling mains like Tortilla De Patatas Con Cebolla Chorizo (Spanish Omelette with Chorizo & Onions; $128) and Almejas en Papillote (clams with white wine garlic and parsley; $118), they are all made with sharing in mind.
Although we enjoyed all the food we ordered, we can't emphasize enough how amazing the Crispy Suckling Pig was. Unlike some other restaurants, Pastis Tapas' suckling pig has delicate skin and you can literally hear the crisp on your first bite without using much jaw power. The meat was exceptionally tender and unleashed the aroma of lard oil from afar. The piquillo peppers and watercress that came along acted as perfect neutralisers for the fatty meat, minimising the greasiness and adding a little freshness.
Another notable highlight was Croqueta de Trufa, the fried truffle cheese balls. Let's say this dish is a level-up version of mozzarella cheese sticks. The earthy Padron Peppers are great to nibble on too.
How's the dessert?
When it comes to Spanish desserts, how can you miss out on the almighty churro? As churros lovers, we're happy that Pastis Tapas didn't disappoint us. When the churros were served, they were so hot that we couldn't pick them up by hand. After waiting for a bit, we dipped the cinnamon sugar-coated churros into the rich chocolate sauce. How were they? Heavenly, crispy and addictive.
Overall experience
Pastis Tapas is a relaxing neighbourhood hangout that provides great value for the money. Surely you will have a great time gathering with friends and family accompanied by the soothing natural light and chill atmosphere. If you want to take your taste buds from Basque cuisine to Barcelona, Pastis Tapas is the right place.
Pastis Tapas, GO5, No. 23 Tong Chun Street, Tseung Kwan O, Hong Kong, p. 6277 2293