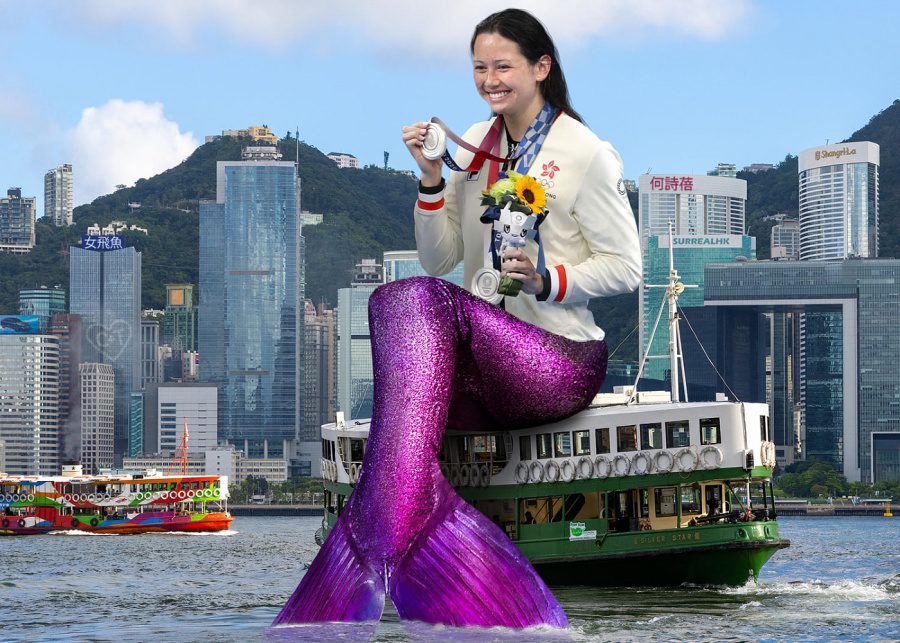 Photographer and digital artist Tommy Fung (@surrealhk) dedicated this piece to HK swimmer Siobhan Haughey in honour of her second silver medal at the Tokyo Olympics. (Image: Surrealhk via Facebook)
What's the similarity between winning Olympic medals and becoming a meme? Well, both make you legends – though one more than the other, of course!
The whole of Hong Kong has been rejoicing in the epic wins of fencer Cheung Ka-long and swimmer Siobhan Haughey in the Tokyo Olympics. As it is the first time the city has won more than one medal in the Olympics, these victories are momentous in the sports history of Hong Kong. But, going beyond personal successes, this occasion has also sparked a sense of belonging within the Hong Kong community. And what better way to celebrate than to enjoy some quirky Olympics memes together? As we've seen some quality ones on our feed, we're here to share some relatable captions, adult humour, cute memes, and plenty of good vibes.
Our favourite Hong Kong Olympics memes
1. Siobhan the mermaid – Tommy Fung (@surrealhk)
Comparing Siobhan Haughey to a mermaid means more than complimenting her swimming abilities. The Chinese word for mermaid (美人魚) can be literally translated as 'beauty fish', denoting a beautiful woman with the body of a fish. So this is a compliment towards Siobhan's good looks, too. And come on, who wouldn't want to sit on top of a ferry, totally owning it with a fancy, glittery tail?
See more works by Tommy Fung (@surrealhk) on Facebook and Instagram.
2. Cheung Ka-long surrounded – Hong Kong Memes (@hkmehmeh) and Crazy Management Consultants (@crazymgmtconsultants)
We know we weren't the only ones having our feed spammed by fangirls and fanboys of Cheung Ka-long that fateful evening, when the sportsman won the gold medal for men's individual foil fencing event. Where on earth did all these fans come from?! Although, okay, we admit that we're one of those Monday morning quarterbacks, too…
BTW, the format of this Olympics meme should be familiar to the meme queens (and kings) amongst you, but here's a bit more context to it in case you want to know more. Psst – it's a little NSFW!
Follow Hong Kong Memes (@hkmehmeh) on Instagram for more laughs.
3. Chalky the fencing(?) champion – Chalky (@chalky0528)
We simply can't resist this adorable French bulldog. Diagnosed with glioblastoma (a form of brain cancer), Chalky is a brave fighter and certainly a champion in the eyes of his family and fans (us included!). As we cheer on the athletes, let's shower Chalky with lots of love too for his strength and, of course, for the clever cosplay.
Follow Chalky on Facebook and Instagram for more wholesome content.
4. When Hong Kong parents find out about the fencing gold medal – J Lou (@jlouofficial)
Are you a victim of tiger parents? Or – God forbid – are you a tiger parent yourself?! Anyhow, if you grew up in a notoriously competitive city, like Hong Kong, you'd most likely find this video pretty relatable. And this is why the video is one of our fave Olympics memes on the list.
Subscribe to J Lou on YouTube for hilarious skits and crazy (funny) antics.
5. Daily struggle: Cheung Ka-long VS Mirror – Hong Kong Memes (香港廢佬) (@memes.hk)
Even if you can't read Chinese (the two characters on the meme literally means 'boy god', BTW), this meme shouldn't be too hard to grasp. Ever since Cheung Ka-long has won the gold medal, his popularity has skyrocketed. According to Socialblade, his followers on Instagram increased by more than 30 times within 72 hours after his Olympic victory. Since Ka-long is known as the sportsman version of local popstar 193 (Denis Kwok from boyband Error)—due to them sharing the same height of 193 centimetres—fans must be having a hard time choosing between the two!
Follow Hong Kong Memes (香港廢佬) on Instagram for more memes about the 852.
6. Smycka artificial gladiolus – Ikea Hong Kong (@ikeahongkong)
Whoever was managing Ikea Hong Kong's Instagram account on the day of Cheung Ka-long's win deserves a raise, because boy were they the pioneer of the wave of Olympics memes and related discounts in Hong Kong. Posted within an hour after the triumphant men's foil finals, this promotion incorporates a play on words. As it turns out, the Chinese characters for 'foil' somewhat appear in the full name of the product, thereby drawing a connection between the two. Quite witty, isn't it?
Shop Ikea Smycka artificial gladiolus to pay your tributes.