Cancelled your overseas trip? Here's what to do in Hong Kong this New Year's Eve
We know 2020 kinda suck, but let's be hopeful about next year and welcome the arrival of 2021. While you are shopping for some lovely gift baskets or gorgeous gowns for your end-of-year party, you might be wondering about the best places in Hong Kong to celebrate New Year's Eve. Other than checking out these latest sweet deals, make sure to secure these amazing festive dinners and staycations before everyone else!
What to do in Hong Kong this New Year's Eve: Stunning bars for a boozy countdown party
1. Ozone
Hong Kong is famous for being a concrete jungle, but we also have the world's tallest bar in Kowloon! To enter The Ritz Carlton's rooftop bar Ozone, you have to take the private bullet lift hidden inside ICC. Ozone is like a luxurious VIP night club, allowing guests to sit back at the cosy indoor sofas or stargaze at the windy outdoor terrace. This is possibly one of the most romantic bars where you can glance at the entire city from the tallest spot in Hong Kong and say cheers to 2021.
Ozone, International Commerce Centre (ICC), The Ritz Carlton Hong Kong, 1 Austin Road West, West Kowloon, Hong Kong, p. 2263 2270
2. Lounge Hakuba
If you want to feel like you're at a Nagano ski resort and sipping on Hibiki whiskey, Lounge Hakuba is the place to be. Serving an array of Japanese cocktails with interesting flavours like shiso and sakura, Lounge Hakuba has a comfy al fresco terrace and warm wooden indoor lounge. Other than being a picture-perfect spot, Lounge Hakuba is also the first omakase shisha bar in Hong Kong, blending unique flavours according to each customer's preference. Want to taste some refreshing honeydew rose mint shisha while counting down under the stars? Lounge Hakuba should be on top of your list.
Lounge Hakuba, Unit 302, Tower 535, 535 Jaffe Road, p. 2111 1707
3. The Pontiac
One of The World's 50 Best Bars 2020, The Pontiac will be hosting one of the hottest New Year's Eve parties in town featuring DJ Blandy to keep the spirits up. With loads of Ponty's classic cocktails and festive specials like Clyde Common Egg Nog and 5 Spice Mulled Wine, The Pontiac crew is ready to give you the best bar experience in SoHo on the last day of 2020.
See the five reasons why we adore The Pontiac.
The Pontiac, 13 Old Bailey Street, SoHo, Central, Hong Kong, p. 2521 3855
What to do in Hong Kong this New Year's Eve: Restaurants
To properly say bye to 2020 and welcome 2021, a family feast on New Year's Eve is absolutely essential. Whether you fancy heart-warming hotpots, exquisite fine dinings or traditional Canto cuisine, these restaurants below will have your body and soul well taken care of.
1. Hutong
As a Michelin-rated restaurant, Hutong's contemporary Sichuan cuisine is needless to say amazing, but what truly makes them attractive is the jaw-dropping sea view and the unique dining experience. This year, Hutong offers a sumptuous New Year's Eve Dinner ($888 from 6pm-9pm; $1880 after 9pm), featuring an array of delectable dishes, such as Black Truffle Chicken with Yunnan Mushrooms, Stir-fried Lobster with Golden Garlic and Black Pepper, and Hand-shredded Duck in Dongbei Spicy Salad. Sip in the best champagnes, spirits and wines with a two-hour free-flow package ($888-$988), awaiting the arrival of 2021 under the moonlight.
Also, Hutong is one of our fave brunch spots. Available on weekends and public holidays, their fifteen-course Feng Wei Brunch includes a range of starters, dim sum, seafood, meats, veggies and desserts that will make you very full and happy.
Hutong, 28/F, One Peking Road, Tsim Sha Tsui, Hong Kong, p. 3428 8342, 尖沙咀北京道1號28樓
2. Aria
Aria's seven-course New Year's Eve Dinner ($1488) features one-of-a-kind Italian delicacies such as White Truffle and Caviar Scrambled Egg, Foie Gras Terrine, Lobster Zarda Bagna Cauda Risotto. Helmed by Chef Andrea Zamboni who has over 20 years of experience in Michelin-starred restaurants, Aria also provides customised omakase set ($2000), serving your favourite dishes until you cannot eat anymore. We promise Chef Zamboni's creations like White Truffle with Crab Egg Vinegar Risotto or Crayfish Turbot Xiao Long Bao will flip your understanding about Italian cuisine. For private dining experiences, book in Aria's outdoor terrace or indoor VIP space where you can take in mesmerising mountain views.
Read our full review on Aria
Aria, 24/F, California Tower, Lan Kwai Fong, Central, Hong Kong, p. 2804 1116
3. Ying Jee Club
Helmed by Chef Siu Hin-Chi who uniquely reinterprets Cantonese cuisine, Ying Jee Club attained two Michelin stars within just two years. Other than the bag-shaped Australian M9 Wagyu Beef Puff and the succulent Steamed Eel with Garlic Plum Sauce, their Shrimp Paste Fried Chicken also stands out with its exceptional crispiness and lightness. From now until the end of 2020, guests can book in for Ying Jee Club's seasonal eight-course set ($880), featuring collagen-packed traditional dishes like Imperial Bird's Nest Broth with Partridge and Braised Pomelo Peel with Conpoy and Fish Maw.
Ying Jee Club, G05, 107 & 108, Nexxus Building, 41 Connaught Road Central, Hong Kong, p. 2801 6882
4. Fiamma
With a splendid peak view, affordable home dishes and culinary wisdom from Michelin-starred chef Enrico Bartolini, Fiamma is surely one of the best new restaurants in 2020. On New Year's Eve, you can take your friends, family, and even your dogs to Fiamma's al fresco dining tables, pairing some refreshing Chardonnay wine with Burrata E Pomodori ($148). Since Fiamma makes daily-fresh dough in the kitchen, you can expect some distinctively chewy pastas and pizzas that will cure your carb cravings. For an unforgettable countdown night, go up Sky Terrace 428 to enjoy the best views atop the Victoria Peak.
Fiamma, Shop G02, Peak Galleria, 118 Peak Road, Hong Kong, p. 2657 0800
5. Hotal Colombo
Crab has been a crazy hype this year, so we found this Colombo Crab Club ($728 with free-flow house wines and beer) at Hotal Colombo for you. At 8pm on New Year's Eve, you will be greeted with your own choice of scrumptious mud crab along with unlimited sides. While you dig into their mouth-watering Sri Lankan food, sip on some bubbly and wait for 2021.
Reserve your seat for Hotal Colombo's Colombo Crab Club.
Hotal Colombo, 31 Elgin Street, SoHo, Hong Kong, p. 2488 8863
6. Soil to Soul
We've reviewed Soil to Soul at K11 Musea before and would love to go for their special eight-course menu available from 16 to 31 December. Named Christmas Present to the World, the set features an array of hearty Korean temple food, ranging from Korean Ginseng & Chestnut Soup to Korean Radish Dumpling, and Asparagus Kimchi to BiBimBap. If you are looking to try some new vegetarian restaurants in Hong Kong, Soil to Soul has to be on your list.
Soil to Soul, 704, 7/F, K11 Musea, Tsim Sha Tsui, Hong Kong, p. 2389 9588
7. LEE Lo Mei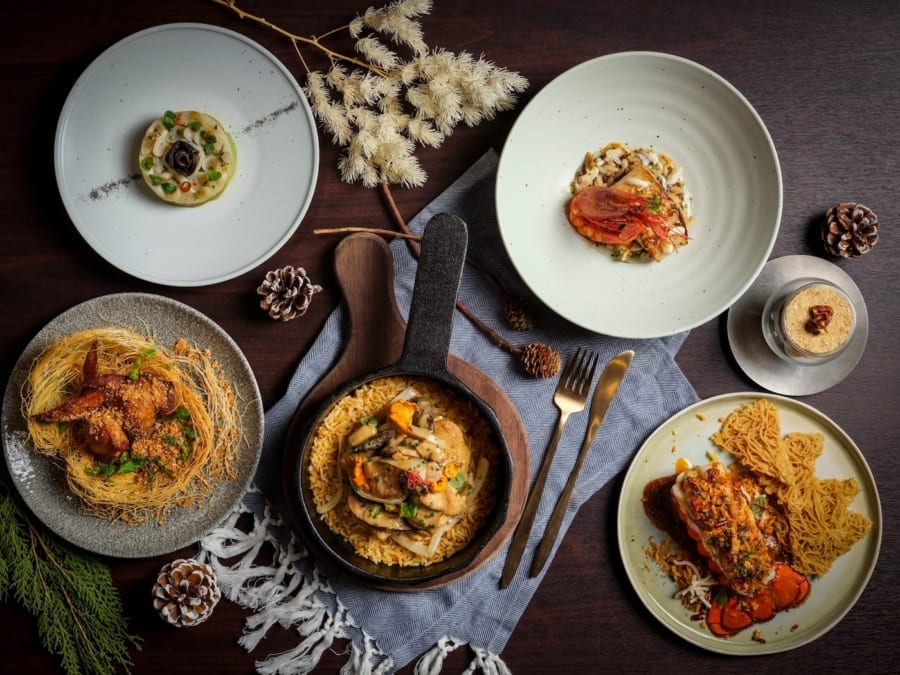 Abalone, guiling jelly, lobster tail, crispy rice noodle… This ancient mythology-inspired Sacred Beast Dinner Tasting Menu ($680) presents the divine tastes of traditional ingredients with innovative culinary techniques. Available from 21 December 2020 to 1 January 2021, this six-course menu at LEE Lo Mei can also be paired with festive mulled wines from $118, ringing the bell with the cosy Canto vibe.
LEE Lo Mei, 8 Lyndhurst Terrace, Central, Hong Kong, p. 2896 7688
8. Pici
Craving chewy handmade pastas on the first day of 2021? Head to one of Hong Kongers' favourite pasta bars Pici for a Festive Brunch ($168-$248) on 1 January. Start the brunch with a delicious appetizer like Truffle Bresaola Rolls, then pick a Truffle Tagliolini, Christmas Cannelloni or Pumpkin & Sweet Potato Gnocchi as the main. End the meal with their signature Tiramisu or Panna Cotta and you're all set for the new year. For pastaholics who can't wait to try Pici's festive specials like King Prawn Taglioni and Wild Berries Creme Brulee, you can have a taste of them on 24-26 December, 31 December and 1 January.
Read our full review of Pici.
Pici has several branches in Hong Kong
What to do in Hong Kong this New Year's Eve: Staycations
Although it's sad that we can't travel this year, going for an end-of-year staycation is a great alternative. Here are some New Year's Eve staycation deals we found with great services and soothing vibes.
1. JW Marriott Hotel
Located in Pacific Place, JW Marriott makes a perfect staycay destination after a hectic end-of-year in the heart of the city. Available until the end of 2020, the [email protected] Package (from $2480) includes a night in a luxurious guest room, an afternoon tea set at Flint or $500 dining voucher, buffet breakfast at JW Cafe, in-room decorations, and one-hour of professional photography service or a bottle of Moët & Chandon Champagne and a rose bouquet. If you are planning for a romantic night or a memorable family stay, the [email protected] Package will have everything perfectly arranged for you.
JW Marriott Hong Kong, Pacific Place, 88 Queensway, Hong Kong, p. 2810 8366
2. The Langham
While The Langham London is known for being Europe's first Grand hotel, their 155 years of legacy is also reflected at the brand's flagship hotel in Hong Kong. Available from 1 December 2020 to 7 January 2021, the "Design The Candyland of Your Dreams" package (from $1288) comes with a night stay in a Superior Room, 1100-dollar worth of in-room set dinner and breakfast for two, a box of Christmas Candyland decorations, and complimentary mini-bar of festive treats with one replenishment.
In addition, their three Michelin-starred T'ang Court serves delectable seven-course winter banquet ($1688) exclusively available on New Year's Eve, featuring iconic Cantonese cuisines such as Fish Maw with Sea Whelk, Baked Crab Shell with Crab Meat and onion, and Braised Dried Abalone with Bêche-de-Mer.
The Langham, 8 Peking Road, Tsim Sha Tsui, Hong Kong, p. 2375 6611
3. The Pottinger
A luxury boutique hotel in the historic heart of the city, The Pottinger prides itself on its convenient location and award-winning Italian restaurant Gradini Ristorante E Bar Italiano. Exclusively available on 26 December, 31 December and 1 January, The Pottinger's Holiday Staycation (from $1650) allows two guests to relax in a spacious guestroom, enjoying course dinners and energising breakfasts at Gradini. Other than Gradini, we are also fans of The Envoy's colonial-style afternoon tea.
The Pottinger Hong Kong, 74 Queen's Road Central, Central, Hong Kong, p. 2308 3188