The Impossible Meat Lollipop, Mango Sticky Rice cocktail, Prawn Paad-Paad and Siam Fish Cake at Namo Avant Thai Restaurant
Sitting adjacent to the waterfront in Tsim Sha Tsui, Namo Avant Thai Restaurant blends modern techniques with traditional Thai flavours to create a fabulous selection of dishes
Tsim Sha Tsui, or TST as it's more commonly known, is one of our favourite neighbourhoods in Hong Kong. Home to numerous vegetarian restaurants, Sandbox VR and The Mira Hong Kong, the area is buzzing throughout the day and night, and if you're looking for a great meal somewhere that also offers views of Victoria Harbour, then Namo Avant Thai Restaurant can't be beat. PLUS they have a cocktail that tastes exactly like Mango sticky rice #PutAForkInUs.
Namo Avant Thai Restaurant in TST is the place to be
Regular Honeycombers Hong Kong readers will know that we're obsessed with eating great food and excellent service, and when the two powers combine, things of beauty are produced. Opened by the same F&B group behind long established haunts Gaylord and Tamarind, Namo is home to modern Thai cuisine, where traditional flavours are blended with new ingredients to create flavour sensations that are like a party in your mouth.
So what's so good about Namo Avant Thai?
Honestly, every single thing we ate at Namo was top notch, a rarity in a city that so often places style over substance (don't worry, you get both here thanks to the great design and killer outside terrace!)
We started out with a selection appetizers that included wonderful prawn fritters tossed in garlic, lemongrass and chili, Siam fish cakes topped in luxurious caviar and the unbelievably good Impossible Meat lollipops that were served with a Penang Curry Dip. I'm not the biggest fan of Impossible Meat, it's got to be said, but with these fragrant lollipops, I was almost transported back to a seaside restaurant in Thailand – just so good. We followed this up with a gloriously refreshing Tuna Tower, essentially a tuna tartare with avocado and a spicy lime dressing; this alone would make a wonderful meal.
All of the appetizers were washed down with the Mango Sticky Rice cocktail that was just divine. It's like enjoying dessert at the same time as your meal, so that's definitely something that I can get behind.
And for mains? We opted for the Silken Salmon, a dish that sees Norwegian salmon roasted and served with a chili-lime and garlic jus. While salmon doesn't immediately come to mind when thinking of Thai food, Namo is onto something special with this wonderfully moreish plate that allows the delicate salmon to pick up all those fragrant Thai flavours.
A favourite around the table was the XLO, chargrilled Giant Atlantic octopus with lemongrass and coconut foam. We reckon this is either a love or hate dish, but we were all about the perfectly cooked octopus and that foam! Usually we may shy away from foam on a menu, but this is next level and you really have to try to believe.
Is Namo Avant Thai good for vegetarians?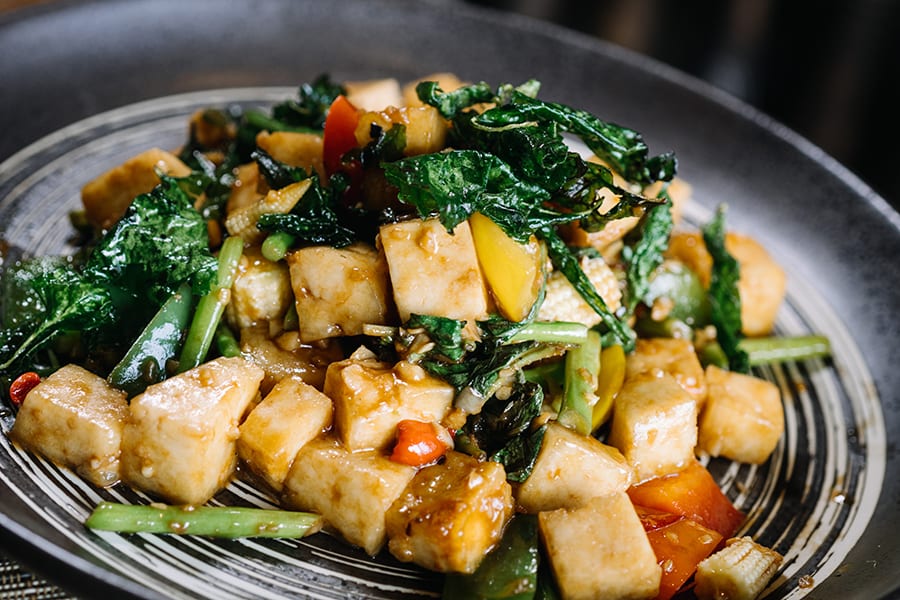 The Impossible Meatball Green Curry was served with loads of fresh veggies and was really nice too, though I'm still not 100% sold on Impossible Meat, or any fake meats for that matter (like, why wouldn't you just make a really hearty vegetable-packed dish?) But, I guess if you're a meatatarian, then this would be a good substitute if you're trying to cut back.
For vegetarians, I'd opt for the Paneer with chili and basil, a delicious dish that sees traditional Indian paneer served with all the wonderful flavours of Thailand; I was pleasantly surprised with how well this worked.
And for dessert? Well, after drinking it, it seemed only right to top off this exceptional feast with the real deal: Mango Sticky Rice. Served with pandan-infused rice, mango and coconut cream, the Namo version of this classic Thai dessert does not disappoint.
Thai cuisine purists may not get down with the innovative menu at Namo, but to them I'd say that you're really missing out, as this was one of the tastiest meals I've had all year. I'll be back for more food and DEFINITELY more of those cocktails.
Namo Avant Thai Restaurant, Shop G2-4,18-22, Empire Centre, 68 Mody Road, Tsim Sha Tsui, Hong Kong, p. 2739 1133, 尖沙咀麼地道68號帝國中心G2-4,18-22號舖