The little ones can channel their inner Mariah, Elton, or Bach at the best music classes for kids in Hong Kong.
As well as teaching your kids to hold a tune and keep a beat, music classes can develop their learning abilities and improve their education. So, even if your tot doesn't end up headlining in one of Hong Kong's best bands or becoming an opera singer, they'll still benefit from an introduction to creative classes in the early years. If you're ready to turn your kid into the next Mozart or Mariah Carey—or just want to boost their learning skills—these are the five best music classes in Hong Kong.
The best music classes for kids in Hong Kong
1. M.int Academy
Start your mini Mozart's musical education at M.int Academy, a music centre that specialises in classical music. The 6,000sq-ft space features 15 soundproofed studios where students can learn everything from the piano and violin to clarinet and cello in one-on-one sessions. For tots that show an aptitude for music, the centre can take things up a notch with intensive group classes where they'll learn the music theory—think notation, tempo, and arrangements.
All instructors here come from the world's best music conservatories and have trained under renowned musicians, so they'll have you kids hashing out tunes in no time—you'll even get to see their abilities for yourself at regular recitals.
M.int Academy, 19/F, Casey Aberdeen House, 38 Heung Yip Road, Wong Chuk Hang, Hong Kong, p. 3596 7094
2. Baumhaus
Created in Germany in 1978, Kindermusik is an international programme designed to enhance learning capacity with movement and music. Baumhaus uses this unique system to give kids basic musical abilities and set them up for lifelong learning. Foundation classes begin with basic songs and rhymes; Level 1 introduces musical concepts in easy-to-learn songs; at Level 2, musical exploration is continued with new instruments, vocal imitation, and more complex songs; while Level 3 encourages musical experimentation, and teaches complex beats, rhythms, and notation.
All of this improves a child's ability to focus, memorise, detect patterns and symbols (so important for reading and maths!) and even critical thinking and literacy, so they're primed to learn at school.
Baumhaus, 1/F, Kar Yau Building, 36-44 Queen's Road East, Wan Chai, Hong Kong, p. 2321 5898
3. Sol Passion Music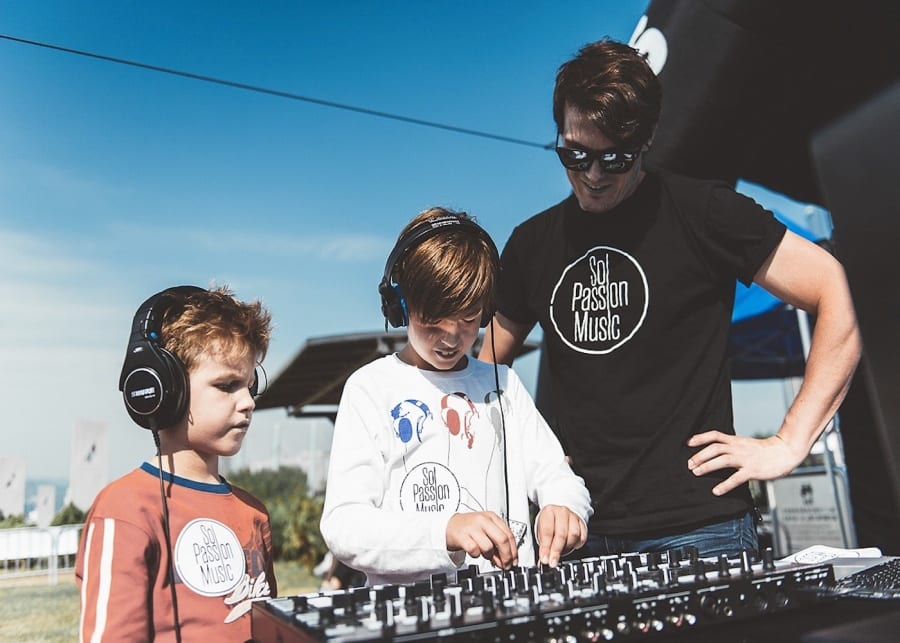 Is your kid drawn more to Tiësto, and David Guetta instead of Mozart and Beethoven? No problem – simply enrol them at Sol Passion Music and let them take the world of electronica by storm. Hong Kong's premier studio for electronic music education teaches performance and technology, music production, recording, and arrangement.
Kick things off with a 30-minute studio tour then pick a specialisation—for kids, the centre offers intro and advanced DJ courses, music-making bootcamps, and more. A team of experienced music producers and DJs, along with an international roster of guest instructors from Australia, the UK, France, and Sweden, will ensure your kids are on the right track.
Sol Passion Music, 4/F, Tung Kin Factory Building, Block E-H, 200-202 Tsat Tsz Mui Road, Quarry Bay, Hong Kong, p. 9422 0367
4. Aspire Music
With a focus on vocal training, Aspire Music is all about helping your kids find their musical voice—though, if your tot is more inclined to a bit of drum banging or guitar strumming, or keyboard pounding, they can help with that, too. Whether they've got the rock chops of Janis Joplin and Mick Jagger, the bright pop stylings of Britney Spears and Justin Timberlake, or the operatic range of Pavarotti and Maria Callas, Aspire will help your child hone their voice with individualised programmes.
Classes are available as private or semi-private lessons, group classes, or even online sessions. The Kiddies Singing Club, for kids aged four to six years, is perfect for introducing new singers to the joy of musical vocalisation.
Aspire Music, 9B Lee Fund Centre, 31 Wong Chuk Hang Road, Aberdeen, Hong Kong, p. 5414 6821
5. Parkland Music Institute
No matter where in Hong Kong you are, you're sure to find a Parkland Music Institute branch nearby. When you do, book your kids in for a thorough musical training. Young kids can begin their musical education at two years old with bespoke classes in drums, piano, violin, guitar, ukulele, voice, or music therapy that introduce them to the basics of rhythm.
Older students can indulge their musical inclinations in a more extensive range of courses that includes everything from pop and rock-specific programmes, vocal training, digital music and theory training, Orchestra or acapella clubs, and even Christian music classes. Perhaps the best part? All classrooms are decked out with instruments, so you won't even have to shell out for an individual instrument.
Parkland Music Institute has over 30 locations across Hong Kong.