Battling chronic illness, Sophia Hotung took lemons and made lemonade to build her business as a writer and illustrator extraordinaire
We love entrepreneurs and small business owners at Honeycombers, which is why we've created Launchpad, a comprehensive digital networking platform (with IRL benefits, too) that encourages connection, business support and community. It is a privilege and pleasure to learn from so many talented and inspiring folks, so we've decided to share the love by interviewing some of the lovely Launchpad members. Looking for inspiration? Check out how the writer and illustrator Sophia Hotung, gets it done like a boss.
How I get it done: Sophia Hotung
How and why did you decide to launch your business?
I didn't launch my business with a business plan or grand strategy. I launched my business after realising that I had accidentally started one. I graduated from university with a job in IT audit at KPMG. I didn't last long there, or at the crisis consulting job I had after, because I kept ending up in hospital. I have seven chronic illnesses. It got to a point in October 2020 where I stopped responding to treatment and ended up immobile in bed. From bed, I questioned what I was going to do as a 26-year-old crone who could barely sit upright let alone hold down a job. Come Christmas, my mum gifted me an iPad. I downloaded the app Procreate, started drawing, and within a year had created prints, a book, and merchandise based on Hong Kong versions of New Yorker magazine covers I had made. I monetised my hobby as a means to feel agency, purpose, and independence again.
What's been the biggest challenge on your journey so far?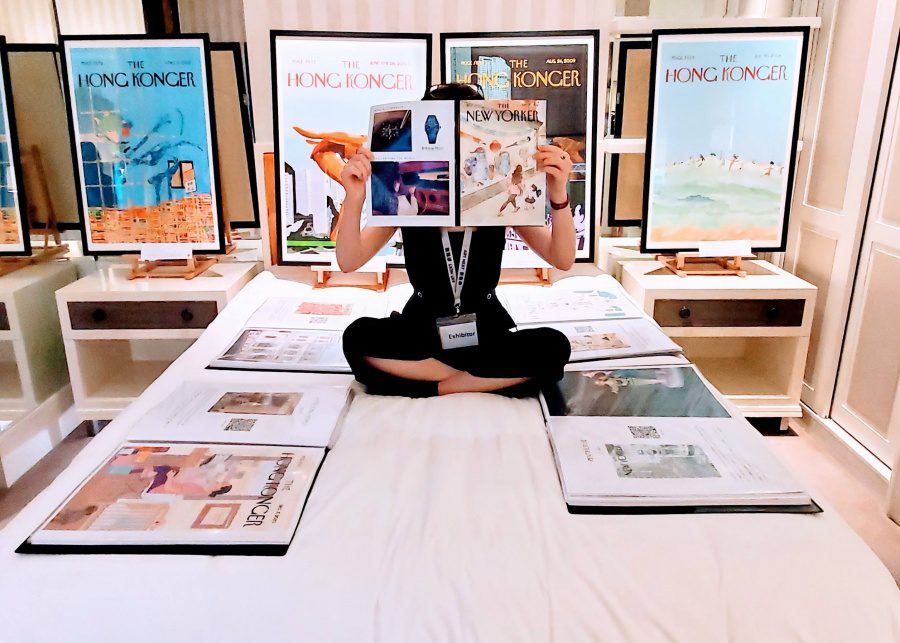 My biggest challenge so far has been to get people to rethink disability. The disabled community is vast and diverse because there are so many types of disabilities, and the experience of living with even one illness differs between patients. It's impossible to speak for all disabled people and I don't try to, but there is still value to being a disabled voice at the table. That being said, it's very difficult to advocate for disability without seeming shrill, oversensitive, unprofessional, or even incompetent. Disability as a topic can make people uncomfortable; getting people comfortable with that discomfort is a big task and one that sometimes seems futile and overwhelming.
What does the Launchpad community mean to you?
I think the chances of being able to work in an office again are slim to none for me. But I did love my old offices. There was a break room, group chats, after-work drinks, lunch banter, mentorship opportunities, inside jokes about the hot chocolate machine. The Launchpad community offers a version of the camaraderie and community I lost when I left my corporate life. My fellow members are similar enough to me that we can relate to one another and get along, but different enough that I learn new things from them. The community feels more genuine than obsequious networking groups and more accommodating than professional societies with rigid rules and expectations. In all, the community provides everything that I would have missed from my desk job, while also giving me more.
How I get it done: Lightning round
On a typical morning I'm in bed. One of the key lessons I've learned from being disabled is not to force my body into doing things that it's not ready to do. I used to make myself wake up early and launch into a productive morning routine. But in the long term, that only led to exacerbated symptoms and spirals into long relapses. Now I ease into the day and spend mornings gauging how my body is doing. Chronic illness symptoms are always different and always unpredictable. Sometimes I'm totally exhausted and need to spend the whole day in bed. Other days I'm zippy and ready to go. I think there's a lot of pressure on entrepreneurs to be a morning person or "rise and grind," but it's easier for me to thrive when I ease into days by taking mornings as they come and building up my productivity later in the afternoon.
On the hardest part about the job: Ask anyone in a creative industry and they'll tell you that they're often asked to work for free. When you're starting out, it's difficult to know how to price yourself and you'll often pick up work that pays in "exposure." But at some point, you need to start covering your costs. Every week I have at least one back-and-forth negotiation about working for free or at a discounted rate. It's getting easier for me to assert my worth the more I practise negotiating, but sometimes I do worry about turning down opportunities or seeming too big for my britches.
On keeping stress levels low: I always make sure to cultivate hobbies. In 2021, I drew to destress but since art has become my work, I now rest from it and de-stress with other nerdy past-times like playing guitar, reading, journaling, or cross-stitching like a Regency period widow. People love to recommend yoga and meditation to chronically ill people, but I've never actually felt able to access that "zen" state when I tried them. However, when I'm engaged in a hobby that I feel competent at and that I'm doing just for pure enjoyment, I experience a similar peaceful deep flow that lowers my stress levels right down the way I imagine yoga and meditation would for others. I recommend that everyone finds a hobby, even if it's not productive, that helps them access that flow and quiet.
On winding down in the evening: I like to eat dinner then finish up with emails, spruce up my website, or do art in front of the TV with my mum. I live at home since I rely on my mum and caregivers, Nick and Nora, to support me when my disabilities get overwhelming. After a few episodes of whatever Scandinavian crime drama my mum and I are watching, I get in a toasty bath and write or read for an hour or so. I think there's something about being trapped in the tub without my phone that focuses me. At midnight, I brush my teeth, take my meds, say goodnight to my two dogs, and go to bed.
Find out more about Sophia Hotung.
Launchpad is a comprehensive digital networking platform (with IRL benefits, too) that encourages connection, business support and community. It is designed to make the entrepreneurial journey not only easier, and more successful, but also a whole lot more fun. The platform offers almost daily activities for members to connect, along with regular masterclasses, member networking roulette, small-business mentoring and media profiles on Honeycombers.