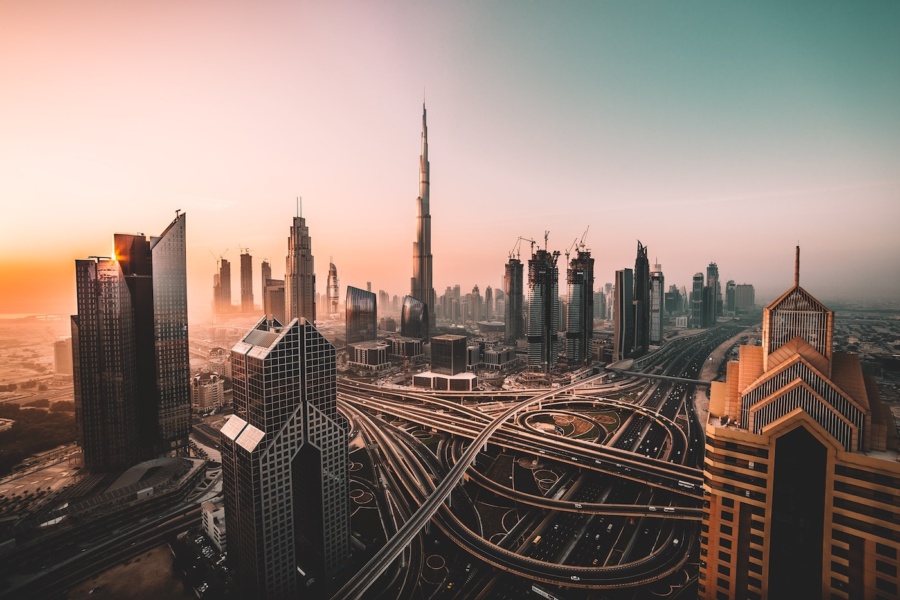 If you're looking for the best things to do in Dubai, then you're in the right place
There's no denying that we love exploring new places. From sunny Mauritius to beautiful Laos and alternative beach holidays, there's nothing better than experiencing a different culture and having a break from life. If you've got a stopover or holiday planned to the UAE soon, be sure to check out this handy guide of all the best things to do in Dubai (with no malls on the list!)
Take an abra across Dubai creek and explore Al Fahidi Historical Village
Once you've finished exploring the gold souk, for just AED1 you can board a beautiful abra and cross from Deira over to the other side. Interestingly, the creek was once known as the entry-way to the Gulf and filled with pearl divers and fishermen. When you arrive at your destination, be sure to take a visit to Al Fahidi Historical Village.
The village shows a range of buildings made from stone, sandalwood, teak and palm fronds, exhibiting the traditional way of life in Dubai from the mid-19th century to the 1970s. Different art exhibitions, museums and cultural fairs are held here throughout the year, making it an interesting place to visit any time you're in Dubai.
Find out more about Al Fahidi Historical Village.
Enjoy a food tour with Frying Pan Adventures
People in Dubai seem to love food as much as we do, and none more so than the team at Frying Pan Adventures. Offering a range of tours, including a Dubai Souk and Creekside Food Walk and Little India on a Plate, their most famed gathering is the Middle Eastern Food Pilgrimage.
Join your walking tour and experienced guide at an easy-to find location, and get ready to have your mind and taste buds blown. You'll experience cuisine from across the Middle East and learn interesting facts about culture, history and ingredients, and taste around ten different dishes along the way. If #foodislife for you, then you're not going to want to miss this tour, just be sure to come hungry on the day.
Sign up for a tour with Frying Pan Adventures.
Hit up a beach club and catch some sun
In the way that Hong Kong does brunches, Dubai does beach clubs, so if you're looking for a total day of relaxing on your holiday, then be sure to check one out. During the week (Sunday-Thursday), many of these clubs have ladies' day promotions, with discounted access and freebies: winning! The toughest part will be deciding what kind of vibe you want for your experience.
A few of our fave locations for sunning and swimming include: Cove Beach Dubai for relaxed vibes with great music, Azure Beach for its huge pool and lawn area, and Drift Beach Dubai where you can reserve a sun lounger in advance and while away the day eating tasty food.
Take a day trip to Al Ain
The oldest continually inhabited emirate in the UAE, a trip to Al Ain will show you another side to the country, and best of all, it's only about a 1.5-hour drive from Dubai. Explore the beautiful Al Jahili Fort and the Al Ain Palace Museum before heading to visit the Al Ain Oasis. You can take a trip to the local camel markets and even visit Jebel Hafeet mountain on the border of the UAE and Oman. This is definitely one of the best things to do when staying in Dubai.
You can find a variety of tours to Al Ain through Klook and Tripadvisor.
Expo 2020 Dubai UAE
From October 2020-April 2021, Expo 2020 Dubai UAE will be taking over Dubai. With pavilions from 192 countries exhibiting the best the world has to offer in new technology, sustainable developments and culture, this edition of the world exhibition is set to be one of the most exciting events on the planet.
On top of all the pavilions, there will be 20 stages filled with performances daily, over 200 restaurants serving cuisine from across the globe plus live talks, presentations and loads more. This will be one for the books!
Find out more about Expo 2020 Dubai UAE.