Choose from top quality cuts from across the globe and enjoy your meat with creamy mash
Known across the globe for it's international selection of top quality meat, Beefbar in Hong Kong is all about great design, service and living the luxe life.
Hong Kong is not short of design restaurants or steakhouses, but what happens if you're looking for the perfect blend of both? Well, for those occasions, there's Beefbar, a Michelin 1-star restaurant in the heart of Central that blends exceptional service with quality cuts of meat from across the globe. JS Lam and I recently went over to find out more.
#1 The Design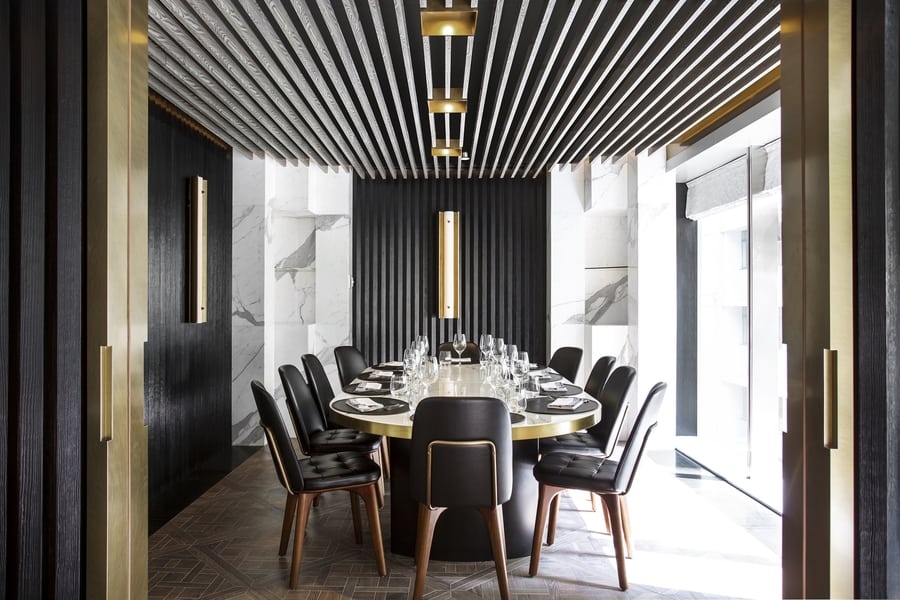 Step inside Beefbar, and you'll undoubtedly be struck by the elegant design; the perfect setting to devour some epic meat-related dishes. Black leather seating complements a swathe of beautiful white marble, while brass and onyx wood finishings add a touch of the luxe life. We particularly love the private dining rooms, that are closed off to the main guest dining area with vibrant red doors. An open kitchen adds a touch of entertainment to the space, and there's even a secret rooftop area for guests to enjoy a sneaky beverage while looking down over the city.
#2 The Wine Selection
Wowzers! If you're a vinophile, then you definitely won't be disappointed at Beefbar. The wine list is epic, and–luckily– if you don't know your Bourdeaux from your Beaujolais, the wine experts are always there to help. On our visit, we devoured a bottle of Coudoulet de Beaucastel Cotes-du-Rhone from 2015 that was simply sublime.
#3 The Meat
As a vegetarian, it may seem a bit bizarre to go to a meat-oriented restaurant, and it's true that the vegetarian dishes play second fiddle to the main attraction: meat. Though I really enjoyed the kale salad with avocado and lemon, and made short work of the mac and blue cheese and the creamy mash, let's face it, this one is really for those who like to flash their canines. Luckily, my meat-forward colleague JS Lam, was willing to accompany me on my journey to Beefbar and gives his feedback here:
Oh where to start! I've never been more grateful to be the meat eater in the office. The menu at Beefbar illuminates with high-quality produce from Australia, Korea, Japan and America. Better yet, there is a good range of cuts for every meat preference and price range, from porterhouse to fillet. I tried the American Prime Ribeye-cap which was aged and cooked to perfection. Cooked medium rare, it was incredibly tender, smoky and had that elusive little bit of chew. Honourable mention must also go to the miniature Black Angus & Foie Gras with Passito Mayo Burger and the Australian Wagyu Fillet Tartare. The fillet was so delicate and flavoursome that I wanted to hug the chef and the miniature burger was pound for pound the most delicious bite on the menu. Overall, a great evening for the carnivores. – JS Lam
#4 The Service
As a restaurant with branches across the globe from Monaco to Mexico, I expected absolutely stellar service, and that is indeed what we got. From checking to see if anyone at the table had food allergies to easily swapping out sauces and making recommendations on our order, the service at Beefbar is seamless, and completely befitting of a Michelin-starred restaurant. Ask for Max, he's an absolute dream!
#5 The Ambience
If you're looking for a place to wow a client or impress a date, then Beefbar could very well be your spot. A combination of all the elements above creates a refined dining experience in Central, that is sure to satisfy the palate.
Beefbar, 2/F, Club Lusitano, 16 Ice House Street, Central, Hong Kong, p. 2110 8853, 中環雪廠街16號Club Lusitano2樓