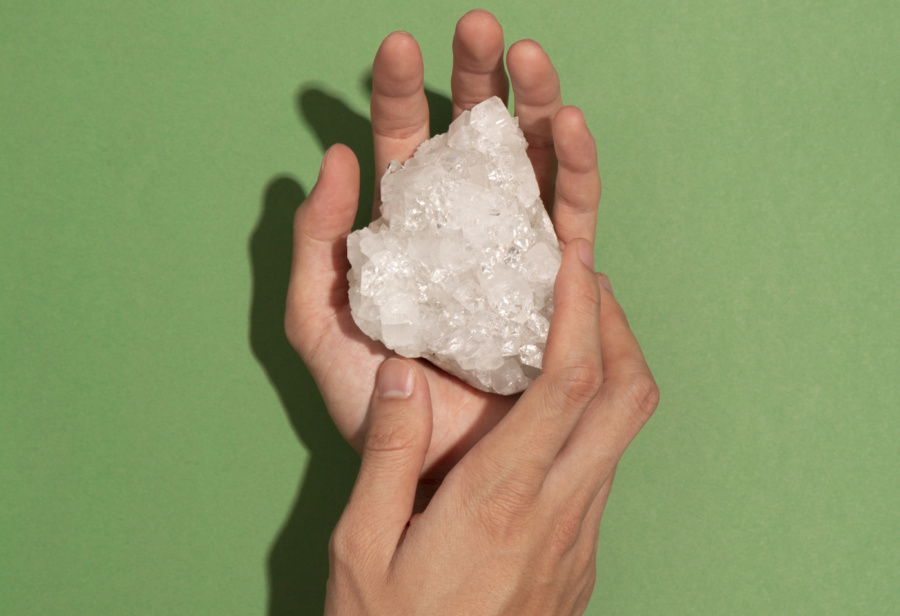 The team at OMSA are giving us the scoop on how to choose, use and cleanse crystals in this beginner's guide to crystals
Much like alternative healing or numerology, the recent surge in crystal popularity has made it hip among millennials, mainstream consumers of all ages, and Hollywood celebrities to get onboard the gem train. Despite the new fads that have made these glittering gemstones so trendy, crystals have in fact been around for centuries and hold generations of divine knowledge and healing powers. Ancient civilizations often used them for protection, healing rituals, elixirs, beauty care and of course, as jewelry, so here's a beginner's guide to crystals from the team at OMSA, your one-stop online shop for everything self-care, wellness and spirituality.
A beginner's guide to crystals
Beyond their glittering superficial qualities, crystals hold plenty of energetic power, which makes them a great tool to balance and call in energies needed to provide necessary shifts in our life.
Albert Einstein said it best in his theory on energy: "Everything is energy and that is all there is to it. Match the frequency of the reality you want and you cannot help but get that reality. This is not philosophy. This is physics."
The power of crystals
As humans, we all omit our own frequencies or vibrations – as we move throughout our day, our frequencies change based on our mood, interactions with others and with our environment. High vibe frequencies are feelings of joy, love, gratitude, and happiness are high vibing frequencies while low vibe frequencies are feelings of negativity, jealousy, anger, despair, and fear. As we move through our day, our frequencies oscillate causing us to feel unanchored or worse, absorbing others' energies and frequencies that are not our own.
Crystals on the other hand, omit frequencies that are stable, given not only the density of rock but also natural geometric construct. When we interact with the crystals' natural elevated frequency, it can help raise our own vibration and transform low frequency energy, resulting in a shift of our mindset and our emotions.
Uses for crystals
These highly charged gems can be used in many ways to heal us emotionally, physically and energetically.
Emotional: Often times emotions can get stuck in our bodies – when this happens crystals are able to remove blockage leaving us feeling lighter and happier.
Physical: Crystals healing properties can improve circulation in the body, instill encouragement and motivation, thereby powering you through whatever obstacle you may be facing.
Spiritual/Energetic: Ever feel off but can't quite put our finger on what's bothering you? This could be an instant where you are energetically blocked. By honing on the powers of crystals, you can clear any energetic debris that set you off balance.
A few common crystal usages:
Meditation
Healing
Feng Shui
Protection
Elixirs
Rituals
Beauty Care
Manifestation
Jewelry
Home Decor
Programming Crystals
Spiritual well being jargon is everywhere. So what does programming and setting intentions mean? Each crystal has its own metaphysical healing properties but it is the goal that you want to achieve with a particular crystal that's important. Once you've picked a crystal you resonate with, cleanse it (more on this below), hold it in your hands, quiet your mind and talk to it (aloud or quietly). State in short and simple words what it is that you want to manifest and ask for the crystal to guide you there. The crystal will have a clear vision of what you are calling in and get you there in divine timing. It's that simple. You've just programmed your first crystal to work for you!
How to cleanse your crystals
There are many ways to cleanse crystals so make sure to do your research before picking the below options. Some crystals are not meant to be put in water or bathed under the sun for too long.
Smudging: Use sacred herbs such as sage or palo santo to cleanse your crystals in smoke.
Salt: Place crystals in a bowl of salt overnight to recharge. Dump salt after. Do not reuse.
Sun/Moon charging: Recharge crystals under the sunlight or moonlight.
Visualisation: Use the power of visualisation to cleanse crystals with white light.
Sound: Use a singing bowl or the vibration of OHM to cleanse crystals.
Water: Place crystals in a bowl of clean water or under running water. Nature's running water is best. Do not use this method if you are unsure whether the crystal you have is water compatible.
Soil: Crystals come from the earth so naturally they can absorb mama earth's nourishing energies and recharge.
5 useful crystals for beginners
White Quartz
Often called the "Master Healer" for it's versatile healing characteristics. White quartz is a common crystal to start with as it's able to direct, amplify, balance and cleanse energies. This crystal brings forth clarity and understanding of a specific situation.
Rose Quartz
The crystal of unconditional love. Rose quartz carries the energy of the divine feminine and guides one towards self-love through self-acceptance and forgiveness. Used in healing deep trauma. Call in new romance or strengthening current relationships. A great stone to have if you're in the business of relationship building.
Amethyst
Referred to as the 'psychic' stone for its natural abilities to deepen your intuition and connection to higher consciousness. Powerful for relieving stress and promoting a good night's rest.
Smoky Quartz
Living in a bustling fast-paced city like Hong Kong makes this an essential crystal to own. If you're ever feeling scattered or ungrounded, smoky quartz is the perfect remedy. Smoky quartz transmutes negative energies into positivity, infuses a sense of grounding, wards off negative energies and supports those who are working through insecurity or abandonment issues.
Selenite
Encapsulates the energetic profile of the angelic realm and moon energy. Very calming in nature and often used to ward off negative energies. It's cleansing properties can raise the vibration of any space. One of the few crystals in the world that doesn't need to be cleansed, and in fact, can energetically cleanse other crystals just by being simply placed near them.