Sippy sip sip on Mrs Sippy's happy hours - keeping you wobbly almost every day of the week
From power hours to all-day deals, these boozy Happy Hours in Seminyak will keep you wobbly the whole week through. Cheers!
We never need much of an excuse to knock back a coupla cocktails in Seminyak. But when there's so many drinks deals along Petitenget and beyond, you can bet your bottom dollar that we're directing our tipple-tasting to the 'Yak's best beach clubs, sunset bars and cosy watering holes for wicked power hours, ladies nights, and too-good-to-be-true BOGOF deals.
So to help you on your own wobbly way, here are the best happy hours in Seminyak that all cocktail connoisseurs should know about. Bottoms up! 
Hank's Pizza & Liquor
The vibe: An expat fave, Hank's Pizza & Liquor is the place for live music, a rock 'n' roll vibe and the best pizza around.
The deal: Roll in on a Tuesday (or TwoDays) for 2-4-1 Albens cider and pizza all day. On Wednesdays, two-step your way to a Thursday hangover with 2-4-1 gin and juice, and on Fridays, it's 2-4-1 frozen Dark & Stormys.
The must-try: Hank's Espresso Martini, made using Revolver Espresso coffee – the freshest beans around.
Hank's Pizza & Liquor, Jl Kayu Aya 27, p. +62 361 4741096. Open daily 12pm – midnight (2am on weekends)
Sea Circus
The vibe: Expect neon hues against pinky pastels, delish brunches by day, and cutesy dinner & cocktails by night.
The deal: To brighten up your Monday it's half price margaritas from 5-8pm, then on Thursdays it's 250K cocktail jugs (and half price tacos on Tuesday, just because.)
The must-try: Either the Passionfruit & Guava Margarita, or the Cranberry Cosmo Martini. Or both. Definitely both.
Sea Circus, Jl Kayu Aya No. 22, Seminyak, p. +62 361 738667, e. [email protected] Open daily 7.30am – 10pm.
WooBar at W Bali – Seminyak
The vibe: The sunset session of all sunset sessions. It's glam, it's glowing, and it's the place to see and be seen during sundown.
The deal: From Monday to Thursday between 4pm and 6pm, it's 2-4-1 cocktails while golden hour does its thang.
The must-try: The Cucumber Jalapeño Margarita for a spicy Asian twist.
Woobar at W Bali – Seminyak, Jl Petitenget, Seminyak Bali, p. +62 361 3000 106.
Akademi
The vibe: Created by award-winning mixologist Dre Masso, Akademi is the boutique bar at Katamama hotel – the first hotel by the PTT Family (who brought us the epic Potato Head Beach Club).
The deal: Every Friday night at the Akademi Gin Lab, it's 2-4-1 Negronis from 4-9pm.
The must-try: Any of the Negronis. Or even, all of the Negronis.
Akademi, Katamama Hotel, Jl Petitenget No. 51B, Seminyak, p.+62 361 302 9999. Open daily 10am – 1am.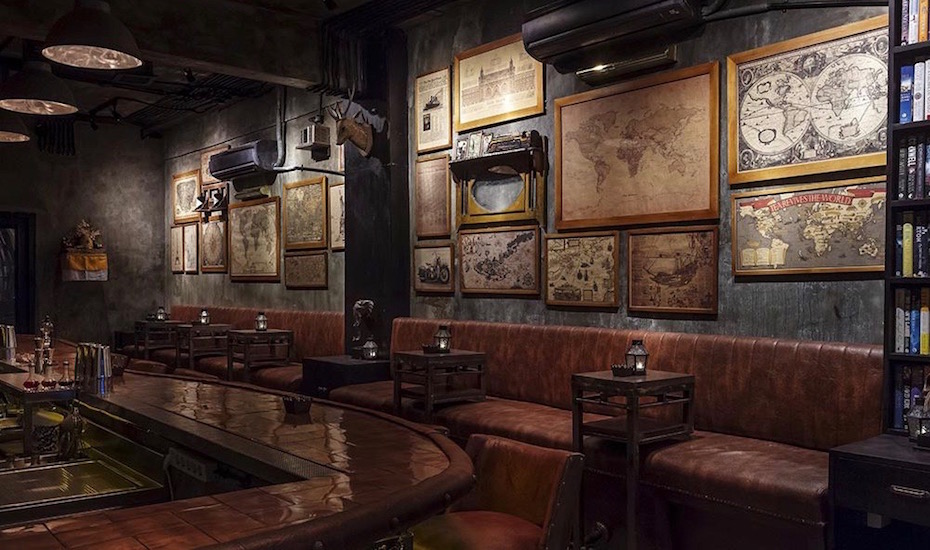 40 Thieves
The vibe: A New York-style speakeasy with world-class cocktails and the island's hippest (and hottest) crowds.
The deal: 40 Thieves keeps its thirsty regulars coming back time and time again with two-for-one cocktails every Friday and Saturday night, in line with its Boogie and Bourbon Friday party and Sabbath Saturdays. And to keep us on our dancing toes, the selection of happy hour cocktails changes weekly.
The must-try:  Try the Moscow Mule (an expert version of the classic) and the Spiced Gimlet which tastes like Christmas – and who doesn't love Christmas?!
40 Thieves, Jl Petitenget No. 7 (above Mad Ronin), Seminyak, +62 878 6226 7657. Open Tues – Sun, 8pm – 2am.

Ling Ling's
The vibe: It's fun, it's funky, and it's keeping things casual with cocktails served in hollowed-out tropical fruits.
The deal: Every day from 5-7pm and then again at 10-11pm, Ling Ling's gives you the chance to win drinks with the roll of a dice or the flip of some cards. Then on Friday nights between 8pm and 9pm, it's free Frosé for all!
The must-try: The Frozé, served in a giant watermelon, obvs.
Ling Ling's, Jl Petitenget 43x, Petitenget, Seminyak, p. +62 819 1641 7867. Open daily, midday – 1am.
Mrs Sippy
The vibe: This ultra-cool pool bar was brought to us by one of Sydney's hottest F&B teams, home to the biggest pool we've ever seen in Bali and its own five-metre high diving board (gulp).
The deal: From Monday through Friday, Sippy Hour offers 2-4-1 drinks between 5pm and 6pm. On Thirsty Thursdays, the deals are extended from 4pm until 9pm with 2-4-1 beers and Slushies. Then to end the week on a particularly fuzzy note, Sippy Sundays offers 2 for 1 cocktail specials all day. After all, Sundays were made for sipping…
The must-try: Nothing cools you down quite like a frozen Passionfruit Margarita…
Mrs Sippy, Jl Petitenget, Gang Gagak 8 Seminyak, p. +62 361 3351079. Open daily 12pm – 12am.
Lacalaca
The vibe: Technicolored interiors, tacos for days and a "could dance on the table any minute" kinda crowd.
The deal: 2-for-1 Margaritas and Mojitos from 5-7pm Monday to Friday. Then on Sunday Bloody Sunday, it's 2-4-1 Bloody Mary's from dawn until dusk (7am – 7pm, no less!).
The must-try: Laca's signature Spicy Margarita. It's the classic done right.
Lacalaca Cantina Mexicana, Jl Drupadi No 1, Seminyak, p. +62 822 47312218. Open daily 9am – midnight.

Sea Vu Play
The vibe: Bringing maritime traditions to posh Petitenget, Sea Vu Play is Seminyak's nautical-themed bar that's designed to keep your spirits afloat.
The deal: To make sure you don't go overboard, Sea Vu Play pairs aqua-holic deals with enough munch to feed a full ship. Every day, sailors and salty babes can enjoy a free pizza with every pitcher ordered, then on weekdays, it's buy one get one free on all cocktails between 10pm and midnight, setting sail the party boat until well into the night.
The must-try: The signature Lychee Martini, or our fave, the Red Sangria with enough rum to keep a pirate well-quenched. Yo ho ho!
Sea Vu Play, Jl Petitenget, Seminyak, p. +62 361 4736 576. Open daily 4pm – 2am.
Azul Beach Club
The vibes: An easy, breezy island atmo over three levels of bamboo terraces, home to an outdoor infinity pool, sun loungers, cabanas, cosy dining pods and Bali's first Tiki Bar.
The deal: Every week for Tiki Thursdays, it's two-for-one Tiki cocktails from 8pm until 10pm.
The must-try: Try the tropical Island Nectar – a signature concoction made with passion fruit, coconut and a touch of Arugula, served up in an Easter Island-inspired vessel.
Azul Beach Club, Jl Padma No.2, Legian, Kuta, p. +62 361 765759, e. [email protected]
Single Malt
The vibe: A cosy whiskey bar in central Seminyak with the largest selection of Single Malt's on the island.
The deal: Every night, all night long, ladies can enjoy 2-4-1 deals on craft cocktails in the oh-so-fabulous, Gatsby-inspired bar. Sorry men, for you it's only from 6-9pm.
The must-try: The slightly sweet From Whiskey With Love, made with Jim Bean, strawberry, vanilla, citrus & honey – a perfect intro to whiskey for those who'd usually drink gin or vodka.
Single Malt Bali, Jl Kayu Aya #68, Oberoi, Seminyak, p.+62 899 9282 828.
Metis Restaurant & Gallery
The vibe: Chic, buzzy, and oh-so sophisticated. Don't be surprised if you spot fine French foie gras and Champagne here.
The deal: Every Friday night, the island's most stylish crowds flock by for "Aperochic" between  5.30pm and 8pm for 85k cocktails and complimentary canapés. Then on Rouge Saturdays, it's cocktail specials from 6-9pm, and bottles specials from 9pm until midnight.
The must-try: Try the Metis Mule for a perfected classic, or the Le Metis for a theatrical, flambeed mix of whiskey, Amaretto, espresso and castor sugar.
Metis Restaurant & Gallery, Jl Petitenget No.6, Seminyak, p. +62 361 4737888. Open daily 11am – 11.30am [closed Sunday mornings]
Arsana Bali
The vibe: A fabulous Seminyak restaurant with a celeb chef at the wheel – and a stunning cocktail menu to match.
The deal: The daily happy hour from 4-9pm offers a whole host of tipsy discounts on cocktails, beers and wine for hours and hours each night – 5 to be precise!
The must-try: Can you ever go wrong with a Cosmo?
Arsana Bali, Jl Taman Ganesha No. 9, Bali, p.+62 361 3023 888. Open daily 11am – 10pm.
Happy Chappy
The vibe: Traditional Chinese culture meets hip, modern influences – and delish Cantonese cuisine of course.
The deal: Every day from 5.30 to 7pm in the Dragon's Den bar, it's 2-4-1 Bintangs & signature cocktails. On Fridays, Martinis are 2-4-1 from 9-11pm.
The must-try: A Bloody Mary from the boozy cart (with yum cha, too!) – it'll put your other hangover cures out of business…
Happy Chappy, Jl Beraban No. 62, Seminyak, p. +62 361 4741959  // Jl Pantai Berawa No. 888, Canggu, p. +62 361 934 5811.
The Orchard Bar & Restaurant
The vibe: Half traditional English pub, half live music haunt with Indonesia's brightest music stars. What's not to love?!
The deal:  Throughout the week, it's 2-4-1 deals on drinks, from the After Eight Martini and G&Ts, to draught beers and ciders.
The must-try: The Frozen Coconut Daiquiri is like a pool party in your mouth.
The Orchard Bar & Restaurant, Jl Nakula, Gang Baik No. 99x, p. +62 857 8941 9634.
Happy sipping Honeys!
Like this story? Here's four more we think you'll enjoy!
Hip Seminyak Guide: All you need to know
Bali's 19 best beach clubs
30 best sunset bars for a golden hour that glows
Bali nightlife: Where to paint the island red