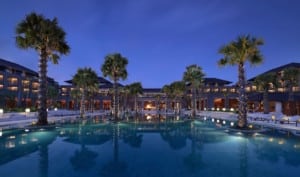 Clifftop dining destinations, special stay deals & a holiday for Fido - here are just a few reasons why we LOVE Radisson Blu Bali Uluwatu.
Whenever we head down to Bali's southernmost coast, we're often faced with an accommodation conundrum: do we splurge on an ultra-luxurious villa, or are we going to keep it casual with a guesthouse in the hills? Well, ever since the opening of Radisson Blu Bali Uluwatu, we don't need to make such a drastic decision. Why? Because this five-star stay is in a league of its own, bringing an esteemed and trusted brand to the Bukit clifftops. 
You see, accommodation in and around Uluwatu typically sat on opposing ends of the scale: a super fancy private abode, or a local guesthouse with the backpacker crowds. And let's face it, neither of these options come with the piece-of-mind you get when you book with a well-known, much-loved hotel name that ticks all the boxes, every time, no matter where in the world it's located…
That's where Radisson Blu Bali Uluwatu steps in. We've always loved Radisson Blu Hotels for their signature "Yes I Can" service philosophy, the always-stylish designs, and the gorgeous rooms that exceed expectations in every way, from their enormous sizes to the high-tech amenities, and of course, the fabulous levels of comfort (the 400 thread-count beds are the comfiest we've ever slept in!)
So naturally, the moment the royal blue doors opened to this luxe Bukit stay, you can guess who checked-in first to check out this ritzy resort – yours truly, of course! Here's what we loved the most about Radisson Blu Bali Uluwatu, and why we'll be hanging up our guesthouse boots for good whenever we're holidaying in the Bukit.
Reason One: Delicious dining destinations up high
Gourmet dining, surf-inspired bites and cocktails in every direction – Radisson Blu Bali Uluwatu knows exactly how to get our attention! With not one but two signature restaurants, plus three bars dotted throughout this paradisal playground, wining and dining here is as easy as catching the cool ocean breeze from the panoramic blue out yonder.
Filini is our fave from the feasting bunch (the signature Mediterranean restaurant of Radisson Blu Hotels worldwide) which dishes up a delish menu of upscale Italian in a totally homely environment. Then there's Artichoke – home of Radisson Blu's signature Super Breakfast and around-the-clock favourites – and the poolside Choka that's all about surf-inspired bites and ice cold thirst quenchers. There's also the Lookout that serves cocktail and tapas pairings overlooking the ocean, and last but certainly not least is Lucid Liquids – a go-to spot for fresh juices, herbal teas, and traditional remedies.
Reason Two:
The world of wellbeing
If your Bali getaway is more about detoxing rather than retoxing, then the wellness activities and amenities at Radisson Blu Bali Uluwatu will be right up your alley. For starters, there's the world-class Spa ESC and fitness centre, complemented by gifted spa artisans, an extensive menu of global wellness and beauty rituals, a yoga room, a beauty salon and even a relaxation room to totally switch off. Not only that, but each day you can also get involved with different excursions, classes and demonstrations, like Balinese cooking, herbal medicine making, mixology workshops, Tai Chi, water aerobics and even scenic runs around the BluRoutes running and cycling tracks. Then, once you're done blissing out and ramping up your heart rate, fill up on the fresh and flavourful cuisine available throughout the resort – after all, it wouldn't be a holiday without at least a little indulgence…
Reason Three:
The oh-so dreamy Honeymoon experiences
Ocean views, cosy poolside cabanas and romantic dinner setups for two – this dreamy resort is certainly one for the Honeymoon books with its gorgeous backdrops and private nooks. Whether you want to soak up that "Just Married" bliss in the sunshine, or want to treat the two of you to a half day spa journey (every day!) there's plenty of different ways to mark your first moments of married life here. Ultra-luxurious Ocean View Suites to celebrate in style? Check. A dinner beneath the stars in your own garden gazebo? You betcha. An endless list of excursions and experiences for some once-in-a-lifetime memories? Where do we start?! Just don't forget the Champagne…
Reason Four:
Bring Fido for a furry getaway!
Yes, you read that right. To make sure no one gets left behind on your luxe island escape, Radisson Blu Bali Uluwatu has a pet friendly policy which means you can bring your furriest member of the family along with you! Naturally, we jumped at the chance to bring our best friend, so our canine critic came to live it up in luxury with us. Her verdict? She loved the wide open outdoor spaces, the super-soft pooch pillows, and the extra special attention from the "Yes We Can" staff who made sure all of her doggy diva requests were tended to!
Reason Five:
The
Special Stay Deals
If the scrumptious munch, dazzling views and epic amenities aren't enough to tempt you down to this stunning Bukit stay, Radisson Blu Bali Uluwatu offers special stay deals so that you can luxe-out for less in one of the swanky rooms or suites, nab delicious dining deals, and even book a breathtaking honeymoon with romantic perks and benefits thrown in. Now that's worth raising a glass to…
See you on the clifftops Honeys!
Radisson Blu Bali Uluwatu, Jl Pemutih Uluwatu, Pecatu, p. +62 361 3008888, e. [email protected]
Like this story? Here's four more we think you'll enjoy:
50 things to see & do in Bali
Don't go chasing waterfalls – find them all here! 
Our guide to Bali's neighbourhoods
Bali's best day trips