Choosing the best school for your child can be overwhelming, especially when there are so many different curriculums to choose from. Want to know your options in Bali? Read on…
Whether you are choosing an International School in Bali for the first time or thinking of transitioning your child to a new school, our guide explains the different options to make your decision that much easier. We've laid out the essentials on Montessori and the EYFS, to the International Baccalaureate, IGSCE, the Indonesian National Curriculum and everything in between to help you find a school in Bali that's the right fit for your family. Ready? Settle in with a cuppa and prepare to become an authority on the international school systems in Bali…
A Guide to International School Curriculums in Bali
1. INTERNATIONAL BACCALAUREATE
Founded in 1968, the International Baccalaureate (IB) is a highly regarded educational foundation (considered by many to be the gold standard). It aims to provide a truly international education by developing academic, personal, emotional and social skills students require for success in today's increasingly interconnected world. It receives high recognition among higher education institutions, often resulting in better chance of admission to high-ranking universities (and potential course credit and scholarships). It also has a focus on producing caring world citizens who are able to think independently. It is a great choice for any family wanting a global education.
The IB Continuum has four programmes: The Primary Years Program (PYP) for students aged three-12, the Middle Years Program (MYP) for students aged 11-16, the Diploma Program (IDBP) for students aged 16-19 and the Career-related Programme (CP) for students aged 16-19.
– International Baccalaureate Primary Years Programme (PYP/IBPYP)
The PYP is the first stage of the IB programme (but is not compulsory for entry to the MYP) designed for students aged three to 12. The PYP has the overarching IB directive of developing internationally minded, independent students with strong academic and social values. Subjects include maths, science, technology, arts, language (including a second language), social studies and physical education. Students benefit from the study of trans disciplinary themes: 'who we are', 'where we are in place and time' and 'how the world works'.
– International Baccalaureate Middle Years Programme (MYP/IBMYP)
The MYP is the second stage of the IB intended for students aged 11 to 16. The MYP is a challenging curriculum that inspires learners to make practical connections between theory and reality. The framework consists of eight subjects: language acquisition, language and literature, individuals and societies, sciences, mathematics, arts, physical and health education and design.
– International Baccalaureate Diploma Program (DP/IBDP)
The DP is for students aged 16-19 and aims to produce students with exceptional breadth and depth of knowledge. The curriculum is made up of the DP core (theory of knowledge (TOK); a 4000 word self-directed extended essay (EE); and creativity, activity and service); and six subject groups: studies in language and literature, language acquisition, individuals and societies, sciences, mathematics and the arts. Most courses require written examinations at the end of the DP, but also involve internal assessment. Transcripts are provided for university applications.
– International Baccalaureate Career-related Programme (CP/IBCP)
The CP is a programme of career-related education intending to lead to further education, apprenticeship or employment.
For more information on the IB program, visit www.ibo.org, and if you would like to know how the IB is recognised internationally, visit www.ibo.org/university-admission.
Schools in Bali offering the IB curriculum
Bali Island School
Gandhi Memorial International School
Canggu Community School
2. UK BRITISH CURRICULUM
The National Curriculum has five Key Stages:
Key Stage 1 – Foundation year and Years 1 to 2 (ages five to seven);
Key Stage 2 – Years 3 to 6 (ages eight to 11);
Key Stage 3 – Years 7 to 9 (ages 12 to 14);
Key Stage 4 – Years 10 to 11 (ages 15 to16) (I)(GCSE)(IGCSE); and
Key Stage 5 – Years 12 to 13 (ages 17 to 18) (A levels).
Core UK school subjects are English literacy, mathematics and numeracy, science, art, music, drama, and physical and religious education.
– General Certificate of Secondary Education (GCSE)

At the end of Key Stage 4, students sit the UK based General Certificate of Secondary Education (GCSE). GSCEs are for students who are preparing for UK leaving exams, A Levels. Most schools offering A Levels will offer GCSE courses as these are the best preparation for these next stage exams. The curriculum offers nine subjects including English Language, Mathematics and Science (Biology, Chemistry and Physics) (core) and other subjects, which may vary including Geography, History, German, Business Studies, IT, and English Literature.
IGCSE (see International Curricula below for information) is also becoming more popular in England and some schools opt for IGCSE courses to provide more options for their students at the next stage of schooling.
– A Levels

Key Stage 5 is a two-year course, after which students take advanced level exams (A levels). A Levels are not compulsory, but are taken by a high percentage of the student population.  An alternative to A level exams for international students at an IB school is the IBDP.
Schools in Bali offering the UK curriculum:
Sunrise School Bali
Taman Rama National Plus School
Canggu Community School
3. AUSTRALIAN CURRICULUM
Like other country specific curriculums, the Australian curriculum is suited to expatriates from and/or returning to Australia. The curriculum runs from Foundation to Year 10. Disciplinary knowledge is found in the eight learning areas of the Australian Curriculum: English; Mathematics; Science; Health and Physical Education; Humanities and Social Sciences; The Arts; Technologies and Languages. The seven general capabilities are Literacy; Numeracy; Information and Communication Technology Capability; Critical and Creative Thinking; Personal and Social Capability; Ethical Understanding; and Intercultural Understanding. Students are graded using levels A-E. Every year students in Years 3, 5, 7 and 9 sit the National Assessment Program – Literacy and Numeracy tests (NAPLAN).
For more information on the Australian curriculum, visit www.australiancurriculum.edu.au.
Schools in Bali offering the Australian curriculum:
AIS Indonesia
Sanur Independent School
4. INTERNATIONAL CURRICULA
– International Primary Curriculum 

The International Primary Curriculum (IPC) is a comprehensive, thematic, creative curriculum for 3-12 year olds, with a clear process of learning and with specific learning goals for every subject, for international mindedness and for personal learning.
– International General Certificate of Secondary Education (IGCSE)

IGCSE are internationally adapted certificate courses for high-school age students. Originally based on the UK GCE O Level examinations, the content of the course has been adapted to suit the needs of international students who are not studying in the UK, or will be taking a different course in their final years of school. IGCSE are considered to be excellent preparation for A Levels and IBDP subject courses, which is why many schools in Bali offer them (as an alternative to the IB MYP).
Students sit exams in various subjects (see GCSE above) after a two-year course of study and certificates are issued by a number of examination boards. There are many schools in Bali offering the IGSCE curriculum, and it is the most widely recognised education certificates in the world for 14-19 year olds.
Schools in Bali offering the IGSCE:
Asian International School
Pelangi School
Dyatmika School
Canggu Community School
5. INDONESIAN NATIONAL CURRICULUM
The Indonesian education system is based on a 12-year school structure (6+3+3) followed by four years at the undergraduate level and two years at the master's level for students pursuing non-vocational studies.  Education is compulsory for the first nine years (primary and junior secondary), and Islamic education is offered at all levels. The language of instruction is Bahasa Indonesia, but local regional languages may be used in the first three years of primary school. The Indonesian National Curriculum is student and activity oriented, and teaching strategies incorporate international methods and best practice.
Schools that offer the Indonesian National Curriculum:
Dyatmika School
Taman Rama National Plus School
Pelangi School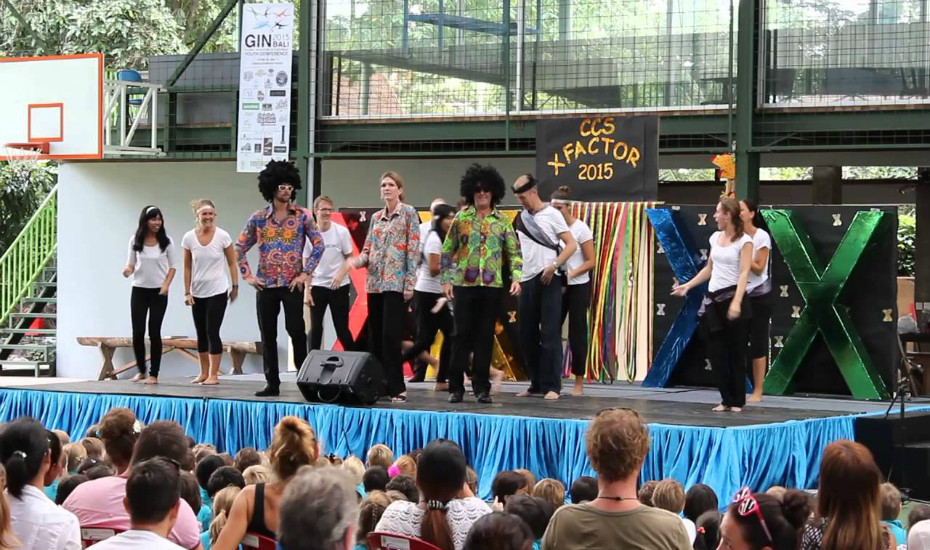 6. EARLY YEARS FOUNDATION STAGE (EYFS)
The Early Years Foundation Stage (EYFS) is a set of standards for early learning, development and care of children from birth to five years old as set by the UK Government. There is a focus on three key areas of learning: personal, social and emotional development; communication and language; and physical development. The four specific areas of learning are literacy, mathematics, expressive arts and design, and understanding the world. EYFS has a strong focus on interaction with children to advance creative and critical thinking skills and the early adoption of language. Parents with children in the EYFS curriculum enjoy high levels of parental interaction and involvement.
For more information on EYFS visit: www.gov.uk/early-years-foundation-stage
Schools in Bali offering EYFS:
Canggu Community School
Dyatmika School
The Anak Atelier
7. MONTESSORI
Montessori is a method of education developed by Italian physician and educator Dr Maria Montessori. It is based on independence, hands-on play, and learning through experience. Specialised Montessori materials support children to learn – the idea being that at each age the available activities should match natural interests. Students are allowed freedom to choose their preferred activity, thereby learning free from strict instruction. Children are encouraged to explore, be creative and to work alone and in groups to maximise acquisition of core competencies (language, science, maths, communication, art, dance and music).
– Montessori-inspired

Montessori-inspired educators follow the general principles of the Montessori approach (self-directed learning through a choice of activities matching kids' innate interests); but have not been accredited by the International Montessori Council. See Montessori curriculum summary above for more information. Montessori-inspired schools therefore have freedom to adjust their framework to meet the needs of their student population, and are not required to use approved Montessori materials or methods.
Montessori and Montessori-inspired schools in Bali: