Photography: Anti:dote
Who says indulgence is reserved for weekends? Pamper yourself with a weekday high tea sesh from our list of top picks in Singapore.
High tea in Singapore? So posh. Tiny sandwiches and scones are very Bridgerton. But, perhaps even better, we're thinking of traditional treats like kueh. We just love 'em all! Here's the thing: you don't have to save this dining experience for the weekend. The proof? We've rounded up our favourite weekday tea places in sleek hotels and cosy cafes for the perfect afternoon indulgence that's fit for royalty.
Best high tea spots in Singapore
1. Atlas
Nothing says treat yo'self like afternoon tea with a side of glitz and glam. Step into the roaring twenties at Atlas, a European Art Deco-inspired bar in the iconic Parkview Square. Settle down for a high tea spread ($64++), with a wide selection of teas to choose from. Each component is handmade to order, so make your reservation with at least 24 hours' notice. There's a vegetarian and gluten-free menu available too!
Atlas, Parkview Square, 600 North Bridge Road, Singapore 188778; Tuesday to Saturday, 3pm and 4pm
2. Sinpopo Brand Restaurant
We can't say no to a delicious high tea to brighten up our weekdays, and Sinpopo has just the thing. The set ($68++ for two) pays homage to heritage delicacies, with a delectable selection of handmade kuehs and artisanal bakes that celebrate local flavours in bite-sized creations.
Take a bite out of signature kuehs like kueh dar dar, ondeh ondeh, kueh sarlat and bingka ubi – these sweet treats go perfectly with a sip of tea! Plus, they're handmade daily so you know you're getting the freshest nosh. For savoury delights, try dishes like mee siam kering and char siew donut to satisfy your cravings. A weekday pick-me-up that's sweet, savoury and a tribute to local cuisine? We're sold.
Sinpopo Brand Restaurant, high tea available 3-5pm daily, #02-22/27/29 Tang Plaza, 310 Orchard Road, Singapore 238864
3. Lobby Lounge at Singapore Marriott Tang Plaza Hotel
Say yes to weekday indulgence at Singapore Marriott Tang Plaza Hotel's Lobby Lounge, featuring an exciting afternoon tea line-up that will leave you wanting more. The menu changes every two months, so pop by to check out other themed high teas! If you're a fan of the King of Fruits, book the Mao Shan Wang Durian Afternoon Tea, available from now till 31 May 2023.
From $48++ per person, this afternoon tea includes flavourful durian-centric bites like durian mochi, durian burnt cheese tart, durian choux pastry, and more. Wash it all down with free-flow TWG teas and coffees, or, swing by on the weekends for high tea that includes a flute of champagne and a serving of Spanish grilled bread with Joselito Iberico ham – crowned as the best ham in the world. If you're still feeling peckish, check out the a la carte menu for sharing plates, Western and Asian dishes, and more.
Lobby Lounge at Singapore Marriott Tang Plaza Hotel, 320 Orchard Road, Singapore 238865, Mondays to Thursdays from 3pm to 5.30pm; Fridays to Sundays from 2pm to 3.30pm and 4pm to 5.30pm
4. The Lobby Lounge, Shangri-La Singapore
Nestled within the luxurious ambiance of Shangri-La Singapore, The Lobby Lounge offers a chic high tea experience that's inspired by local flavours. Delight in a medley of delectable treats that showcase the diverse and vibrant culinary traditions of Singapore.
On the sweets tier, indulge in exquisite renditions of local favourites, such as the gula melaka cake, ondeh ondeh and kueh rainbow lapis for a decadent treat. The savoury tier sees more incredible creations that speak to local influences with a twist, like the seafood otah mousseline and tobiko tartlet or the hae bee hiam Spanish tuna tea sandwich.
Book a table to savour an authentic symphony of tastes that celebrates the essence of Singaporean heritage. Wash it all down with a signature tea brew like The Rose Veranda Signature Blend, a mellow sip with notes of corn flower petals and soursop; or The Shangri-La Tea, a delectable blend with vanilla and pomegranate notes.
One thing's for sure: you'll immerse yourself in a curated experience that pays homage to the rich tapestry of Singaporean culture and cuisine.
The Lobby Lounge, Shangri-La Singapore, 22 Orange Grove Road, Tower Wing, Singapore 258350
5. Angelina
Ready to dine like royalty for your next afternoon tea sesh? This Parisian tearoom has delicately plated bites that look way too good to eat. The royal tea set for one ($48) comes with sweet treats like the chef's macaron, mini mont-blanc, lemon tart, and fresh chocolate. On the savoury side, you've got crab cakes, French rillettes, and smoked salmon with caviar. And if you're feeling up for a more decadent drink, top up $5 and get the signature hot chocolate for extra indulgence.
Angelina, #B2-89, The Shoppes at Marina Bay Sands, 10 Bayfront Avenue, Singapore 018972; daily 2pm to 4.30pm
6. Wolfgang's Steakhouse
Make your way to this classy New York steakhouse for an elegant afternoon of tea and light bites ($88++ per person). Opened by the renowned Wolfgang Zwiener, the experience at the steakhouse is nothing less than exceptional. The atmosphere, menu, and high-end wine list topped with professional service add to a decadent dinner. And you can expect the same with the afternoon tea menu. Tip: remember to make a reservation at least 48 hours beforehand, as each creation is handmade to order.
Wolfgang's Steakhouse, #02-01, InterContinental Singapore, Robertson Quay, 1 Nanson Road, Singapore 238909; daily 2.30pm to 4.30pm (excluding blackout dates)
7. National Kitchen by Violet Oon Singapore
Nestled within the historical National Gallery Singapore, you'll be dining in true style at Violet Oon. If you're looking for something different, why not try afternoon tea with a Peranakan twist? This highly acclaimed brand is the creator of Asian gourmet delights rooted in Nonya and Singaporean cuisine. Lunches and dinners here are filled with rich heritage from various cultures. The Singapore High Tea set ($59) at Violet Oon Singapore serves a unique selection of nibbles with familiar local flavours. So this'll be a unique one for the books.
National Kitchen by Violet Oon Singapore, #02-01, National Gallery Singapore, 1 Saint Andrew's Road, Singapore 178957; available Friday to Sunday, 3pm to 5pm
8. The Lobby Lounge at The Capitol Kempinski Hotel Singapore
Capitol Kempinski's lobby lounge is the perfect refuge for a zen high tea session in Singapore. It's seclusion and serenity make it the perfect place to get away from the hustle of the city. Partitioned away from the prying eyes of the main lobby, this exclusive space is luxurious. Think plush armchairs and sofas with elegant artworks. The five-course ($52++; $58++ on weekends) afternoon tea menu has a mix of sweet and savoury snacks. Best of all, you get tea pairings with each course to bring out the best flavours.
The Lobby Lounge, The Capitol Kempinski Hotel Singapore, 15 Stamford Road, Singapore 178906; daily 2.30pm to 5pm
9. 1864 The Bar at Sofitel Singapore City Centre
Escape the hustle and bustle of the CBD at this swanky coffee bar for a relaxing high tea session. Taking inspiration from haute couture, the space transforms into a botanical wonderland. You can start your day with a leisurely breakfast while people watching. Or, drop by in the late afternoon for some tea. At $118++ for two, bring a companion along to join you for desserts and mini savoury treats.
1864 The Bar, Level 5, Sofitel Singapore City Centre, 9 Wallich Street, Singapore 078885; daily 2pm to 5pm
10. Tea Lounge at Conrad Singapore Orchard
If you like sipping on tea in a charming colonial garden setting, you'll enjoy the quaint surroundings of the Tea Lounge. The smell of freshly ground aromatic coffee and sipping on steeped tea blends make for a multi-sensorial experience. You'll be sipping and swooning over unique tea blends, wines, and champagne with the extensive beverage selection. And of course, pad your stomach with the bite-sized sweets and savouries that go along with it. A vegetarian and gluten free menu is also available with three days notice.
Tea Lounge, Conrad Singapore Orchard, 1 Cuscaden Road, Singapore 249715; Saturday to Sunday, 1:30pm to 4pm
11. Tablescape Restaurant & Bar at Grand Park City Hall
Tablescape is quite a dining destination to experience. The table service, neoclassical interior, and unique dishes will send you back in time. It's all about elegance and refined tastes here. Satisfy your cravings with this afternoon tea menu ($88++), which features delectable delights. Plus, they're all served on a three-tiered silver stand to add to the ambience. Get your phone cameras ready – because did it really happen if it's not on Instagram?
Tablescape Restaurant & Bar, Level 3, Grand Park City Hall, 10 Coleman Street, Singapore 179809; Monday to Friday, 2.30pm to 4.30pm, Saturday to Sunday, 3pm to 5pm
12. Lobby Lounge at Conrad Centennial Singapore
A luxurious setting with ambient lighting. There's no better place to be than the Lobby Lounge at Conrad Centennial Singapore. It's a peaceful haven filled with soothing energy and refined opulence. Drawing inspiration from the art of floriography, we see a blend of traditional afternoon tea with the symbolism of flowers. The meticulously crafted menu captures the exploration of eight exquisite florals interpreted into bite sized treats. You'll be greeted with a flower-infued mocktail before tucking in to tarts, sables, and choux puffs. The perfect way to unwind for the weekend, we say.
Lobby Lounge, Conrad Centennial Singapore, 2 Temasek Boulevard, Singapore 038982; daily 1pm to 3pm and 3.30pm to 5.30pm
13. Atrium at Pan Pacific Singapore
With its newly refreshed space, we see Atrium breathing new life within the confines of Pan Pacific Singapore. Surrounded by trees and architectural screens, this venue is quite the sight. Complimented by eight dining pods, it's an intimate environment perfect for dates or business meetings. Bringing the panache of Singapore with its afternoon tea menu, expect odes to classic indulgence with a touch of Singaporean flavours.
Atrium, Pan Pacific Singapore, Marina Square, 7 Raffles Boulevard, Singapore 039595; daily 1pm to 3pm and 4pm to 6pm
14. Alley on 25 at Andaz Singapore
Take yourself 25 floors up to Alley on 25 and be on top of the world (or city). Conceived at the culinary hub of Andaz, this multi-cuisine establishment is an all-day dining venue that recreates the spontaneity of Singapore street dining. We especially love the Pizza & Pilsner Tuesdays and Lazy Breakfast on the weekends. But keep your eyes out for the afternoon tea because it's quite the sight. Brownie points for the amazing city views! Talk about living the high (tea) life.
Alley on 25, Level 25, Andaz Singapore, 5 Fraser Street, Singapore 189354; daily 3pm to 5pm
15. Brasserie Les Saveurs at The St. Regis Singapore
When you're at The St. Regis, you know you're in for some pampering – and you won't even have to wait for the weekend. Just take a day off work and nibble your way through a lavish array of classic sandwiches, desserts and pastries served on a silver stand to really elevate your high tea experience.
Brasserie Les Saveurs, The St. Regis Singapore, 29 Tanglin Road, Singapore 247911; Monday to Saturday, 3pm to 5pm; Sunday, 4pm to 6pm
16. Skai at Swissôtel The Stamford
Due for a high tea sesh? Why not take it up a notch, literally. Say, 70 floors above ground? Then whisk yourself away to Skai. This lively contemporary grill restaurant within the acclaimed Swissotel The Stamford has bites that are to die for. Combine that with seamless service, bespoke bevvies, and iconic city views, you've got the start to a great day. It has a spread of savoury and sweet creations that will tantalise your taste buds. Bump your experience up another level with the premium high tea if you're looking to be fancy.
Skai, Level 70, Swissôtel The Stamford, Singapore 178882; Monday to Friday, 3pm to 5pm
17. The Lobby Lounge at InterContinental Singapore
Tucked away within the Bugis precinct is The Lobby Lounge in InterContinental Singapore. Expect splendid culinary transformations to grace the space. It harmoniously blends the essence of contemporary allure with a deep respect for heritage. The afternoon tea experience here is an elevated affair, with local twists added to typical high tea treats.
The Lobby Lounge, InterContinental Singapore, 80 Middle Road, Singapore 188966; daily 1pm to 3pm and 3.30pm to 5.30pm
18. Wildseed Cafe
We all know surrounding yourself with nature works wonders for your well-being. So for a change of scene, head to Wildseed Cafe. Situated amidst quiet nature, the space is decked in lush foliage. As you enjoy the tranquillity, nourish your body with an exquisite selection of afternoon tea bites ($58). Bite into crab salad croissants, mushroom quiches and mini French toasts. Pay a little extra for the signature blooming tea – it's the chef's recommendation!
Wildseed Cafe, multiple locations including The Alkaff Mansion and The Summerhouse; daily 2pm to 4.30pm
19. The Grand Lobby at Raffles Hotel Singapore
Settle in for an elegant afternoon at the heritage hotel with a refreshed spread of indulgences in a refined setting. Reminiscent of the extravagant parties that were once held within the space, the afternoon tea experience here is a chic celebration. Surround yourself within the interior of floor-to-ceiling Victorian pillars and a space full of natural light. You can't go wrong with the Raffles Afternoon Tea ($88 per person) for a scrumptious experience. Just be sure to make your reservation a day in advance. Add on $30++ and get a flute of champagne for a little extra indulgence.
The Grand Lobby, Raffles Hotel Singapore, 1 Beach Road, Singapore 189673; daily 12pm to 6pm
20. Anti:dote at Fairmont Singapore
This fixture at Fairmont Singapore is no small contender in the cocktail scene. This stylish bar is known for its progressive selection of unique concoctions. Couple that with a menu full of premium wines and artisanal spirits, and you'll satisfy even the pickiest of imbibers. If you're looking to steer away from boozy nights, you can go for its indulgent tea time menu instead. Pick a mocktail before tucking into amuse bouches, sandwiches, and sweets.
Anti:dote, Level 1, Fairmont Singapore, 80 Bras Basah Road, Singapore 189560; daily from 12pm to 2pm and 3pm to 5pm
21. Arteastiq
Arteastiq is synonymous with relaxed art jamming afternoons and chi-chi meals. But if busting out your Picasso moves isn't the plan of the day, perch yourself on a plush, velour chair for an afternoon of dainty delicacies. The Dream Teasery high tea set ($32 per person, $58 for two) comes with truffle shell pasta, foie gras pate and teas. Meanwhile, the National Treasure set ($32 per person, $58 for two) goes the local route with otah fries, satay chicken with rice cake, rainbow kueh lapis and baked tapioca kueh with lychee.
Arteastiq, multiple locations including Mandarin Gallery and Jewel Changi Airport; daily 1pm to 5pm
22. Lime Patisserie at Parkroyal Collection Pickering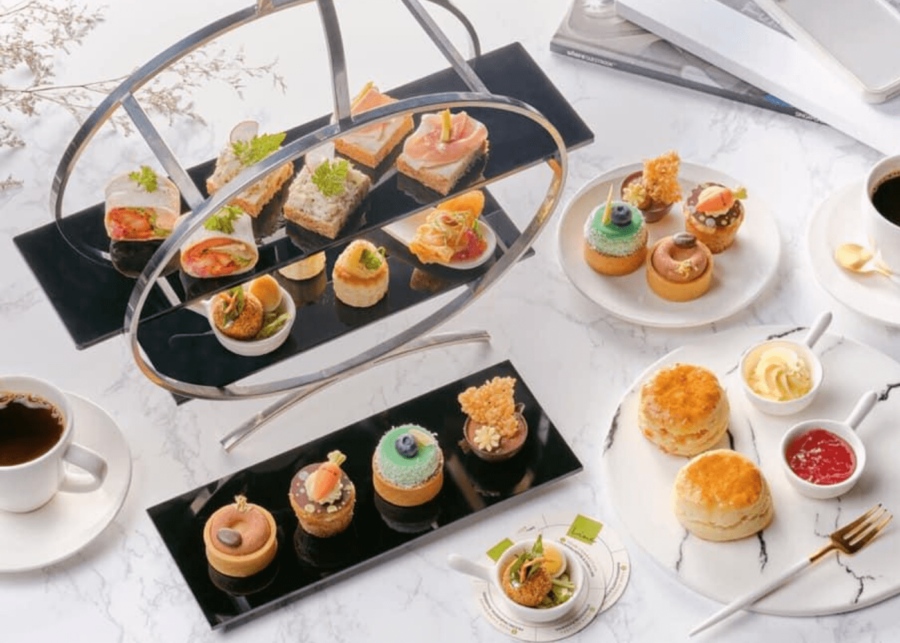 Now here's a high tea sesh that brings us Tiers of Joy. Have tea for two in the lush, elegant space with plush sofas and comfy corner tables. At $88, this set for you and a dining partner features goodies such as lemon mousse cake and mini Boston lobster brioche. Plus, scones with classic toppings like clotted cream and jam. Oh, and did we mention the unlimited servings of Bacha coffee or TWG tea? That's your caffeine for the day, sorted.
Lime Patisserie, Parkroyal Collection Pickering, 3 Upper Pickering Street, Singapore 058289; Monday to Friday, 3pm to 5pm; Saturday to Sunday, 3.30pm to 5.30pm
23. TWG Tea Salons
Calling all tea lovers! Go gaga at TWG Tea salons with hundreds of brews to choose from. When tea time rolls around, you can pick a spot to lounge around with your fave flavours and light bites. Feeling peckish? Nibble on viennoiseries served with TWG Tea jelly and whipped cream, plus your choice of hot or iced tea with the 1837 set ($20). For $35, you'll enjoy all that alongside finger sandwiches such as chilli crab tarts and thai basil chicken broiche
TWG Tea Salons, multiple locations including Ion Orchard and The Shoppes at Marina Bay Sands; daily 2pm to 6pm
24. L'Espresso at Goodwood Park Hotel
Enjoy your high tea spread in the cosy indoor space or by the breezy poolside terrace at L'Espresso. This choice English afternoon tea with local faves ($65) features a dazzling assortment of dainty delights served up buffet style. And we can't forget about the traditional English scones. If you're in the mood for more local fare, the menu also features laksa, dim sum and chicken curry to put a local spin on the classic English tea time.
L'Espresso, Goodwood Park Hotel, 22 Scotts Road, Singapore 228221; Monday to Friday, 12pm to 2.30pm and 3pm to 5.30pm; Saturday, Sunday and public holidays, 11am to 1pm, 1.30pm to 3.30pm and 4pm to 6pm
25. Colony at The Ritz-Carlton, Millenia Singapore
One of our favourite hotel buffets in town, Colony provides the best dining experience complemented by a sophisticated yet cosy setting. The Journey Afternoon Tea ($65) gives you a true taste of Singapore with its five-tier menu along with a flute of champagne, processco, or a tea. Oh, and did we mention unlimited desserts from The Patisserie? That's right, unlimited.
Colony, The Ritz-Carlton, Millenia Singapore, 7 Raffles Avenue, Singapore 039799; Monday to Saturday, 3.30pm to 5.30pm
26. The Landing Point at The Fullerton Bay Hotel Singapore
Unwind at The Landing Point as you dine along the waterfront and soak in magnificent views of the Marina Bay area. Go for its Expressions Afternoon Tea (from $62) for the rich flavours of Asia with delicate bite-sized treats that deliver a punch. Nibble on Boston lobster, duck rillettes, kopi and PB toast, and scones with clotted cream to go with TWG Tea and Bacha Coffee drinks.
The Landing Point, The Fullerton Bay Hotel Singapore, 80 Collyer Quay, Singapore 049326; Monday to Friday, 3pm to 5.30pm; Saturday, Sunday and public holidays, 12pm to 2.30pm and 3.30pm to 6pm
27. Ginger.Lily at Hilton Singapore Orchard
Need a breather after all that retail therapy? Swing by the elegant Ginger.Lily at Hilton Singapore Orchard. The innovative bar and lounge seamlessly transforms from a day to night location in seconds. The interior is inspired by the design of the ginger lily plant, hence the name. It thus creates a sophisticated space that creates the perfect setting for your afternoon tea plans.
Ginger.Lily, Level 5, Hilton Singapore Orchard, 333 Orchard Road, Singapore 238867; daily 1pm to 3pm and 3.30pm to 5.30pm
28. Isabel Bar at Maxwell Reserve, Autograph Collection
We're saying yes to a relaxing weekday treat and Isabel Bar is the stylish hangout to swing by. If you didn't know, this is Maxwell Reserve's signature bar that offers delightful afternoon tea sessions from $89. Plush furnishings, hand-painted wallpaper, delicate herringbone floors, knotted silk rugs, and the stunning pink onyx bar counter set the scene for an elegant meal.
You'll be treated to a delicious selection of eats. Expect teas paired with sweet and savoury finger food and snacks – perfect for easy bites while catching up with friends and loved ones. Think smoked salmon and cream cheese sandwiches, prune and dark chocolate brownies and more. The traditional English scones are a must-try, served with clotted cream and preserves. Finish it off with an exclusive selection of Beluga caviar and a shot of vodka. Can't say no to a cheeky shot of booze!
Isabel Bar, Maxwell Reserve, Autograph Collection, 2 Cook Street, Singapore 078857
29. Mo Bar at Mandarin Oriental, Singapore
Temporarily closed.
Make your high tea situation an unforgettable one at Mo Bar. The champagne afternoon tea experience brings you a small selection of bites, perfect for anyone who can't decide what to eat. You've got turkey ham with mustard mayo, Boston lbster stopped with chives, smoked trout, and roasted veggies with pesto. And sweet-wise, get citrusy kicks with an orange yuzu mousse, or decant sake lees cheesecake.
Mo Bar, Mandarin Oriental Singapore, 5 Raffles Avenue, Singapore 039797; daily 3pm to 5pm
30. 10 Scotts at Grand Hyatt Singapore
Temporarily closed.
Who can say no to a high tea sesh with cascading waterfall views? Ideal for cosy get-togethers, this restaurant promises delectable cuisine and Instagram-worthy views. It takes the colonial tradition of high tea up a luxurious notch with a three-course menu ($58++ per person) guaranteed to leave you satisfied.
Highlights include 18-month aged parma ham on toasted focaccia, curry puffs and a plant-based fish cake. End things on a sweet note with the likes of strawberry tarts, salted caramel ice cream and seasonal fruits. Wash it all down with one of the Monogram bespoke teas created by master tea blenders. Or sip on coffee or juice. Craving a tipple? Top up $30 for themed cocktails and mocktails.
10 Scotts, Grand Hyatt Singapore, 10 Scotts Road, Singapore 228211; daily 12pm to 2pm and 3pm to 5pm
What are you waiting for? Time to book yourself a luxe weekday afternoon tea sesh in Singapore!