Photography: Knockhouse Cafe
From local icons to hip cafes, Upper Thomson is a food haven you'll love.
When you think of Upper Thomson, the first thing that comes to mind is food. The enclave is home to great eats, thanks to its mix of cool cafes, local eateries, must-try restaurants and late-night hangs. Situated close to green spaces like Bishan-Ang Mo Kio Park and MacRitchie Reservoir, this heartland neighbourhood is the perfect place for weekend brunch, supper get-togethers and everything in between. Here's how to eat your way through Upper Thomson…
Upper Thomson food guide: Best cafes and restaurants
1. State of Affairs
Early risers rejoice because this quaint cafe will be ready and waiting for your arrival at the break of dawn. Beans here are roasted in-house every week and can be enjoyed in its cosy space in a variety of ways. We hear the dirty white here is creamy and oh-so addictive. Enjoy it with a brunch spread of dishes like avo toast or grilled cheese to jumpstart your morning.
State of Affairs, #01-02, 183 Longhaus, 183 Upper Thomson Road, Singapore 574332
2. Knockhouse Cafe
Previously known as Pacamera, Knockhouse Cafe is a spot with gorgeous contemporary interiors. The floor-to-ceiling windows flood the space with natural light, giving it the cosiest vibe. Of course, this means you'll get perfect lighting as you document your visit here with pictures on Instagram. The space fills up quickly on weekends for brunch, and we can see why because the dishes are sublime.
Knockhouse Cafe, 185 Upper Thomson Road, Singapore 574333
3. Hello Arigato

Hello Arigato is where Kinfolk aesthetic meets Japanese-inspired fare. On the menu, you'll find a multitude of delectable menu items. The list of sandos is incredibly extensive, so there's something for everyone. If you're feeling famished, go for the donburis or plates of pasta with Asian influences.
Hello Arigato, 227 Upper Thomson Road, Singapore 574359
4. Thus Coffee
For your caffeine fix, head to this humble cafe that's slightly out of the way. But the coffee will make it worth your while, as the beans are freshly roasted in-house. So step away from the bustling Upper Thomson stretch and head to this quiet spot for good food and chill vibes.
Thus Coffee, 4 Jalan Kuras, Singapore 577723
5. Woodlands Sourdough
Bread is life, and the folks at Woodlands Sourdough agree. Just like its name suggests, the bakery specialises in sourdough bread (and brownies!). Try the pizzas, sandwiches, donuts and cakes for a carb-tastic meal. But take note: it sells out quick, so get your fill of baked goods while you can.
Woodlands Sourdough, #01-03, The Longhaus, 183 Upper Thomson Road, Singapore 574429
6. Udders
So you like your ice cream flavours quirky? Pop by Udders to indulge in frozen treats and delish waffles for dessert (or an afternoon delight). Unique creations include Horlicks, peanut butter crunch, salted speculoos, chendol, Baileys and bourbon, mango sorbet, and orange choc bitters. Oh, and did we mention the mao shan wang ice cream? It's glorious.
Udders, 246D Upper Thomson Road, Singapore 574370
7. PocoLoco
In the mood for Italian? PocoLoco is known for its fresh, authentic dishes with affordable price tags. Go for pastas like mentaiko tagliolini and fettuccine or dig into squid ink and seafood risottos. For dessert, you'll be treated to quintessential Italian sweets such as panna cotta and tiramisu. Lovely!
PocoLoco, 215F Upper Thomson Road, Singapore 574349
8. Fatboy's The Burger Bar
As the original outlet for this burger chain, Fatboy's at Upper Thomson has a special place in our hearts. You can even build your own burger here. Classic choices include cheeseburgers and Swiss shroom burgers, but we say skip that and go for the specials. The Elvis stars a bacon-stuffed pork patty with grilled bananas and peanut butter, while The Yolo stacks layers that include a patty, fried egg, fried spam, fried onion strings and mozzarella. Complete the gut-busting meal with milkshakes and floats… because why not!
Fatboy's The Burger Bar, #01-08, 187 Upper Thomson Road, Singapore 574335
9. Beach Road Scissors Cut Curry Rice
This iconic Singaporean dish is the epitome of sinfulness. But don't be deceived by its lacklustre appearance! While it may not do wonders for your Instagram feed, it's local comfort food at its best. This is basically a plate you can customise with meats and veggies like chicken chop, fishcake and luncheon meat (cut up using scissors). It's served with rice and a dollop of decadent curry that threatens to spill over the side. Tip: after a night of drinks, it'll taste a million times better.
Beach Road Scissors Cut Curry Rice, 222 Upper Thomson Road, Singapore 574354
10. Columbus Coffee Co.
This one's helmed by the same people behind Atlas Coffeehouse and Lunar Coffee Brewers. It's hard not to love the well-lit space, as the decor and wooden furniture make for an inviting environment. Food-wise, expect dishes that are perfect for brunch and will fill you right up. We can imagine spending lazy afternoons with the fambam right here!
Columbus Coffee Co., 220 Upper Thomson Road, Singapore 574352
11. Yahava KoffeeWorks
Get your dose of caffeine for the day at Yahava, which serves all kinds of hot and cold drinks. That includes specialty coffee beans, chai and matcha lattes, ice-blended beverages, cold brews and rich milkshakes. The owners pride themselves on offering an 'adventure in a cup', bringing you the best coffees from around the world.
Yahava KoffeeWorks, #B1-02, EBC Lifestyle Hub, 50 Tagore Lane, Singapore 787494
12. Casuarina Curry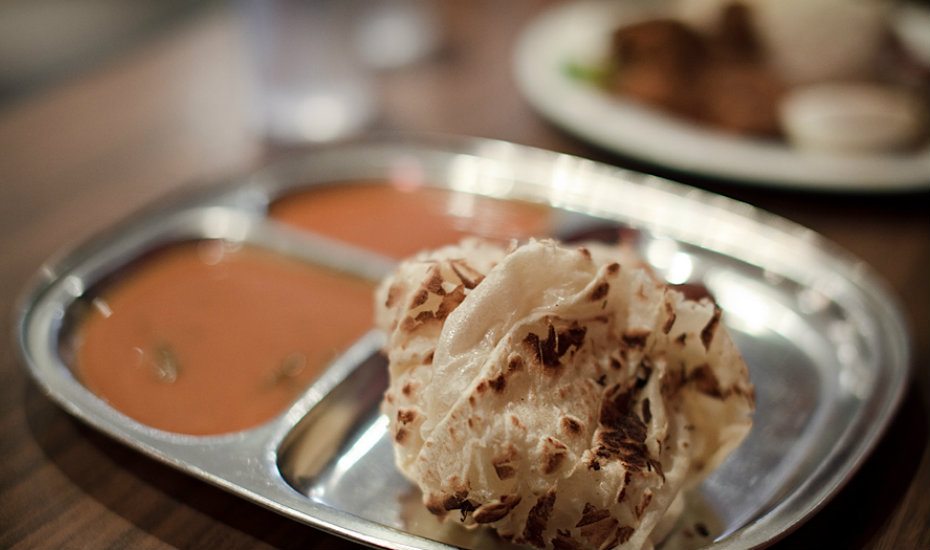 If you're talking about roti prata, this is one name that'll inevitably come up. An icon in the food scene, Casuarina Curry serves up crisp perfection that you can pair with fish or chicken curry. Apart from its signature dish, the nasi briyani doesn't disappoint either.
Casuarina Curry, 136-138 Casuarina Road, Singapore 579526
13. Yi Jia Bakery House Cafe
Feeling the munchies for traditional cakes and old school baked goods? Yi Jia is where you'll find satisfaction. This place is all about nostalgia, with everything from black forest cakes and durian puffs to egg tarts and butter cakes on the menu. Stop by for a walk down memory lane.
Yi Jia Bakery House Cafe, 229 Upper Thomson Road, Singapore 574361
14. One Man Coffee
Craving for caffeine? Hit up this industrial chic cafe for superb coffee in the form of cold brews, lattes and cappuccinos. (Or sip on tea blends and matcha lattes if that's more your scene.) For a hearty late morning meal, order up a storm with fresh bakes, salads, and pastas. But one of our faves has got to be the gashouse eggs. You'll be noshing on runny egg and melted cheese on toast, which you can slather with house-made bacon jam.
One Man Coffee, 215R Upper Thomson Road, Singapore 574349
15. The Roti Prata House
This 24/7 establishment has cemented its spot as one of the top prata places in town. No matter what time you swing by, there's always a crowd. And it's no surprise, really. The signature plain prata is crispy and flavourful, and you can gorge yourself silly on an array of dishes including mee goreng, murtabak and variations of prata that are bound to get purists squirming. Fair warning: if you go for the iced Milo, you'll end up ordering more than one.
The Roti Prata House, 246 Upper Thomson Road, Singapore 574370
16. Ming Fa
Open till the wee hours of the morning, this no-frills noodle stall has evolved from its humble beginnings as a pushcart in Chinatown to multiple outlets in Singapore and beyond. The fishball and mushroom minced meat noodles are must-tries, though the menu also offers dishes like laksa, curry chicken, satay bee hoon and sliced fish soup. Great for a fuss-free supper after you've hit up your fave watering hole, we say.
Ming Fa, 246B Upper Thomson Road, Singapore 574370
17. Sembawang Hills Food Centre
Don't overlook this cosy hawker spot. Whether you're feeling duck rice, laksa, char kway teow, fishball noodles or nasi lemak, this oasis of good eats will ensure you never leave feeling unsatisfied. Plus, the variety gives you more reason to return and explore 'em all!
Sembawang Hills Food Centre, 590 Upper Thomson Road, Singapore 574419
18. Ban Leong Wah Hoe Seafood Restaurant
So you're a seafood lover? This zi char place is just what you need. Having served happy diners for decades, the eatery is famed for its chilli crab, black pepper crab and har cheong gai (prawn paste fried chicken). Round up the fam and order to your heart's content after you peruse the extensive menu of fish, chicken, seafood, vegetable and noodle dishes. The fried mee sua is also a must-try!
Ban Leong Wah Hoe Seafood Restaurant, 122 Casuarina Road, Singapore 579510
19. Daawat Tandoori
Searching for stellar North Indian cuisine? This restaurant has been in the Upper Thomson area for a decade, dishing out authentic dishes that have fed many a hungry diner. Expect to find regular favourites such as tandoori chicken, palak paneer and mutton biryani, plus a whole selection of naan that you won't be able to stop munching on.
Daawat Tandoori, Yew Lian Park, 207 Upper Thomson Road, Singapore 574346
Bookmark our food guide and you'll be spoilt for choice the next time you're in the Upper Thomson 'hood!