Photography: Raffles Marina
Looking for an adventure in the west? Head to Raffles Marina for fun, food, and an amazing staycation.
If you wanna skip the crowds in town, head to the west of Singapore for cool sights and fun adventures away from the busy city. It's time to embark on an exploration of all the exciting attractions the west side has to offer with Raffles Marina.
Treat yourself to a staycay at Raffles Marina
So many things to do, so little time! Why not plan a staycation at Raffles Marina to experience it all? Not your typical hotel, Raffles Marina is a country club that offers room for stay. After all, who can say no to waking up to a view of the gorgeous sea and bobbing yachts?
Say ahoy at either a Standard or Deluxe Room; the former has a gorgeous view of the Atrium and Marina, and the latter comes with a nifty outdoor garden. Order up a tray of room service for the perfect breakfast in bed experience, along with a beautiful view.
Besides using Raffles Marina as a base to explore the area, there's just so much to do at the club itself. Lounge at the tranquil landscape pool, or try your hand at fishing along the breakwater. At sunset, embark on a romantic stroll and watch the skies light up.
If you'd like, you can even take to the seas for a bout of sailing or a private cruise charter. Or, nip into the gym for a workout session that comes with a view of the waters.
Feeling peckish? Refuel at the Marina Bistro to dine with a marvellous view of the marina. Must-tries include the crispy fish and chips; as well as the nasi goreng istimewa, featuring aromatic fried rice with sambal prawns, fried chicken, juicy satay and more.
Alternatively, tuck into authentic Chinese cuisine at Captain's Table Chinese Restaurant, with executive set menus and family set menus to choose from. Highlights include the tender coffee spare ribs, wok grilled wagyu sliced beef, deep fried king prawns tossed with wasabi mayo and other crowd pleasers.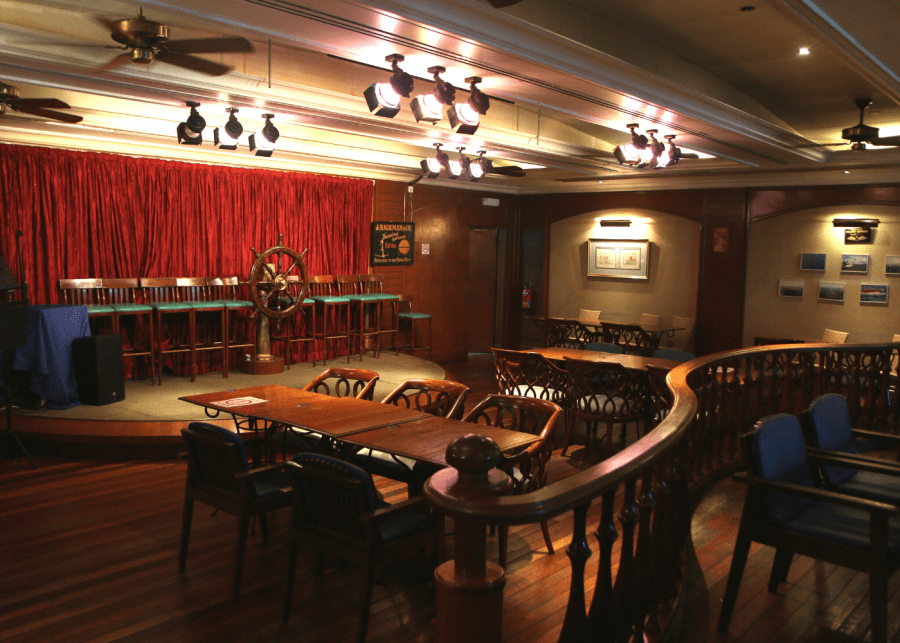 Fancy a tipple? Pop by Discovery Pub, a rustic and cosy spot where you can clink to an exciting stay at Raffles Marina!
Perk alert: plan a staycay at Raffles Marina from now till 31st March with their Wild West hotel promotion and enjoy 15% off Mandai Wildlife Group's Private Tours (Singapore Zoo, Night Safari, River Wonders); 20% off SDC's escape room, laser tag, paintball experience, or XD Theatre Ride; and 30% off the Tiger Brewery Tour. (Valid during any stay.) at $150 per night for public holidays, eve of public holidays, Fridays and Saturdays; or $120 per night from Sundays to Thursdays.
Round up the fam for a trip to Mandai Wildlife Reserve
Take a walk on the wild side at the Mandai Wildlife Reserve. Go on an intrepid adventure through Singapore Zoo's various zones, with feeding sessions and exciting shows to boot. End the day with a trip to the Night Safari, where the world's first nocturnal wildlife park comes to life once night falls. Choose to explore either via tram or foot, with various trails available.
Nearby, River Wonders is Asia's first and only river-themed wildlife park, boasting over 7,500 land and aquatic creatures. Looking for more animal wonders? Say hi to dazzling feathered friends at the Jurong Bird Park!
Visit Singapore Discovery Centre for new adventures
Did you know that the Singapore Discovery Centre (SDC) reopened with a fresh new look in 2020? There's just so much to do at the new and improved SDC – first up is the 'Black Lake Facility', an exhilarating escape room experience.
Have a game of laser tag at the Black Lake Laser Battlefield or have a session of Crossfire Paintball. Don't forget to learn all about The Singapore Story at the Permanent Exhibits Gallery: 'Through the Lens of Time' and 'Sandbox'!
Clink your glasses on the Tiger Brewery Tour
Say bottoms up with an ice-cold glass of the iconic Tiger Beer. Go on the Tiger Brewery Tour and learn about the heritage and brewing process of the globally acclaimed Tiger Beer. The best part? You'll learn how to tap your own draught at the end of the tour, and even sample some of the brews during a Beer Appreciation Session.
If you've been looking for an off-the-beaten-path adventure with your family or friends, the west side has plenty to offer!
This post is in partnership with Raffles Marina.