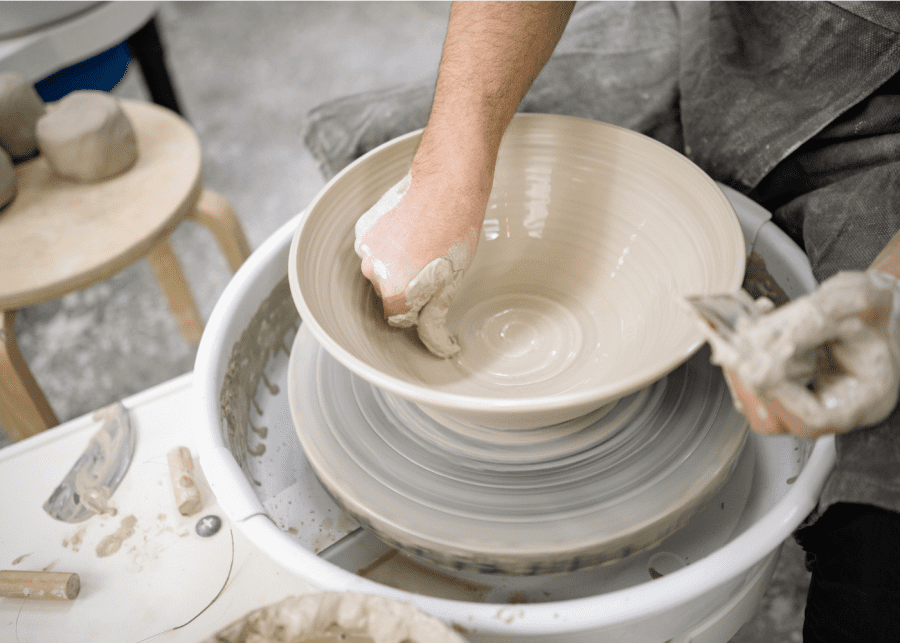 Photography: Yan Krukau via Pexels
Looking to craft your own mugs, pots and pitchers? These pottery classes in Singapore will teach you the art of wheel throwing, hand building and glazing.
Saying there's nothing good to get up to in Singapore just isn't true! Our bustling Lion City is packed with activities that'll keep you busy from sunrise to sunset. When we're done with hiking trails and exploring hidden bars, we love the occasional craft workshop – and we definitely can't resist a good pottery class. If you're looking to make and take home your own plates and saucers, check out these top ceramic studios for fun pottery classes in Singapore.
Best pottery classes in Singapore
1. Arudio
Arudio offers affordable, beginner-friendly pottery workshops with a focus on people, as reflected in the studio's logo derived from the Chinese character "rén." Founded by a professionally trained ceramic artist, the pottery studio aims to support Singapore's art community while empowering artists and non-artists alike to channel their creativity. Select between hand building and wheel throwing trial classes where you'll learn basic hand-building techniques or create vessels on an electric spinning wheel. Once you've fired your work, you can continue your creation with a self-glazing class for an intro to various glazing techniques.
Arudio, trial classes start at $70/person, multiple locations including Nordcom II and Macpherson (LTC Building C)
2. Studio Asobi
Kenneth and Huiwen, both full-time potters, founded Studio Asobi with a strong belief in the transformative and aesthetic value of play. They delight in crafting and instructing others through the medium of clay. Try the Living Clay Pottery workshop that's perfect for beginners. It covers hand building and coiling techniques, attachment forming, texture carving, and even electric wheel throwing to help you create your own unique vessel. After creating your masterpiece, they'll glaze and fire it for you to collect in three to four weeks. The three-hour session comes with complimentary beverages and snacks too.
Studio Asobi, classes start at $95/per person, 705 Hougang Avenue 2, Singapore 530705
3. Am I Addicted
This spacious 10,000 sq ft studio for ceramists also doubles up as a community for like-minded creators. Learn the craft from friendly professionals through wheel throwing and building pottery painting classes. They also organise seasonal sessions like flower pot-making classes for variety. After you're happy with your creation, you can either pick a glaze colour of your choice or come back after a month to add artwork and designs to your pieces. Definitely worth a try!
Am I Addicted, trial classes start at $55/person, #05-37, Orchard Central, 181 Orchard Road, Singapore 238896
4. Goodman Ceramic Studio
Run by a dedicated team of wheel throwing veterans and established ceramic artists, Goodman Ceramic Studio provides the perfect meeting space for pottery enthusiasts. The studio is situated within luxurious foliage and old school buildings (what a vibe). It offers a range of pottery classes to suit varying levels of experience and purposes – think family-bonding sessions, art boot camps, adult specialty workshops and kids pottery programmes.
Goodman Ceramic Studio, packages start at $190/person, #01-01 Excalibur Centre, 71 Ubi Crescent, Singapore 408571
5. The Potters' Guilt
The artists at The Potters' Guilt are passionate about handmade works of art. Whether you're looking for a one-off session or a full-on pottery journey, you'll find what you need right here. We also love that it has an Own Time Own Target (OTOT) programme for its alumni members. That means you can get full access to studio facilities to continue practising and honing your skills – all for a basic membership fee.
The Potters' Guilt, classes start at $58/person, #01-03, 195 Pearl's Hill Terrace, Singapore 168976
6. Urth & Phire
This dedicated and specialised pottery studio takes an experimental approach to traditional craft making. Its pottery classes and workshops suit all ages and cater to beginner and expert ceramic artists. If you're the fickle type, Urth & Phire also offers a one-time trial lesson in case you want to try your hand at the craft before committing to a package.
Urth & Phire, packages start at $220/person, #05-02A, 2connectt@TS, 2 Pereira Road, Singapore 368024
7. Taoz Ceramics Studio
Established in 2013, Taoz Ceramics Studio provides budding ceramic artists with a space to dream, create, and be inspired. It welcomes all ages and experience levels, providing anyone who's interested with access to traditional arts. Book a one-off wheel throwing pottery class and create your own cup, bowl or vase. Or, sign up for its packages that run from beginner to advanced.
Taoz Ceramics Studio, classes start at $40/person, multiple locations including Orchard Gateway and JCube
8. Boon's Pottery
This ceramic studio started from a humble one-man show in 1998 and has grown into a team of passionate ceramic artists and instructors. You'll learn ancient pottery-making techniques from some of the most skilful potters. Their dedication to their work shines through in their masterpieces, which have been sold worldwide (and even chosen as state gifts for foreign officials).
Boon's Pottery, classes start at $80/person, #B1-01/02, 91 Tanglin Place, Tanglin Road, Singapore 247918
9. Ves Studio
We love that this ceramics studio is located in the heart of quaint food haven, Chip Bee Gardens (meaning we can pop off for good food once we're done with class). You can purchase Ves Studio's own brand of wares and products, or join in on its fun pottery classes and workshops to churn out your own pitchers, milk jugs and pots.
Ves Studio, packages start at $300/person, 75 Jalan Kelabu, Singapore 278268
10. Sam Mui Kuang Pottery
Run by a family of potters, Sam Mui Kuang Pottery offers basic classes for adults and children in Singapore as well as advanced ceramic knowledge courses for serious hobbyists. You'll learn how to make your own tea set through hand building and wheel throwing from master potters!
Sam Mui Kuang Pottery, packages start at $480/person, 22 Jalan Kelulut, Singapore 809039
11. The 8th Floor Creative Space
A space of creativity and learning for the budding ceramist, this studio offers lessons and workshops by independent artisans to help you create handcrafted products using clay as a medium. But don't worry if you have zero experience or you need more time to refine your skills. The instructors at this private studio will monitor your progress and provide a personalised program tailored to your specific needs.
The 8th Floor Creative Space, #08-03, Yu Li Industrial Building, 37 Lorong 23 Geylang, Singapore 388371
12. Terra & Ember
Currently closed till 30 June 2023.
Started by a passionate husband and wife duo, Terra & Ember offers the basic techniques of hand-building and wheel throwing to curious creators. Sign up for a one-time wheel throwing workshop and watch as the clay transforms beneath your hands. Or delve deeper into the world of pottery through its flexible classes where you'll create everything from bowls to planters.
Terra & Ember, packages start at $340/person, 475 Geylang Road, Singapore 389434
What are you waiting for? Take your creativity for a spin at these top pottery classes in Singapore!
[This article was originally published in 2022 by Samantha Yeo and updated in 2023 by Nicole Nithiyah.]