The burnt lemon whisky sour. Photography: Flow Bar
Singapore, these are the new bars you should be heading to in 2021.
Despite taking a hit due to the Covid-19 restrictions, it's quite heartwarming to see new bars opening up and current establishments putting their creativity to the test with new menus. This month, book a table at the new Flow Bar at Michelin-starred Restaurant Jag or try art-inspired tipples at Tippling Club and an exciting mix of new cocktails at Old Man Singapore. Presenting our roundup of hot new bars in Singapore.
Hot new bars in Singapore 2021: September edition
New bar: Flow Bar
There's another reason to make your way to Restaurant Jag and cocktail enthusiasts are going to love it. The Michelin-starred establishment opens its doors for Flow Bar. Award-winning mixologist Ricky Paiva is the man behind the bar, conjuring up a progressive menu that'll leave you in high spirits. The menu has three pillars – Living Room, Garden and Playground.
As its moniker suggests, Living Room will make you feel right at home with elevated classics such as burnt lemon whisky sour, espresso martini and Bloody Mary. Garden is heavily inspired by chef Jeremy's omakase seasonal menu at Restaurant Jag. Tease your palate with seasonal fruit and herb-infused iterations like Thyme (Smokey Monkey Shoulder with lemon thyme, fresh lime and seltzer) and Strawberry (strawberry gin, lemon verbena and seltzer).
What we're most excited about is The Playground – a space where Ricky's creativity shines in each creation. There's Shibui, a classic martini with a nod to Japanese flavours like umami bitters and a house blend vermouth. Peppered Pineapple's got a spunky mix of tequila, mezcal, roasted pineapple, lime and pepper-infused agave. All cocktails are priced at $24.
Flow Bar, Level 2, 76A Duxton Road, Singapore 089535
New menu: Tippling Club
After an astounding Volume I menu, Tippling Club is back with "A Guide to Modern Drinking, Volume II". Consisting of 26 cocktails, fab flights and a mocktail section, the menu follows an artistic approach, celebrating modern art and artists. The thought behind each cocktail must be applauded as every tipple has an interesting story. In fact, the final cocktails are second or third iterations of their originals. Head bartender Andrew Loudon wows us with a fine range of styles. Start your evening with Ad Parnassum ($22) from the Champagne Cocktails section – a black lime and blackcurrant bubbly. Tastes like a pimped up version of Ribena if you ask us – delightfully refreshing!
Move on to the Cracked Cardinal ($25), a nod to visual artist George Condo's bizarre modernist cubism artworks. The creation is far from bizarre if you love tart flavours. Sage, cognac, palo santo, citrus, white peach and vetiver are perfectly balanced. The dehydrated peach leaf garnish adds a sweet touch to the drink.
The most intriguing drink on the menu? Nighthawks ($22). An assault on the palate, you first get a whiff of salted caramel, followed by a sweet and umami combo of milk-washed guava, plum, citrus and lactose shaken with tequila. Totally had us guessing the flavours with every sip. The zero-waste plum meringue garnish is filled with curd from the cocktail's clarification process. Smart!
Tippling Club, 38 Tanjong Pagar Road, Singapore 088461
New bar: Portman's Bar
The swanky ParkRoyal Collection Marina Bay welcomes guests to Portman's Bar. Its moniker pays tribute to John Portman, the architect behind the gorgeous building. By day, the space welcomes guests for a morning cuppa or nature-inspired tea but by night, it transitions into a glam bar. Don't forget to catch the daily light show which celebrates the architecture and sculptor Richard Lippold's Orchidea sculpture.
Portman's Bar takes a page from the hotel's urban farm, with a farm-to-bar concept that highlights fresh herbs and edible plants on the menu. Highlights include Straight Times, a concoction of Campari, carbonated mango coffee and an edible newspaper clipping of Portman's feature that was published in 1987.
Portman's Bar, ParkRoyal Collection Marina Bay, 6 Raffles Boulevard, Marina Square Singapore 039594
New menu: The Old Man Singapore
It's always a delight to discover what The Old Man Singapore has in store. For its v3 menu, the bar wows guests once again with spellbinding Ernest Hemingway-inspired libations.
"In the spirit of Hemingway's ingenuity, each cocktail is experimental, combining culinary accoutrements and science," shares managing partner, Andrew Yap. The v3 edition explores Hemingway's colourful love life. For starters, #1899 (the year the literary giant was born) is a dreamy tipple made with Havana Rum, soy milk kefir, rotovap pandan distillate, gomme and orange soda.
For a touch of glam, #1940 is inspired by the writer's third wife, Martha Gellhorn. Mitchter's Sourmash Whiskey is carefully balanced with sweet notes from burnt sugar and honeyed vanilla, and mixed with sous vide ficus carica (fig) and chocolate wine. Then there's #1944, created in celebration of Mary Welsh (Hemingway's fourth wife). The intriguing gin-based tipple is concocted with roasted solanum melongena (eggplant) and citrus for a zesty kick. The cocktails are priced at $22.
The Old Man Singapore, #01-04, 55 Keong Saik Road, Singapore 089158
Origin Bar brings daiquiris from around the world
Since we can't travel just yet, Origin Bar is bringing the world to us with a daiquiri collab with four bars on the World's 50 Best Bars 2020 list. From now till the end of September, quaff creations from Tayer + Elementary and Kwant from London, as well as Benfiddich and High Five from Tokyo. Each cocktail brings a refreshing take on daiquiris to the table, using the usual zesty ingredients like lime juice, sugar cane juice and brown sugar syrup. Enjoy the daiquiris at $20 per glass or get a flight of all four at $60.
Origin Bar, Shangri-La Singapore, Lobby Level, Tower Wing, 22 Orange Grove Road, Singapore 258350
And there you have it, the new bars in Singapore you'll totally want to be seen at this month.
---
Hot new bars in Singapore 2021: July edition
8 By Bottles & Bottles
Care for more wine? We're so in! Step inside 8 by Bottles & Bottles (yes, the homegrown wine and spirits retailer) for a drink-in sesh. The extensive selection of wines, spirits and sake will leave you in high spirits. Feeling peckish? Tapao your meal and have it here at no additional cost. And what's a great night out without bringing home brand exclusives like Joseph Mellot, Marques de Vitoria and Duchessa Lia? Oh, follow the Instagram page for cool tidbits on what's in your glass.
8 By Bottles & Bottles, #B2-51A, T3, Changi Airport, 65 Airport Boulevard, Singapore 8196638
Lady M Champagne Bar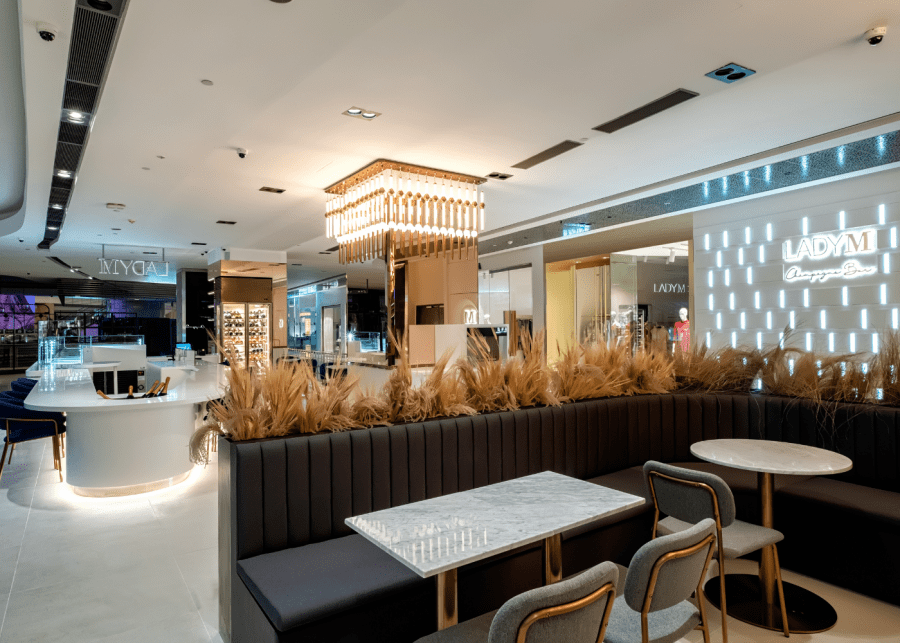 Do you like your dessert with bubbly? You can now have your crepe and eat it too at Lady M Champagne Bar. Located in Orchard Road, Lady M marries the two with a new dining experience. Fans of the champagne mille crepes ($25), a boozy iteration of Lady's M signature, can savour it right here. Pad your stomach with stellar appetisers and mains. The chilled caviar angel hair ($40) packs an umami punch with house-made shio kombu dressing and speckles of caviar. Creamy lobster fettuccine ($32) comes loaded with sustainably-caught Maine lobster chunks.
On to the bubbles! Flutes up for a range of vintage and multi-vintage picks from Bruno Paillard Champagne. Have 'em by the glass (from $19), bottle (from $109) or paired with a slice of cake ($32). There's also a range of whites, reds and sweet wines, teas, coffees and other non-alcoholic choices. From 17 July, stop by for the Lady M Afternoon Tea ($60 per pax). Available on weekends with two seatings, the set offers sweet and savoury faves. Think open-faced lobster toast, truffle cream crab tartlet, champagne mille crepes, petit berry tart and pink petit choux. You can't go wrong with two glasses of champagne.
Lady M Champagne Bar, #03-32/33, Ion Orchard, 2 Orchard Turn, Singapore 238801
Firangi Superstar
We've raved about mod-Indian resto Firangi Superstar in this month's edition of Hot New Tables. There are impressive tipples too – we've got our eyes set on Cocktail No. 3 ($25) aka a fenugreek Manhattan laced with spice-infused vermouth, ghee-washed cognac, maple syrup and molasses bitters. Think of it like grandma's herbal tonic but with a smooth, boozy twist.
Imagine an old Mai Tai with a swirl of raisin and cashew flavours. That's what you get in Cocktail No. 4 ($20), white rum sous vide with raisins and dark rum with citrus cashew orgeat and angostura. Don't be fooled by the dessert Cocktail No.9 ($26). The spirit-forward mix of cognac, cinnamon scotch, apricot and condensed milk is far from an average apricot toffee drink.
Firangi Superstar, #01-03, 20 Craig Road, Singapore 089692
Cin Cin presents travel-inspired gin flights
Take a flight across the globe with Cin Cin's six new gin flights (from $38) from Finland, Canada, England, France, India and, of course, Singapore. Taste a curated selection of three gins from each country. Departing in Singapore ($38), there are the fan favourites like Brass Lion Dry Gin, Compendium Rojak Gin, and Compendium Chendol Gin. Next, travel to the Nordic forests of Finland ($42) with Kyro Gin distilled with four native botanicals. Arctic Blue Gin is a blend of Arctic blueberries with spring water and botanicals, while the mystical Tenu Gin is harvested within the Finnish Taiga by Finnish monks.
Experience the allure of Old World charm with the France Flight ($42). Sorgin Gin is distilled by sauvignon blanc grapes, Generous Gin Delightfully is made in small batches in cognac, and the floral G'Vine Floraison merges macerated and distilled vine blossoms. The flight comes in 20ml tasting portions. Once you've picked your favourite, the bartenders will whip you up a 45ml serving of G&T.
Cin Cin, #01-02, Oasia Hotel Downtown, 100 Peck Seah Street, Singapore 079333
Skai Bar
It's wine 'o clock, baby! Skai Bar welcomes guests back, this time as a contemporary wine bar. Perched on the 70th floor, the rooftop bar boasts a curated wine selection of over 60 wines by the bottle (from $55) and 15 various blends by the glass ($12).
Sip on Penfolds' distinctive "House Styles". We're talking about full-bodied and fruit-forward New World picks from Napa Valley and Australia's best vineyards, and terroir-driven Old World libations from Bordeaux and Tuscany. Tuck into savoury and sweet pairings like Kristal caviar ($150), charcuterie platter ($36), and pistachio madeleine ($12). Fancy a cocktail? Kick back with a whiskey sour, kir royale or cosmopolitan at $25 each.
Skai Bar, Level 70, Swissotel The Stamford, 2 Stamford Road, Singapore 178882
---
Hot new bars in Singapore 2021: May edition
Origin Bar
Enter the snazzy Origin Bar at Shangri-La for 18 new concoctions. That's right, the refreshed precinct-inspired menu welcomes a facelift as well as a new 'hood, Balestier. Also sip on revamped classics and other newbies from current districts like Orchard, Chinatown, Little India, Boat Quay and Marina Bay.
Prepared by bar manager Adam Bursik and his team, each cocktail delivers in terms of simplicity and sophistication. No OTT garnish or crazy glassware here. The cocktails are the heroes, thanks to nuanced layers and the essence of ingredients. Let's start with the new kid on the block, shall we?
Fresh off the rum-heavy Balestier menu is Tropez ($24), a theatrical surprise of aromatised buddha's hand with chocolate Matusalem rum, mancino rosso amaranto vermouth and coconut maraschino. The burst of spicy and smoky notes hits you with every sip. Next up, the Orchard menu's tropical Urban Jungle ($24), formerly known as Origin, stuns with a golden blend of baked pineapple, nutmeg and Samai Gold rum. Pineapple juice is roasted until it's clear, emitting punchy robust flavours. But the highlight has to be the fermented kampot black peppercorn garnish, a spicy caviar of some sort, that cuts through the sweetness with its umami flavour. This cocktail is without a doubt one of our faves.
Ordering The Crystal Mojito ($23) from Marina Bay? Don't be alarmed by its crystallised clear form. The mint and lime rum blend is cold distilled to retain the crisp, fresh flavours of the mojito ingredients. It definitely messed with our minds as the clear drink retained all the flavour from your usual mojito – sans pieces of mint leaves getting stuck in your straw.
Origin Bar, Lobby Level, Tower Wing, Shangri-La Hotel, Singapore, 22 Orange Grove Road, Singapore 25835
Atico Lounge
The third and final instalment of 1-Atico has arrived and it's taking our tipples to the next level – we're talking 56 levels up. If you're looking for pre- or post-dinner drinks after a day of shopping at Orchard, Atico Lounge is the place to be. Strategically located in Ion Orchard, the modern space offers panoramic views of our city in a modern space. The cocktail programme takes you around the world with tipples inspired by Japan, Italy and France. We tried snippets from the upcoming destination menus including May's 1920s Paris-inspired offerings.
Go strong with the spirit-forward Boulevardier (created with bourbon, Campari and vermouth), or kick back with the classic French 75 topped with gin and champagne. Stay tuned for Italy in June and the UK in July for Pirlo, a popular aperitivo among the locals and Creme De Violette, a classic aviation cocktail in IG-worthy blue-violet hues respectively. But the tipple we kept reaching for was the Fleurs du ciel, an item from the guest shift menu with The Bar at 15 Stamford happening next month. G' Vine gin is shaken with elderflower syrup and homemade roselle syrup to create a light and fragrant refresher. Cocktails are priced at $25.
Pair your drinks with addictive bar bites like hand-cut shoestring fries with truffle mayo ($15), bagel burgers with a choice of Argentinian beef ($32), chicken karaage ($24) or smoked salmon ($24), and crispy chicken winglets ($22).
Atico Lounge, Level 56, Ion Orchard, 2 Orchard Turn, Singapore 238801
Louis XIII Cognac opens in The Whisky Distillery
The French luxury house has secured a permanent space within The Whisky Distillery at One Raffles Place. This shop-in-shop experience offers the widest range of Louis XIII in Southeast Asia, with rare finds and collector items like Louis XIII Le Jeroboam (a three-litre crystal decanter that's four times the classic decanter); and a whopping six-litre crystal decanter of the monumental Louis XIII Le Mathusalem. Talk about extravagance! To celebrate its opening, purchase a decanter of The Magnum (1.5L) any time this month and enjoy an exclusive pairing experience at Tippling Club for two, on the house.
Louis XIII Shop-in-Shop, The Whisky Distillery, #01-07, One Raffles Place, 1 Raffles Place, Singapore 048616
Haagen-Dazs cocktail collaborations
ICYMI, Haagen Dazs has launched an exciting range of tropical ice cream flavours with booze! We've already raved about it – both pina colada and lime mojito sorbet flavours are fab – so we're stoked about this collaboration with the best bars and restos in town. First up, IB HQ's Tafia ($24), featuring a blend of yuzu and sparkling sake, is elevated by a zesty scoop of lime mojito sorbet. Or have a bowl of Smokey Pina Colada ($25), a deconstructed rendition of the tropical tipple spiked with lapsang souchong-infused rum and three whopping scoops of pina colada ice cream.
Other highlights include 1864 at Sofitel Singapore City Centre's Old Fashion Conversation ($18), a rich mix of whiskey, angostura bitters and dehydrated orange paired with the classic rum and raisin ice cream flavour. Or go local with Swissotel Merchant Court Singapore's Pandan Mojito Shake ($20), a refreshing blend of lime mojito sorbet with rum, mint, fresh milk and pandan.
Haagen-Dazs cocktail collaborations, multiple locations including IB HQ, Potato Head and Swissotel Merchant Court Singapore
Thirsty Beer Shop brings the world's first eSports beer to Singapore
Thanks to Thirsty Beer Shop, you can now try the world's first eSports beer right here in Singapore. Brewed in Pennsylvania, the craft beer AFK offers refreshing, fruity and hoppy flavours. It's also the brainchild of John Yao, CEO of the world's premier eSports team, Team Secret. The next time there's a sports event, you know what to get!
Thirsty Beer Shop, available online 
---
Hot new bars in Singapore 2021: April edition
New rooftop bar Levant stuns with 360-degree views and Mediterranean grub
Ah, here's another reason to spend your nights at the buzzy Tanjong Pagar. Say hello to Levant, the latest rooftop bar in Singapore. Located above a conserved shophouse, this open-air concept offers sweeping views of skyscrapers and heritage buildings. The cocktail menu is a reflection of exotic destinations along the Mediterranean Sea, from Southeast Europe to Western Asia – but with a modern twist.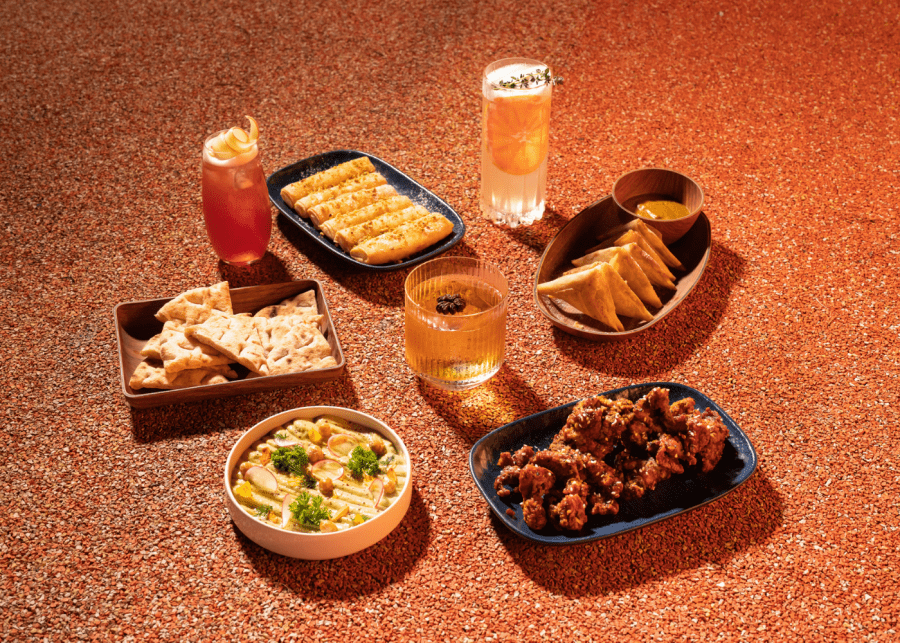 Case in point: the spirit-forward Greek Forest ($18) transports you to Greece's sun-bleached shores with a blend of honeycomb-infused tsipouro, mountain pine liqueur and maglini lemon. Or take a virtual walk around the streets of Italy with the Negroni-inspired Amber Constellation ($22), a mix of gin and vermouth with Gran Classico bitters, bergamot and star anise. Next, make your way to Spain with Athena's Olive Branch ($24), created with gin mare, madeira and the aromatic floregano.
Come hungry as you'll find a mix of European and Middle Eastern-inspired plates. Dishes like kale borek, spiced honey and sesame ($16), crispy whitebait fish fries, sumac and harissa yogurt ($18) and beef kofta sliders with eggplant fritter and green chilli shatta ($18) are proof that you won't find ordinary bar bites here.
Levant, Level 4, 32 Tras Street, Singapore 078972
Maduro hits the right note with music-inspired cocktails
After a six-month closure during the pandemic, Maduro has finally opened its cocktail lounge. We were eager to find out how the former jazz bar adapted to the Covid-19 restrictions (live music isn't allowed at bars just yet). Once we entered the homely space, we just knew they'd done it right. Tucked away in Dempsey Hill, the bar is an extension of a chic living room we can only dream of having. There's also an alfresco area overlooking lush greenery if you need a change of scene.
But the icing on the cake has to be the new menu directed by bar manager Rajesh Kumar. Keeping in mind Maduro's ethos and founder Mr. P's music compositions, the menu offers nine unique cocktails.
First up: Oblivion on Himalayan ($23), an aperitif inspired by Mr. P's favourite candy. We couldn't really put our finger on which one until Mr. P cheekily took it out of its pocket. Ah, we should have guessed! It's Himalaya Salt Mint Candy. Fans of it can expect the familiar combo of citrusy, salty and sweet flavours spiked with Smokelab vodka and topped with meringue.
Next, Strange Fruit ($23) is a nod to Nina Simone and Billie Holiday's rendition of the poem. In fact, Rajesh was listening to the song while crafting the cocktail. Served warm, it's a take on hot toddy with Earl Grey tea, Strangers & Sons gin, floral notes from lavender, citrus with ACV for acidity, and a hint of peppermint and honey to tie everything together. Perfect for rainy days!
The well-balanced Cereal Notes ($23) revisits a chocolate martini but with character. Don't be fooled by this dessert cocktail. Skyy vodka, cereal milk, cacao and simple syrup make up the drink. We love the slight sweetness from the cocoa and maltiness from the cereal. Tip: dip the brownie that comes with the cocktail for a burst of flavour. Santa will never leave your home if you put these out on Christmas Eve!
Maduro, Level 3, 40C Harding Road, Singapore 249548
The 11th best bar in the world lands in Singapore…
Well, sorta. Publico's bringing Sydney's Maybe Sammy bar to us. Part of its Best Bar Voyage Series 2 collab, you'll get to try three of the bar's award-winning cocktails at the riverside restaurant in Robertson Quay. Cool down with All of You ($24), a refreshing modern spritz concocted with Bombay Sapphire gin, chardonnay, house-made kombucha and peach liqueur. Or whip out your cameras for the 'gram-worthy Candy Man ($24) prepared with Grey Goose vodka, aperol, raspberry sour ale, cacao white, lychee and raspberry shrub. The Janice Wong strawberry and grape chocolate lollipop adds a nice touch! And finally, don't miss out on Ee-O-Eleven ($25) made with tropical flair Bacardi Ocho rum, coconut water, lime, banana liqueur and served with mango sorbet.
Publico Ristorante, InterContinental Singapore Robertson Quay, 1 Nanson Road, Singapore 238909
Cin Cin's cocktail menu gets a refresh
The gin bar is setting the stage with 12 new creations that keep local flavours and culture in mind. Crafted by Fadly Sujebto, the list offers something different with every cheekily-named drink. Highlights include Revitalize ($22), a light and fresh – but still stiff – drink with cold-pressed watermelon, lime juice, cucumber syrup and a kick of Hendrick's gin. Any Singapore Sling fans in the house? Time to try another rendition in the form of Majulah Singapura ($25), with local distillery Brass Lion's gin base and angostura bitters. We can't wait to devour the robust Let's Par-Tea ($25), shaken with Straits chai infused into Kyrō gin, a medley of spices and house-made honey cinnamon syrup.
That's not all, Cin Cin also offers gin explorations like free-flow gin and exciting happy hour promotions. Enjoy a three-hour liquid buffet featuring 50 different gins and nine tonics during The Gin Treasury ($68) or sip on four of the new cocktails at just $16 during happy hour. We'll cheers to that.
Cin Cin, #01-02, Oasia Hotel Downtown, 100 Peck Seah Street, Singapore 079333
Sake subscription service Sakemaru has expanded to a new artisan sake hideout
There's a new sake spot and town and boy, does it deliver. There's no doubt you'll indulge in some of the best sake at Sakemaru. After all, it's been in Singapore for close to five years, providing monthly sake subscription services. But now, you can sip on sake at the quaint hideout. Take your pick from over 300 types (from small and lesser-known breweries in Japan) curated by head sommelier Tadashi Okushima. Having choice paralysis? Let head chef Daisuke Yomogi's tasting menu with sake pairing take you on a culinary adventure. With light bites like tuna with chilli pepper, beef tongue, red snapper and Asari clams, we think this will be an unforgettable one.
Sakemaru Artisan Sake Hideout, 55 South Bridge Road, Singapore 058686
Enjoy tipples at home with Temple Street's ready-to-pour cocktails
Cocktail o'clock at home just got more interesting with the launch of Temple Street. The premium hand-crafted cocktails come in 100ml bottles at just $11 each. Plus, islandwide delivery is free for orders above $60. The range includes classics such as Old Fashioned, Negroni, espresso martini and Garden Party (wheat vodka, peach liquor, lychee essence and vermouth). The brains behind the brand are no stranger to the cocktail scene, either. Joseph Barratt is also the founder of local indie brewery Trouble Brewing, and the cocktail range is led by cocktail consultant Jason Williams of Proof and Company.
Temple Street, order online 
---
Hot new bars in Singapore 2021: March edition
Kinki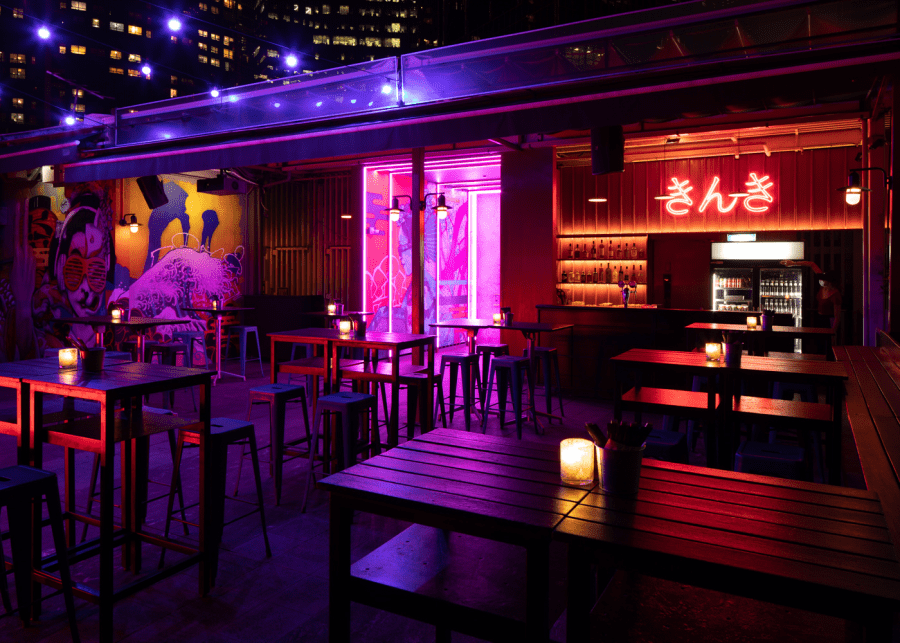 Oh, look at that. The popular waterfront bar is back in action after a revamp and boy, is it looking rad. We all know about the origin story of Kinki-chan, a sumo-turned-chef who was the face of the old Kinki. A decade later, Kinki has a new muse: the geisha with a dose of tradition and modernity. One visit to the space and you'll see what we mean. Right from the get-go, you're welcomed with a dizzying collage of retro Japanese prints. Head up to level two and enter a modern tea house with portraits of geishas, cylindrical lantern-like lights and mosaic floor tiles with elements of koi fish, waves and flowers. Very chic. Park yourself at the open-kitchen counter to watch the chefs at work.
The party begins at the rooftop bar on level three. Its grittier surrounding emits an underground vibe with a grungier attitude, thanks to pop-art graffiti walls and a neon LED light signage that spells "Kinki" in Japanese characters. Not your average Japanese joint.
As for liquids, hydrate yourself with cocktails inspired from the east and west. The unapologetically bold "Kinki Rockstar" lineup continues to shine, along with a new range of dangerously alluring cocktails. Gin Assam Boi ($20) is a nod to the local favourite sugarcane juice with Kyro gin, rum, Gori umeshu and pineapple juice. Or awaken your senses with Naughty Kopi ($22), a martini-forward tipple with Bailey's Irish cream, rum, coffee liqueur, a shot of espresso, with dark chocolate on the side.
Kinki, #02-02, Customs House, 70 Collyer Quay, Singapore 049323
Rails
Boy, do the folks at A Phat Cat Collective know how to do themed bars right. If you've been to arcade bars Nineteen80 and Pinball Wizard, you'll totally dig Rails. Get on board this steampunk-inspired bar and lounge influenced by Tanjong Pagar Railway Station and Jinrikisha Station.
The bar transports you to an underground railway with details that scream vintage industrial style. Think concave brick walls behind the glass-panelled bar counter, repurposed planks of kampong wood, a wall of old books and a deconstruction of gears and cogwheels. Remember to pose in front of the DJ console with an LED-lit installation of a steampunk clock tower. (Oh, how we miss clubbing!)
The cocktails stay true to the steampunk nature and are split into three categories for different types of drinkers – including spirit-forward tipples and fizzy refreshers. Perk yourself up with Jinrikisha Spritzer ($18), a medicinal take on the gin spritzer with honey-fermented lemon, preserved lime peel and coconut water. Midsummer Dystopia ($25) is quite a tarty surprise with smoked vodka, pisco, pear liqueur, muddled pear and a hint of umami bitters that completes the drink. Make the most out of the railway aesthetic with Murder On The Orient Express ($25), a steady mix of coffee liqueur, fruit juice and a liquorice lace of absinthe, shaken with activated charcoal to present its mysterious demeanour.
You won't go hungry here. Sink your teeth into Nashville fried chicken by Chix Hot Chicken. And don't worry, they serve up meat-free options by Quorn as well. We couldn't resist the Soul Slider ($8.90), a fried chicken burger that comes in various spice levels (the "hot" level packs a punch). Our table also cleaned up the Hot Wings (from $9.90) and Dirty Taters ($9.90), tater tots and fried chicken bits with comeback sauce and cheddar and gouda sauce.
Rails, #01-02, 21 Tanjong Pagar Road, Singapore 088444
GudSht
Remember when we were introduced to these cheekily named cocktails during the circuit breaker last year? What was once a delivery-only cocktail biz has now transformed into a physical bar. GudSht has opened its first bar, GudSht @ King George. Sharing the space with The Refinery, you can enjoy popular cocktails from its OG range like Unicorn Barf and Sangrila Utama.
And try two new cocktails creations that are exclusively available at the premises. Candie Crave ($15) is equal parts fragrant and refreshingly sweet. We love the sweet notes of peach and rose (from the sweet dreams tea, rose syrup and peach bitters blend) mixed with Japanese Haku vodka. For a crackin' cocktail, try Pepper Me Up, the brand's first soju-based cocktail laden with torched Shishito pepper-infused soju, togarashi, roasted seaweed, oi ocha koi-cha tea and honey. There's a hint of spice with every sip but it's never overbearing. Pair the cocktails with The Refinery's Japanese fusion cuisine, like a bowl of gyudon or mentaiko scallop pasta.
Psst: From now till 8 April, use the promo code "GUDSHTXREFINERY" to get 10% off online and delivery orders from GudSht and The Refinery.
GudSht, 115 King George's Avenue, Singapore 208561
Mikkeller Singapore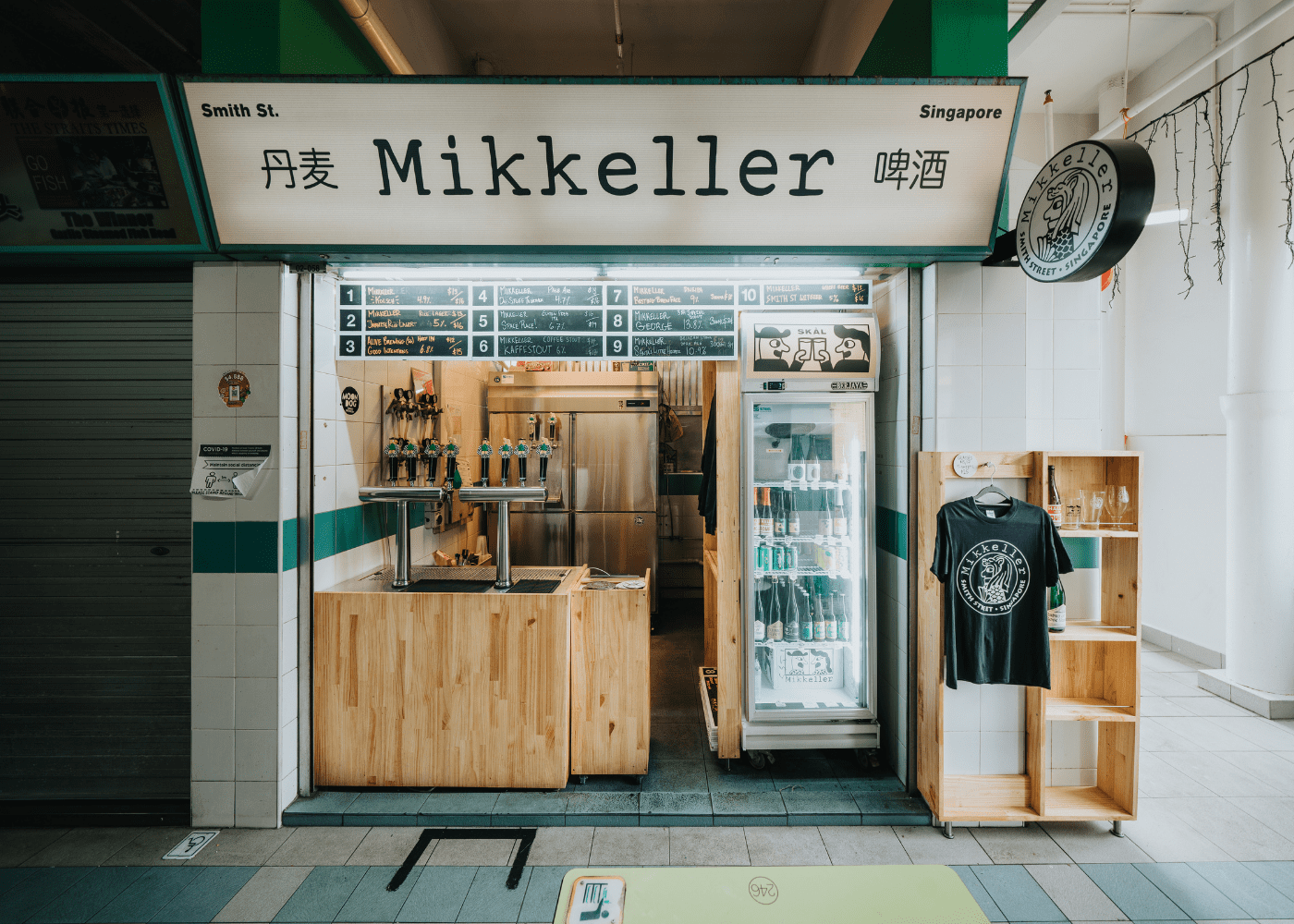 Beer and hawker food? Perfect combo! Maybe that's what inspired Mikkeller to call Chinatown Complex Food Centre its Singapore outpost (it takes over Smith Street Taps & Friends' space). The Copenhagen-based craft beer brand sees 10 rotating taps and a variety of packaged beers and specials from its breweries in Denmark to San Diego. Refresh yourself with brews like Do Stuff Together, a New England pale ale with tropical and citrus fruits (4.9% ABV). Or try Beer Geek Fudgesicle, an oatmeal stout with cocoa, vanilla and butterscotch (12% ABV).
Get your ice cold beers in pints (from $16) featuring the brewery's mascot, Henry, in a Merlion costume. The bar is easy to find. Head over to the green zone and look out for the minimal Scandi-style signboard.
Mikkeller Singapore, Chinatown Complex, 335 Smith Street, Singapore 050335
Masalaa Bar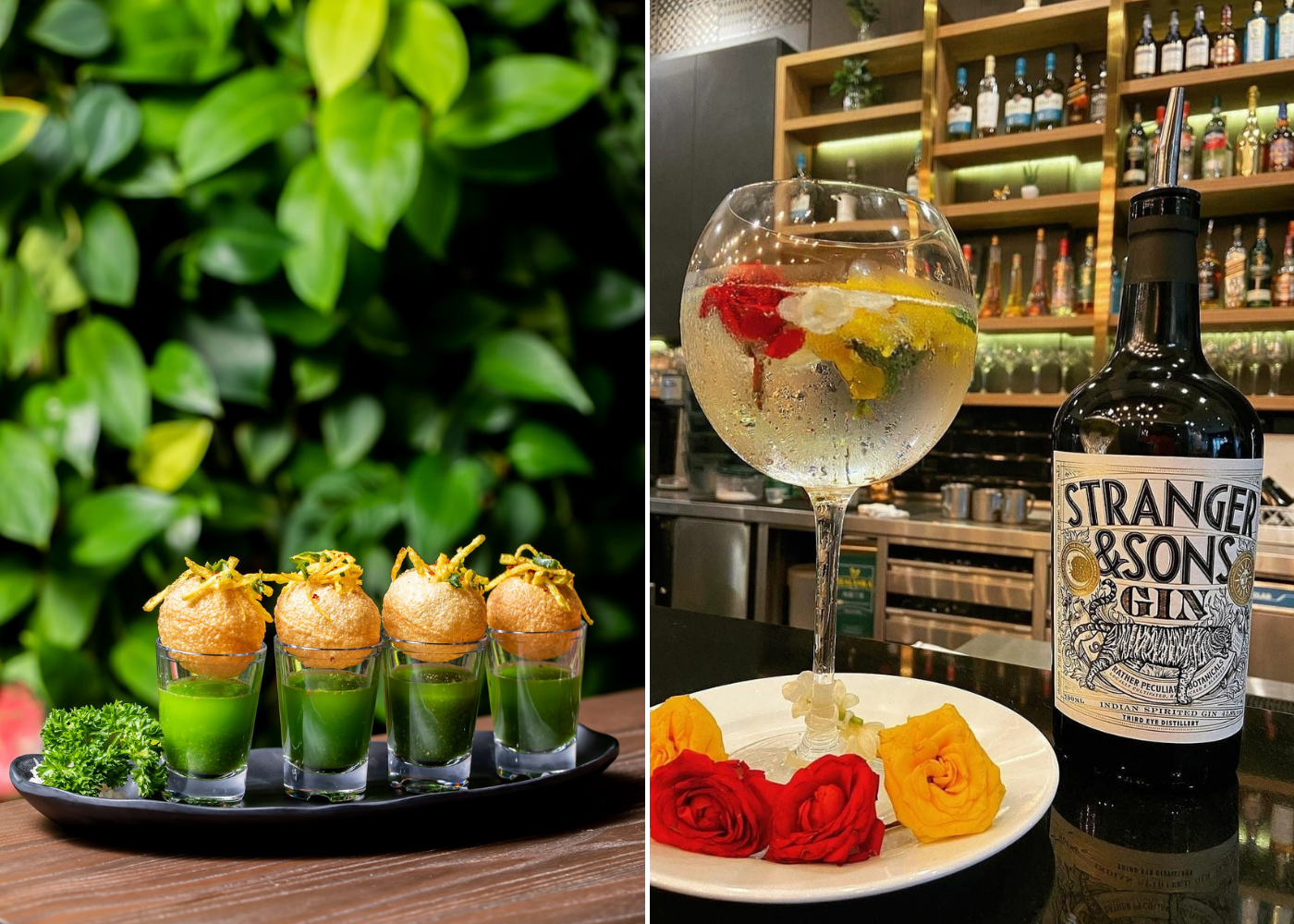 Bring on the spice 'cos there's another Indian-inspired bar in town. Aptly named Masalaa Bar, this place turns up the flavour with some Indian pop culture pizzaz. Once you've slurped down pani puri shots ($7) and had vada pao ($8) – buns with spiced potato patties – turn your attention to the bar menu. Indian-inspired cocktails include the cheekily named Mogra on the Beach ($16) with Aviation gin, jasmine flowers and fizz; Chai Buddies ($16), an interesting combo of tropical spiced rum, chai and Campari; and the Adraki Confetti ($16) featuring spiced rum, tamarind chutney, ginger and blood orange sage soda.
Masalaa Bar, 723 East Coast Road, Singapore 459071
Publico Ristorante
InterContinental Singapore Robertson Quay's resident restaurant and watering hole is bringing the heat with its Best Bar Voyage series. In collaboration with Bacardi, the menu features Italian-inspired concoctions designed by world-class bartenders exclusively for the Publico mixologists to recreate. From now till the end of March, enjoy creations by Beverage Ambassador Lorenzo Antinori, who helms Caprice Bar at Four Seasons Hong Kong.
Cinque Terre opens with fruity notes from the bay leaf and fig infused Grey Goose, ending strong when the spray of absinthe hits, with the lemon juice peeking through. For a floral aroma, try the Golden Raisin Fizz, a light, easy cordial with saffron notes and a hint of raisin with Campari and Star of Bombay gin. Want something more adventurous? Go for Oro Nero, made with Barcardi Reserva Ocho, white miso, butter and orange bitter. The rum hits you first, followed by the smoothness of the butter and a tinge of saltiness from the miso at the end.
Publico Ristorante, InterContinental Singapore Robertson Quay, 1 Nanson Road, Singapore 238909
And there you have it, the new bars in Singapore you'll totally want to be seen at this month.
---
Hot new bars in Singapore 2021: February edition
The refurbished Club 5 has arrived
Club 5 gets a facelift and it's all about the roaring 20s! Unwind at the new space that screams opulence, glitz and glamour. Head Bartender Ong Jun Han helms an interesting cocktail programme that spotlights Beach Road, Kampong Glam and Bugis – amazing cultural spots around the hotel. Don't be surprised to see experimental cocktails that hero local flavours. We're definitely intrigued by the Nasi Lema'rgarita, Boogie Street and 20 Houses Tonic. Stay tuned for our full review!
Club 5, Parkroyal on Beach Road Singapore, 7500 Beach Road, Singapore 199591
Junior The Pocket Bar holds a cool CNY pop-up
This is one cool pop-up that should be on your radar this CNY season. Junior The Pocket Bar is back for an ox-cellent pop-up in collaboration with Remy Martin. Huat into the Year of the Ox with Chinese New Year-inspired cocktails and bites. And of course, they've changed up the interiors too! There's a red-hot mural wall, whimsical artwork of an ox, Rémy Martin's signature centaur as well as a majestic dragon structure on the ceiling. Cocktail highlights include Rolling for Prosperity ($25), a pineapple tart cocktail with Rémy Martin VSOP, pineapple, spiced brown butter rum and lemon, served with a pineapple tart on the side. For something lighter, the Ang Bao Na Lai ($25) is prepared with The Botanist Dry Gin, lychee, grapefruit, lemon and rose, garnished with strawberry dust.
Come hungry as the menu is filled with delights such as Abacus Seeds ($18), Asian yam gnocchi with baby scallops, shitake mushrooms and a 63º egg, and Pie Tee Cups ($17), the Peranakan kueh pie tee with braised pork belly. For dessert, there's egg tart ($6) with Mandarin orange curd and vanilla in vol-au-vent. Yum!
Junior The Pocket Bar, pop-up runs until 27 February, 6 Ann Siang Hill, Singapore 069787
Nineteen80 is back in action
The nostalgic 80s retro bar is back for unlimited entertainment after its temporary closure during the circuit breaker. The Living Room with Miami Vice's tropical vaporwave vibes and a Tron-inspired neon tunnel takes you back to the past. Expanding on the 80s theme, the series of libations will put you in a better mood. Think bright and funky spirit-forward concoctions like Cococabana ($18), with dark and white rum, gula Melaka, coconut milk and water. Or down signature shooters such as Cherry Bomb ($14/single, $25/pair), an old-school tequila pop. We hear that a solid snack menu featuring sharing bites and pizzas is also debuting this month.
The bar has also launched its Nineteen80 DJ School, a five-lesson programme for aspiring DJs. Private sessions are structured and conducted by your favourite veterans of A Phat Cat Collective. Snag insider tips and tricks for your DJ journey. The programme costs $450 for one pax and $900 for two.
Nineteen80, #01-05, 21 Tanjong Pagar Road Singapore 088444
Whisky Launch: Gordon & MacPhail 72-Year-Old, Glen Grant 1948 Single Malt Whisky
Whisky lovers are in for a treat as the highly anticipated Gordon & MacPhail 72-Year-Old, Glen Grant 1948 Single Malt Whisky has arrived. It's only one the oldest and most prestigious whisky casks – no biggie. Alright, we're kidding. In fact, there are only 290 exclusive bottles available worldwide. Experience the taste of 1948, presented in a bespoke Dartington Crystal decanter, using traditional glass-blowing techniques. It's a sweet taste at the start with a hint of spice and a faint aftertaste of espresso and deep dark chocolate. There's a bottle available at the upcoming Bonham's whisky auction. Good luck!
Gordon & MacPhail 72-Year-Old, Glen Grant 1948 Single Malt Whisky auction, 29 Jan 2021, 7pm 
Taste the exotic Strangers & Sons gin right here in Singapore
The flavourful Indian gin hailing from Goa is now available in Singapore! Tease your palate with Strangers & Sons robust flavours. The spirit has black pepper, nutmeg, liquorice, angelica, juniper and aromatic citrus peels – we can already imagine the fragrant concoctions. Nurse a pre-batched tipple at some of the best bars in town. Try The Old Man's Solidarity (a twist on the gimlet), Native's Bengal Sling or Tippling Club's East to West Negroni.
We also love the spirit brand's sustainable approach. Did you know that Strangers & Sons employs local women to make jams, pickles and cordials from leftover ingredients from each batch of gin? Great stuff!
Strangers & Sons, available at multiple locations including Neon Pigeon, Native, 28 HongKong Street and more
Toast to the New Year at these new launches and new bars in Singapore!
---
Hot new bars in Singapore 2021: April edition
Set Of Six
Inspired by the novel Set of Six by Joseph Conrad, this hot new bar recreates the author's experiences during his time in the British Merchant Navy. First things first, we have to talk about the decor. Two words: Absolutely stunning. You can't ignore the lush tropical canopy with neon messages, flashing lights and even a disco ball. It's certainly a journey here. As for the drinks, the cocktail program is curated from Conrad's adventures across Italy, France, England, Chile and French Guiana.
Set of Six, #01-01, 20 Craig Road, Singapore 089692
Anouska Bar
Anouska pays homage to former Bond girl turned acclaimed interior designer, Anouska Hempel. What you get is a time capsule that takes you back to the 70s and 80s. Think disco era, but with nostalgic Eastern influences. Yup, the menu offers expertly crafted artisanal Chinese teas and cocktails ($22 each) that incorporate native Chinese herbs and botanicals.
Try the signature Escape to Kaifeng, a floral aperitif with house-made chrysanthemum cordial and dry gin. And what's a Bond-approved tribute without the iconic martini? On Her Majesty's Secret Service is a dry martini teased with yuzu and green tea bitters.
Anouska Bar, 83 Duxton Road, Singapore 089540
Jomo
The Jomo Group welcomes its first hybrid bar, restaurant and bottle shop in the buzzing Holland V neighbourhood. Step inside the quaint spot for bottled beers and craft beers on tap including Jomo's super dry low-carb lager ($8 a pint). There's also a range of wines, spirits and shots from $5. Bang for the buck, we must say. Btw, all prices are nett over here. Pair your tipples with bar bites like chicken salt fries, buffalo chicken wings and crispy pork belly bites. As for the bottle shop? Feast your eyes on over 250 wines and spirits at competitive prices, from $50 per bottle.
Jomo, 48 Lorong Mambong, Singapore 277699
Flnt
Located in the new rooftop establishment 1-Atico, Flnt (pronounced as flint), is touted to be Singapore's only Nikkei-influenced sumiyaki bar and grill. The result? A progressive range of Japanese-meets-Peruvian cocktails that promises a burst of flavours. We're excited to try the sprightly Kukishoku ($20) with pisco brandy, melon liqueur, yerba mate tea, citrus juice, miel syrup and yuzu foam. We're also looking forward to Sumire ($20), crafted with pisco-infused corn, coconut liqueur, purple yam mix, citrus juice and vanilla foam. These drinks, plus the panoramic views of the city skyline, are guaranteed to raise your spirits.
Flnt, Level 55 & 56, Ion Orchard, 2 Orchard Turn, Singapore 238801
Sake Labo
Sucker for sake? Sake Labo might just be your newest hangout. Breathing life into Stanley Street, the bar serves up small-batch craft sake imported from Japanese breweries. Select from sakes based on Japanese regions or flavour profiles like bold, dry, sweet, floral, fruity and unpasteurised. Another unique concept we can't ignore is Japas – Japanese-Spanish tapas. The cross between izakaya faves and tapas includes savoury bites like kushi-quettas (yes, a kushikatsu and croqueta hybrid) and "spider" karaage.
We're also vibing hard on the terracotta-coloured interiors and wooden elements that transport us back to The Land of the Rising Sun. Since travel's off the cards, this will do for now.
Sake Labo, 29 Stanley Street, Singapore 068738
Beats Bites & Cocktails (BBC)
No beating around the bush here. The moniker says it all. This new drinking den at the bustling Bukit Pasoh Road boasts an extensive spirits programme categorised into bitters, martinis, Old Fashioned, highballs and sours. Highlights include Purple Rain, a tribute to Prince with hibiscus and butterfly pea-infused Widges gin, Supasawa foam, elderflower liqueur and flower foam. Ready your phone for theatrics as a bubble filled with berry and citrus flavoured smoke sits on top of the cocktail.
The ambience plays a big part here too. In fact, music director DJ Shigeki Ito has a residency and churns out some dynamic beats we all miss from the clubs.
Beats Bites & Cocktails (BBC), 8 Bukit Pasoh Road, Singapore 089822
Now go forth and enjoy the start of 2021 at these hot new bars in Singapore!