Your December is looking lit by the bay; photography: Marina Bay Singapore Countdown
Carnivals, fairs, performances, even a circus – with some planning, you can be where the action's at
A slew of festive happenings, and only a month to get through them all. We get that scheduling it all in can be a total nightmare. So to make your life a little easier, we've lined up some events taking place along the picturesque Marina Bay that are worth taking the time out of your Christmas shopping for.
For the first week of December…
The circus has come to town! It's been a 10-year wait since The Great Moscow Circus last paid us a visit, but the red and white big top is now set up with over 45 acrobats, clowns and performers to dazzle and delight with their gravity-defying stunts. We dare you not to have your heart in their throat when you clock the Motorbike Sphere of Fear.
Bayfront Event Space, 25 Oct – 9 Dec 2018
The sixth edition of Voices – A Festival of Song 2018 brings together a wide range of vocal performances. Whether your jam is musical theatre, pop or a capella, this three-day non-ticketed festival includes the more niche performances of doo-wop, motets and madrigals, and even the uniquely Singaporean genre called xinyao. Listen, and get groovin'.
Esplanade – Theatres on the Bay, 7-9 Dec 2018
For the second week of December
Get digital this Christmas at the interactive permanent exhibition Future World: Where Art Meets Science. With ever-changing installations, this month's Yuletide theme welcomes guests with Sketch Christmas, complete with a cyber Santa to deliver virtual presents, and 10 new artworks to engage and entertain.
The museum is also playing host to two inspiring exhibitions this month: Minimalism: Space. Light. Object and All Possible Paths: Richard Feynman's Curious Life.
ArtScience Museum, 1 Dec 2018 – 6 Jan 2019
If you're in the area, take a pause, have a seat and lend an ear to musical renditions by local talents. These free live performances will be taking place every day at the Esplanade Concourse and every weekend and public holidays at the Esplanade Outdoor Theatre, so before you rush off to your dinner appointment, why not take a little musical detour?
Esplanade – Theatres on the Bay, 1-6 Dec, 10-31 Dec 2018
For the third week of December
Singapore's biggest Christmas fair knows it has to pull out the stops, and it does just that with Southeast Asia's largest luminarie mirror maze. And that's not all – they've brought winter to the tropics with faux snow, a skating rink, a world-renowned illusionist and a European-style festival market. This is a wonderland we'd gladly fall down the rabbit hole for.
Gardens by the Bay, 30 Nov – 26 Dec 2018
It was such a success last year, it's back and it's bigger than before. We're counting 50 rides and games, with plenty of shrieks and thrills for the adrenaline junkies, but even those who aren't daredevils are welcome. Listen to the croons of buskers, pick up a skill or two from the local artisans manning art and crafts workshops, or chill out with a bite from the food carts.
Bayfront Event Space, 22 Dec 2018 – 24 Mar 2019
For the last week of December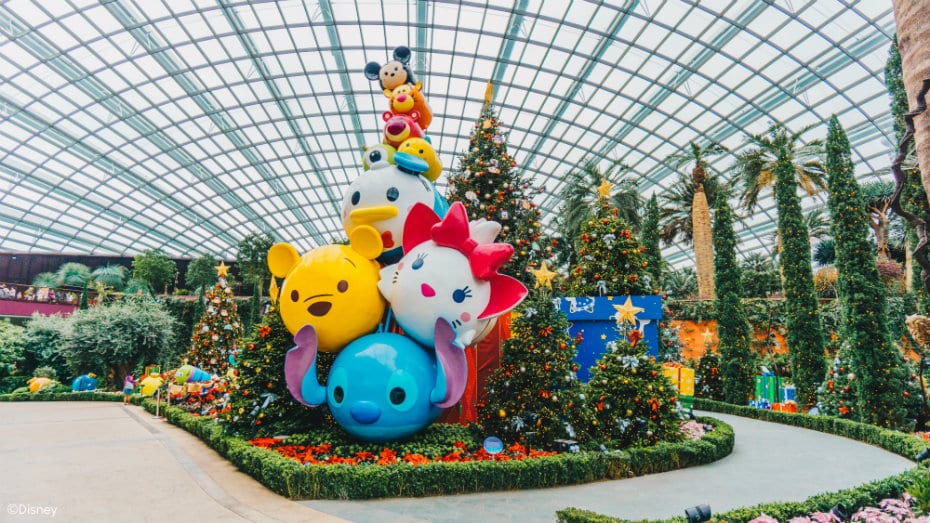 The adorable collectible stuffed toys are taking over Gardens by the Bay. Mickey and his friends stack up in the Flower Dome for a one-of-a-kind Christmas tree. It's a floral display filled with beloved Disney characters – take pictures with Olaf among a vibrantly red landscape of poinsettias and holly, or soar with Dumbo in a sled of presents. Take a walk between five sections (including Bauble Painting and Ribbon Fun) to spot your favourite Tsum Tsum.
Gardens by the Bay, 2 Nov 2018 – 6 Jan 2019
There's no backdrop more spectacular than Singapore's Marina Bay city skyline, so where else would be befitting to ring in the New Year? But the view isn't all that's on offer: look forward to light projections, food trucks, a bazaar, and of course, the unforgettable midnight fireworks. But this year's Star Island Singapore Countdown Edition promises a light show that's like no other, with a multi-sensory fireworks and light show. We're talking pyrotechnics, lasers, 3D surround sound and performance acts – after all, a countdown party is the one to go out on a bang.
General entry around the bay is free but ticketed partner events apply.
For full event listings, visit Marina Bay Singapore Countdown 2019
This article is sponsored by Celebrate in the City