Nothing like a Firebake breakfast in the heart of Siglap!
Best sports bars, Japanese, Italian and zi char restaurants, and coffee spots in the East? This bustling suburb along Upper East Coast Road has it all!
It's neither the biggest nor rowdiest of neighbourhoods, and it's often mistaken for the other Eastside hip hubs of Katong and Joo Chiat. But there's definitely a pristine, quaint quality that flows through the streets of Siglap – expat residents walking their dog; locals meeting up to adjourn to their fave footie-screening pub; foodies getting their fill with this district's cornucopia of restaurants and cafes. It's casual and not a place where you need to dress to the nines; almost a home away from home where you can chill to your heart's content. Sold on Siglap yet? We fill you in on what you can expect.
RESTAURANTS
Firebake
To the initiated, baking the perfect loaf of bread is an artform of its own. If you want to see just how deep the rabbit hole goes, pay a visit to this bakery and restaurant in the East Coast. Firebake's hand-built brick ovens allow the restaurant's bakers to utilise classic European bread-making techniques, and ties into the restaurant's traditional approach to making bread. While the wood-fired bread is certainly a highlight here, Firebake has a fantastic menu that spans breakfast (check out that breakfast set up top), a hearty brunch spread and dinner, as well as baked desserts – all of which complement the bakehouse's signature sourdough.
Firebake, 237 East Coast Road, Level 1, Singapore 428930
House of Peranakan Cuisine
Previously located at the Former Negara Hotel along Claymore Road, the cosy Peranakan restaurant still keeps it grand at its new Siglap spot with gorgeous interiors (and exteriors) and smashing favourites like babi assam (braised pork in a tangy tamarind sauce), itek tim (salted vegetable duck soup), and gula Melaka sago pudding. Uncomplicated, honest, and comforting – just the way we like it. Pssst, some of the guests this place has seen include past presidents and even some Thai royalty.
House of Peranakan Cuisine, 103 Frankel Avenue, Singapore 458225
Georges MADBAR & Grill
Dubbed as "your friendly neighbourhood bar", Georges MADBAR & Grill is the OG of Georges — a family restaurant and sports bar serving you a variety of ice cold beers along with a menu of Western grill faves such as the Georges burger, beer battered fish and chips, as well as black pepper ribeye steak. Whether you're enjoying a live band, catching a live sports screening or having a go at the pool table, there's no denying that a little wind-down sesh at this Siglap spot is the cherry on top after a long day or week.
Georges MADBAR & Grill, 687 East Coast Road, Singapore 459055
Plank Pizza Sourdough
In the wise words of Meghan Trainor, the menu is all about that (sourdough) base. Unlike the dense crust of mass pizza chains or the thin, brittle ones from Italian pizzerias, Plank's sourdough base, made from a combination of flours and fermented for 48 hours with natural, wild yeast, is pillowy soft in the middle, perfectly crisp on the outside and exudes a subtle, tangy flavour. Don't think we can argue with that!
Plank Pizza Sourdough, 1 Swan Lake Ave, Singapore 455700
Lai Huat Sambal Fish Restaurant
If you're gonna name your restaurant after a dish, you'd best nail it down to a fine art. Fortunately, this family business does just that, offering whole fried pomfrets – crispy on the outside, fluffy on the inside – covered in a thick, spicy sambal belachan (we can never say no to shrimp paste) sauce that elevates this seafood staple.
Lai Huat Sambal Fish Restaurant, 17 Upper East Coast Road, Singapore 455208
Indian Curry House
If spices don't intimidate you, then this is one franchise of Indian comfort food that will welcome you with open arms. While it now has several branches in the city, this Siglap outlet is the brand's original one, and it continues to serve wok-stirred curries and clay oven-cooked tandoor items like lamb shanks and Badshahi tandoor chicken. And remember… curry and rice, always curry and rice.
Indian Curry House, 27 Upper East Coast Road, Singapore 455211
ETNA Italian Restaurant
Situated more on the outskirts of Siglap, ETNA is one cosy, sequestered ristorante that embraces its acronym-huddled philosophy: Every Table Needs Attention. Naturally, service is spick and span, and Italian dishes like carpaccio di manzo and linguine al granchio are served promptly.
ETNA Italian Restaurant, 110 Upper East Coast Road, Singapore 455298
Mikawa Yakitori Bar
Probably the closest thing you're gonna get to an izakaya in Siglap, Mikawa takes pride in its kushiyaki skewers – offering almost 50 assorted items like tori seseri (chicken neck) and hatsu (chicken heart), buta bara (pork belly with onion) and hotate bacon maki (scallop wrapped in bacon), and also gindara (cod fish) and Japanese sweet potatoes.
Mikawa Yakitori Bar, 81 Upper East Coast Road, Singapore 455220
Pasta Fresca Da Salvatore
Who still remembers the TV jingle from this Italian restaurant's old commercials? Though that may seem like an eon ago, this Italian chain continues to thrive with its dedication towards freshly-made pasta and heartfelt service. 27 years on, and Pasta Fresca stays fresh by constantly revamping its menu, with current mainstays including vongole alla pescatora (pasta with clams sautéed in olive oil), crespelle al funghi (Italian-style crepe baked with mushrooms, onions and parmesan), and risotto al frutti di mare (a popular seafood risotto).
Pasta Fresca Da Salvatore, 9 Upper East Coast Road #01-01, Singapore 455203
Perle Noire Oyster & Grill Bar
Being in a rather sophisticated neighbourhood, it's no surprise to find a restaurant that serves freshly shucked oysters. For $23, you can order half a dozen Canadian Pacific oysters served with sherry vinaigrette and a lemon wedge. And when you're done slurping down these juicy, briny babies, hit the grill for some Spanish Iberico pork rack or T-bone steak.
Perle Noire Oyster & Grill Bar, 85 Upper East Coast Road, Singapore 455222
Jin Wee Restaurant
Definitely the least fancy restaurant you'll find in Siglap, but it'll certainly feed you and your posse with a feast fit for a king. Specialising in Chinese zi char, Jin Wee serves home-cooked shareable dishes like marmite pork ribs, cereal prawns, Hainanese pork chop, stir-fried kai lan and loads more. You'll be easily spoilt for choice here.
Jin Wee Restaurant, 928 East Coast Road, Singapore 459117
Soy Eu Tua Coffeeshop
Another Siglap fixture that's been in the neighbourhood for decades, Soy Eu Tua houses stalls that offer local hawker fare like chicken rice and mee pok.
Soy Eu Tua Coffeeshop, 15 Upper East Coast Road, Singapore 455207
Kinara
Though isolated a distance away from the central Siglap restaurant area, Kinara doesn't see any shortage of guests stopping by for an authentic taste of North Indian culture. Like any traditional Indian restaurant worth its salt, its kitchen has a tandoor serving chicken tikka, murgh peshawari (tandoori chicken), raan e dum kinara (lamb), and also seafood like ajwaini machli tikka (boneless fish cubes). And of course, there's lots of naan to choose from – from garlic and mint, to naan stuffed with minced mutton and cheese.
Kinara, 164 Upper East Coast Road, Singapore 455265
Killiney Kopitiam
Granted, there's nothing fancy or novel about this local haunt. But if all you're craving during your midday stroll is some crispy, creamy kaya toast and a hot, milky teh tarik, this is your spot. The mee siam here packs quite a tangy kick too!
Killiney Kopitiam, 11 Upper East Coast Road, Singapore 455205
LTN 936 food village
There aren't any hawker centres in Siglap, but you do have lively, diverse food courts like this one. Get the famous beef kway teow or have some duck rice or the spicy mala xiang guo. The possibilities are endless! And we're not just talking about its famous cai png stall either.
LTN 936 Food Village, 936 East Coast Road, Singapore 459129
ThaiPan
You know ThaiPan is affordable when tables are filled at all times. Just down the road from Diamond Kitchen is this Chinese-Thai zi char restaurant in Mandarin Gardens. Famous for its addictive butter squid (the sauce packs a buttery punch with a hint of spiciness), the Jade tofu with crab meat, and olive fried rice, this place always lures us back for another meal.
ThaiPan, Mandarin Gardens, 13 Siglap Road, Singapore 448911
---
CAFÉS
Craftsmen Specialty Coffee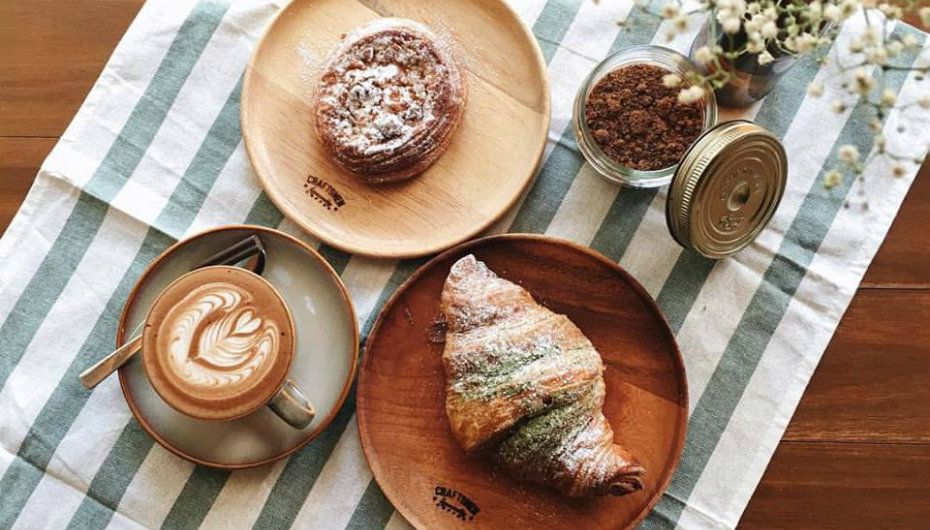 Where to get a potent cuppa Joe in Siglap? We point in the direction of these quaint coffee connoisseurs, huddled within a charming store filled with whimsical details like Danish pottery and nutcracker dolls. And once you're done getting googly-eyed at the décor, order anything from hazelnut and butterscotch latte, to espresso and cortado – they'll have it. Oh, and did we mention they've got waffles in s'mores flavour? Sold.
Craftsmen Specialty Coffee, #01-01, Siglap Village, 2 First Street, Singapore 458278
The Royals Café
All-day breakfast places aren't all in the heart of town; there's one right here too in Siglap! The Royals feeds you like royalty with hearty turkey pastrami and cheese sammies and meatball pasta (all Halal) . For something more local, try the Nyonya mee siam and nasi lemak. Got a party, get the best-selling hazlenut crunch cake.
The Royals Café, 19 Upper East Coast Road, Singapore 455209
Stamping Ground Coffee
This café has nothing but 'good vibes only'. Stamping Ground Coffee serves a variety of coffee blends. Get its signature Cold Brew, brewed and bottled in-house, for your caffeine fix. Nosh-wise, expect dishes such as smoked salmon sammie, Belgian waffles and umami egg croissant on its all-day menu.
Stamping Ground Coffee, 87 Upper East Coast Road, Singapore 455223
Dutch Colony Coffee Co.
This coffee house serves a mean cuppa with specialty beans and divine brunch selections. Sip its signature flight coffee, nibble on a slice of Thai milk tea loaf, enjoy a forkful of chilli cheese fries or a plate of truffle egg mayo – it's the ideal brunch trip for most. Together with a great ambience and interior design (look, glass ceiling roofs!), this is our go-to spot for a date with our books.
Dutch Colony Coffee Co., 113 Frankel Ave, Singapore 458230
---
BARS
The Dog And Bone Pub
Throw a dog a bone, and it'll be chuffed for a day. Likewise, toss us a couple of pints of beer, and it'll make our day too. A bustling waterhole – especially during sports events screenings – you can get great British meals such as fish and chips and scotch eggs. If we had tails, we'd be wagging 'em too.
The Dog And Bone Pub, 106 Upper East Coast Road, Singapore 455296
Jag's Gastropub
If we didn't have to worry about hitting the hay early on workdays, we would probably be holed up in this English-style pub that serves bar nosh that goes the extra mile. Not just potato wedges here; Jag's has got duck leg confit, duck fat fries and miso cod fillet amongst its vast menu – it's all just begging to be washed down with a swig of ale!
Jag's Gastropub, 922 East Coast Road, Singapore 459114
Bar Room
Its fuss-free name is to the point, just like how we are when our thirsts are etching a trajectory towards the nearest bar. If you're a Siglap resident, Bar Room might be your new fave go-to spot; with $6 per glass happy hours, football screenings and dart boards, you'll never wanna leave… sober, at least.
Bar Room, 899 East Coast Road, Singapore 459102
Next Door Café
Don't be deceived by its name; it's not a cafe per se. The cosy tavern stocks over 100 different beers, ales, and ciders. Don't believe us? Check out their extensive beer list online! Those who prefer a not-so-fizzy swig, this beer paradise also serves vino, special cocktails, and whisky.
Next Door Café, 699 East Coast Road Singapore, Singapore 459061
---
SHOPS
Coast Cycles
This industrial-chic bike repair workshop, showroom and cafe in the East houses some of the most arresting bikes we've seen in the city. Designed by ex-national cyclist, Jansen Tan, the Coastliner line is great for commuting around the city, while the Juggernaut is a sturdy bike that is suited for rough terrain. Prefer a specific Pantone shade? Just get yours customised at their fancy workshop.
Coast Cycles, 54 Siglap Drive, Singapore 456176
Leyon Collections
Contrary to popular belief, IKEA isn't the only place in the East to get furniture! In fact, the pieces stocked in Leyon are so exotic, you won't find them in any average furniture mall. Leyon has specialised in Indonesian teak wood furniture since 1994, distributing everything from sukarto cabinets and cantik chairs, to fery glasstop coffee tables. Think your home is time for a makeover yet?
Leyon Collections, 57 Upper East Coast Road, Singapore 455216
T3 Bicycle Gears
The last thing you want on your next bicycle excursion is your bike going haywire on you. Make sure your ride is in top-notch condition at T3; this trusty store offers bike parts, helmets, tyres and other accessories to ensure you get a smooth (and not bumpy) ride.
T3 Bicycle Gears, 1K Figaro Street, Singapore 458322
Treknology 3
One of Singapore's most established bicycle stores – with over 25 years in the bike biz – Treknology 3 can hook you up with a ride for all your needs. Road bikes, mountain bikes, triathlon bikes and even bikes for young'uns; Treknology 3 will have you covered. With over 15 brands in stock, the cycling buff in you will be like a kid in a candy store.
903 East Coast Road, Siglap Shopping Centre, Singapore 459106
Pooch's Image Singapore
It's not uncommon to bump into a couple of energetic pups and poodles in Siglap; lots of its residents are dog owners. Logically, you have a pooch-pampering salon that caters to their furry needs. This professional grooming services offers fur enhancement, pet styling, de-ticking and even doggy day-care; sounds like Shangri-La for your lil' fur-kid!
Pooch's Image Singapore, 119 Upper East Coast Road, Singapore 455244
Three Cubes Lighting
Eco-warriors will love Three Cubes Lighting as only natural, recyclable and sustainable materials are used in the creation of its original Three Cubes products. Those aside, you can also shop designer brands like Denmark's Benny Frandsen and Sweden's MARKSLÖJD.
Three Cubes Lighting,  #01-06, Siglap Centre, 55 Siglap Road, Singapore 455871
---
BEAUTY / WELLNESS
Art Of Yoga
Eating all that sinful grub in Siglap is bound to make you feel unhealthy, which is why this yoga studio is a sanctuary for folks who wanna get some 'om' after their nom. Art Of Yoga provides all sorts of therapeutic classes from traditional static-focused Hatha Yoga to Vinyasa 'power yoga', and even pre-natal yoga for mothers-to-be.
Art Of Yoga, #02-01, 121 Upper East Coast Road, Singapore 455245
JS Spa
Whenever Phuket feels too far away, simply adjourn to this soothing Siglap spot for a good ol' Thai massage. You'll be stretched in places you never knew existed, and will feel brand new after – relaxed and rejuvenated! Also available are healing Ayurvedic treatments and body-beneficial Thai oil massages.
JS Spa, 33 Upper East Coast Road, Singapore 455293
Salon 916
Need someone to caress your tresses and get them ready for the ball? Salon 916 in Siglap will get you prepped with hair styling and blowout services, or enhance that insipid hairdo with a perm or colouring sesh. They even do foot massages while you're getting your hair done, making you feel like you're the boss.
Salon 916, 916 East Coast Road, Singapore 459109
Higher Ground Fitness
If there's one thing that has the fitness-obsessed coming back for more, it's Higher Ground's Hybrid Training. It may be a tad longer than the others, but it delivers incredible results. Don't expect your workouts to be stagnant, as it depends on the program of the day and frequently combines a variety of workouts including power plate training and TRX suspension. The result? Your body will constantly be working hard and stimulated, avoiding a plateau and making sure you have a well-balanced fitness regime.
Higher Ground, 695C East Coast Road Singapore 459059