Yearning for some deep-fried poultry? There's Korean, Southern, Chinese, buffalo, and other wonderful styles in the city. Want to have them after midnight? Here's a list of fried chicken joints that open past midnight
We don't know about you, but a plate of pipin' hot fried chicken at the end (or start) of a boozy night out sounds a lot like sex to us – dirty, forbidden, and oh-so pleasurable. Greasy crispy birds aren't hard to find, though we can't really say the same after hours. Not content with only fast-food options, we scoured the city's late night dining scene, and found eight spots for your deliciously unhealthy fried chicken forays in Singapore. Let's get to it!
Kko Kko Nara Restaurant
We love us a plate of KFC (Korean Fried Chicken, that is), and no one seems to do it better than Kko Kko Nara. Get the combo chicken set ($25 dinner; $20 lunch), which consists of nine chickens in four flavours: original, sweet and spicy, hot, and soy garlic.
Kko Kko Nara Restaurant, #01-01, 57 Tras Street, Singapore 078996, p. 6224 8186. Open daily 11am-4am.
Ice Cold Beer
Marinated in finger-licking prawn paste and fried to a perfect crisp, the wings ($18 for six pieces, $12 for three pieces) at Emerald Hill's perpetually packed bar hits all the right spot, every time.
Ice Cold Beer, 9 Emerald Hill Road, Singapore 229289, p. 6735 9929. Open Sun-Thur 5pm-2am, Fri-Sat 5pm-3am.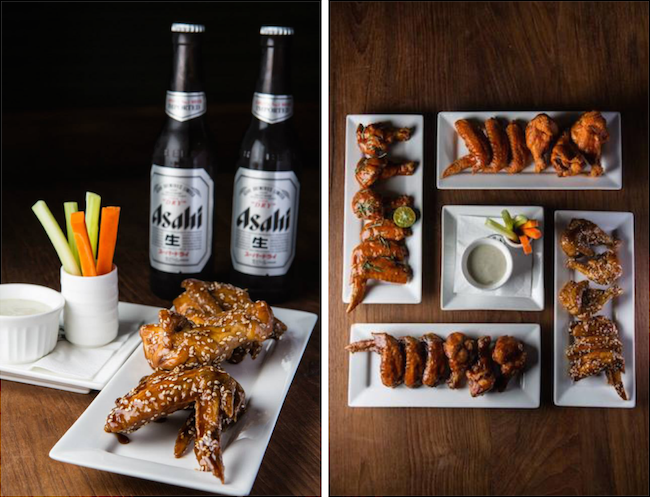 Wings Bar
Wings Bar
This aviation-themed bar serves a variety of buffalo wings, including the B52 originals and their signature Honey BBQ, glazed with a mean bourbon sauce. Plus, it's at Clark Quay, which means you don't have to traipse too far for a post-drink meal. Price ranges from $8.90 for eight pieces to $64.90 for 50.
Wings Bar, 3D River Valley Road, Singapore 179023, p. 6333 4460. Open Sun-Tue & Thur 12pm-2am, Wed & Fri-Sat 12pm-3am.
No. 5 Emerald Hill Cocktail Bar
So a plate of its signature wings, battered in prawn paste and arguably the best in town, sets you back $17 (for only six pieces), but the higher-than-most price tag is well-worth every cent.
No. 5 Emerald Hill Cocktail Bar, 5 Emerald Hill Road, Singapore 229289,
p. 6732 0818. Open Sun 5pm-2am, Mon-Thur 12pm-2am, Fri-Sat 5pm-3am.
Beer Market
Be warned: the wings here are super addictive. Don't get us wrong: the original is great, but we prefer their honey glazed BBQ wings and the Buay Tahan (spicy). Pop by during their Happy Hungry Hour and get three pub grubs for $10.
Beer Market, 3B River Valley Road, #01-17/02-02, Singapore 179021, p. 9661 8283. Open Sun-Thur 6pm-1am, Sat-Fri 6pm-3am.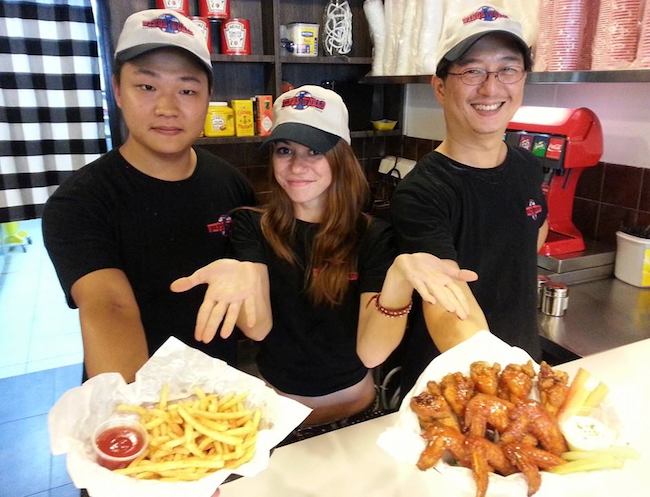 Wings World
Wings World
Their wallet-friendly meal comes with a choice of tasty sides and a drink ($8.75), and the delish, wittily named wings (Jamaican Jerk anybody?) are coated with dry seasonings and sauces. You'll also get celery and carrot sticks served with blue cheese, just in case things get too spicy..
Wings World, 214 East Coast Road, Singapore 428913, p. 6247 7477. Open daily 11am-12am.
Top image: Kko Kko Nara Restaurant