These vegan and vegetarian restaurants in Sheung Wan have made the impossible possible; who knew plant-based food could taste so good? (Actually, we did!)
The plant-based revolution is going strong in Hong Kong. There are a wide range of vegetarian restaurants in Hong Kong, ranging from acai cafes like Supabowl to restaurants such as Pop Vegan. Not only are we big fans of the plant-based nutrients, guilty pleasures are equally important. Hong Kong Island has always been a heaven for healthy eaters, so this time we've scouted out the best vegan and vegetarian restaurants in Sheung Wan – and it's not just great salads!
1. Confusion Plant Based Kitchen
Tired of plain salads and pasta? The newly-opened Confusion Plant Based Kitchen in Sheung Wan serves some of the best vegan comfort food. From rice dishes like chickpea curry to the best Mexican tofu tacos, their food wonderfully adopts flavours from Japan, India and Taiwan. And they make sure their special menu changes weekly to keep you excited.
Read our full review on Confusion Plant Based Kitchen here
Confusion Plant Based Kitchen, 103 Jervois Street, Sheung Wan, Hong Kong, p. 2563 3699, 上環蘇杭街103號
2. Kind Kitchen
Kind Kitchen in Nan Fung Place, the sister store of Green Common, is most known for their signature Omnipork and Just Scramble dishes. Whether you're looking for vegan gyoza or Tan Tan Noodles, Kind Kitchen is here to impress and make the meat-free food revolution in The 852 easier for everyone.  
Kind Kitchen, Nan Fung Place, 173 Des Voeux Road Central, Hong Kong, p. 2110 0055, 中環德輔道中173號
3. Ahimsa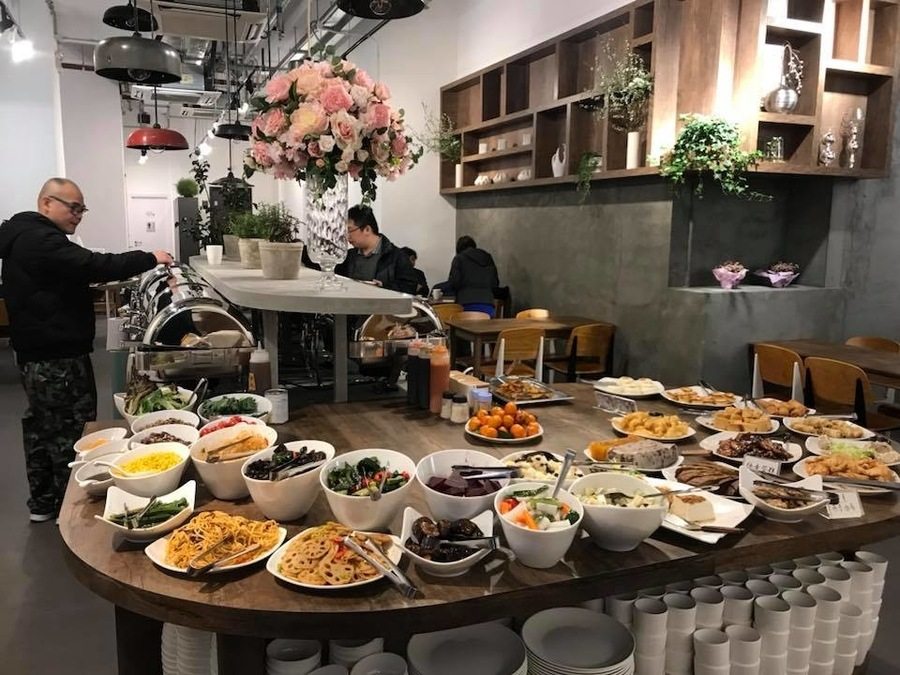 Our fave buffet in North Point is now in Sheung Wan/Central! Chow down on everything from salad to Chinese dishes to pastas and more at this vegan buffet, or order off the menu for your own dish. Don't miss the homemade sweet treats here.
Ahimsa, 23 Graham Street, Sheung Wan, Hong Kong, p. 2336 2908
4. Ohms Cafe & Bar
Dedicated to promoting veganism, fair-trade coffee and a sustainable lifestyle, Ohms Cafe & Bar is a cosy vegan cafe nestled in the streets of Sheung Wan. They serve delicious vegan pancakes (their savoury pancakes with vegan cheese and mushroom is a winner!), as well as healthy bagels and other noodle dishes.
Ohms Cafe & Bar, Shop A, G/F, 192 Hollywood Road, Sheung Wan, Hong Kong, p. 5400 4236, 上環荷李活道192號地下A舖
5. Zen Eat Cuisine
Zen Eat Cuisine is a Japanese vegan and vegetarian eatery in Sheung Wan. Serving a wide range of home-style Japanese dishes, such as miso with vegetable tempura, veggie oden with rice cake, natto with nagaimo and nagari tofu, nutrition is guaranteed. And, their lunch sets – 3 dishes with rice/noodle and soup – cost only $98.
Zen Eat Cuisine, Room 503, 5/F, Cheung's Building, 1-3 Wing Lok Street, Sheung Wan, Hong Kong, p. 2838 0018, 上環永樂街1-3號世瑛大廈5樓503室
6. Dandy's Organic Cafe
Okay. So Dandy's may not be 100% vegetarian/vegan, but they are committed to serving the best food for everybody's body, and have a huge selection of vegetarian and vegan dishes on the menu. We love the superfood salads best (throw in the tofu cakes for maximum yum) and for some reason we always eating dessert here.
Dandy's Organic Cafe, 32 Upper Lascar Row, Sheung Wan, Hong Kong, p. 2838 6166
MANA! (CLOSED)
From their signature open flats to tasty burgers and really good dairy-free coffee, MANA! POHO is the OG on Sheung Wan the vegetarian dining scene. Go for the great food and stay for the chill vibes, excellent WIFI and happy hour.
MANA! even makes it to our list of best burgers in Hong Kong
MANA!  has multiple locations in Hong Kong
Harvester (NOW CLOSED)
Harvester is one of the most beloved Chinese vegetarian restaurants in Sheung Wan, where you can weigh your food for $38 per 100 grams. Serving a wide range of items, such as braised eggplants and fried vegetables, you're also granted a bowl of soup and some white rice. And don't forget to help them out by gathering your dirty plates and utensils in the designated area after you finish your meal!
Harvester, Shop A-B, G/F, Yardley Commercial Building, 3 Connaught Road West, Sheung Wan, Hong Kong, p. 2542 4788, 上環干諾道西3號億利商業大廈地下A-B號舖
Grassroots Pantry (NOW CLOSED)
With a wide range of mouth-watering plant-based creations on the menu, such as kelp & mung bean noodle soup and grilled tikka mushroom with brown rice biryani, Grassroots Pantry is one of the best vegetarian restaurants in Central for those who are looking for a comfortable fine dining experience. And if you're living a raw vegan lifestyle, they have got something tasty for you as well.
Read our full review on Grassroots Pantry here
Grassroots Pantry, 108 Hollywood Road, Sheung Wan, Hong Kong, p. 2873 3353, 中環荷李活道108號