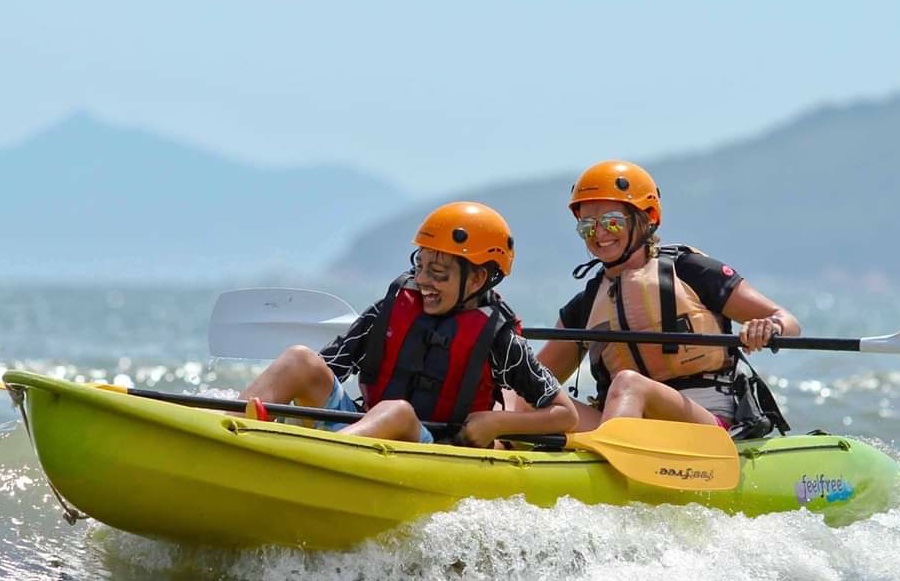 Treasure Island (Photography: Treasure Island Group via Facebook)
Let them experiment, socialise and unleash their creativity at these summer camps
Looking to spend more quality time with your kids? Check out our guide to free things to do with kids in Hong Kong. If you want them to unleash their creativity, pick up new skills and make new friends, these holiday programmes in Hong Kong are perfect as well! To make things easier for you (when schools let out), we've also compiled a list of some of the best summer camps for kids in Hong Kong, so now you know where to look.
Best summer camps for kids in Hong Kong
Surf & Adventure Camps
Treasure Island offers both summer surf day camps and week-long day and overnight adventure camps for kids between 5 to 16 years old. The surf camps include a three-hour surfing session and a one-hour land-based session of beach safety, ocean education and fun games; while the adventure camps aim to build kids' outdoor leadership skills such as trip preparation, equipment and group organisation. There will be loads of fun-filled activities such as hiking and kayaking every day. It's definitely one of the best summer camps for kids in Hong Kong who enjoy camping and water sports.
Treasure Island, Pui O Beach, Lantau Island, Hong Kong, p. 2546 3543, 大嶼山貝澳泳灘
DJ & GRAFFITI Summer Camp
Looking for summer camps for kids in Hong Kong that are a little bit more artsy? Dedicated to promoting art, graffiti and music, Mischief Productions will be running a summer camp for kids aged 9 to 16 years old from 15-17 July. The three-day exclusive program include DJ workshop, beat production workshop and more. Join their talented artists and DJs to make cool art and tunes this summer.
Mischief Productions, 285 Des Voeux Road Central, Sheung Wan, Hong Kong, p. 9687 3250, 中環德輔道中285號
Summer Tech Camps
Held at the University of Hong Kong and the Chinese University, iD Tech will teach kids and teens the basics of coding, AI, machine learning, robotics and game design. Participants will develop the in-demand skills that are much needed in companies like Google and Microsoft. This is one of the best summer camps for kids in Hong Kong who aspire to be one of the professionals in Silicon Valley.
iD Tech, The University of Hong Kong and The Chinese University, p. 5803 0797, 香港大學及中文大學
Forest Summer Camp
From 17 June to 16 August, go wild and embrace nature on Lantau island. Ark Eden's Eco Camps are curated to bring out the adventurous and curious side of children as well as nurture their love of the outdoors. Taking place in Mui Wo, Ark Eden will host its Forest Summer Camp with a variety of nature-themed camps each day for kids aged 5 to 11. Fun activities include waterfall hikes, organic farming, tree climbing, wild cooking, campfires and more, so don't miss out.
Ark Eden, Mui Wo, Lantau Island, Hong Kong, 大嶼山梅窩
Summer Theatre Camp
Learn more about improvisation, devising, vocal projection and script work at Faust! Offering both theatre and creative writing summer camps for kids in Hong Kong, the programmes serve to be a laughter-filled learning environment for kids to develop self-confidence and teamwork. Running from 24 June to 23 August (each programme runs for five days), your kids are encouraged to explore different drama themes and to become a proactive performer.
Faust, Nan Dao Commercial Building, 359-361 Queen's Road Central, Sheung Wan, Hong Kong, p. 2547 9114, 上環皇后大道中359-361號南島商業大廈