Just a table for me, myself, and I (Photography: Ann Haritonenko)
Dining alone doesn't mean you have to feel alone! Solo dining in Hong Kong allows you to fully immerse yourself in the food, ambiance, and experience – when you know the right places to go to.
Eating out alone gets an unfair reputation as being awkward or lonely. That's because dining is usually regarded as a social affair – a time to gather, share, and connect. But, solo dining in Hong Kong can be a cherished act of self-care and an opportunity to enjoy excellent cuisine, too. When freed from the social obligations of having company, you can fully sink yourself into the culinary experience curated by the restaurant. In fact, our local scene welcomes solo diners with open arms– you just need to know where to look. So read along, make a reservation for one, and get ready to treat yourself!
Flying solo? Indulge in some me-time at these solo dining restaurants in Hong Kong
1. Solo Udon
True to its name, Solo Udon provides the ideal dining experience for solo diners in Hong Kong who crave hearty Japanese fare. You can slurp up the handmade udon noodles in peaceful solitude, thanks to individual booths separated by partitions. Solo Udon simplifies the ordering process through self-service kiosks where you can select your desired dishes after scanning the QR code at your table. With minimal service interaction in the intimate booths, Solo Udon inventively adapts the ramen chain Ichiran's private dining format for udon lovers. Psst – the mentaiko shrimp tempura here is to die for!
Solo Udon, Shop 3, G/F, V Point, 18 Tang Lung Street, Causeway Bay, Hong Kong, p. 6790 5970
2. Boat Boat Steam
With live seafood tanks guaranteeing the freshest picks, Boat Boat Steam in Causeway Bay makes solo dining in Hong Kong extra exciting. Diners can savour steam pots and seafood sets alone without missing out on variety. The nautical decor, complete with porthole windows and lantern lighting, immerses you in maritime ambiance, while the privacy blinds help protect the privacy of individual customers. Diners start by steaming proteins and vegetables in the built-in tabletop pots. Then, when ready to progress the meal, the staff replaces the steamer with congees and hot pot broths in the same vessel. Between the private seating, tailored serving style, and oceanic vibes, Boat Boat Steam provides a quality, comfortable solo dining experience.
Boat Boat Steam, 3/F, Way On Commercial Building, 500 Jaffe Road, Causeway Bay, Hong Kong, p. 2885 0268
3. Yakiniku Like
Specialising in personal grilling, Yakiniku Like brings Tokyo-style solo yakiniku to Hong Kong with affordable sets for individual diners. At its newly opened outlet in Tai Wai or any of the other locations, carnivores can fulfil their beef cravings without having to be in a group. The quick, tasty menu spotlights high-quality Japanese wagyu, like the limited-time Kuroge Wagyu Brisket Set. Gorgeously marbled, the beef achieves a melt-in-your-mouth texture when briefly grilled, and has its juices sealed in juices to accentuate its aroma. For a spicy-tangy complement, the Mentaiko and Seaweed Rice pairs nicely with the meat. As smoke billows from the compact griddles, you can immerse yourself in the hazy BBQ vibes at Yakiniku Like.
Yakiniku Like has multiple locations across Hong Kong.
4. Yardbird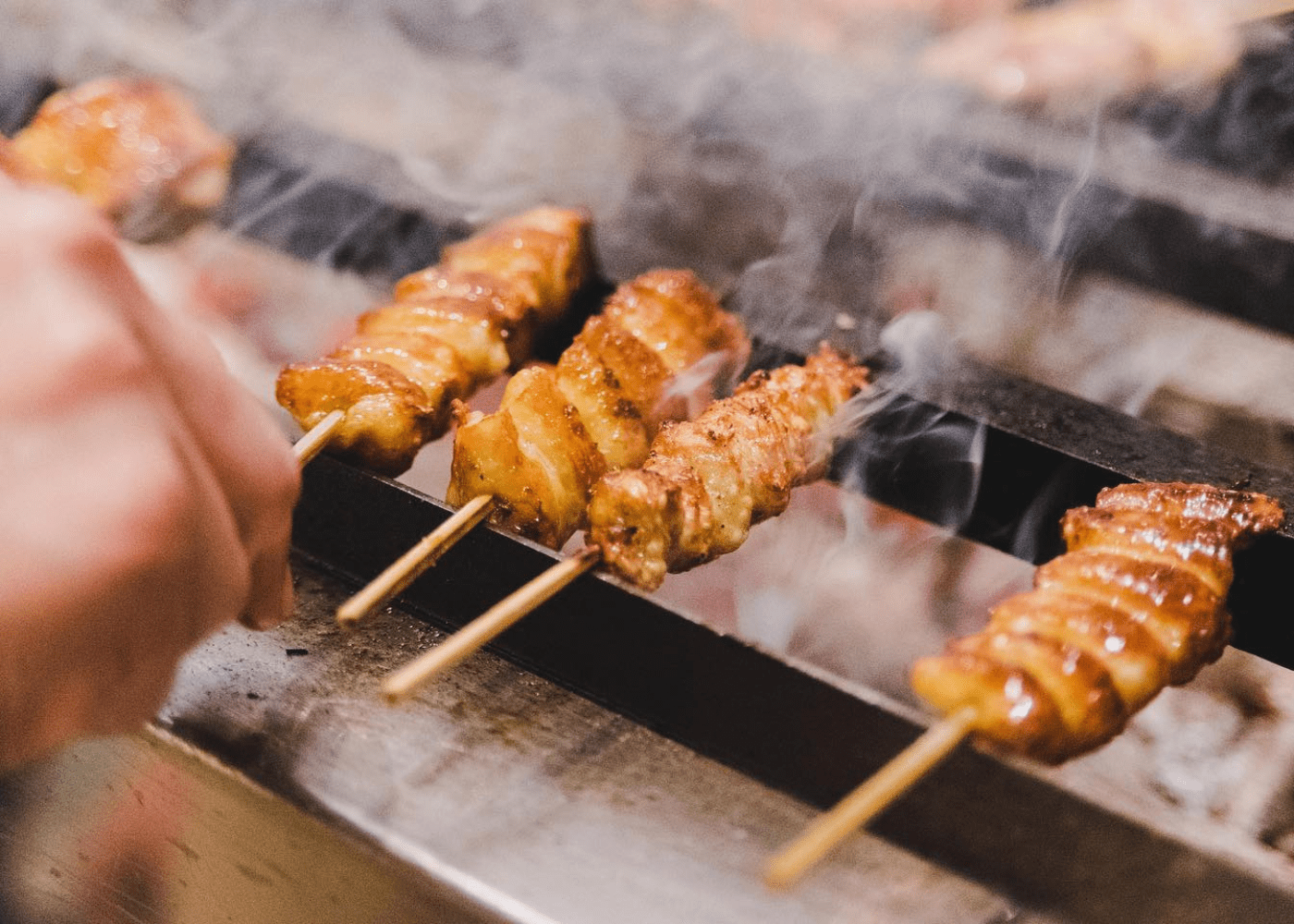 For solo diners seeking a lively atmosphere paired with delicious yakitori, Michelin-starred Yardbird is the prime choice. The à la carte skewer ordering system allows you to sample an array of offerings like the signature corn tempura, chicken meatballs with egg yolk, and array of chicken parts. Perched at the bar, you can soak in the energy fuelled by upbeat tunes while enjoying juicy, masterfully prepared chicken skewers and small plates. Even though Yardbird is super popular, often requiring advance booking, its hip izakaya style and meticulous treatment of ingredients keep diners flocking in.
Yardbird, G/F, 154-158 Wing Lok Street, Sheung Wan, Hong Kong, p. 2547 9273
5. Ichiran
Renowned for solo dining, Ichiran entices ramen lovers with intimate booths for private noodle-slurping. Each stall contains essentials like water, a service bell, and curtained window for your interactions with the staff. Diners customise their orders via paper forms, requesting specifics from noodle firmness to extra toppings, before pressing the bell for delivery direct to their personal nook.
Ichiran has locations in Causeway Bay and Tsim Sha Tsui.
6. Yat Lok
With its no-lingering policy, Michelin-starred Yat Lok makes for the ideal Hong Kong solo dining spot to savour its signature roast goose. The Chu family meticulously prepares the goose through over 20 steps before roasting it to crisp-skinned perfection. Despite an understated storefront wedged between offices, the generations-old family restaurant attracts crowds of solo diners to the elbow-to-elbow tables. Their famed roast goose is a showstopper, with glistening skin encasing succulent, subtly gamey meat that melts in the mouth.
Yat Lok, G/F, 34-38 Stanley Street, Central, Hong Kong, p. 2524 3882
7. Graceland
For solo diners seeking Southern comfort fare and drinks in a lively open-air setting, Graceland in Mong Kok hits the spot. Named after Elvis Presley's Tennessee home, the eatery channels American soul food and southern hospitality. Sidle up to the bar for a quick bite and cocktail, or post at the counter to people-watch while indulging in specialties like hot Nashville chicken sandwiches doused in spicy sauce. Other regional delights include crispy buttermilk fried catfish with Cajun spices, and the weekend-only country fried steak with fixings. Wash it down with regional brews, cider, or fittingly named cocktails like the Hound Dog Highball.
Graceland, Shop B, G/F, Lisa House, 12-14A Yim Po Fong Street, Mong Kok, Hong Kong, p. 6112 9448
8. Australia Dairy Company
For a swift solo dining experience, Hong Kong's cha chaan teng like Australia Dairy Company tops our list with their no-fuss service. You may even share a table with another lone patron as staff deftly manoeuvre the bustling space. The minimal interaction allows you to focus on the renowned dishes like creamy scrambled eggs, the breakfast set featuring eggs and noodles, or steamed milk puddings. Despite the humble decor, Australia Dairy Company draws endless queues for done-right classics from custard to char siu-laced macaroni soup. Come alone, eat heartily amid the rush, and leave quickly with your heart (and stomach) full.
Australia Dairy Company, 47 Parkes Street, Jordan, Hong Kong, p. 2730 1356