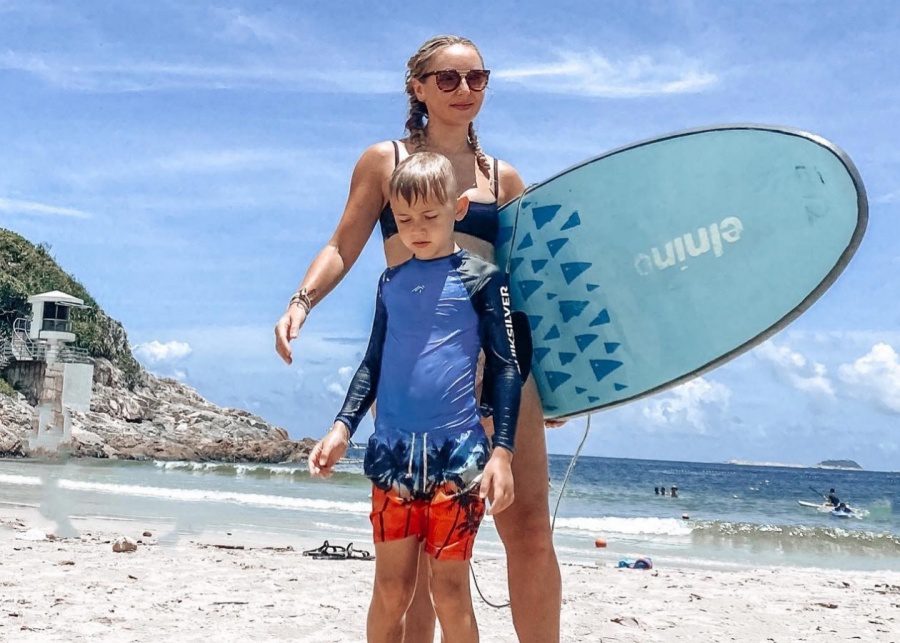 Sarah Keates is a single parent super mum in Hong Kong
It's important to look after yourself as a single parent so that you have the mental and emotional strength to be there for your child
Being a parent—in any circumstance—is never easy, but being a single parent can be particularly challenging. Nevertheless, single parent Sarah Keates is not a fan of the well-intentioned pity some feel for solo parents—particularly the (usually incorrect) assumption that single mums have been 'abandoned' by their partners, left helpless after following a spouse to Hong Kong. As she points out, there are many valid reasons for parenting solo. "For most people, they've made an informed and well-considered choice to parent their children on their own, recognising that their children will have a better upbringing separately rather than together," says Sarah.
So why is there still stigma around this? Why do we make assumptions about single parents when, in reality, each single mum or dad has their own unique story?
Sarah's story
Sarah—whose friends joke that she's 'the unofficial poster girl for solo parenting'—is challenging single-parent stereotypes while smashing through glass ceilings as a successful owner of White Orchid Insights in Hong Kong. Her life is a balance between a fulfilling career managing her own marketing and PR agency, spending quality time with her son, and prioritising her own physical and mental wellness.
Desperate to understand how she does it all, I am eager to learn her secret. As a new mum, I have days where my greatest achievement is simply brushing my teeth. I am heavily dependent on help to survive from week to week. I simply can't imagine how Sarah has the energy to fit it all in.
An audible groan escapes my lips when she shares how a 5am run every morning keeps her head clear. But that's not the point, she assures me. "It's the act of putting yourself first as a mum. You can't look after anyone else if you don't look after yourself first," shares Sarah. "As mothers we need to unlearn the guilt we have for looking after ourselves.
"Whether it's a 5am run, a weekly facial or a much-needed Saturday morning lie-in, we need to stop feeling guilty that we're not putting our children first, and prioritise our own physical and mental wellness. It's not rocket science, and it's not a new concept, but it's one that not many people prioritise for themselves."
At home in Hong Kong
Hong Kong may not seem like an ideal place to nurture and support solo parents. Unmarried women are unable, by law, to undergo IVF and there's a significant lack of resources available for single parent families. Non-traditional couples or singles can end up at the bottom of adoption waiting lists for years.
Despite this, Sarah explains that as a mum in Hong Kong, she's been able to maintain an alpha role— build a business, a personal brand, a social life, and active fitness regime—while still enjoying a hands-on role as mum to her son.
This wouldn't have been possible in her native UK, where childcare costs are astronomical and parents rely on the close proximity of family or spend almost all their monthly salary on childcare. "The hero, in many ways, is my full-time domestic helper. I wouldn't be able to work without her help and I am truly grateful for the opportunity to have full-time, live-in assistance with running my household," says Sarah. "I am also enormously grateful to my mother who (pre-COVID), would spend extensive periods in Hong Kong whilst I travelled 30+ overseas trips per year, building a career and creating stability for my family."
Which isn't to say that it is easy to separate from a partner in Hong Kong, especially when there are children involved. However, by dedicating time and effort to putting yourself first, you can ensure that the transition to a new way of living can be smooth, and even fulfilling, despite the difficulties. "I was not always this positive; it has been a massive journey and not an easy one," says Sarah. "That said, I am 100% confident that I did the 'right thing' for myself and my family.
"I believe that if we remove the stigma of single parenting and start having sensible dialogue, women can feel empowered to make difficult choices without the added burden of societal pressures."
Advice for single parents in Hong Kong
If you're facing the prospect of single parenting, Sarah has some helpful advice for mums and dads:
Prioritise looking after yourself first. The journey will not be easy, so it's important to look after yourself in order to nurture your emotional strength. This in turn will cultivate grit and resilience.
In a culture of oversharing, decide who gets lots of information or as much as you want to share, and who gets none. That's entirely up to you. Get your script ready, there will always be nosy people asking questions!
Don't be afraid to get help – make mental wellness a priority. It sounds obvious but getting sleep, being active, and looking after yourself will give you the clear head and fortitude you (may) need when going it alone.