Wondering what to do Kowloon City? Chow down on delicious food and explore the beautiful neighbourhood
If you're looking to discover the city further on the weekend, you can visit islands around Hong Kong like Peng Chau and Tap Mun for a quiet escape; but if you prefer your trip to be more food-oriented and entertaining – we've put together a guide on what to do in Kowloon City.
Enjoy a day trip to Kowloon City
Our guide to Kowloon City features the hottest local cafes, Cantonese dessert spots and Thai restaurants. Read full story here: https://bit.ly/2SBWdZF

Posted by Honeycombers Hong Kong on Wednesday, 5 December 2018
Having been transformed into a lively district with loads of modern restaurants that offer Southeast Asian cuisine like Thai, Vietnamese and Indonesian, as well as traditional Cantonese dessert shops and bakeries, Kowloon City is a certified food lovers' paradise.
Lok Yuen
Looking to try classic Hong Kong breakfasts? Lok Yuen serves an array of indulgent breakfast food and savoury dishes, including their signature French toast with butter and satay beef, fried chicken with rice, ham and green onion omelette and more. Set at an affordable price, their scrumptious food is definitely on our worth-it list. Just watch the calories and don't overeat!
Lok Yuen, Shop 6, 3/F, Kowloon City Municipal Services Building, Nga Tsin Wai Road, Kowloon City, Hong Kong, p. 2382 3367, 九龍城九龍城市政大廈3樓6號舖
Kowloon Walled City Park
As one of the most historic parks in Hong Kong, Kowloon Walled City Park has survived wars and fights and several demolition while being used by Chinese imperial officials since the 16th century. Now being transformed to a beautiful park with walking trails and pavilions, it's a cosy spot for history lovers and photographers to visit in this vibrant neighbourhood.
Kowloon Walled City Park, Tung Tsin Road, Kowloon City, Hong Kong, 九龍城東正道九龍寨城公園
Thai Vegetarian Food
There are such a huge array of Thai restaurants in Kowloon City, you really can't go wrong with any one of them. That's why we've chosen this hidden gem as one of our top picks. Known as the one-and-only Thai vegan restaurant in Hong Kong, Thai Vegetarian Food is dedicated to serving authentic Thai dishes – just without the meat – including their famous Tom Yum Soup Noodles, Panang Curry with Bean Curd, Hoi Nam Veggie Chicken Rice. On weekdays, all lunch sets cost only $50-60, definitely worth a try!
Thai Vegetarian Food, G/F, 28 South Wall Road, Kowloon City, Hong Kong, p. 6153 7421, 九龍城城南道28號地下
Speedway Diner
Speedway Diner is not your usual American diner. Sure, you can find a great selection of tasty American fast food, such as cheesy hot dogs, pizzas, burgers, grilled sandwiches and sundaes. But what's so special about this restaurant hidden in Kowloon City Plaza is that customers can pay extra for some fun go-cart action – which is $59-69 per sesion – so definitely invite your friends to go with you.
Speedway Diner, Shop 406-410, 4/F, Kowloon City Plaza, 128 Carpenter Road, Kowloon City, Hong Kong, p. 2718 2272, 九龍城賈炳達道128號九龍城廣場4樓406-410號舖
Tei Mou Koon Dessert
Having been in Kowloon City for over twenty years, Tei Mou Koon Dessert is an iconic dessert spot beloved by local residents and students. Offering everything from sesame glutinous rice dumplings to manga sago and dou hua, it's the best place to hit for some late-night sweets. Plus, their Cantonese desserts are of generous portions!
Tei Mou Koon Dessert, G/F, 47 Fuk Lo Tsun Road, Kowloon City, Hong Kong, p. 2382 5004, 九龍城福佬村道47號地舖
Hau Wong Temple
Want to take a break from all the eating in Kowloon City? Take a moment to appreciate the beautiful Hau Wong Temple. Constructed in 1730 to commemorate Hau Wong, a Chinese general of the Song dynasty, the temple features a variety of cultural artefacts, including an iron incense burner and an impressive groups of reliefs on the walls.
Hau Wong Temple, Junction of Junction Road and Tung Tau Tsuen Road, Kowloon City, Kowloon, Hong Kong, 九龍城聯合道及東頭村道交界
Tai Wo Tang Cafe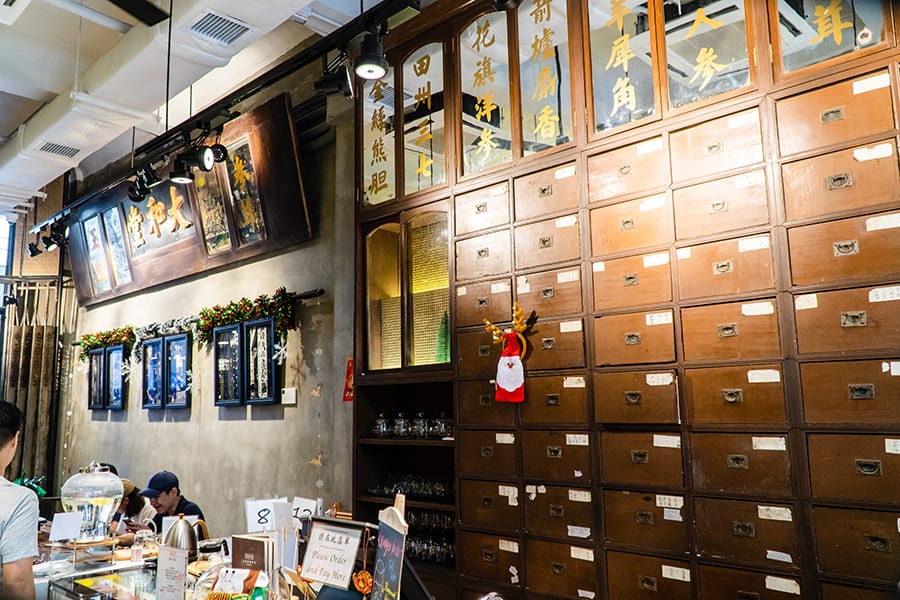 Converted from a traditional Chinese medicine store established in 1932, Tai Wo Tang Cafe is now a lovely casual coffee spot for guests to hang out and relax. Their menu includes traditional English breakfast dishes, salads, burgers and spaghetti. Hoping to preserve the precious memories of Kowloon City, the renovated cafe keeps its nostalgic decor as a snapshot of the past.  
Tai Wo Tang Cafe, G/F 24 Nga Tsin Long Road, Kowloon City, Hong Kong, p. 2623 2006, 九龍城衙前塱道24號地舖