Fashion is such a unique way to express your personality!
Unsure of what to wear and how to present yourself at work? Jennifer Ong's foolproof styling tips for business can help you unlock confidence and project power.
Looks aren't everything but looking polished for a job interview, a presentation, or a work event helps! But we all know shopping for professional wear isn't the easiest on your wallet. But that's where renting and circular fashion can come into play. We talk to Jennifer Ong from Style Theory, a fashion rental service, on simple tips to look confident and take charge in work attire.
Styling tips and more from Jennifer Ong
How did your journey in fashion start?
Growing up, I was always passionate about fashion and had fashion-related side hustles. I worked in the finance industry for seven years, before I joined Style Theory. I also ran a fashion blog for a period of time and wrote about styling tips for corporate wear; when I first started working, I didn't really know what to wear to the office. I would simply wear dull-coloured, conservative clothes and I felt like I couldn't showcase my personality.
I was contemplating starting my own fashion line but I wanted to create something sustainable and I didn't want people to give in to consumerism. That's when I came across Style Theory. I love how the service gives you access to so many pieces of clothing to experiment with but, at the same time, it was also a more sustainable and greener alternative.
I've been with Style Theory for almost three years now and it's been amazing working towards a mission that I firmly believe in. I spearheaded the expansion from the Singapore market to Hong Kong, and I'm happy we're introducing fashion from a different perspective. I enjoy helping people feel more comfortable about how they dress and how they carry themselves.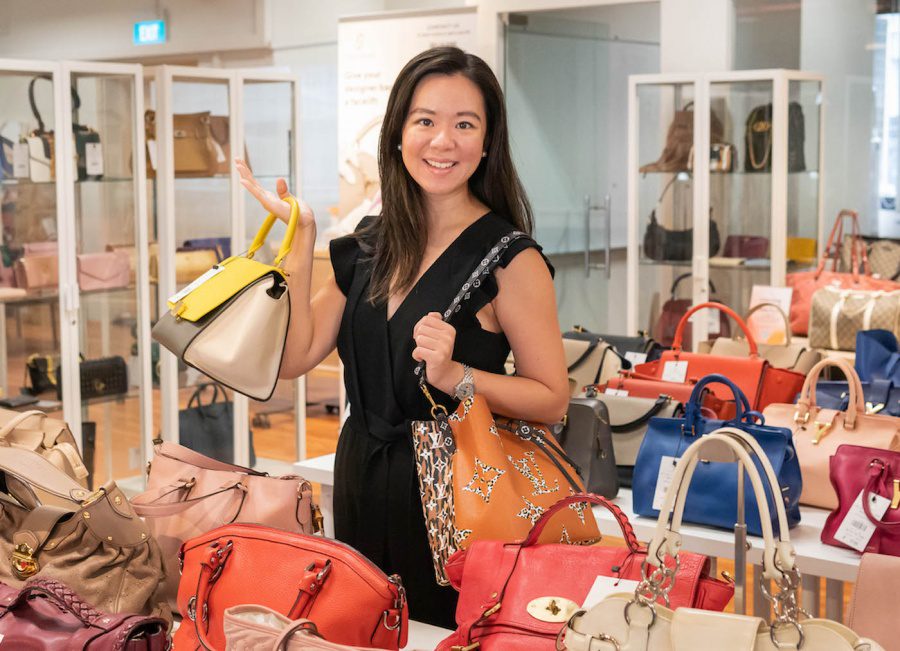 How has renting clothes changed the way you present yourself visually? How has it helped you feel more confident?
By renting, I've been able to try so many different styles, cuts, shapes, colours, and patterns. And it's just been such a nice way for me to learn what works for my body. I've always gravitated towards bold colours but I'd refrain from buying bold clothes because I thought that I couldn't wear them often. But with renting, you don't necessarily have that commitment. So I think through that renting process, I've really learned how to dress better or dress for my body shape. And I've also learned that fit is crucial when it comes to looking confident and comfortable. When buying clothes, sometimes you purchase a size bigger or smaller because it's the only choice because it's on sale, only to regret it later.
Are there specific colours, patterns, or styles that make you feel more confident?
My body type is a pear shape, so usually clothes that highlight my waistline work better. I also like how I look in V necks. And I'm not into floral prints, I keep it simple. In terms of colour, I tend to go for warmer tones like orange, red, and green, but yellow is a no go for me. And so, when I wear yellow, I know my confidence level will be lower. So when you wear something you feel a little off in, you can sense you're not comfortable. What you wear translates into how you carry yourself. Say when working from home, you carry yourself differently than at work, because you're mostly working in pyjamas! It's so interesting that fashion can put you in a different mindset!
What advice can you share about how to present yourself professionally whilst keeping yourself comfortable?
My advice would be to have conservative cuts that are made using more stretchy fabric so you have more mobility. I personally love jumpsuits because you're dressed appropriately for work, while looking fashionable and comfortable. And adding a pop of colour is always refreshing. For example, you can layer a colourful blouse with a blazer on top, which isn't too over the top but can still make you look put together. Plus, you can go for an unconventional cut for the blazer to make your look more fun, but that also depends on the situation you're in. So the key is in reading your audience and knowing who you're presenting to, and what is acceptable to them.
What's your secret in dressing for success? What does your power outfit look like?
I do spend time thinking about my audience, and then dressing appropriately for that audience. You don't want to be overdressed or under-dressed, you want to be appropriate. And as for my power outfit, I prefer pants, or a jumpsuit, and a blazer, paired with a nice bag and heels.
What simple tips can you share for styling yourself for a business presentation or meeting?
Firstly, a good fit is super important, you don't want something too loose or too tight because these are minor things that could distract you when presenting and make you self-conscious. You could look like a million bucks but if you can't move properly that's not a good idea, so comfort comes in second. And thirdly, I'd say add a little personality. Accessories are a great way to express yourself and they compliment your outfit.
What's one styling tip you wish you could tell all men in business?
I'm no expert in this! But I do think men are afraid of colour, they tend to stick to blues and greys, and olive is really pushing the envelope here! I think adding a bit of colour in ties and cufflinks is a less intimidating option for men who are still hesitant in adding colour but want to express more personality.
What's an economical way for small business entrepreneurs to look professional and poised without breaking the bank?
I'm biassed here, but Style Theory can have you looking poised for the office without being hard on your wallet. When it comes to renting clothes, it's a simple and easy way to take advantage of clothing that you may only wear once or twice. And, whether we like it or not, we do notice the bags that people carry.It has the power to elevate your whole look, and renting bags—or going for pre-loved ones—saves so much money!
Also, we're trying to eliminate the pre-conceived notion that secondhand fashion is dirty and cheap. The younger generation is more open to the idea of renting and buying second hand because we can't have huge closets in Hong Kong. These are the smarter options for an alternative way of expressing yourself through fashion.
In your opinion, how important would you say it is to dress your best when it comes to business?
The way you carry and present yourself is a huge part of the first impression. Of course, the main component is the content you deliver, but you don't want your outfit to be a distraction in a bad way. Like wearing sneakers to an interview or meeting where you're expected to dress formally. As much as we don't like it, judgement does come naturally to humans so I'd say start the meeting with your best foot forward.
Find out more about Style Theory.