You can have a go at different types of sound healing therapies at Tune In Wellness with Malbert Lee
After experiencing the power of sound healing first-hand, Malbert Lee took a break from the skies to found Tune In Wellness, guiding others to "tune in" to their well-being.
Are you tired, stressed, and not sleeping well at night? Perhaps sound healing is the natural remedy for you – and this was indeed the case for Malbert Lee, Founder of Tune In Wellness. Before becoming the renowned sound healing master, yoga teacher, and wellness consultant he is now, Malbert's career actually began in the skies as a flight attendant. What prompted his transition to the alternative healing industry, and what's the magic of sound healing that drew him in? Read on for our interview with Malbert.
We tune in to Malbert Lee of Tune In Wellness
Can you share your journey from being a flight attendant to becoming a sound healing practitioner?
I was working as a flight attendant around a decade ago. It's a physically demanding job, so maintaining my health was always my top priority. Among the different ways of self-care, I find sleep the most important for me, but it was quite challenging to get quality sleep at that time, especially with the jet lag. So, I started looking for ways that helped me sleep better and found listening to the sound and vibrations of singing bowls especially effective. With my sleep improved, I also felt less stressed. In 2016, I got my first singing bowl and began sharing my knowledge of sound healing with family and friends. Since then, I've trained with different sound healing masters around the world and have been invited to give classes in various yoga studios and hotels. Due to the pandemic, my career as a flight attendant was put to a halt so, naturally, I've become a full-time sound healer. As the world finds its way back to normalcy, I've launched my sound healing studio, Tune In Wellness, with the aim to offer the best sound healing experience in Hong Kong.
What is unique about the sound healing experience at Tune In Wellness?
Tune In Wellness is the only sound healing studio in Asia that offers an extensive range of sound experiences using hand-crafted instruments. To curate my collections, I travelled to Nepal to handpick over 200 singing bowls. Over the years, I've also amassed an array of special gongs that create rich and powerful sound vibrations, with the latest addition being the 42" titanium gong from Germany. I'm most proud of my million-dollar alchemy crystal singing bowls collection as it's the largest in Hong Kong, featuring a pair of Super Grade alchemy bowls valued at over $300,000. I intend to make sound healing accessible, so that everyone can enjoy sound healing as part of their self-care routine.
What are the benefits of the different sound healing therapies?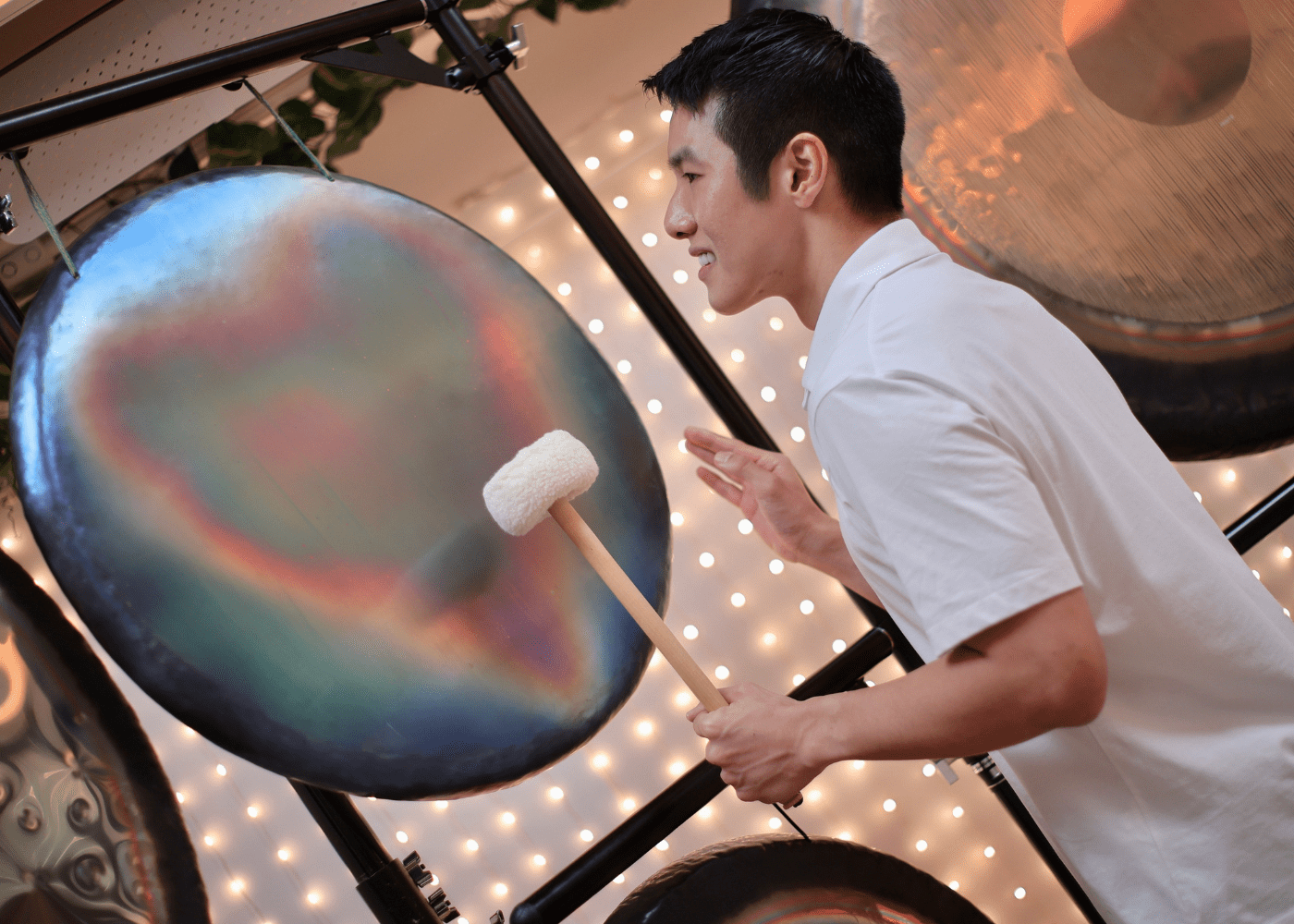 Gong Baths mainly use gongs to induce deep relaxation. The vibrations from the instrument are powerful and can bring people to a meditative state or even deep sleep in just 60 to 90 seconds. Sound Journey, on the other hand, puts a combination of instruments in special sequences to create a complex yet harmonising soundscape for a profound experience. I also offer Crystal Sound Healing, using crystal bowls infused with precious metals, gemstones, and minerals for gentle relaxation and balanced emotions. Last but not least, in the Floating Sound Bath, participants rest in antigravity hammocks that are slightly elevated above the ground. This allows every part of their body to receive vibrations equally, giving them a complete surround sound healing experience.
What was the most impactful moment or transformation you've witnessed in a client through sound healing?
I had a client coming into the studio with tears in her eyes. She was under extreme stress, sadness, and anxiety. After an hour-long private session, she got up with a big smile on her face. I also had a client who told me she felt that all the stress, unhappiness, and anger in her life were gone after the therapy. Everyone faces different challenges, and processes and reacts to sounds differently. This is why each individual experiences and benefits from sound healing in different ways. For some, it can ease physical discomfort while others might find improvement in the quality of their sleep.
For those new to sound healing, what would you recommend as a first step to see if it's a good fit?
Feel free to come visit Tune In Wellness in person, try out different classes, and see which ones you resonate with the most! Taking the time to develop deep listening and body awareness with regular sessions can help you fully reap the benefits of sound healing. Think of sound healing as a way to rejuvenate yourself – we charge our phones all the time, and sound healing is a great way to recharge our whole being!
What's your vision for the future growth of Tune In Wellness?
Besides regular classes, there will be training workshops for those who'd like to learn more about sound healing either for self-care or to help others. I'd also like to expand my studio space in the future to showcase more interesting and high-quality sound healing instruments.
Tune In Wellness, 16/F, Simsons Commercial Building, 137-139 Johnston Road, Wan Chai, Hong Kong
This post is in partnership with Tune In Wellness.