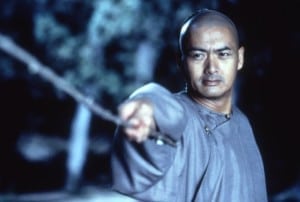 Chow Yun Fat starred as Li Mu Bai in Crouching Tiger Hidden Dragon (Photography: Crouching Tiger Hidden Dragon via Facebook)
These Hong Kong icons ruled and dominated their generation and continue to live on through their works. Many of the celebrities of yesteryear were triple threats that sang, danced and acted their way into our hearts - here, we pay tribute
Though renowned as a shopping destination and an international financial hub, Hong Kong has a very unique culture, including quirky traditions and beliefs, local popular culture slang and weeaboo subculture groups. Find out more about the city's culture through its legendary celebrities and popular figures – these are the Hong Kong icons that have made it into the history books and will always be treasured and loved in The 852.
Hong Kong icons that the city will always remember
1. Tony Leung
This Hong Kong actor is one of the most successful and internationally renowned actors of all time. Tony Leung won Best Actor at the Cannes Film Festival in 2000 for his role as Chow Mo Wan in In the Mood for Love (2000) and has been described as Asia's answer to Clark Gable. He is known as somewhat of a muse of legendary Hong Kong director – Wong Kar Wai, and has been praised for his many diverse role performances with the director including Chungking Express (1994) which he starred alongside Faye Wong, Happy Together (1997) played alongside Leslie Cheung and In the Mood for Love (2000) with Maggie Cheung. When it comes to Hong Kong icons, Tony is boss.
2. Chow Yun Fat
This actor is arguably the most beloved Hong Kong icon of all time. Chow Yun Fat began his screen career in the largest local TV network, TVB, and rose to prominence in the 1980s playing the roles of a Shanghai gangster in the TV series The Bund and later a gangster in movie A Better Tomorrow which dominated box offices across Asia. Though the actor has acquired international movie star status, he is renowned in Hong Kong for his down to earth, humble and respectful demeanour, and his willingness to engage and converse with the public, making him one of the most beloved Hong Kong icons.
3. Faye Wong
Faye Wong is a Hong Kong singer-songwriter and actress that is renowned for her unique musical sound which shifts between alternative and mainstream Cantonese pop. She was born in Beijing but moved to Hong Kong in the late 80s in the pursuit of a music career and rose to international success by the early 90s. In 2000, the Guinness World Records listed Wong as the Best Selling Cantopop Female artist of all time. Faye Wong has also shared her acting talents in Wong Kar Wai's Hong Kong movie classic Chungking Express (1994).
4. Leslie Cheung
The late Leslie Cheung dominated the acting and singing worlds in Asia in the 1980s, and today, he is still recognised as having led the charge for the prominence of Cantopop in Asia, and is considered a gay icon. Cheung has received multiple awards for his music including Most Popular Male Artist Award and Golden Needle Award. He has also been recognised for his acting talents winning the Hong Kong Film Award and Hong Kong Film Critics Society Award. Cheung's last concert tour – Passion Tour (2000-2001), embodied aspects of drag and androgyny which was regarded controversial and scrutinised during its run, will be forever remembered for being ahead of its time.
5. Maggie Cheung
Hong Kong actress Maggie Cheung made her first debut on television screens in the early 80s as a contestant for Miss Hong Kong, in which she ranked as runner-up and contestant on Miss World where she placed as a semi-finalist. Cheung has achieved both national and international success including winning Best Actress at Hong Kong Film Award, Best Actress at the Berlin Film Festival, and she is the first Asian actress to Best Actress at the Cannes Film Festival. And who can forget Cheung's captivating grace and elegance starring alongside Tony Leung in Wong Kar Wai's In the Mood for Love (2000)?
6. Andy Lau
Lau became a household name in Hong Kong through playing lead role in the TVB television series The Return of the Condor Heroes. Later the Hong Kong icon moved on to movie roles including starring alongside Maggie Cheung in Wong Kar Wai's directorial debut, As Tears Go By (1988). Lau has won Best Actor at the Golden Bauhinia Awards and Best Actor at the Hong Kong Film Awards. He is best known to the Western world for his performances in Infernal Affairs (the Oscar winning remake The Departed was directed by Martin Scorsese) and House of Flying Daggers.
7. Anita Mui
Late Hong Kong icon, singer and actress, Anita Mui was regarded as the Cantopop diva, the Madonna of the East and is still regarded as being one of the leaders in popularising Cantopop. From humble beginnings, she entered the show business industry at age four with her sister performing at nightclubs in order to support their family. Winning a television singing competition, Mui signed with record companies, and went on to win the Top 10 Jade Solid Gold Best Female Singer Award for seven years in a row. She has also been awarded for her acting talents including Best Actress at the Golden Horse Awards and Best Actress at the Hong Kong Film Awards. Mui will always be remembered for eccentric personality and her charismatic stage persona.
8. Stephen Chow
Stephen Chow is a legendary Hong Kong actor, comedian and director. Chow like many other Hong Kong icons began his career with local television network TVB. He shot to stardom with his film Fight Back to School (1991) which became the top-grossing Hong Kong film of all time. Chow is best known internationally for his film – Shaolin Soccer (2002) which he won Best Director and Best Actor at the Hong Kong Film Awards, and Kung Fu Hustle (2004) which won Chow Best Director at the Taiwanese Golden Horse Awards and is without a doubt one of the funniest movies of all time.
9. Leon Lai
Hong Kong actor and Cantopop singer, Leon Lai is better known by his stage name Lai Ming, meaning 'dawn' in Cantonese. He, alongside Aaron Kwok, Andy Lau and Jackie Cheung were identified as Cantopop's Four Heavenly Kings, because of their mass market appeal and musical stage presence. Lai began his career after placing as a second runner-up in a television singing competition, later he signed with a record label and went on to win Jade Solid Gold Top Award and RTHK Top 10 Gold Songs Award.
10. Aaron Kwok
As part of the Four Heavenly Kings in Hong Kong, Aaron Kwok was recognised for his singing, dancing and acting talents. He was considered a teenage heart throb in the mid 80s, and started his career as a back-up dancer at TVB, and today is still regarded as one of the best dancers in Hong Kong. His music mainly focused in the dance-pop genre and it has won him awards at the Jade Solid Gold Top 10 Awards and RTHK Top 10 Gold Songs Awards. We will always remember Kwok as one of our favourite Hong Kong icons for his unforgettable concert looks, from his pink hair, to his crystal-embellished attire and over-the-top headpieces.