Foster a love of learning at the best Montessori kindergartens in Hong Kong
Picking the right preschool or kindergarten for your child can set them on the path for lifelong success. For many parents in Hong Kong, that means choosing a kindie that follows the Montessori system which encourages exploration, independence, and child-led learning. The system primes kids to be creative, gives them the skills to ace international educational programmes, and become independent thinkers. If this sounds like a good choice for your kids, enrol them at one of the best Montessori kindergartens in Hong Kong.
1. Discovery Montessori Schools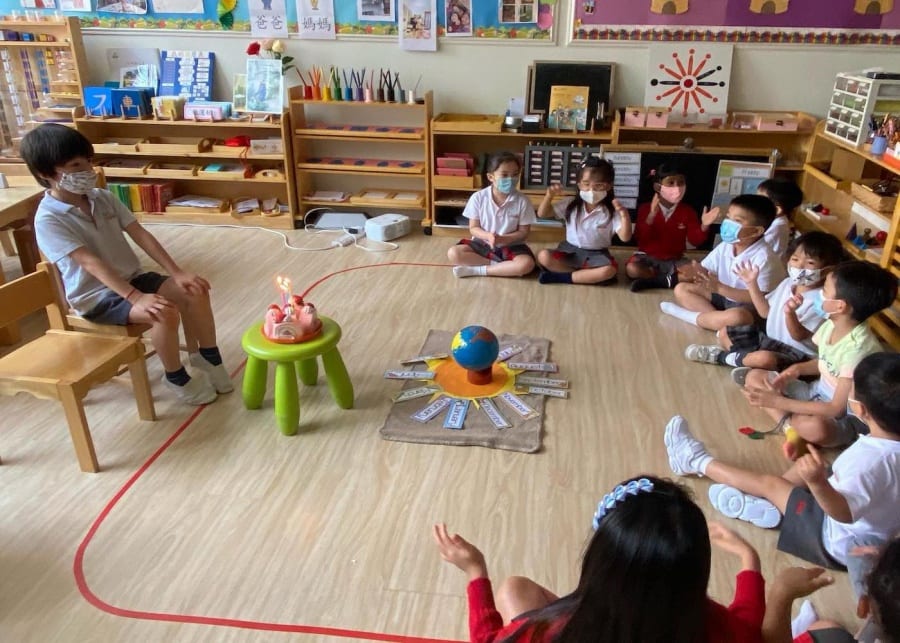 Discovery Montessori Schools puts kids aged one to six years firmly in charge of their own education. The kindergarten provides a calm, nurturing space for children to learn at their own pace using exploration and inquiry. The result is creative, independent, confident children that are primed for a lifelong love of learning and taking charge of their lives.
At the kindergartens, kids can enrol in age-appropriate classes, including Montessori Wobbler (1-1.5 years), Toddler (1.5-2.5 years), Montessori Little Casa (2-3.5 years), or Montessori Casa dei Bambini (3-6 years). Did we mention all programmes are bilingual too? Each class has a native Putonghua speaker and native-English Montessori Directress for dual-language immersion.
Discovery Montessori Schools has campuses in Discovery Bay and Central.
2. International Montessori School
The gold standard of Montessori education in Hong Kong, this group of early-years schools takes students from the toddler years through primary school and offers a classic Montessori education that emphasises independence, self-discipline, and thinking for yourself. For young tots, the Foundation Group classes offer an introduction to learning that focuses on practical skills and sensorial exploration; for kids between three and six years, the Casa Dei Bambini programme highlights independence, reading, and writing in half-day and full-day classes. The Elementary programme takes things further with research projects, collaborative learning, and complex thinking.
The school also offers a host of enrichment activities to encourage a well-rounded curriculum—think health, music, IT, and visual art. Kids here also get a bilingual language immersion that'll have them casually tossing around English and Mandarin phrases like they were born to it. All classes have two teachers to ensure high standards—one is a trained Montessori professional, the other is a native Mandarin speaker.
The International Montessori School of Hong Kong has four locations around the city.
3. Guidepost Montessori
For parents seeking flexibility amidst the pandemic that's turned education in its head, Guidepost Montessori is a blessing—no disguise necessary. Kids can attend classes on campus in Chai Wan or Kennedy Town—late hours offer flexibility for busy parents—try virtual schooling, or attend home pods where a Montessori-trained teacher runs classes for groups of kids at home.
Guidepost aims to give its students everything they need to succeed in life, from social, emotional, and academic skills to independence, curiosity, and open-mindedness. Both campuses offer Guidepost's Toddler (2-3 years) and Children's House (3-6 years) programmes so that tots can get age-appropriate education whether that's communication and toilet training (because who couldn't use a hand with that?) or real-world skills, reading, and writing.
Guidepost Montessori has two locations in Hong Kong.
4. Island Children's Montessori International Nursery and Kindergarten
Catering to kids aged between two and seven years, this Montessori school features a one-year pre-nursery programme for tots up to three years, and a more academic Casa kindergarten for those aged between three and six years. The former focuses on movement, language, and independence; the latter on practical skills, languages (English and Putonghua or Cantonese), maths, and culture.
All teachers are Montessori-trained, so they know exactly how to create the right learning environment for learning through discovery. Fair warning: uniforms are required, so you'd best be prepared for some tussling if you've got a tot whose independent streak extends to fashion.
Island Children's Montessori International Pre-Nursery and Kindergarten has locations around Hong Kong.
5. Infinity Montessori Academy
Part of Infinity Children's World, this academy emphasises the parents' role in their children's education. That's why parents are encouraged to attend foundation classes before their tots begin here—yes, that means you'll be going back to school, if just for a day or two. Parents are also required to attend the Infinity Infants (6-12 months) and Infinity Toddler (1-3 years) classes, which encourage exploration and skills-learning in a bilingual environment. This is also the first and only school affiliated with the American Montessori Society and the Montessori Accreditation Council for Teacher Education.
Infinity Montessori Academy, 8 Somerset Road, Kowloon Tong, Kowloon, Hong Kong, p. 3589 6366