If you're trying to find out where to go for the best facials in Hong Kong, then look no further.
We've already given you the lowdown on where to go for laser hair removal, the best nail salons, and eyelash extensions in Hong Kong. So, here we are rounding up our top destinations for the best facials in Hong Kong. No matter if you're looking for natural skincare brands to rejuvenate your skin or the ultimate high-tech machinery to fight ageing, these spots deliver.
Best facials in Hong Kong
1. Asaya Hong Kong
The ultimate in holistic wellness, Asaya Hong Kong offers a selection of treatments that will have your face feeling fantastic in no time. From firming and lifting to acne reduction, to a complete facial rejuvenation, there's something for everyone. Top tip: book to have access to the Bath House that includes a Jacuzzi complete with loungers for a little extra pampering.
Read our full review of Asaya Hong Kong.
Asaya Hong Kong, 6/F, Rosewood Hong Kong, Victoria Dockside, 18 Salisbury Road, Tsim Sha Tsui, Hong Kong, p. 3891 8588
2. Aesop
Did you know that the minimalist beauty and skincare brand that we all love so much also offers facial treatments in Central? Book in for your session at Aesop's branches either on Gough Street or in Harbour City and enjoy a 60- or 75-minute session with an expert facialist, including a post-session consultation about your skin's health. It's the perfect spot for both men's and women's facials in Hong Kong.
Read about why we love Aesop's Hwyl fragrance.
Aesop offers facial treatments in its stores on Gough Street and in Harbour City.
3. Joyce Beauty Facial Treatment Suites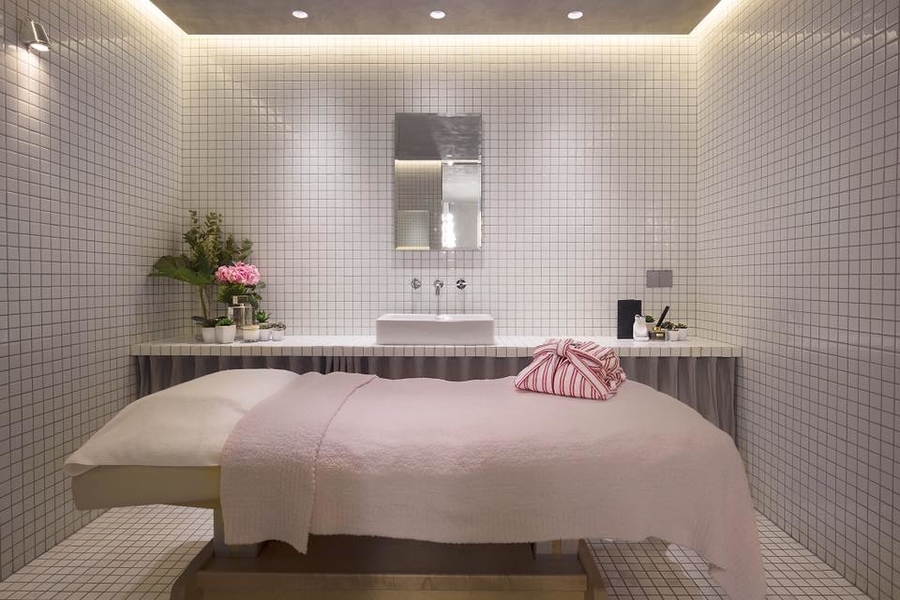 For total rejuvenation, take a trip to the Joyce Beauty Facial Treatment Suites in Central. Designed by Italian architect Paola Navone (the brains behind the design for COMO Point Yamu), here you'll experience the best treatments from brands such as Omorovicza, 111Skin, and Tatcha.
Find out why Joyce Beauty Facial Treatment Suites also makes our list of best spas in Hong Kong.
Joyce Beauty Facial Treatment Suites, 1/F, New World Tower, Central, Hong Kong, p. 2869 5816
4. Four Seasons Spa
Looking for a super luxe experience for your next facial in Hong Kong? At Four Seasons Spa, you can try a selection of treatments utilising the products and methodology of the renowned Biologique Recherche brand. Whether you're looking to smooth wrinkles, rejuvenate your skin, or fight the elements, you'll find the perfect option here. There's even a back facial that includes cleansing, exfoliation, peel & extraction, and moisturising.
Four Seasons Spa, 8 Finance Street, Central, Hong Kong, p. 3196 8888
5. The Skin Gym
The ultimate venue for everything skin-related, The Skin Gym offers a selection of peeling, lifting, and firming treatments that will have your face looking its very best. Furthermore, it offers micro-needling, microdermabrasion, and facials with machine vitamin infusions.
The Skin Gym, Room 2106, 21/F, The Centrium, 60 Wyndham Street, Central, Hong Kong, p. 2810 8088
6. Sense of Touch
Taking it up a notch when it comes to facials in Hong Kong, Sense of Touch personalises its treatments to cater to what your skin needs. The facials begin with a personal consultation and in-depth skin analysis with its skincare experts to ensure your treatment experience is entirely tailored to your skincare concerns. There are various facial treatments on the list, with the signature one being the Buccal Facial, which focuses on collagen production and increased blood flow, all for a natural glow.
Sense of Touch has multiple locations in Hong Kong.
7. The Peninsula Spa
Relaxation is not only based on the treatment but also on the ambience, and The Peninsula Spa is proof. Sure, there's the stunning view of Victoria Harbour, but there's also the incredible attention to detail in the warm tones of marble, rustic woods, and textured granite. All of the facials here are partnered with Margy's of Monte Carlo, offering a luxe touch. We recommend The Peninsula Spa's stem cells revitalising facial, but if you are opting for something no longer than an hour, go for the firming collagen facial instead.
The Peninsula Spa, The Peninsula, Salisbury Road, Tsim Sha Tsui, Hong Kong, p. 2920 2888
8. Chuan Spa
Chuan Spa offers products that draw on the powers of the Five Elements: wood, fire, earth, metal, and water. They have been created exclusively with a healthcare expert who specialises in Chinese medicine, naturopathy, and traditional Chinese massage therapies. Its signature treatment includes Chuan Yu, which uses jade, known as a healing stone. This treatment nurtures, heals, and restores your skin. Chuan's facials are also partnered with products from Kerstin Florian Facials.
Chuan Spa, Level 41, Cordis, Hong Kong, 555 Shanghai Street, Mong Kok, Hong Kong, p. 3552 3510
9. The Ritz-Carlton Spa
Sitting atop the 116th floor of the ICC, The Ritz-Carlton Spa offers soothing facial treatments that combine Western and Asian influences, incorporating traditional techniques and indigenous ingredients to help balance and renew mind, body, and soul. The Ultra V Facial has our green light, as it provides visible results in tightening and rejuvenating the skin. It uses cutting-edge Nano technology to stimulate existing collagen and the production of new collagen. In addition, you can upgrade your spa experience by combining it with a dining package at the Ritz – totally worth it!
The Ritz-Carlton Spa, International Commerce Centre (ICC), 1 Austin Road West, West Kowloon, Hong Kong, p. 2263 2263
Flawless Spa (permanently closed)
Beloved by many in Hong Kong, Flawless is a contemporary spa located in Central that goes the extra mile to make sure you feel pampered. The spa offers a range of different facials, including the Superfacial and an Express Glow and Mini Facial (30 minutes). Moreover, it serves diamond peels, and anti-aging treatments, and works with products from brands like Aromatherapy Associates and Intraceuticals.
Read our full review of Flawless Spa.
Flawless Spa, 4/F, Sea Bird House, 22-28 Wyndham Street, Central, Hong Kong, p. 2869 5868