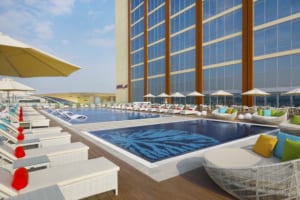 The swimming pool has plenty of places to relax
If you're heading to the UAE soon and looking for a stylish and affordable place to stay, then you need to meet Avani Ibn Battuta Dubai
If you're taking a trip from Hong Kong soon, then Dubai is always a good option. Filled with activities for all ages (be sure to check out our list of things to do in Dubai), we were excited to stay at the newly opened Avani Ibn Battuta Dubai on a recent trip to the UAE. Find out why it's the ideal place to base yourself on your travels.
Location
Around a 20-minute drive from the airport, Avani Ibn Battuta Dubai is conveniently located next to Ibn Battuta Metro Link, making transport to the city easy and breezy. It's location next to the buses that take you to Abu Dhabi make it a great choice for those who want to explore more of the UAE and its proximity to the Ibn Battuta Mall means that you can easily get your shopping fix. Top it all off with the fact that it's close to the Dubai Marina, and the hotel is a great choice for all you work or leisure needs.
The rooms
Newly-built, the hotel offers spacious guestrooms that offer views of the city. Avani Superior Rooms and Avani Executive Rooms each offer 30 sq-m of space with huge windows allowing in plenty of natural light. The beds were comfy and the sofa made a great place to curl up with a good book.
Dining
With three outlets onsite, you're sure to never go hungry. Flavours Kitchen & Lounge offers all-day dining, including a wonderful breakfast buffet complete with a selection of tasty local cheeses, fruit, curries and more. During the day, choose from a selection of Arabic dishes along with international classics. Enjoy your meal indoors or take it in the alfresco area overlooking the pool.
Pantry by Avani is a cafe located in the lobby area that serves a great coffee alongside a selection of small bites. And Liquid is the outdoor bar area where you can choose from a selection of beverages, nibbles and even enjoy some shisha.
Facilities
The spot we loved most at the hotel was the large swimming pool which looks out onto the city. A well-equipped fitness centre offers state-of-the-art equipment, including stair climbing machines and the usual elliptical, cardio and free-weights. The space for the centre is very big, with some small rooms at the back for yoga and stretching.
Find out more about Avani Ibn Battuta Dubai.