From dinner in an abandoned aeroplane to multiple-courses under the sea, these are Bali's weirdest and most wonderful restaurants...
Words by Alexandra Ancilla.
With so many fabulous restaurants in Bali, eating out on the island can be a challenge – there's just so much to choose from! From the freshest seafood with local spices, to decadent burgers and award-winning fine-diners, we could go on and on about Bali's epic food scene.
And hey, great food is one thing. But what about the Bali restaurants that also come with out-of-this-world interiors, or weird but wonderful dining experiences? Well, Bali has got that covered too. So if you're looking for a dining experience in Bali with top-notch food paired with an atmosphere like no other, add this list of unique and quirky restaurants to your Bali bucket list…
TOP 10 MOST UNIQUE RESTAURANTS IN BALI
Koral Restaurant
Here's something for the thalassophile foodie in you. How does indulging on the finest seafood with a 180-degree view of the underwater world sound? You can experience all that (and more!) at Apurva Kempinski's dining hotspot, Koral Restaurant, offering fresh and seasonal products through a range of artisan dishes in their a la carte and signature degustation menu. Koral delivers extravagant bistronomic dining and an underwater aquarium dining concept, with views of majestic corals and exotic fish all around. It's a feast for the palate and the eyes indeed…
Montana Del Cafe
Kintamani is on every nature lover's radar, with its breezy fresh air, desktop wallpaper-like mountain views, and a wide selection of local coffee shops. A cuppa with views of lush rice fields or ocean waves, is pretty ordinary when you're in Bali, so Montana Del Cafe takes your afternoon coffee to a whole other level. With its white sleek interiors and top-to-bottom glass doors, the newly opened cafe offers an out-of-this-world coffee experience with magnificent views of Mount Batur and Batur Lake. Make sure to bring a sweater and sip on your coffee while it's hot, because it gets pretty cool and breezy up there!
The Dog Grocer Cafe
If you have a doggo at home, we bet they'd love a lunch date just as much as you! Well, you can take your four-legged kids to The Dog Grocer Cafe – a dog-friendly joint in Uluwatu that offers delectable menu options for hoomans and pups too. All dishes on offer are homemade and natural to make sure you and your pup enjoy a healthy treat. Sit out under the warm sun in the outdoor seating area within the dog playground, complete with a bone-shaped pool for your pup to dip and play around with other dogs. After a day of fun, make sure to take home a toy or two from the doggy boutique, because with every purchase, a percentage will be donated to various dog welfare associations in Bali.
The Pirates Bay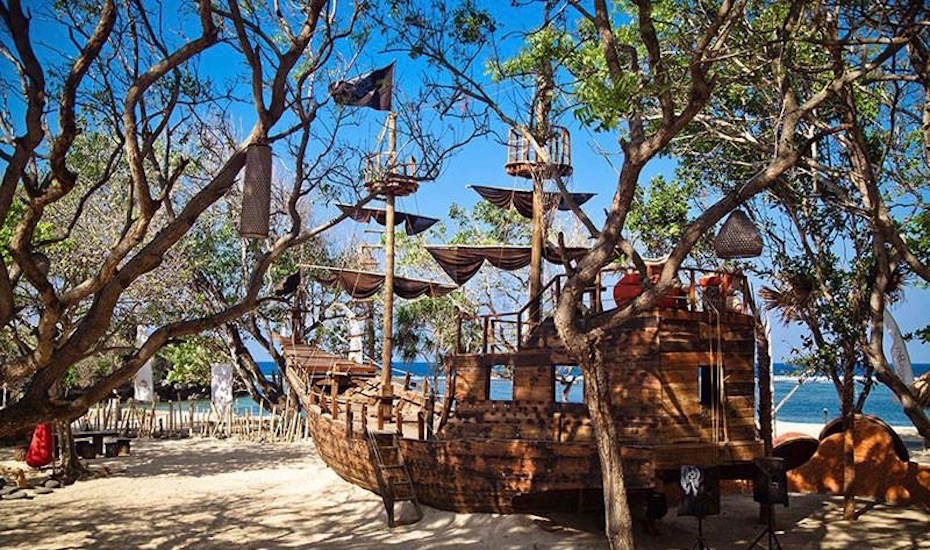 Who says Nusa Dua only has luxe resorts and fancy restaurants? Add to that an abandoned ship, wooden tree houses, and lots of treasures, found only at The Pirates Bali, a beachside pirate-themed restaurant! The third level of this wooden treehouse is the perfect spot to munch away on signature seafood dishes, all with views of the calm ocean. It's perfect for a family day out too, with fun and mind-boggling treasure hunts for both kids and adults. Ahoy me mateys!
Shooters Bali
Enjoy tasty bites while you get on the field and play classic games and sports with your mates at Shooters Bali. Start with a game of mini golf, hoops to practice your NBA skills, or opt for a game of giant Jenga or table tennis. This food-slash-playground joint has games for just about anyone. Pair a fun day out with some classic comfort bites like a hearty hot dog and cheesy chilli fries, along with an ice cold beer. When it comes to unique restaurants in Bali, this one's right up there…
Tsavo Lion
You think you've tried the most memorable fine dining experience in Bali? You've yet to discover this ultra incredible dining venue at Bali Safari Park. Tsavo Lion is the the first African safari-themed restaurant in Asia, that allows you to have a close encounter with wildlife. Located adjacent to the lion exhibition (covered from floor to ceiling with glass windows of course!), you can indulge in a five-star culinary experience while witnessing a pride of lions roaming around in their natural habitat. How's that for unique dining?
Cosmic Diner
Hop in a time machine and travel back to the 1960s in this diner that gives you allllll the retro feels. With vibrant blue walls filled with vintage posters, checkered floors, and cherry red and yellow seating (with booths available too, duh!), Cosmic Diner serves the most mouthwatering juicy burgers and the creamiest shakes, complete with friendly staff in their retro outfits straight out of Grease (we're drooling over those shakes as we're writing this, FYI). Don't forget to wear your favourite florals or polka dot patterned outfits!
InFlight Restaurant at Keramas Aero Park
Attention diners, this is your final call! If you love rushing off to a far, far away destination, then the one-of-a-kind Keramas Aero Park dining experience should ease your #wanderlust. Enjoy eclectic international cuisine at the Inflight Restaurant, where inside, you'll find a vintage blue Boeing 737-400 aircraft cabin, and views out of your aeroplane window of lush green rice fields. On a clear day, you'll even spot Nusa Lembongan and Nusa Penida in the distance! Feeling a bit aerophobic? Worry not. Al-fresco seating is available – underneath the fuselage and wheels of the aircraft, no less!
Yamuna Pastry
Calling all sweet teeth! This little hole-in-the-wall pastry shop in Umalas serves all kinds of cakes in unique flavours, perfect for an afternoon tea stop. When you step inside Yamuna Pastry, it feels like you're entering a lush tiny backyard, filled with green hanging plants, a mini fountain, plus vintage umbrellas and wooden furniture. The cakes on display are no ordinary cakes: they serve unusual flavours inspired by traditional Indonesian desserts, such as es teler, klepon, and even martabak! The space only allows for up to 20 seats, and it gets pretty packed as they only open from Friday to Sunday, so we recommend rising early to get to the cakes!
A Bali floating breakfast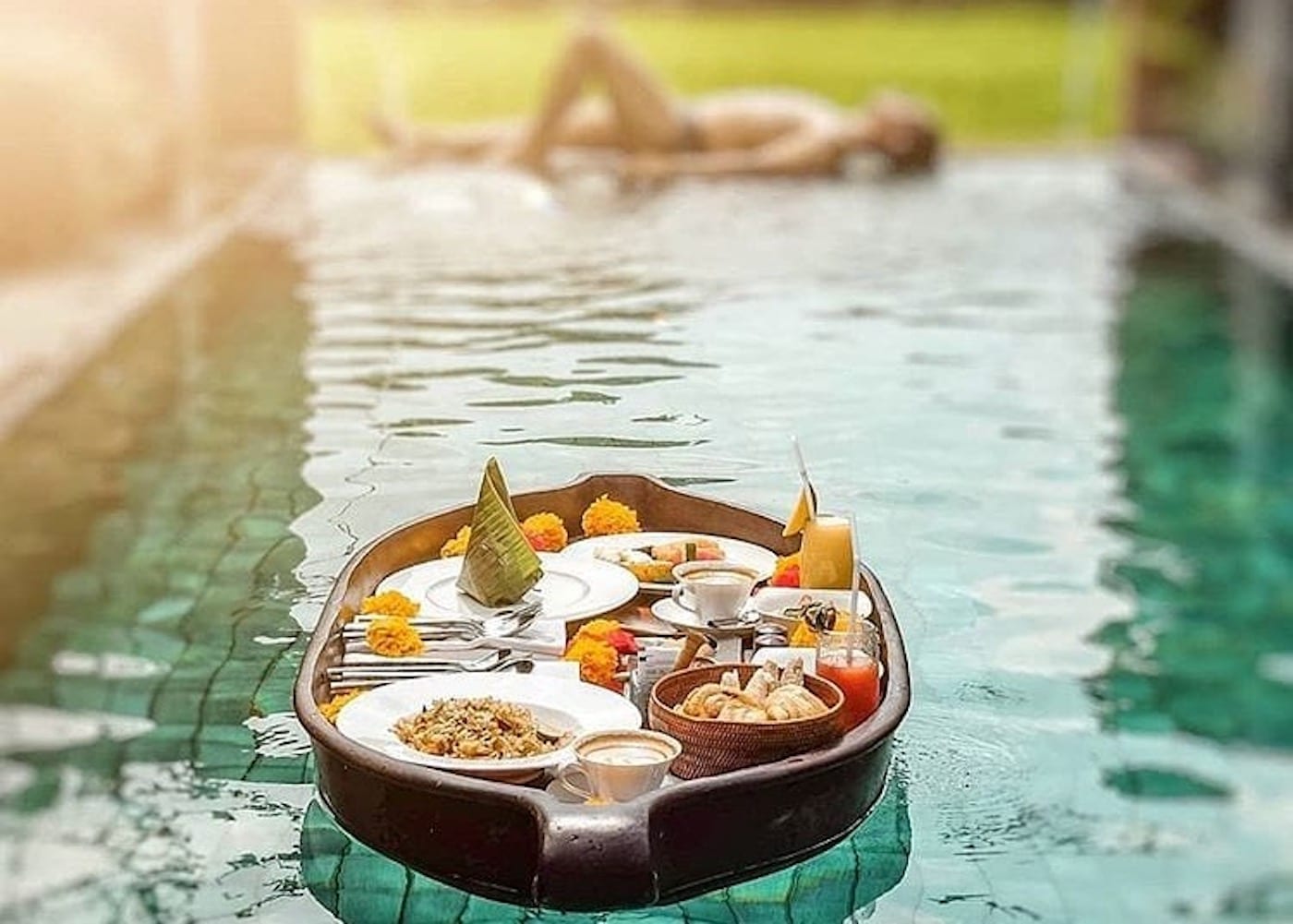 Poolside breakfast is so last year. Why have it by the pool when, you can actually have it in the pool?! Here in Bali, it's not uncommon to rise, shine and float away in your private pool villa with a full breakfast spread in front of you. There's a lot of resorts and villas on the island offering this fun way to start the day. Our favourites are Tanah Gajah Ubud with its lush jungle landscape, and Ayana Resort & Spa with its cliff top ocean views. Take your pick! After all, they say that breakfast is the most important meal of the day…
Love this list of unique restaurants in Bali? Check out our roundup of the best new restaurants that opened in 2020.

Words by Alexandra Ancilla
Alexandra traded Jakarta's skyscrapers and city lights for the laidback island life back in 2013. Frankly, she has never looked back since. When she's not hustling being a PR pro, you'll probably find her snuggling with her doggo duo, Muji and Teddy, stuffing her face with a spicy plate of Nasi Goreng, or daydreaming on a secret beach somewhere…