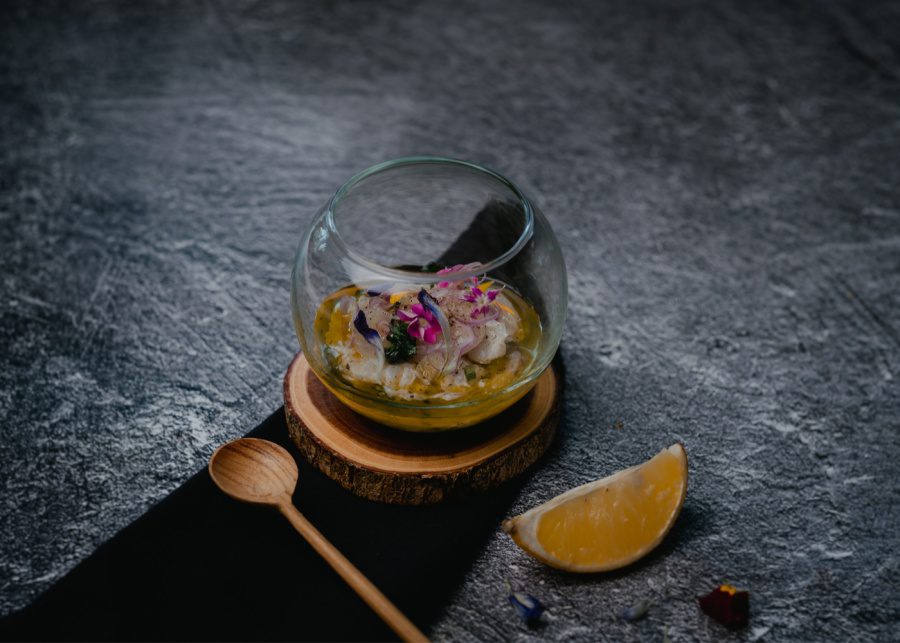 Italian-inspired cuisine, endless amounts of limoncello and lively vibes with a spot of post-dinner dancing. Sa'Mesa isn't your typical Canggu restaurant...
For when a standard dinner for two simply won't do, you'll want to check out Sa'Mesa – Canggu's innovative Italian dining destination that's dripping in exclusivity. Dishing up one helluva foodie experience with a theatrical parade of 15 – 20 surprise dishes, no two dinner experiences are the same. It's the kind of out-of-the-box restaurant that's different from anything else around, yet with the chef personally helming the open kitchen each evening (and keeping his guests well-oiled with free-flow limoncello), the ambiance remains warm and intimate, like you're eating within the chef's own home.
Add to that just a small group of diners feasting together family-style across three long tables, and the elements of surprise just keep coming. After all, a really great dinner is so much more than just feasting on exceptional food – it's also about the experience. We're talking great company, a lively atmosphere, and a long and leisurely evening that leaves you with plenty of stories to tell too. Well, that's what Sa'Mesa does best – bringing people together for a seriously unique dining concept of fantastic food, new friends, and a night you won't forget.
Italian dining, Nonna-style
Authentic, family-style Italian dining is front and centre at Sa'Mesa, but the concept goes far beyond the cuisine. This Canggu destination draws inspiration from the legendary lore of La Nonna Carmela, an Italian grandmother who would invite everyone in her community for dinner – from family and neighbours, to friends of friends and anyone else who crossed her path. Her door was always open, sharing great food and memories with those who want to gather and feast.
And so the same goes at Sa'Mesa. Here, just three long tables invite 50 to 60 guests each evening to dine together on scrumptious Italian creations, stiff drinks and lively conversation. Executive Chef Damiano and Restaurant Manager Alessandro add a modern touch to La Nonna's story, elevating Italian staples with contemporary twists, refined flavours and excellent plating.
It's all in the surprise…
While the idea of being seated next to strangers might sound unsettling for first-timers, by the end of the evening, your fellow feasters will be lifelong friends. Helped along by icebreakers like meticulously crafted food and expert tipples, what starts out unfamiliar turns into an experience you'll remember for years to come.
After all, the element of surprise is key at Sa'Mesa. In addition to not knowing exactly who you'll be seated next to, there's also elusiveness in the menu. Between 15 to 20 surprise dishes are presented set menu-style – you won't get to choose what's served, the house does. What's more, the majority of the menu is changed daily, but you can certainly expect to see some of Sa'Mesa's Italian-inspired favourites, like the tuna crudo, the chargrilled whole red snapper, and the homemade mushroom risotto.
The Sa'Mesa experience
Topping off such a vibrant evening of good food and great company is Sa'Mesa's fine selection of wines, signature cocktails and free-flow homemade limoncello. And trust us when we say that after sipping your way through the menu (and getting to know your new friends on your long and lively table), you'll want to stick around post-dinner to mix and mingle, where dancing until midnight isn't mandatory, but highly recommended.
To get a taste of Sa'Mesa's "experience dinner", you'll need to book your seats well in advance to secure your spot (the restaurant is booked out almost every single night). Then, for a fixed price, you'll get to feast family-style on the multi-course set menu, which is designed to swap and share with your fellow diners. You can then choose to add on wine, cocktail, or mocktail-pairing to amp up the evening, and we say, bring someone special for a date night with a difference, or round up your friends for a birthday or celebration to mix things up and meet a table of new faces.
And psst – keep your eyes peeled, because Sa'Mesa will soon be opening in Seminyak too!
Sa'Mesa, Jl Tanah Barak No. 1E, Canggu, p. +62-813-53035411, [email protected]
This article is in proud partnership with Sa'Mesa.