Because Christmas gifts are sooo much more than simple objects, John Hardy's holiday jewellery collections are soulful, handcrafted treasures that reflect intention.
Ahhh Christmas – that holly-jolly time of year when we spend weeks worrying about what to buy for our loved ones. Well, with the holidays just around the corner, gift hunting has officially begun, and we know we're not alone in our flustered pursuit for an extra-special gift that goes beyond the ordinary. Well, that's where John Hardy steps in. 
This Christmas, John Hardy has launched an intention-setting series of jewellery collections designed for different people and personalities – made to magnify certain strengths and empower loved ones in more ways than one. You see, this soulful, gift-giving concept is inspired by the Balinese tradition of creating with intention – a kind of meaningful manifestation, if you will. And the kicker? Each of these masterpieces have been carefully crafted by hand, vibrating with the energy of its artisan maker, and entirely unique – just like the people on your list.
So, to help you on your holiday shopping spree, here are John Hardy's five gifts of intention, with helpful hints to who they'd inspire the most.
Happy holidays, Honeys!
The Gift of Presence
Christmas is all about spending time with your loved ones, so this year, why not give them The Gift of Presence? Featuring John Hardy's new Lahar Collection, these artisanal, handcrafted masterpieces take inspiration from the untamed beauty and elemental forces of Bali's volcanoes. Designed to make a statement with their dramatic and expressive motifs, these pieces are perfect for that special someone in your life who's not afraid to express themselves – the statement-maker who always stands out from the crowd. If that perfectly describes your loved one, these treasured pieces will make one helluva memorable gift.
Look out for:  The Lahar Kick Cuff in 18K gold with stunning, sparkly diamonds.
The Gift of Growth
There's nothing more heartfelt and genuine than supporting your loved ones as they grow, so this holiday season, give your special someone The Gift of Growth. Specially designed for those who seek to better themselves and the world, this is a gift that truly empowers. And to match these caring souls, this collection is ethically sourced and sustainably handcrafted in Bali, featuring classic motifs that embody John Hardy's foundational dedication to community, sustainability, and artisanship.
Look out for:  The Large Bamboo Hoop Earrings – when you shop this Bamboo collection, John Hardy plants bamboo seedlings to help preserve Bali's natural beauty.
The Gift of Connection
It's not always easy finding someone you truly connect with; someone who brings you together and binds your strongest ties. So when you've finally found that person – whether it's your significant other or your best friend – you'll want to keep them close. For these special souls, show your gratitude and strengthen the bond you have together with The Gift of Connection, featuring John Hardy's timeless Classic Chain and Dot collections. Handcrafted by a community of artisans at the John Hardy Ubud Workshop, these wonderful creations perfectly illustrate your unity with their intricate and intertwining designs.
Look out for:  The Tiga Classic Chain overlap ring to represent that special bond, or the Dot Cuff for something bold and beautiful.
The Gift of Influence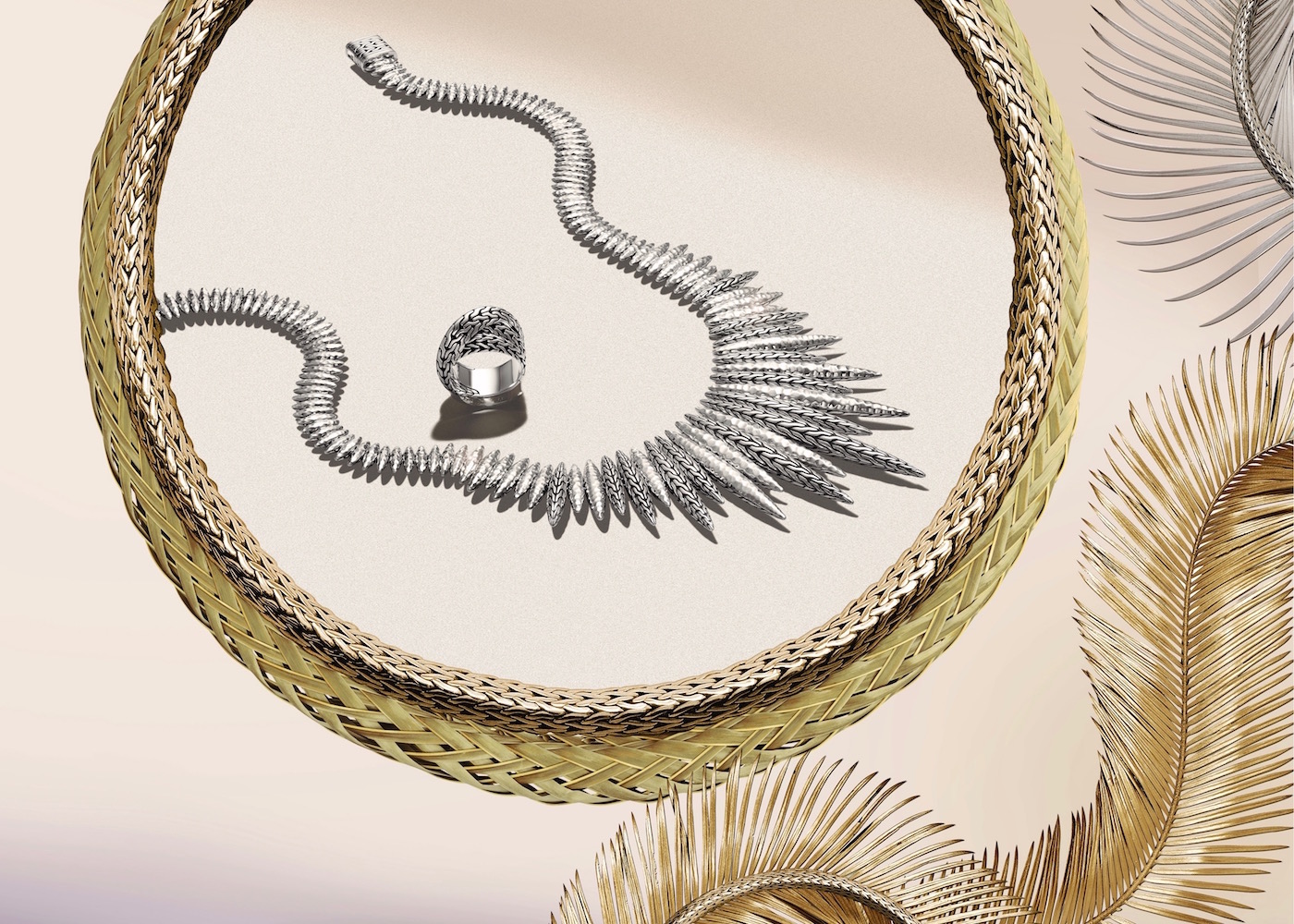 Looking to buy for the trendsetter in your life? The one who has influenced you (and others) in so many meaningful ways? For these magnetic and genuine personalities, there's no better gift than The Gift of Influence. Featuring the Classic Chain collection, these empowering pieces of jewellery amplify the individuality and defiance of movers and shakers; the ones who deserve bold designs that illuminates and flaunts their most magnetic qualities.
Look out for:  The new Classic Chain Keris Dagger Necklace in silver with 18K yellow gold and Damascus steel. This one's a real head-turner.
Gift the Icon
Something classic never goes out of style, and that couldn't be more true for The Icon. If you still can't decide which gift you should get for your special someone, check out the iconic Classic Chain collection. From bracelets to necklaces and rings, these intricate pieces exude soulful heritage and magnetic style – perfect for those who appreciate simplicity and attention to detail. Every piece of this special collection is handwoven by local female artisans one link at a time, using time-honoured Balinese techniques passed down through generations.
Look out for:  The reversible Classic Chain bracelet in silver and 18K gold, studded with a gorgeous Black Spinel gemstone.
Psst! Right now until 31st December 2019, every purchase from John Hardy's boutiques at Ayana Resort & Spa Bali and The Mulia, Mulia Resort & Villas comes with a complimentary silver bamboo pin – an additional gift from John Hardy this holiday season!
You can visit John Hardy boutiques across the island at:
The Mulia, Mulia Resort & Villas, Jl Raya Nusa Dua Selatan, Nusa Dua, p.+62 361 894 7766, e. [email protected].
Ayana Resort & Spa Bali, Karang Mas Estate, Jl Karang Mas Sejahtera, Jimbaran, p. +62 361 702148, e. [email protected].
Kapal Bambu Boutique, Banjar Baturning Mambal, Abiansemal, Ubud, p. +62 361 469 888, e. [email protected].
John Hardy Boutique & Gallery at Seminyak, Jl Raya Petitenget, Seminyak, p. +62 361 9344 244, e. [email protected].
This story is in partnership with John Hardy