So much more than "just" a luxury retail space, John Hardy's bespoke Seminyak boutique gives you a true taste of Balinese culture, fine food and exquisite handmade jewellery...
If you've ever visited John Hardy's breathtaking Kapal Bamboo Boutique in Ubud, you'll already know that a shopping trip to John Hardy is no ordinary retail experience. At both the Ubud address and the flagship John Hardy Boutique & Gallery in Seminyak, this Bali-born jewellery brand invites guests to fully immerse in the history, culture and artistic traditions of its main muse: Bali.
In Ubud, the workshop is where you can meet and observe John Hardy's impressive artisans as they meticulously sketch, carve and hand-weave each unique creation. But it's at the flagship John Hardy Boutique & Gallery in Seminyak where this immersive experience is given a modern and luxurious spin…
The bespoke Seminyak boutique
Just one step inside the sprawling John Hardy Boutique & Gallery in Seminyak and you're whisked away from the urban bustle into a breezy and tranquil expanse of bamboo, Balinese brick and hand-carved wood. These rich local elements are centred by an oversized woven coconut-leaf sculpture, hanging from the soaring thatched ceiling. To mark your arrival, you're also greeted with cool scented towels, a refreshing drink and the sound of a traditional Balinese bell…
It's a true spectacle, but the star of the show is the boutique's centrepiece: an exquisite display of gold and silver handcrafted creations, draped over artefacts and presented beside the very tools that shaped them. The space is bright and breezy, specifically designed as a communal gathering space where like-minded jewellery connoisseurs can mix, mingle and interact with every iconic John Hardy collection; from the signature Classic Chain collection, to the latest archive-inspired Rata collection.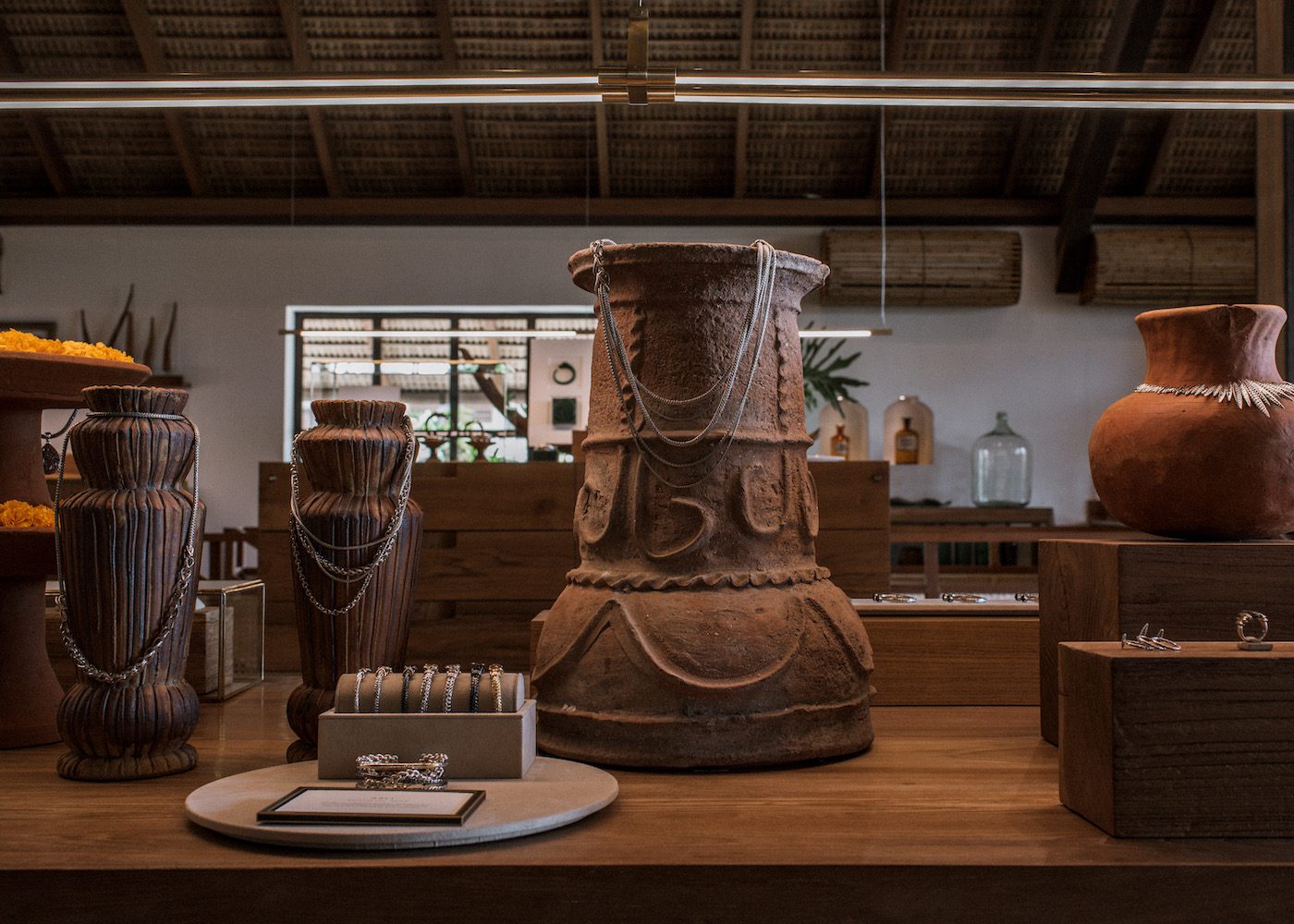 In true John Hardy style, browsing the boutique is a wholly immersive experience. Master artisans can be seen weaving their next chain (and guests are encouraged to join them), revered collections can be uncovered by exploring hidden drawers, and seasonal installations and exhibitions from local artists enliven the gallery. You'll also find a selection of artisanal textiles, ceramics and incense from local brands to further bring Bali's colourful culture to life…
Jamu & dine at John Hardy Seminyak

Besides the exquisite jewellery, one of the many defining factors of the John Hardy Boutique & Gallery experience in Seminyak is the unique opportunity to pair your luxury shopping trip with locally-inspired food and drinks. Within the boutique, you'll find The Long Table restaurant and The Jamu Bar – two gourmet destinations that honour and showcase the culinary landscapes of Bali and Indonesia.
The Jamu Bar sits on the upper floor adjoining the gallery, overlooking a spectacular expanse of greenery and a majestic temple framed by two striking gates. It's here that you can sip and sample your way through a variety of cocktails and healthy drinks that are unique twists on jamu, an age-old Indonesian herbal elixir that uses turmeric, tamarind and other local herbs and spices.
The culinary journey continues downstairs at the open-air kitchen and restaurant, The Long Table. It's named after John Hardy's 30 year-old "Long Table Lunch" tradition, whereby lunch would be served to the 750 artisans, employees, and visiting guests at the Ubud workshop. In similar fashion, the Seminyak boutique's Long Table Lunch invites guests to graze on an evolving menu of Indonesian-inspired specialties, created in collaboration with Ubud's award-winning restaurant, Locavore. The menu has been designed to honour the farmers, fishers, and slow food artisans of Indonesia, as well as the unique seasonality of local produce.
This all-day dining concept sees a selection of family-style share plates, with standout dishes such as the Cakalang Asap (stir-fried smoked-and-spiced mackerel) or the Ayam Kampung Tanah – free-range chicken slow-cooked for four hours in a clay pot and grilled on a traditional wood-fired grill. This seven-course set lunch overlooks the verdant garden and is finished with an interactive take on Es Campur, where you can mix and match fruits, syrups and jellies to flavour your very own shaved-ice creation.
Special events at John Hardy Seminyak
To top off the convivial community atmosphere at John Hardy Seminyak, the dynamic boutique and gallery also plays host to a number of events, workshops, masterclasses and immersive experiences – all of which introduces visitors to the rich creative traditions and diversity of Bali.
Recently launched is the Sunset Picnic – an outdoor picnic every Friday afternoon from 5pm where guests can find a spot on the green lawn to kick back and watch the sun slowly dip behind the majestic temple gates. It includes two hours of free-flow curated cocktails from The Jamu Bar's list of herbal twists, as well as yummy Indonesian-inspired bites from The Long Table kitchen team. It's a truly beautiful setting, so you'll certainly want to don your favourite John Hardy piece that you carefully hand-picked during your exclusive jewellery shopping experience…
The John Hardy Seminyak Boutique and The Jamu Bar are open daily from 11am – 7pm. The Long Table Lunch is served every day at 12pm by appointment only with a minimum one-day advanced reservation, for a minimum of two people.
John Hardy Boutique & Gallery Seminyak, Jl Raya Petitenget, Seminyak, p. +62 361 9344 244, WA: +62 811 3800 3300, e. [email protected]
This post is in partnership with John Hardy Bali