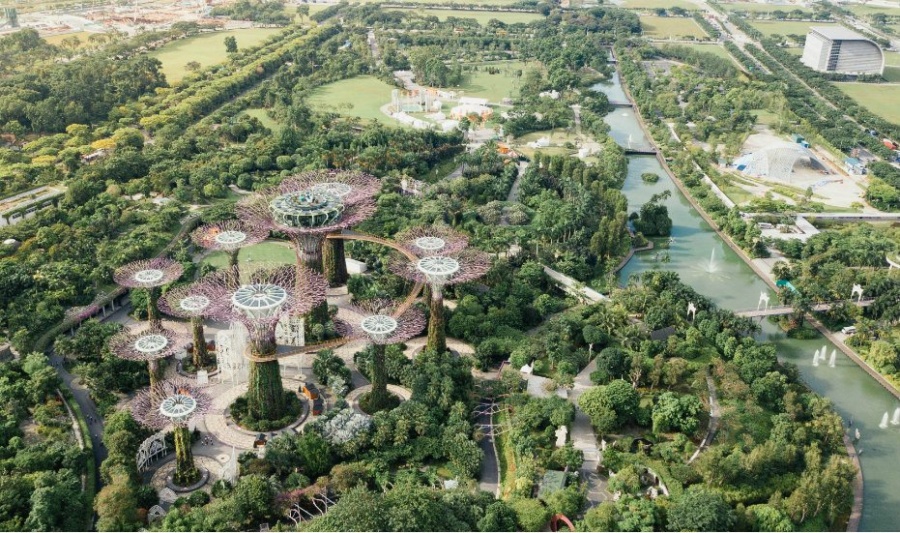 The million dollar view of Gardens By The Bay. Photography by Chuttersnap
Which model suits your budget and needs? Where the heck in Singapore can you purchase drones for your aerial photography hobby? We'll get you in the zone.
These days, we've got them smartphone photographers, professional photographers… and those who own drones and take insane aerial shots. We're just as fascinated with the buzz behind drones, quadcopters and aerial photography in Singapore, which is fast becoming a popular hobby here. Curious to find out more? We summed up a nifty guide to help you figure out these tech wonders.
Which drone should I buy?
DJI Tello
The first timer's choice
If you've never flown a drone before, it's best to start small and cheap. But with the Tello, you don't have to worry about compromising quality. Going for about $130 in the market and weighing in at 80g, this gadget is capable of a 13-minute flight time. Plus, it has propeller guards and a failsafe protection, which means you can land it safely even if you lose the connection. However, with its 5MP camera, don't expect too much quality-wise. Still, the DJI Tello is a great way to enter the world of drones.
Syma X5C
For hobbyists
Now, if you're looking to dive deep into the realm of aerial photography, this is a good choice. Almost toy-like in its appearance, it can go for less than $50, which is a bargain if you ask us, since its specs are not too shabby. It shoots with a 720p HD camera, comes equipped with a seven-minute flight time and is supported by a 100-minute recharge time.
DJI Phantom Pro V2.0
For serious photographers only
Capable of taking 20-megapixel images and 4k videos at 60fps, this drone captures footage with impressive detail. With 31 minutes of flight time, its sensor is almost four times bigger than the now-defunct Phantom 4, which means you will get more detail in every pixel. There are 10 intelligent flight models to help users in nearly all scenarios. But, well, quality doesn't come cheap, and taking this home will set you back almost $2,000.
Yuneec Breeze 4K
For those who don't want to deal with piloting a drone
If drones and aerial photography fascinate you but the actual piloting of a drone does not, the Yuneec Breeze is perfect for non-commital types. A simple, lightweight camera drone for selfies or low-altitude shots, the Breeze is cheap and easily repairable. After downloading its mobile app (for both iOS and Android), you can navigate it freely and easily. Image quality is best suited for viewing on the phone and good enough for online sharing.
---
How do I fly a drone?
We're not exactly experts when it comes to manning these aerial contraptions, but at least we can steer you in the right direction to people who are. For starters, you can sign up for classes at places like Ace Aviation and Avetics. Also keep a lookout for pilots who frequent the open fields in Punggol, Tuas and Old Holland Road – you might just pick up some first-hand tips! And if you're a self-taught kinda individual, there's plenty of tutorial online for whichever your drone model is. Just make sure you're in a room with high ceilings and preferably minimalist decor…
Singapore drone laws you should know before flying
Flying a drone ain't like flying a kite! There's a set of rules that come with it to ensure the safety of others (and yourself). Here are some pointers to take note of.
Don't disrupt others
Steer clear of crowded places, especially if you're still testing the waters, as you don't want your drone crashing into anyone. Also, avoid flying at places where you may interfere with emergency service providers like ambulances.
Stay away from protected places
While you might have good intentions in your aerial mapping expedition, the authorities feel that some secrets should remain hidden. As such, you can't fly your drone within 5km of a protected area – including airports and air bases.
Don't fly too high
Unfortunately, you can't quite reach for the stars, even if your drone's physically capable of busting through the stratosphere. Watch your altitude while flying; you can't soar higher than 61 metres above mean sea level.
Watch your weight
Not you, silly. Flying a drone is fit for people of all shapes and sizes. Sadly, this doesn't apply to drones; you need a permit to fly if your drone's heavier than 7kg. However, this hardly impedes recreational users since most drones weigh far below that threshold.
Apply for a permit before you can point and click
Before you go trigger-happy with your drone, do bear in mind that all activities of aerial photography require an application to the Civil Aviation Authority Of Singapore. This also applies to instances of surveying and aerial advertising.
Don't attach anything dangerous
We don't quite understand why anyone would do this consciously. But you can have a run-in with the law if you're found lugging arms and explosives, biological agents, radioactive material or dangerous fireworks on your drone. Then again, why would you even have these things?
---
Where to buy drones in Singapore
Unlike drones, you won't have to find yourself flying across continents just to get your hands on these babies. Snagging one for yourself is easier than you think; you can either walk into a store and snap one off the shelves, or break no sweat by purchasing a drone online from several Singapore-based websites. Shop away!