These are your favourite eco-friendly names in our Sustainability Awards 2023.
Say hello to the most popular sustainable brands, businesses and advocates in Singapore and around the region, voted by you!
Our first-ever Sustainability Awards ended on an amazing note fetching over 2,500 votes. Thank you for all your votes! We asked you to pick your favourite sustainable businesses across categories like retail, lifestyle, food and drinks – with nominees chosen by the Honeycombers team and a panel of our Sustainability Champions who are movers and shakers of the eco-scene in Asia. And yes, a lucky winner also walked away with a $950 Cempedak Island villa stay. Presenting the 20 fab winners…
Sustainability Awards 2023: Meet the winners
1. Best Sustainable Initiative With An Impact
Gold winner: Food Bank Singapore
To reduce food waste, it collects food donations – from farms, manufacturers, restaurants, stores and more – and distributes them to beneficiaries like soup kitchens and welfare organisations.
Silver winner: Seven Clean Seas
Ocean plastic pollution is a huge problem, which is why this organisation works hard to clean our waters and create permanent change.
2. Best Sustainable Business Doing Good for the Planet
Gold winner: Crust Group
Did you know that food waste like bread and fruit peels can be upcycled into beverages? That's what Crust does with its unique range of beers and fruity sparkling waters.
Silver winner: Bettr Coffee
South-East Asia's first certified B Corp company, Bettr brews fair trade coffee and implements eco-conscious practices in everything it does.
3. Best Sustainable Startup Superstar
Gold winner: Ocean Purpose Project
A social enterprise aimed at reducing plastic waste and promoting ocean conservation through community beach cleanups and impactful creative projects.
Silver winner: Sustenir
It utilises hydroponic tech for urban farming, producing 100% clean superfoods that are free of pesticides and rich in nutrients to minimise water usage and waste generation.
4. Best Hotel for Eco-luxe Accommodation
Gold winner: Parkroyal Collection Pickering, Singapore
Its urban high-rise garden features over 50 plant species, rain harvesting, auto-irrigation and solar panels. The hotel also promotes energy and water efficiency, recycling, and the use of biodegradable utensils.
Silver winner: Oasia Hotel Downtown, Singapore
The tropical skyscraper houses a 27-storey vertical garden, a rainwater harvesting system to water plants and clean them, and a waste segregation system that reduces waste.
5. Coolest Eco-Warrior We Adore
Gold winner: Bjorn Low
He's got some seriously green thumbs. As the executive director of Edible Garden City, a social enterprise that champions the 'grow your own food' movement, he's on a mission to improve food sustainability and resilience in Singapore and beyond.
Silver winner: Melissa Lam
Founder of Bamboo Straw Girl, a company focused on reducing single-use plastics, her passion for sustainability has led her to engage and educate the public in the fight against plastic pollution.
6. Best Earth-Loving App
Gold winner: Olio
Olio is a foodie's social network, connecting neighbours and local businesses to share surplus food and prevent it from going to waste. It allows you to meet like-minded people, try new foods, and save the planet.
Silver winner: Treatsure
A mobile reservation platform and food matchmaker that connects businesses and hotels with surplus food to everyday consumers, it brings people and food together, making sure that nothing goes to waste.
7. Best Sustainable Fashion Label
Gold winner: Our BareHands
Every pair of hands can make a difference, and this social enterprise celebrates the skills of artisans.
Silver winner: Outfyt
The homegrown activewear brand uses sustainable fabrics, removes single-use plastics from its supply chain, and packages garments in biodegradable cassava bags.
8. The Ethical Shopper's Delight Award
Gold winner: Indosole
Famous for crafting eco-friendly footwear from recycled tires, the brand sells its soles with soul across more than 30 countries.
Silver winner: Wanderlust + Co
Making jewellery that's kind to the skin and the planet, this brand works to reduce energy consumption, use recyclable packaging, and reduce its carbon footprint across all its processes.
9. Best Circular Fashion Brand
Gold winner: Style Theory
Too many clothes, too little space? Look to Style Theory and its rental services for an array of clothes and designer bags.
Silver winner: The Fashion Pulpit
As Singapore's first and largest swapping platform, this store advocates for the planet's health with its emphasis on pre-loved fashion.
10. Best Stores for Eco-Chic Kiddos
Gold winner: Le Petit Society
With an organic selection of sleepwear and muslin swaddles, Le Petit Society believes in using quality fabrics that last for generations.
Silver winner: Nimbu
Want a wardrobe that grows with your child? Hit up Singapore's first circular fashion brand for kids.
11. The MVP for Zero-Waste Shopping
Gold winner: The Green Collective
Singapore's first and largest multi-label marketplace of more than 1,000 independent, sustainable brands across personal care and home cleaning.
Silver winner: Unpackt
The city's first zero-waste grocery and lifestyle store carries package-free bulk food and daily necessities.
12. Best Vegan and Cruelty-Free Makeup Brand
Gold winner: Kalu Cosmetics
The PETA-certified makeup brand delivers hand-crafted multi-tasking cosmetics made with vegan, gluten-free and 100% natural formulas.
Silver winner: Zuii Organic
It has an ever-growing list of vegan goodies made with natural ingredients like roses, sunflowers, and jasmine – all manufactured in its own facility with 100% transparency.
13. Best Green Beauty Brand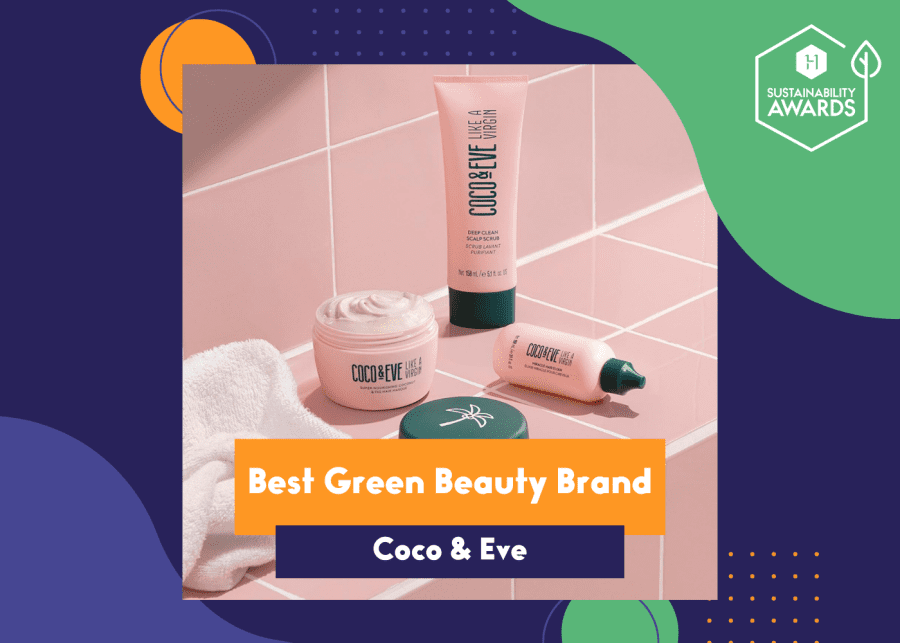 Gold winner: Coco & Eve
It's committed to sustainability in every step – from working with Ecocert-approved suppliers and reducing wastage to incorporating recyclable packaging and supporting reforestation projects.
Silver winner: Re:erth
The brand turns up the wow factor with a sustainability program that encourages you to bring empty packaging to be converted into recycled plastics and non-fossil derived fuel.
14. Best Eco-Friendly Health & Home Brand
Gold winner: Moom Health
Ace your gut health game with 100% natural, vegan and sugar-free natural remedies and supplements, packed in recyclable and biodegradable packaging.
Silver winner: Ollie
Boost your mind and abode with natural and chemical-free essential oils, as well as home and personal care items. Ingredients are ethically sourced directly from farmers and distillers.
15. Best Eco-Friendly Pick for a Green Home
Gold winner: Sunday Bedding
It uses materials like bamboo and linen, and collaborates with partners who adhere to sustainability and ethical certifications. Packaging is made from recycled plastic, upcycled deadstock fabric, and water-soluble mailers.
Silver winner: Commune
Aside from spotlighting recycled materials, it uses wood sourced ethically from sustainably-managed forests, and lacquers and coatings with low lead content.
16. Best Place for a Planet-Friendly Meal
Gold winner: Open Farm Community
A pioneering urban farm and restaurant concept in Singapore, it sources food locally, limits single-use plastic, opts for recycling, and avoids food waste as much as possible.
Silver winner: Grain
Grain offers plant-based protein, dairy-free oat milk and sustainably-grown veggies in planet-friendly packaging, donating excess meals daily to groups like SG Food Rescue and Just Dabao.
17. Best Vegan-Approved Plant-Based Menu
Gold winner: Real Food
Healthy, natural and organic – that's what Real Food believes in, with its vegetarian menu that's Earth-friendly, wholesome and free of preservatives.
Silver winner: The Kind Bowl
It's cool to be kind to the planet, and this Vietnamese restaurant looks to sustainable and ethical sources for its ingredients.
18. Best Guilt-Free Dessert Store
Gold winner: Kind Kones
Dessert doesn't have to be sinful, and Kind Kones knows that. The all-natural ice cream store churns every flavour without dairy, refined sugar, eggs or preservatives.
Silver winner: The Clean Addicts
Sweet tooths, head here for cleaner, healthier versions of your favourite desserts. These treats are vegan, eggless, dairy-free and diabetic-friendly.
19. Best Plant-Based Milk
Gold winner: Oatside
This plant-based oat milk uses 70% less emissions, 90% less water, and 90% less land use than dairy milk.
Silver winner: Oatbedient
No nasty ingredients, junk or fillers here – just nutritious and tasty oat milk that's good for you and the planet.
20. Best Alternative Meat Master
Gold winner: Impossible Foods
The brand creates animal-free meat, fish and dairy products that have a significantly lower environmental footprint and lesser greenhouse gas emissions.
Silver winner: Beyond Meat
It makes the shift from meat to a plant-based diet easy and guilt-free by combining ingredients that require less energy and have less impact on water scarcity and land use.
A big thanks to our Sustainability Champions
Handpicking 127 nominees for our Sustainability Awards was a massive task – there are just too many awesome businesses out there! That's why we partnered with four Sustainability Champions: Stephanie Dickson, Alya Annabi, Laure Guilbaud and Susannah Jaffer. These passionate eco-advocates run fantastic initiatives to help save the planet.
Meet Stephanie Dickson, the brain behind Green Is The New Black. After discovering the dark secrets of the fashion industry, she launched the platform to celebrate sustainability and bring like-minded people together. To delve deeper, she started the Live Wide Awake podcast for real talk on climate change, consciousness, and planetary health. She also debuted The Conscious Festival, which returns in June this year.
Say hello to Laure Guilbaud, the co-founder of Teorra, a B2B platform that helps brands source products from verified sustainable suppliers. She's also the founder of Singapore-based label Kynd, a sustainable brand that uses techno-fabrics from regenerated plastic waste. It's funding its first plastic barrier in Indonesia to stop plastic pollution from flowing into the ocean.
Susannah Jaffer is the founder of Zerrin, a sustainable online marketplace that connects conscious consumers with ethical and eco-friendly brands. With a mission to make sustainable shopping accessible and easy, Zerrin offers a wide range of products from fashion to beauty, home, and wellness.
Alya Annabi is a Sustainability Change Agent who loves to help businesses go green in a fun and engaging way. Her journey started with small sustainable changes in her own life, and now she inspires others through workshops, talks, and even a neighbourhood chat group. With her expertise, she founded GreenPush to inspire the next generation and give businesses the nudge they need to make a difference.
We hope that we've inspired you to make planet-friendly lifestyle changes through our Sustainability Awards 2023. Now, let's go forth and make a difference!