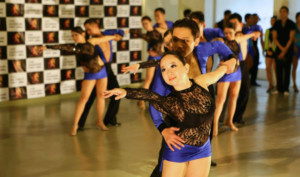 JJSalsaRengue (via Facebook)
Whether you're new to salsa dancing or a dancing pro, these dance classes and studios will have you spinning and shaking your hips to vibrant Latin beats in no time
Besides being a delicious dip for mouth-watering Mexican food, salsa is also a hot dance technique that originated from New York. The sensual ballroom dance incorporates characteristics of the Cuban mambo as well as other Latin, Caribbean and Afro-Cuban dances. To fix your two left feet, we've rounded up dance classes and studios that will have you stealing the spotlight when you hit the dancefloor at these clubs in Singapore.
JJSalsaRengue
Established by June and Jackson – who are key players in Singapore's salsa scene – learning to sway your hips at JJSalsaRengue means you're in safe hands when picking up this dancing skill. Besides salsa, it also offers classes for various levels of salsa casino rueda, bachata and kizomba, conducted by a team of dedicated and experienced instructors. Available for beginners and intermediate dancers alike, these courses even provide a taster session from $10.
JJSalsaRengue, #02-08, 1 Tras Link, Orchid Hotel, Singapore 078867, p. 6443 7223
En Motion Dance
Eager to add a little salsa to your life? Grab a partner and head down to En Motion Dance where you'll get to learn this sexy, Latin American-influenced dance. Street salsa beginner packages will help you get the hang of the basics, while the dance clinics will teach you a couple of nifty dips and tricks. Not sure if salsa is for you? Sign up for one of their trial classes and see if you can shake it like J.Lo!
En Motion Dance, 8 Craig Rd, Level 1, Singapore 089668. p. 9159 7811
Kult Kafé
While it's not your average club with fancy laser lights and ostentatious service, this dingy, alfresco spot is still a prime player in the nightlife scene. Kult Kafe is also home to Salsa Under The Stars for those craving a lil' cha-cha. Hosted by resident instructor-extraordinaire, Cheryl Wu, Salsa Under The Stars is a monthly Latin dance and musical experience where dancers of all levels and ages are welcome to enjoy a 60-minute Salsa LA-style workshop. Plus, it's only $5 at the door!
Kult Kafé, 11 Upper Wilkie Road, Singapore 228120
Mosaic Dance
If you're interested to check out other styles of salsa, head over to Mosaic Dance where it teaches New York salsa (or On2 Salsa) which is one of the popular forms of cross-body style salsa in the world. Like the city that never sleeps, the New York salsa is a compact, fast-paced dance set to energetic Latin beats (warning: fast spins). This dance studio specialises in partner dances such as salsa, bachata and West Coast swing, with flexible classes to work around your busy work and personal schedules. Classes start from $100 for four.
Mosaic Dance, #01-22 Waterloo Centre, 261 Waterloo Street, Singapore 180261, p. 9106 4995
Shawn and Gladys Dance Academy
Looking to steal the spotlight at the next club visit? Polish your dancing skills at Shawn and Gladys Dance Academy where it not only teaches basic steps to the four-beat measures, but also holds group and private classes for other Latin ballroom dances and fitness classes such as bachata, rumba, cha cha and samba for all ages and levels.
Shawn and Gladys Dance Academy, #04-03, Bras Basah Complex, 231 Bain Street, Singapore 180231, p. 6336 2648