Photography: The Kongsee via Facebook
Raise your glass to these new bar openings in Singapore.
Drinks after 10.30pm, live music in full swing, no limit to group sizes and optional mask-wearing outdoors… Imbibers can finally see the light at the end of the tunnel! If this doesn't call for a celebration, we don't know what will. This month, we're chugging down craft beers at a new gastrobar, celebrating our heritage at a cocktail bar and exploring new gin creations. Toast to a good time at these hot new bars in Singapore.
Hot new bars in Singapore 2022: May edition
The Kongsee
Right from its moniker to the drinks and food served, you'll quickly discover The Kongsee is quintessentially Singaporean. Kongsee means "company" in Hokkien and also "share" in Malay. The cocktail programme is a celebration of our local heritage, bringing to you drinks inspired by Chinatown, Bugis, Little India, Golden Mile, Cuppage Plaza and Lucky Plaza. Pisang goreng ($21) has a fragrant mix of Mount Gay rum, plantation pineapple, banana, gula melaka and coconut flakes. The Paloma cocktail gets a local twist in the form of Myna Gong Gong ($19) with Montelobos mezcal, tequila, grapefruit and lemon juice and homemade rose syrup.
Tau Pok ($23) is a low ABV drink inspired by the Japanese community in Singapore, with tequila, elderflower liquor, sake, lemon juice and shizo leaves. We could go on and on so it's best you come for a taste yourself. Mod-Sin cuisine prepared by chef-partner Willin Low pushes the boundaries of classics. Think along the likes of krapow prata pizza, Iberico satay, ngoh hiang dumpling, masala braised beef cheek and mini Roxy crab laksa.
The Kongsee, 12 Gemmill Lane, Singapore 069252
The Tanglin Gin Jungle
Aptly named The Tanglin Gin Jungle, this tropical oasis on Dempsey Hill is also home to the iconic Tanglin Gin distillery. Sip on freshly distilled gins made fancy with cold-infused botanicals like kaffir lime. Or go the adventurous route and try Asian-inspired cocktails such as Don's Tom Yum and Ah Ma.
The Tanglin Gin Jungle, 26B Dempsey Road, Singapore 247693
Ziggy Zaggy
Born out of a passion for craft beers, Ziggy Zaggy is musician-turned-craft-beer-fanatic Ngak Ng's wonderland. The cosy gastrobar in Kallang serves 18 taps of curated craft beers backed by Ngak's experience and knowledge as a certified cicerone and industry expert. Get acquainted with craft draft, bottled, and canned beers, along with craft sake, spirits and natural wines. Current beers on tap include The Dealer IPA, Excited Magpie Irish Stout, AM:PM (gluten-free), Relax Juice and the not-so-secret secret Sunset Harvest Belgian Dubbel.
There's a solid food menu too! Pair your drinks with all-day breakfast sets, main courses, pizzas, pasta and starters to share. Going with a group of four? Get the mixed grill sharing platter that comes with rib eye, king prawns, BBQ pork ribs, pork sausage and seasonal veggies. Picture that with an ice-cold glass of beer. Oof!
Ziggy Zaggy, #01-04, 51 Kampong Bugis, Singapore 338986
Celebratory menus and a new capsule collection at Smoke & Mirrors
Rooftop bar Smoke & Mirrors is celebrating its 60th position on the Asia's 50 Best Bars (51 to 100) list this year. Discounted drinks at $18 will be available as part of the "Cheers to You" menu for over a month. The weekly rotation of menus will roll out a selection of classic cocktails and spirits served with your choice of tonic or soda.
Get a sneak preview of The Real Art of Drinking Volume 2. Explore the fundamentals of art such as contrast, balance, movement, pattern and focus through this capsule collection. Wok's That Smell ($30) is a feisty cocktail with sambal-infused Espolon tequila, Cointreau, mezcal, lime, and lap cheong, while the interesting Beyond the Canyon ($25) has Grey Goose vodka, sauvignon blanc, citrus, grapefruit, vanilla and Campari. The menu will officially launch in June.
Smoke & Mirrors, #06-01, National Gallery Singapore, 1 St. Andrew's Road, Singapore 178957
Terai India Dry Gin
Distilled at India Craft Spirit Co (aka the first single gin craft distillery in India), this gin is inspired by the Indian region of Terai. It's a strip of fertile marshland along the foothills of the Himalayas so you can expect a blend of 11 fragrant botanicals. Holy basil, coriander, fennel, lemon peel, lavender, angelica, and orris root are among the ingredients that make this herbaceous spirit with a fresh citrus and a dry floral finish. A lot of thought was put into the design of the bottle too!
See the ridged bottle design? It's influenced by the carved pillars found in ancient Indian architecture. The label is designed after vintage rupee coins and highlights the botanicals in a cool illustration. From now till the end of June, hop over to 28 HongKong Street to try Milk Jagger ($25), a milk punch cocktail with lemon, almond coconut, cinnamon jaggery, cardamom and, of course, Terai Gin. Now that's a party in our mouth!
Terai India Dry Gin, $95, served at multiple bars including Alley Bar, The Elephant Room and Revolver; available for purchase at EC Proof, The Standish, Original Whiskeys, The Liquor Shop and The Providore
Hendrick's Neptunia
Hendrick's Cabinet of Curiosities takes us to the sea this time with the launch of Neptunia. The spirit is awash in rose and cucumber, and a secret blend of Scottish coastal botanicals inspired by master distiller Lesley Gracie's memories by the rugged Ayrshire coast of southwest Scotland. It also a smooth citrus finish that's a great cocktail base for hot days. Hendrick's is collaborating with Project Seagrass to raise awareness and funds to support seagrass meadows, one of the most impactful ecosystems in the world.
Hendrick's Neptunia, $115, available at Cold Storage, iShopChangi, LazMall and Shopee
---
Hot new bars in Singapore 2022: April edition
Sugarhall
Fans of the celebrated bar can rejoice as Sugarhall raises the curtain again after four long years. Helmed by bar operations manager Davide Boncimino and principal bartender Sam Loh, Sugarhall gets a refresh as a rum-focused bar. We hear there are over 100 types of rums and spirits on the shelf but if that's too overwhelming for you, the menu will suffice. We thought we'd go easy with our first drink, the daiquiri ($22). One sip and we knew they were dead serious with the drinks here. Well, what can you expect from a former Asia's 50 Best Bars entree? Bacardi Superior 1909 and Veritas rums are harmoniously blended to give fresh, aromatic notes of citrus and vanilla.
Turn your attention to the rum of the month programme (handpicked by Davide himself) for premium and exclusive rums in flight or cocktail versions.
Sugarhall's fan-favourite Dark & Stormy, mixed with Hampden 8-year aged overproof Jamaican rum, ($24) also makes a comeback with an upsized version ($50). The highball-style tipple stays away from artificial ingredients (so do all the drinks). In fact, Dark & Stormy is finished with a house-made ginger beer with young, old and galangal ginger, lager yeast and spices. Other standouts include PornStar Martini ($24) with pandan-infused vodka and passion fruit, and H&M Sour ($24), a gin sour elevated with green tea and hazelnut.
It'll be crazy to undermine the ample food options by labelling them as 'pub fare' so we won't. You can totally make a dinner res thanks to mains like the hearty snapper, fennel and laver pie ($38) and the massive wagyu cheeseburger with bacon and fries ($35). Interesting sides like chicken liver toast ($8) and curry empanadas ($8) will fill you up nicely too.
Sugarhall, Level 2, 19 Cecil Street, Singapore 049704
Mallow
Janice Wong's 50Fifty pocket bar has now rebranded with a shiny new name and permanent concept. Say hello to Mallow, a conscious bar that celebrates plant-forward ingredients. Familiar face Sasha Wijidessa (of Operation Dagger) is the woman behind the bold cocktail programme whipping out unique concoctions. These aren't just random ideas or created for the sake of staying in tune with the conscious ethos. Sasha draws inspiration from her day-to-day activities, whether it's an obsession with an ingredient or imagery, or a song stuck in her head.
There's King Mushroom, with manzanilla sherry, whisky and hero ingredient king oyster mushroom for a depth of umami. Plum and Amakaze draws inspiration from her time at Empirical Spirits where she was experimenting with a plum kernel spirit with marigold kombucha. Fresh plum juice is added to pack in the flavours, along with a white chocolate wheel garnish dusted with raspberry powder. All drinks are priced at $25. Truly a work of art!
The degustation menu ($135 with four cocktail pairings) holds just as much weight. Pair your drinks with Christina Rasmussen's (of Noma and Ark Collection) fantastic plant-focused plates. Bite into Wild Wraps, one topped with confit coloured carrots, miso caramel and hazelnut dukkah, and the other with caramelised king oyster mushroom with garlic lemon butter and shio koji.
Mallow, #02-07B, InterContinental Singapore, Robertson Quay, 1 Nanson Road, Singapore 238909
The House Bar
Love a good hidden gem? You won't be disappointed by this sister bar of Taiga restaurant at Regent Singapore. The dimly-lit, cosy space is stashed behind a wall – we definitely walked past it without even noticing the sign. Designed more for small gatherings and intimate dates, the boutique lounge is proud of its superb collection of sakes and Japanese whiskies. The sophistication is subtle and the luxurious touches are understated, but the cocktail menu is built to impress.
Settle in snug and order premium versions of classic concoctions like the Old Fashioned-inspired drink ($68) made with Yamazaki 12-year-old, Hanoki bitters and Japanese red sugar. Or try Mountain Forest ($48), a mix of Hakushu Distillery Reserve and umami bitters. If you love bright, citrusy and refreshing sips, you'll have to get Chu-Hai ($24), a blend of shochu, fresh grapefruit, St Germain and soda. We're also big fans of Rum Daisy ($24) made of Veritas rum, raspberry, lime juice and sugar.
Don't pass on the bar bites, though. These fantastic small plates are made right in the tiny bar's tinier kitchen (if you can call it that). Plus, you'll need something to pad your stomach with, 'cos the drinks are seriously potent – they'll creep up on you. Snack on tender slivers of fatty tuna aburi ($45), negitoro monaka with ikura and avocado ($28) and Miyazaki beef sando ($78) before you go for bigger sharing items like wagyu or snow crab claypot rice ($98). In case you haven't realised, the prices are steep, so save this space for a splurge!
The House Bar, #01-02, Regent Singapore, 1 Cuscaden Road, Singapore 249715
– review by Benita Lee, Honeycombers Editor 
New menu: Taylor Adam
The snazzy speakeasy presents Chapter 2 of its travel series, Pride of the East. As the name suggests, the menu explores the vivid stories about the British trade routes in Asia. All 10 new signatures highlight fragrant Asian ingredients (think spiced tea, lemongrass and butterfly pea tea leaves), so expect a flavour-packed escape. Travel to Southeast Asia through Peranakan Sunset with Nonya heritage ingredients like butterfly pea tea leaves, kaffir lime and citrus. Taping Town pays tribute to the founder of Taiping in Perak, Captain Tristan Speedy. Whiskey and rum are shaken with fruit and spices to produce a spirit-forward drink.
Taylor Adam, #01-03, 1 Raffles Place, Singapore 048616
New menu: Manhattan
It's always a joy going to Manhattan. The service is impeccable, the drinks are top-notch and you just feel welcomed during every visit. The World's 50 Best Bars contender is back with the second edition of its New York Personified 'Hall of Fame' menu, paying tribute to six new Manhattanites. Sip on tipples inspired by Andy Warhol, Whoopi Goldberg, Irving Berlin, Yoko Ono, Ruth Bader Ginsburg and Lin-Manuel Miranda. Start easy with Whoopi Goldberg's Be My Guest ($25), a champagne cocktail with Nikka vodka, Italicus liqueur, dry curacao, jasmine, lemon and egg white.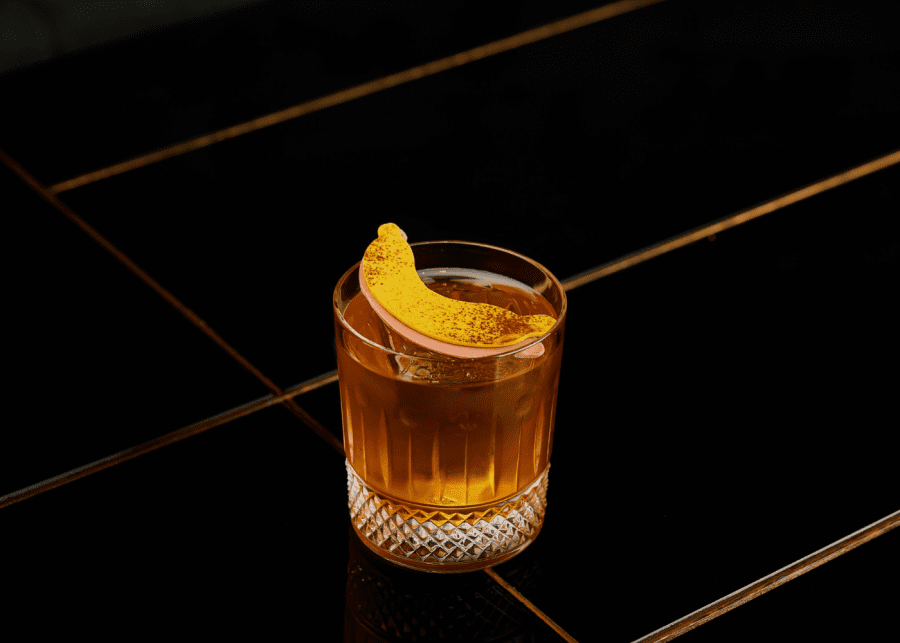 Yoko Ono's herbaceous Peas and Love ($28) is a fab concoction of Tatsumi gin, a Japanese craft gin, cucumber cordial, basil and green peas. What's a tribute to Andy Warhol without his iconic banana motif? Peel Slowly and See ($25) spotlights a banana-infused whiskey with cocchi di torino vermouth, whey syrup and Peychaud's bitters topped with white chocolate shaped like a banana. Just like how Ruth Bader Ginsburg played a crucial role in fighting for equal rights for women for over 40 years, Notorious RBG ($32) is a spirit-forward mix of Westland peated whiskey, nikka miyagikyo whiskey, cocchi rosa, Mathilde cassis, black cardamom and angostura bitters.
Manhattan, Level 2, Regent Singapore, 1 Cuscaden Road, Singapore 249715
---
Hot new bars in Singapore 2022: March edition
67 Pall Mall
Oenophiles can now take your love for wines to greater heights (literally), thanks to the opening of 67 Pall Mall. After a short delay, this London-based private wine club has arrived in Singapore, taking over levels 27 and 28 of Shaw Centre. Members get access to a whopping 5,000 wine labels, out of which 1,000 are available by the glass. It's not just wines though. The whisky wall displays about 430 bottles. As for food, expect nothing less as the extensive menu dishes out a mix of signature items from the London club along with Asian-inspired dishes prepared by head chef Alex Zhu. So suit up and gain a deeper appreciation of wine in the Art Deco-inspired place.
67 Pall Mall, members-only, monthly fees from $50 with a joining fee of $2,400; #27-01, Shaw Centre, 1 Scotts Road, Singapore 228208

Fool Wine
Another day, another wine bar on our radar. Opened by chef-owner Rishi Naleendra and group beverage manager Vinodhan Veloo, both of one-Michelin star Cloud Street fame, this new bar carries around 220 labels. Everything from classic brands and modern labels to unique and hard-to-find (and pronounce) labels.
"Fool is a cheeky reminder to not take yourself, and the wines that you drink, too seriously," Vinodhan Veloo says. It'll be a crime to label the food "bar bites" as each dish is created to pair well with the wines. Order fusion plates like veal sweetbread, blue corn taco, burnt eggplant, buttermilk fried quail with sriracha mayo and grilled white maitake mushroom, tamari and sourdough dashi.
Fool Wine, 21 Boon Tat Street, Singapore 069620
Last Word
The team at Nutmeg & Clove presents a new cocktail bar and restaurant that strives to reignite the novelty of classic cocktails. In fact, it's even named after the forgotten classic cocktail, Last Word. The menu's pretty straight forward. Pick from sours, highball, champagne and spirit-heavy tipples ranging from $25 to $32. Hungry? Tuck into simple yet delish popular Japanese dishes.
Last Word, #02-01, 8 Purvis Street, Singapore 188587
Quinn's The Irish Tavern
Put your troubles aside and make merry at Quinn's The Irish Tavern. Located at Millenia Walk, the new Irish bar has a fair mix of daily drinks to keep you occupied. There's everything including draught and bottled beer, housepour wines, Japanese and Irish whiskies, cocktails and more. Fuel up with the "Phat Quinn" burger, its first menu collab with American burger joint, Phat Burger Bro.
Quinn's The Irish Tavern, #01-20 Millenia Walk, 9 Raffles Boulevard, Singapore 039596
Lyre's introduces spirit-free pink "gin" and "agave"
Alcohol-free spirit label Lyre's launches three new additions just in time for World Margarita Day and Moderation March. The new Agave Blanco and Agave Reserva ($112 for two) pay homage to tequila, with notes of citrus, peppers, pine, spices, and oak. Pink London ($59), a play on pink gin, has a winning combo of rosehip, raspberries and red currant. Aside from the rosy pink colour (which we can't get enough of), the spirit-free tipple has notes of cherry, rose and juniper. It'll almost feel like you're drinking the real deal… almost.
Lyre's, available online
---
Hot new bars in Singapore 2022: Feb edition
Iko Restaurant and Bar
Iko Restaurant and Bar returns to the scene with a brand new head chef and kitchen team. Gastro maestro Dylan Ong helms the kitchen and serves up a variety of binchotan-grilled items, sashimi and snacks. If you're a sake enthusiast, you'll be absolutely spoiled for choice browsing through the 18 different types of sake with different degrees of sweet, dry and umami.
Pair your drinks with the bar's revamped menu of seafood and meat dishes that include A4 wagyu "sukiyaki" ($26), rice bowls topped with generous chunks of maguro, otoro and salmon, as well as smoked tuna ($26) and lamb loin ($29) grilled over a charcoal fire. Tip: sit by the bar and watch the chef and his team prepare your food up close for a more engaging experience.
Iko Restaurant and Bar, 65 Neil Road, Singapore 088897
Atlas
You might think you're already familiar with the tipples at Atlas, but get ready to be impressed all over again because it's just launched an all-new drinking menu. Featuring unexpected yet delicious flavour combinations, the new selection of cocktails titled Sense of Place is developed by head bartender Jesse Vida and the team. Evoking the lively spirit and energy of European Art Deco architecture, these handcrafted tipples are made with innovative techniques and a selection of curious ingredients.
The new menu is divided into seven chapters, each depicting an illustration of a European Art Deco landmark. From non-alcoholic concoctions like the Vanda Mist ($12), a creamy cocktail with fresh grapefruit and cinnamon, to spirited blends like the fresh and tart Pont Neuf Daisy ($25), there's something for everyone.
Atlas, Parkview Square, 600 North Bridge Road, Singapore 188778
Mo Bar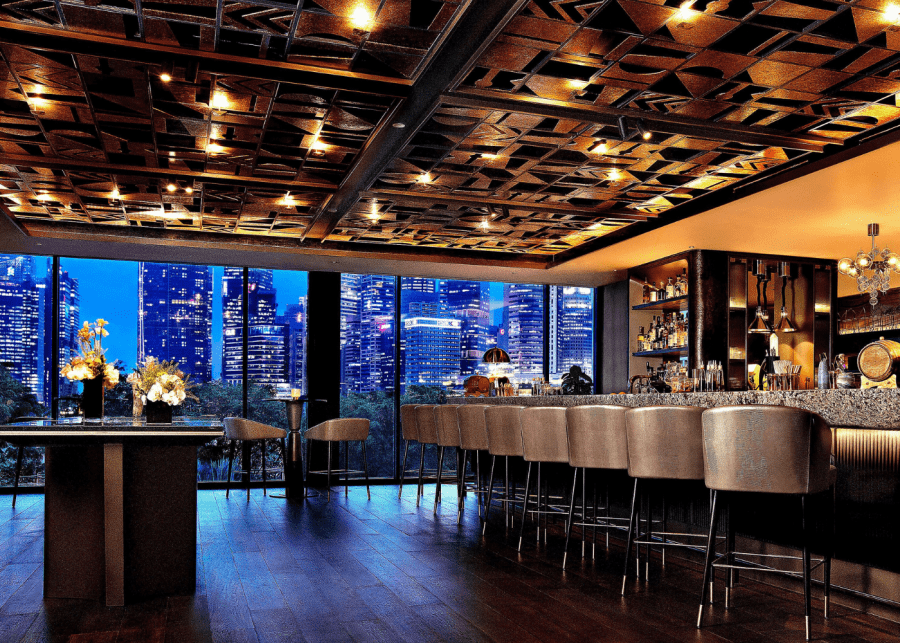 Discover a new way to appreciate handcrafted tipples at Mo Bar. The bar itself might not be new, but its recently launched interactive digital menu is! Providing an immersive experience like no other, Volume Four, the virtual menu, creates a transportive effect for guests using a multi-sensory approach.
Simply click on the regionally inspired drinks on the interactive menu to view a complete description, story and close-up of your tipple of choice. You can even see illustrations and photos for a sneak peek of the drinks you're ordering. Perfect if you're looking for the most Instagram-worthy cocktail to add to your social feed.
Mo Bar, Mandarin Oriental Singapore, 5 Raffles Avenue, Singapore 039797
---
Hot new bars in Singapore 2022: Jan edition
Underground Taps Craft Beer Bar
You've had its scrumptious cafe fare. Now, The Providore presents a swanky new craft beer bar located at The Providore Downtown. Boasting over 65 craft beer selections and a rotating menu of four beers on tap, there are plenty of choices for different palates. We're talking lagers, ales and ciders; and let's not forget beers from Victoria. Fuel up with cheese and charcuterie platters, pita and Mediterranean dips, as well as roasted sweet potato wedges.
Underground Taps Craft Beer Bar, The Providore Downtown, #B1-07, OUE Downtown Gallery, 6A Shenton Way, Singapore 068815
Analogue Initiative
Now, this is something that piqued our interest! World's 50 Best Bar entree and revolutionary Native Bar opens a new bar concept, Analogue Initiative. Putting the spotlight on sustainability, founder Vijay Mudaliar celebrates plant-based ingredients and the future of food consumption. Hell, even the cool 3D-printed wave bar counter is made of 1,600kg of recycled plastic bottles. And the tables are crafted from sustainable materials like mycelium, a thread-like tissue that makes up a mushroom. We're particularly keen to try Cactus ($25), a cactus cocktail with mezcal, prickly pear, pink dragonfruit and aloe vera. And Spaceman ($25) made with gin, Campari, cocchi, peanut butter and dried Kyushu grapes.
Even the non-alcoholic drinks aren't masked with sugar. Instead, natural sweeteners and edible oils are used. The food isn't an after-thought either. Try the crispy Nuggetz ($18), a plant-based version that looks exactly like the ones from McDonald's. There's even a curry crack sauce. The flavour-packed jackfruit tacos ($25) are laden with rendang flavours. Safe to say, you won't be hearing the last of this bar from us. If this is the future of food, we're mighty stoked.
Analogue Initiative, #01-31, Chijmes, 30 Victoria Street, Singapore 187996
Cocktails & Moonbathing
Hendrick's Gin drops a second limited edition release from The Cabinet of Curiosities and it's literally out of this world. Say hello to Hendrick's Lunar Gin, a peculiar iteration that's created beneath the celestial light of the moon – very cosmic, we tell ya! The concoction has a fascinating mix of deep floral notes and warm spices for a refreshing sundowner or nightcap. Strictly for night owls indeed. To celebrate the launch, Hendrick's joins hands with Smoke & Mirrors for a whimsical Cocktail & Moonbathing menu.
There's Lunar Pixie ($27), a mystical purple cocktail made with lychee coconut, wolfberry cordial and orange bitters; Elixir of Legolas ($28), a bold mix of bergamot liqueur, cardamom cordial and peach soda; and the bubbly Harvest Moon ($26) prepared with cynar, lime, grapefruit, egg white and prosecco.
Cocktails & Moonbathing at Smoke & Mirrors, until 29 Jan 2022, #06-01, National Gallery Singapore, 1 St. Andrew's Road, Singapore 178957; Hendrick's Lunar Gin also available for sale at participating outlets and online  
Bar Uva
Oenophiles, kick back with a glass (or two) at Bar Uva. From the folks behind Nutmeg & Clove and Tess Bar & Kitchen, Bar Uva (which means 'grapes' in Spanish) is perfect for beginners and wine snobs. Not sure what to pick? Leave it to the experts who've curated a stellar list. Reds and whites are categorised as light-bodied for easy drinking, medium-bodied to pair well with your meal, and full-bodied for complex flavours. At below $100 per bottle, it's definitely worth getting one for the table. Of course, premium labels are available if you're feeling bougie. Have your wine with small plates like deep-fried frog legs with burnt yuzu sauce ($18), Kuyjukushima oysters with tomato sherry jelly and smoked caviar or something for the table: USDA prime ribeye (400g) with house pickles and harissa peppers ($56) or grilled Hamachi collar with sake white beans and acqua pazza (Italian poached fish).
Bar Uva, 24 Purvis Street, Singapore 188601
Belvedere Vodka cocktails at Raffles Courtyard
Imagine quaffing summery cocktails amidst a lush, alfresco setting… keeping Singapore's perennial tropical weather in mind, this is absolute bliss. Belvedere Vodka collabs with Raffles Courtyard for a line-up of six refreshing vodka-spiked threats. Enjoy signature creations from Belvedere as well as cocktails suited for every mood.
There's the herbaceous Holiday Martini, with rosemary, hibiscus vermouth, cinnamon beer syrup and absinthe, and Cucumber Soda, a refreshing crowd-pleaser with zesty cucumber kaffir lime syrup, lime juice, chartreuse bitter and orange bitters. Don't leave without trying Belvedere Air, a citrusy summer cocktail concocted with lemon juice, honey water, almond milk and mint leaves. All cocktails are priced at $20 each and $15 during happy hour.
Belvedere Vodka x Raffles Courtyard; until 31 Jan 2022, 1st Floor Raffles Arcade, 328 North Bridge Road, Singapore 188719
What are you waiting for? Go ahead and have a drink or three (we promise we won't tell) at these hot new bars in Singapore!