Kimme's hamachi sashimi. Photography: courtesy of Kimme
Kimme serves up a cool, convivial vibe and a tight menu of modern dishes that play with Korean, Japanese and European elements.
There's a perfect Korean storm brewing on Amoy Street: if you stand just outside new arrival Kimme, you'll see it's at the apex of a K-cuisine triangle. Look further down, and you'll see more contenders making their presence known along this stretch. But as the sister restaurant of Michelin-starred Meta, Kimme is kicking off with something different.
It's a sophisticated space, all mirrors and marble when you walk in. But the long dining table creates a communal vibe – and the view of the kitchen makes for an instant talking point with your table buddies. Head upstairs for the bar, and casual clusters of tables, if that's more your thing, but we're a bunch of kitchen voyeurs around here, so downstairs it is.
The menu is seasonal and succinct, with dishes translated into Small, Big and Sweet. Executive Chef Sun Kim and Head Chef Louis Han deliver the mod Asian twist on comfort foods that's made us all fall for Meta – and in a nod to their roots, there are some heavy Korean hints dropped in with European faves. Small dishes start at $13 here, with the show pony striploin (more on that later), reaching $45 – this is the kind of joint you could drop in on, on a whim, and feel like it was an impromptu night well spent.
Irish oysters are always a good way to start, but it's the Korean-style steak tartare, marinated in mirin, soy and sesame and topped with a quail egg yolk, that announces what Kimme is all about. It's served up with homemade salted sago crackers, and the complementing crunch threatens to be addictive.
What else are we still thinking about? The kanpachi sashimi (pictured top) – translucent amberjack wrapped around pickled ginger and pomelo, with clouds of crème fraiche. The punchy red gochujang sauce gives it kick, but paired with luminous chive oil, this becomes one of those stunning dishes you need to gaze for that moment before it disappears.
For such a neat menu, there's more jostling for signature dish status. There's the fresh linguine with spanner crab and seaweed that tastes like the ocean air; and fat king prawns and mussels with homemade xo sauce and nutty jerusalem artichoke. Spiked with crispy garlic and squid ink, it's an unexpected – and amazing – combination.
Nailing the umami factor is the Aussie Wagyu striploin, served with Portobello mushrooms, pickled chilli and a caramelised onion puree. But a little more on the traditional side is the bossam: slow-cooked pork belly is the star here, and Kimme's version is marinated in soybean paste, coffee powder and soy sauce. It's served with homemade ssamjang (fermented bean paste) sauce and white kimchi – assemble it all on one of the precision-trimmed endive leaves and sink in.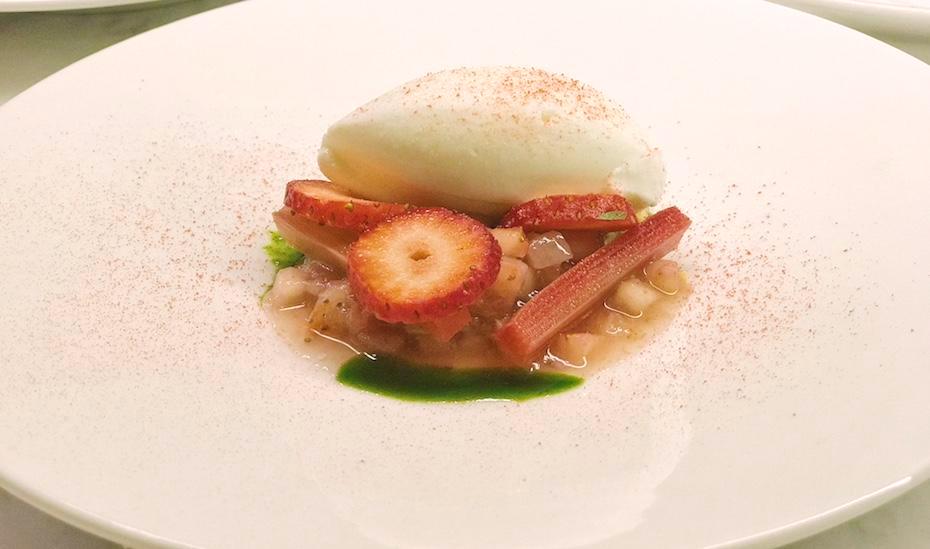 If you've saved room for the sweet stuff (unlikely after that bossam), the strawberry yoghurt sorbet is the business. The tart rhubarb – such a novelty here in Singapore – and the hit of refreshing basil, makes for one beautiful palate cleanser.
It almost leaves you thinking you can sneak in another steak tartare.
Kimme; 47 Amoy St, Singapore 069873, p. 6514 1588
Like this story? Check these out:
Want to try that famous 'Antz' cocktail before dinner? Read about Native on Amoy
Looking for new brunch spots? We've got some fresh picks for you
Now let's switch things up with a mod Middle-Eastern menu at The Ottomani
Obsessed with all things Korean? Check out these cult K-beauty brands