We like kebabs and cannot lie.
Grab a hearty kebab in Singapore and stave away the fiercest hunger pangs at these stellar Turkish and Middle-Eastern joints. Pass us the hummus!
Kebabs aren't an intricate dish by any stretch of the imagination: grilled meat, onions, tomatoes, lettuce and slatherings of rich sauces wrapped in various bread (or simply served with rice). But what it lacks in culinary complexity, it more than makes up for with sheer meaty decadence. We've scoured the island for the best kebabs in Singapore.
Best kebabs in Singapore
1. Kazbar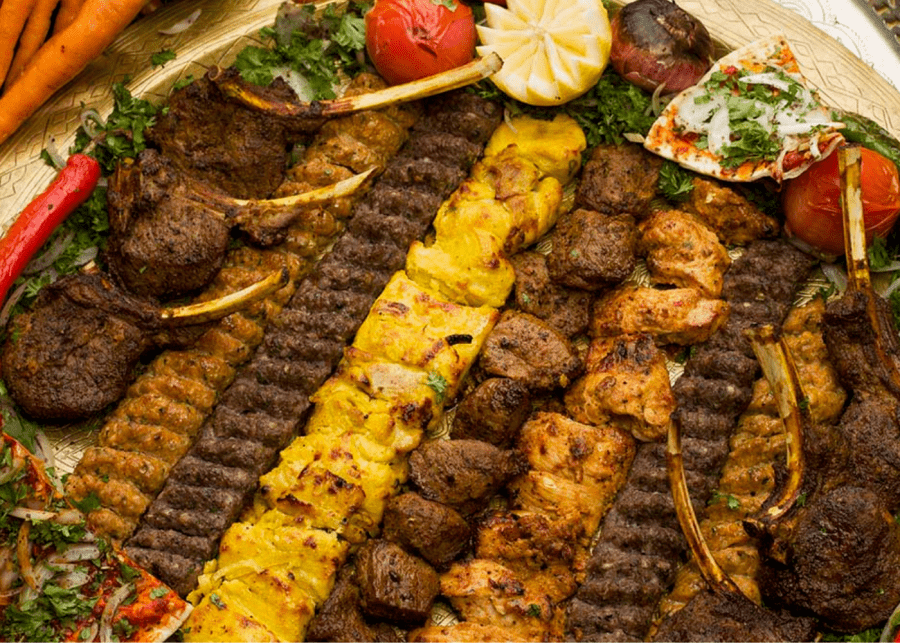 Nestled in Church Street, this laid-back restaurant serves up a hearty selection of Middle-Eastern dishes. Try the chicken and lamb kofta kebabs served with salad and French fries that are perfect for mopping up all that tasty leftover sauce and hummus.
Kazbar, #01-03, Capital Square, 25 Church Street, Singapore 049482
2. Sofra Turkish Cafe & Restaurant
Having been around for more than 20 years, Sofra is known for its authentic Middle-Eastern fare. The menu is pretty extensive, but if you're looking for meat, the kebab selection won't disappoint. Dining in a group? Dive straight into the kebab platter, which features lamb chops, Adana kebab, shish kebab and grilled chicken wings alongside carbs like pilaf and bulgu.
Sofra Turkish Cafe & Restaurant, #03-129A, Marina Square, 6 Raffles Boulevard, Singapore 039594
3. Fat Prince
Go on a gastronomical carpet ride with Fat Prince's lip-smacking kebabs. Only available during lunch, the list includes harissa prawn, okra falafel, chicken shish, roasted pumpkin and spit-roasted lamb. Pair 'em with a scrumptious selection of dips and salads. End your meal on a sweet note with a selection of desserts.
Fat Prince, 48 Peck Seah Street, Singapore 079317
4. Derwish Turkish Mediterranean Restaurant
Enjoy a hearty kebab at this quaint little Turkish joint in Bussorah Street. Depending on your mood, you can have it wrapped in a flatbread or served with rice or hummus. Going meat-free? The grilled halloumi wrap will hit the spot. In addition to the regular kebabs, Derwish serves up a massive lamb pide, which is perfect for sharing with friends.
Derwish Turkish Mediterranean Restaurant, 60 Bussorah Street, Singapore 199476
5. Alaturka Turkish & Mediterranean Restaurant
Another Arab Street favourite, Alaturka will stun diners with its colourful decor that features azure tiles, Turkish lamps and raw brick walls. You can tuck into pretty much all the Turkish standards here, but make sure you don't miss out on its signature kebabs. Highlights include ground lamb kebab wrapped in a soft flatbread and grilled minced chicken marinated with spices, served with rice pilaf and salad.
Alaturka Turkish & Mediterranean Restaurant, 15 Bussorah Street, Singapore 199437
6. Beirut Grill
Beirut grill offers a selection of kebab platters that serve up to four of your buddies. If you're after something a little different, go for the grilled seafood kebab platter which includes spicy calamari, marinated prawns, fish kebab, saffron rice and a medley of vegetables. To top it off, end your meal with a platter of fluffy, rich baklava.
Beirut Grill, 72 Bussorah Street, Singapore 199485
7. Shiraz Mazzeh
Late-night revellers won't be strangers to Shiraz Mazzeh. With its street-side diner at Clarke Quay, grabbing a quick portable meal between nightspots has never been easier. If it's a sit-down affair you're after, just follow the exotic Persian music and park yourself at the restaurant. The establishment regularly hires belly dancers, so that's dinner AND entertainment sorted!
Shiraz Mazzeh, #01-09, 3D River Valley Road, Singpaore 179023
Now, go on a kebab food trail in Singapore with our list!