Inject a little cheer to your day during these dark times with hysterical but harmless memes and tweets.
Before you cancel us, hear us out. We get it. The Covid-19 pandemic is no laughing matter. But during these dark times, it's alright to inject a little laughter and lighten the mood with some positivity. We've shared the most adorable animal videos, heartwarming stories of hope and how you can help relief efforts in Singapore. Now, knock yourself out with hysterical coronavirus memes, tweets and trends that'll put a smile on your face.
1. The hottest ticket in town
2. Climate change: "Am I a joke to you?"
3. The real creation of Adam (Update: 2020)
4. Panic cities
5. The force is strong with this one
6. Move along, April fools
7. 2020: The year of crappy stuff, thriving memes and the resurgence of Dalgona coffee
8. Sean Paul's five seconds of fame
9. When social distancing gets out of hand

10. The real reason why everyone's hoarding toilet paper
11. Same Mindy, same
12. When your anxiety goes through the roof
13. Cancelled events got us like…
14. Sorry guys! Better luck next year
15. Don't @ us. We're sure you sneaked a chuckle too.
16. Dua Lipa's got it down pat. *Dances to Don't Start Now*
17. Houston, we have a problem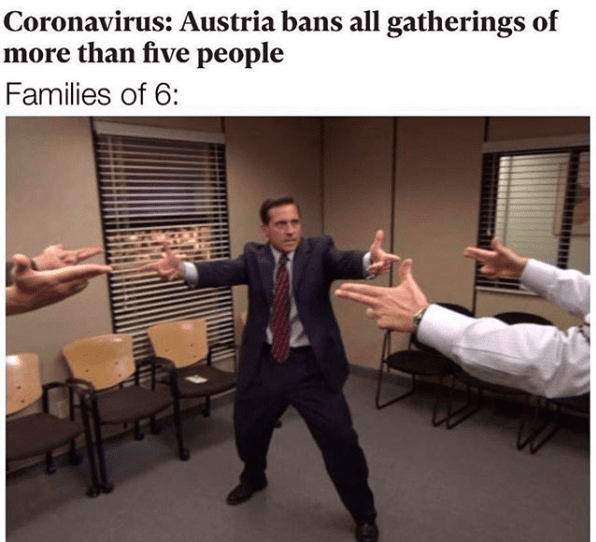 18. Cries in toilet paper
19. Is everyone okay? Us:
20. Dammit, Cheryl!
21. No prizes for guessing if we're wearing pants or not
22. Why is the house in a mess?! Us: We're artists!
23. Weekend plans, sorted
24. Living our best life
25. 'Hello, can you hear me?' 'Dammit, Janet, turn off your mic!'
26. I'm not sure what Tiger King is and at this point, I'm too afraid to ask
27. Introverts, rejoice!
28. 'What's on your mind?' Us: 'Nothing…'
29. Am I doing this 'no makeup, makeup look' right?
30. And finally…
Know of any other light-hearted coronavirus memes? Feel free to share the giggles with us on Facebook or Instagram!