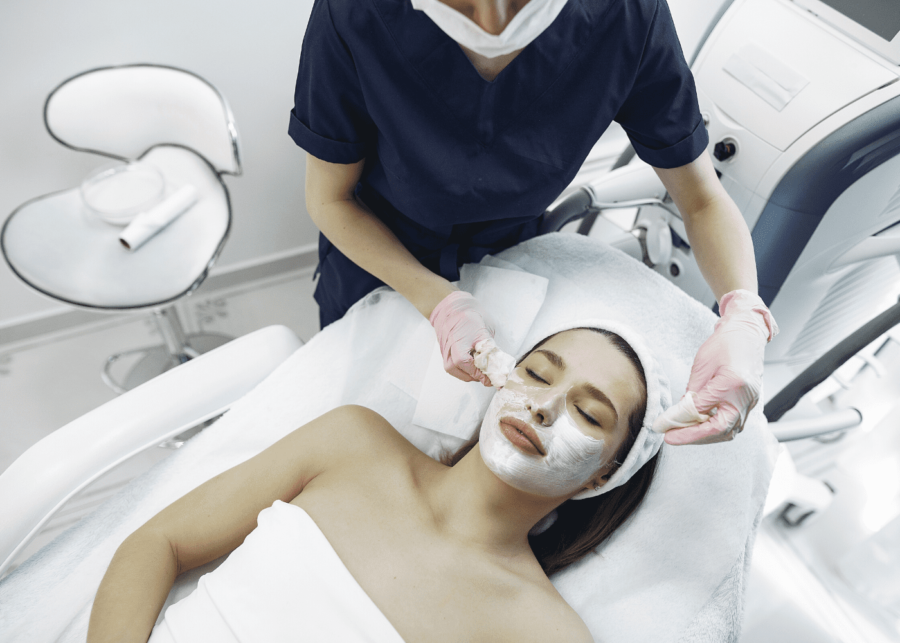 Photography: Gustavo Fring via Pexels
High-tech facial is the current buzzword in the beauty industry. Why? The treatments are known to penetrate deep into the skin and push your skincare to its fullest potential.
The idea of facials has truly evolved. What was once a procedure of the usual deep cleanse, extraction and mask routine is now upgraded with high-tech equipment and cutting-edge technology. Terms such as IPL (intense pulsed light), LED (colour light therapy), microdermabrasion and oxygen therapy are quickly gaining traction and with good reason. We bring you our top favourite high-tech facials that go above and beyond.
Best high-tech facials in Singapore
Wellaholic
Best-of-breed technology is the highlight at Wellaholic. The WellaFacial is a fan favourite anti-ageing treatment that uses multiple technologies for an all-inclusive regime to turn back the clock. Don't expect the usual face steaming and manual extraction of blackheads, it's all about high-tech treatments here. Begin with the Elight Facial Collagen Boost, consisting of IPL, red light and other collagen-boosting light technologies to reduce the appearance of fine lines and wrinkles. Next, microneedling is used to reduce acne marks, pigmentation and other scars – a minimally invasive therapy with maximum results! Then, Radio Frequency (RF) V-Lift uses RF energy to heat tissue and stimulate collagen production for immediate skin tightening. Taken together, customers see visible differences with long-term results over a six-month treatment period.
Wellaholic, the WellaFacial monthly plan starts from $329 per month for a 12-month plan, multiple locations including Tanjong Pagar, Orchard, Lavender, Kovan and Jurong East
Kew Organics
Enjoy the best of both high-tech and organic treatments with Kew Organics' LED + Microcurrent Cell Regeneration Facial. It's a great anti-ageing treatment that revives your skin with LED red light – which stimulates collagen production and reduces the appearance of acne scars, fine lines and wrinkles, btw – and a microcurrent electroporation technology so the organic serums penetrate deep into the skin. Also helps to tone, firm and tighten the skin. Note: Best to avoid this treatment if you have sensitive skin.
Kew Organics, $350 for 90 to 120 minutes, multiple locations including Clarke Quay Central, Cluny Court and Everton Park.
Civasan Singapore
Dull and dry skin ruining your day? What it needs is a moisture boost. Enter the Aqua Radiance Treatment from Civasan. The non-invasive and gentle facial begins with double cleansing and extraction, followed by application of ampoule to activate aquaporins (hydration channels in your skin) and increase your epidermal (protective outer layer) hyaluronic acid. Not following? It basically replenishes the moisture in your skin. An LED mask (with three wavelengths) is then used to penetrate the skin and stimulate collagen production. You're left with dewy and supple skin for days!
Civasan Singapore, $200 for 75 mins, #04-12, Mandarin Gallery, 333A Orchard Road, Singapore 238897
J.Studios
J.Studios' signature Oxygen Deep Cleansing Facial uses oxygen cleansing technology that really gets into your skin. A mix of hyperbaric oxygen (pure oxygen), vitamins, antioxidants and an anti-aging serum is applied so your skin gets the nutrients it needs. A device (think of it as a gentle power washer for your face) is then used to penetrate the skin so that the good stuff cleans 'em follicles and sebaceous glands. It's suitable for all skin types, especially those looking to eliminate acne. You can even apply makeup after!
J.Studios, $98 for 75 mins (first trial session), multiple locations including Haji Lane and Jurong East.
IDS Aesthetics
Best for sensitive AF skin (a bummer, amirite?), IDS Aesthetics' Cryo Therapeutics Treatment (CTT) does a swell job at reducing redness and irritation. The seven-step facial takes a quick 45 minutes – perfect to slip it into a cheeky long lunch. First, double cleansing, microdermabrasion and extraction processes are done to remove all the gunk (read: dead skin cells and product buildup). Then comes the serum step, where hydrating and vitamin-rich serums are penetrated into the skin. Finally, a cryotherapy (cold therapy) is used to energise the skin. Congrats, you're ready to take on the world.
IDS Aesthetics, $235 for 45 mins, multiple locations including Novena, Robinsons and International Building.