Photography: Warner Bros. Discovery
If you're wondering whether to catch the movie in cinemas, this is your sign. Austin Butler is stunning in this electrifying biopic of Elvis Presley.
Now, I've definitely heard of the King growing up. However, aside from pop culture references and a couple of tunes on my playlist, I never questioned who Elvis Presley really was. Then, the trailer for Baz Luhrmann's Elvis movie (out in cinemas 23 June) dropped on my feed and stopped me in my tracks. Everything, from the cinematography to the makeup to the music, was absolutely electric. I knew I HAD to watch it.
The biopic is directed by Australian director Baz Luhrmann, a potent force in the film industry. His other works include cinematic masterpieces like Moulin Rouge! and The Great Gatsby. And his artistic direction with Elvis has been greeted by deep appreciation – both in the form of a 12-minute standing ovation at the Cannes Film Festival and praise from Elvis' own daughter, Lisa Marie Presley.
Elvis movie review: Let's talk casting
There are plenty of talented actors and actresses in Baz Luhrmann's Elvis movie. Think Kelvin Harrison Jr. as American blues singer B.B. King, and Olivia DeJonge as Elvis' wife Priscilla Presley. But let's focus on the two most pivotal characters.
Austin Butler takes on the Herculean task of portraying Elvis Presley, the late King of Rock 'N' Roll. At first, I was surprised to see he'd been chosen, considering I only remembered him from teen movies like Aliens in the Attic. But Austin pulls off the role with aplomb, from the voice to the gait to Elvis' famous gyrating pelvis. I found myself squinting extra hard at the screen at times when they cut in actual footage of Elvis alongside that of Austin. There were moments I couldn't tell them apart from each other.
Another major character is Colonel Tom Parker. Tom Hanks fills the role of Elvis' wily and manipulative manager. Needless to say, he plays quite the villain in this movie. And Tom does manage to make you hate him quite a fair bit despite being well-known for his previous roles as the lovable Forrest Gump and Fred Rogers – the mark of a great actor, I'd say.
Captivating music and visuals that excite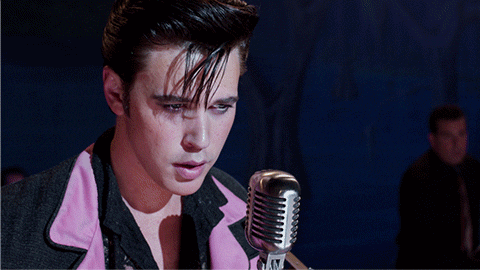 If you're a fan of Elvis' music, you'll (obviously) love this movie. Some of the singer's greatest hits are brought to life in front of your eyes. Think tunes like 'That's All Right' and 'Jailhouse Rock' that'll make you want to get off your seat and groove to the beat.
While you know it's Austin Butler who takes the stage, you can't help but feel the magic of Elvis' music in your bones. Austin may not be Elvis, but his stage presence in the film is commendable. It feels as though you're standing there in the crowd watching Elvis himself captivate the audience for the first time.
Plus, I loved the use of songs like 'Trouble' and 'Suspicious Minds' to highlight central moments in the plot. Expect live performance sequences that brim with energy, and eye-catching colours, lighting and set designs that bring each scene to life.
"When you're lost, people take advantage"
There's no doubt the performances in this movie are amazing. But this biopic takes Elvis' appearance as the suave and successful King of Rock 'N' Roll, and turns it on its head to reveal a tragic victim of greed and loneliness.
The film is narrated from the perspective of Colonel Tom Parker and explores the various chapters in Elvis' short life. A young Elvis desperately wants to make something of himself to prove his mettle and care for his family. In particular, the mother he loves dearly. Colonel Parker, on the other hand, has been looking for his golden meal ticket and believes he might've found it in the boy.
"When you're lost, people take advantage," Elvis says mid-film. But despite this revelation, he doesn't find out he's been played by the Colonel until it's too late. In fact, the saddest part is realising how much more Elvis Presley would've been, had he not been under the thumb of his controlling manager.
Throughout the film, you'll witness Elvis' successes, burdens and eventual decline – trapped to perform at the International Hotel in Vegas as the Colonel's money-making mule until his sudden, tragic death in 1977.
Elvis Aaron Presley: The man, the myth, the legend
Is this film a historically accurate version of the real Elvis Presley? Perhaps not entirely. It noticeably skims over plenty of the questionable decisions the King made in his life. Whether that's his abuse of prescription drugs, his countless affairs, or his relationship with Priscilla Presley that began when she was just 14.
But Baz Lurhmann's Elvis does well in that it draws attention to the singer's most charming and magnetic sides. It spins a remarkable tale of genius and tragedy. Baz builds a version of a fallen King you empathise with, whose influence we still feel in the music of today. It's mind-blowing to think that 40 long years after his death, his voice still cuts through generations and touches the hearts of fans old and new.
A riveting masterpiece that gives insight into the rise and fall of a legend, Elvis is one movie you absolutely have to catch in cinemas.