From protests and political changes, to COVID-19 to endless quarantine, nothing can hold back Hongkongers from building a business they truly love. We interview nine entrepreneurs to discuss what makes Hong Kong not just their home, but also the best place for them to thrive as entrepreneurs and grow their start-ups.
Yes, Hong Kong may be going through the biggest exodus since 1997; stringent COVID-19 policies and sociopolitical changes may have also transformed the way the world perceives our city. But it's not always doom and gloom here! We're not trying to sugarcoat things – there are reasons why some of us have decided to stay. In addition to having an amazing dining scene and a vibrant local community, Hong Kong is also known for its low taxes and easy access to Mainland China. As such, the 852 offers opportunities for individuals to start, grow, and scale their business. So, we've reached out to successful entrepreneurs to see what it's really like on the ground to build a business in Hong Kong.
Is Hong Kong still a good place to build a business?
1. Girish Jhunjhunwala, Founder and Executive Chairman of Ovolo Hotels
Hong Kong is a great place for entrepreneurs, because it has excellent infrastructure; a talented global workforce; low tax rates; and an ecosystem that supports start-ups – anyone can have a crack at building a business in Hong Kong! For example, you don't need a minimum share capital here, which is perfect for entrepreneurs. The city has also announced a major initiative to accelerate its reputation as a fintech hub. This, plus other ingredients that make Hong Kong competitive – including its free port and prime location – remain the same, despite the impact of the pandemic.
However, I do think that Hong Kong risks losing entrepreneurs if its borders remain closed, because we need and want access to global markets, along with the freedom to travel to do business effectively wherever and whenever we want. Zoom is not the answer when building a business!
Entrepreneurship requires resilience, open-mindedness, creativity, and passion – all elements that are abundant in the Hong Kong population. I was born and bred here, and this city has supported my journey from being a watchmaker to a hotel owner and operator, with the urge to grow and evolve even further. I am hopeful that Hong Kong will regain its position as an international hub and live up to its title of Asia's World City, when quarantine restrictions are completely lifted. Hong Kong has been here before to some degree and, each time, has evolved and emerged stronger. This is why I'm confident that with the right focus and investment, we can do it again.
2. Jiwon Maxted Yoon, Owner of Flow with Me
Hong Kong has always been a hub for thriving entrepreneurs; my father came to Hong Kong in the early 80s and established his business here. Thus, becoming a business owner has always been in my blood. Setting up and registering your business in Hong Kong is cost effective, time efficient, and an easy process; plus, with low tax rates, who wouldn't want to do so?
And despite that the pandemic has brought on many uncertainties, I still decided to launch my business at the height of COVID-19. What's made me push through was the network and community I became part of. Being a business owner can get lonely and overwhelming at times, but having been introduced to fellow entrepreneurs, I felt very welcomed and well supported. The positivity and encouragement I've received has had a great impact on me and has often given me the boost I needed when I was feeling uninspired. I'm not sure I'd be able to find such genuine support if I were to start my business elsewhere in the world. Being involved in an entrepreneur network like Launchpad has made my journey a bigger success.
Find out how Jiwon Maxsted Yoon gets it done.
3. Simran Mohinani, Founder and CEO of Mohlia
Through drastic and testing times, Hong Kong remains a pillar for both small enterprises and booming conglomerates – but how? To me, the answer is simple. Growing up in such a vivid metropolitan environment has taught Hongkongers two important life-changing values: vision and ambition. COVID-19 didn't erase all the opportunities we had or put a limit on what was possible – it simply tested our strength and determination to find new, unique, and resourceful ways to accomplish our goals.
Having started my business in the midst of this global pandemic, I had to learn how to pivot, especially when higher waves of cases hit the city. As a retail and serviced-based SME in Hong Kong, I like that Hong Kong has a great tax scheme, and that our local consumers have high spending power, plus an even higher social drive that is always fighting to stay current.
4. Linda Morrison, Founder and CEO of MiliMilu
Hong Kong has had a pretty bumpy road over the last few years with protests and COVID-19 restrictions, but it was also the time when MiliMilu was born.
This city has always been welcoming and supportive for entrepreneurs to turn their ideas into businesses, starting with an easy company setup, low tax, and easy banking. But, perhaps most importantly, the main reason why it is so great to build a business in Hong Kong is the community of entrepreneurs and business owners. We support each other by sharing ideas, knowledge, and experiences. I've been lucky enough to meet and become friends with many like-minded people (through communities such as Launchpad), and we're sharing this journey together. I also love how supportive the general public is towards small businesses, whether by purchasing, sharing wonderful comments, or just cheering us on.
Hong Kong has been my home for the last five years, where I climbed the corporate ladder before ultimately deciding to start my business just last year – her Financial Freedom, a platform that supports women on their journey towards financial stability and independence. This was made possible due to the unique components that make Hong Kong an incredible place to be in as an entrepreneur.
First are the networking possibilities and support from the community. Thanks to networks such as Launchpad and Women of Hong Kong, I've met so many amazingly supportive women (which is my target audience) who have been open about their expertise and feedback, allowing me to hone myself and my product, and create something I'm proud of. There is a genuine feeling of collaboration and kindness in Hong Kong, while still encouraging the hustle and hard work – a perfect combination for new businesses. Moreover, the Asian market is not yet saturated across a number of industries. With less competitors in my niche (i.e. women's financial education), I can make a bigger impact.
Finally, it truly is a breeze running a business in Hong Kong. I just recently officially incorporated my business and am in awe of how smoothly it all went! The process was quick and easy as it was all online with yearly support provided at an affordable price point. You can also manage the process from overseas. And you cannot forget the low taxes and easy filing systems which make Hong Kong one of the most attractive places in the world to start a business.
6. Coco Alexandra Chan, Co-founder of Voltage X; Business Coach at Coco Alexandra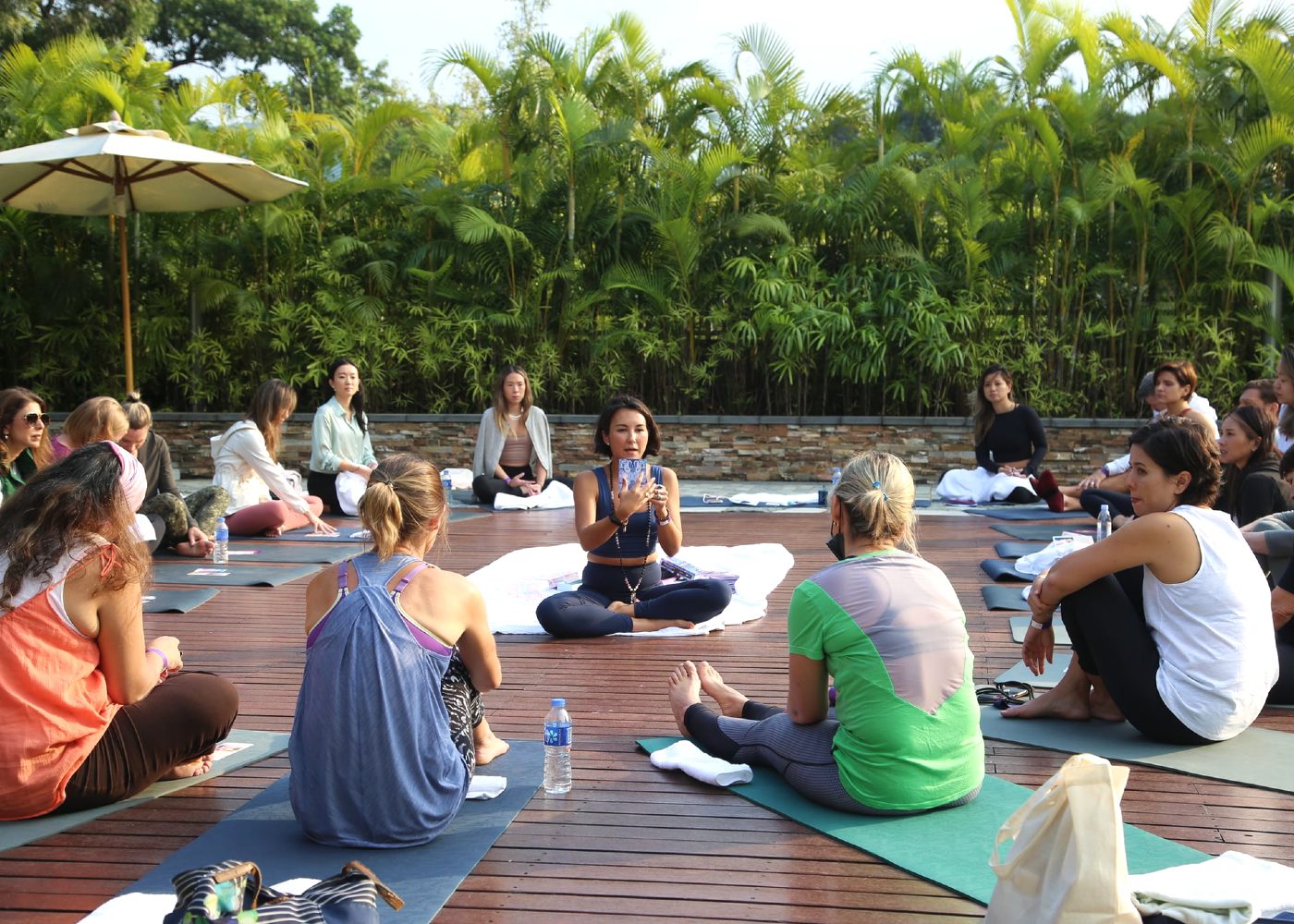 As a co-founder of a PR and digital agency as well as a Business Coach, I've helped hundreds of businesses launch in Hong Kong. It's a great city to start and build a business here with its easy-to-set-up infrastructure, low taxes, and pro-business governance. For businesses looking to scale, Hong Kong's international presence and geographical location makes it an optimal launchpad into nearby markets when it comes to future brand expansion.
Managing a business can get lonely at times, but thankfully Hong Kong's entrepreneurial community is one of the most supportive groups I've had the pleasure to work with. Whether you're a first-time entrepreneur or veteran, there's always a fellow business owner who's willing to connect you with the right people, advise on, and support your business. Being a part of a supportive network of entrepreneurs has elevated not only my business, but all my clients in their business endeavours.
Take a look at how Coco Alexandra Chan gets it done.
7. Kevin Hennessy, Co-founder of Island Life
Although Hong Kong is a densely populated city, it resembles a village with regards to the sense of community. When Sunny and I had the idea of starting Island Life, we had no experience in building a business. But luckily, we've found that the entrepreneur community and in particular, the sustainable ecosystem, readily accessible. Hongkongers are so willing to give their time, lend their expertise, and point you in the direction of people or businesses you need. There's an atmosphere that encourages you to take the next steps in developing your idea.
In terms of the practicalities, it's easy to incorporate a company; application and documentation are simple. It can be difficult to get a bank account at first, but there's a growing fintech offering that helps overcome this. Size helps too – fulfilment is cheap and very quick, allowing us more time to focus on developing the business. Furthermore, Hong Kong takes great pride in local brands. If you can deliver a product of quality and style, consumers will choose you over anything else.
8. Alexandra Leung, Co-founder of Monogic
Born and raised in Hong Kong, I've always believed that our city full of opportunities. A densely populated place, there are countless happenings on a day-to-day basis. One thing I find impressive is the "Hong Kong spirit" – that Hong Kong people are flexible, resilient, and adaptable. We decided to start Monogic (an all-in-one F&B specialised marketing consultancy) during the second wave of COVID-19. Needless to say, it wasn't the most stable period for the Food & Beverage industry. But, we were confident that Hong Kong was the best place to go for due to its dynamic business environment. We like that Hong Kong business owners are willing to think outside the box and explore creative ways to develop their businesses.
In terms of recruiting talents, Hong Kong is the perfect place to do so, as it's full of talents who are highly skilled and highly educated. The people we encounter are always competitive, hard-working, and career-oriented. Plus, Hong Kong has a strategic location since it allows businesses to connect with Mainland China and Southeast Asia.
Hong Kong is a great place for entrepreneurs. Firstly, this city is very business-friendly: our corporate tax is only 16.5% – among the lowest in the world – with generous allowances and deductions. We also have unparalleled access to the mainland, particularly the Greater Bay Area, which equates to an incredible market of 86 million tech-savvy and increasingly wealthy people.
Secondly, Hong Kong is a financial powerhouse, with deep and liquid capital markets. The government has been supporting a number of areas such as funding, developing infrastructure, and creating more opportunities to tap into the mainland. We also have a strong talent pool, equipped with skills, knowledge, and international outlook to drive business growth locally and beyond.
On the tech start-up front, we've observed a growing ecosystem despite the challenges of the pandemic, especially in the fintech and metaverse/web3 space. In our last survey, the number of start-ups grew to 3,755 – an increase of 12% compared to 2020 – which is encouraging for those looking to build a business in Hong Kong. Going forward, I'm expecting to see even more start-up successes in areas such as fintech, health-tech, and edtech.