Get them pretty loafers in sizes all the way up to 43! (Photography: ORiental TRaffic via Facebook)
Tired of being disappointed that the cutest pairs don't come in your size? We know that feeling all too well. But gone are those days gals, here's where you can shop larger shoes for women in Hong Kong
Raise your glass if you've ever been ushered to the men's section for sneakers because your shoe size was out of range! Let's face it ladies, shopping is less of a pain in the a$$ when sizes aren't involved. When it comes to buying trendy handbags, jewellery, or shades, we can actually find a plethora of choices. But these (rather big) boots were made for walkin', so we've found the best places to shop larger shoes for women in Hong Kong.
Where to shop larger shoes for women in Hong Kong
1. ORiental TRaffic
The first time we went into ORiental TRaffic, it was because of the large advertising offering sizes all the way up to 43. Truth be told, we'll be back on the regular for their comfortable and stylish footwear that suit every occasion. Also, when your pair gets worn, don't throw them away, but instead trade them in at ORiental TRaffic for a discount upon your next purchase.
ORiental TRaffic has multiple locations in Hong Kong.
2. The Korner
Love block heels? You'll find plenty of walkable ones at The Korner all at affordable prices. The shoes are suitable for workwear and they can easily be paired with casual fits (tsk tsk so versatile!). The sizes go up to 42 and they always have crazy sales going on (50-70% off!)
The Korner has stores across Hong Kong.
3. Lane Eight
These sustainable workout shoes can easily be paired with your everyday outfits and they're hella comfy! The shoes are unisex and sizes go all the way up to 44, so yes, the world is your oyster (or, well, the shoes in Lane Eight are). They regularly release limited edition pairs in different shades; some flashy, some neutral, and all fab!
Lane Eight, LG/F, 14 St Francis Street, Wan Chai, Hong Kong, p. 5427 0420
4. Aerosoles
If you're looking for slightly edgier shoes that don't skimp on comfort, Aerosoles sells heels, flats, and sandals that add more oomph to your outfit, be it for party wear or casual wear. Sizes go all the way up to 46, but the largest sizes may be short on stock in Hong Kong.
Aerosoles can be found in different department stores in Hong Kong.
5. Hush Puppies
We're bringing you yet another brand that sells comfy pairs, because why would we want anyone to have nasty blisters? At Hush Puppies, you can shop loafers, sandals, rain sneakers, boots, and flats all that go way up to size 46. Again, it may be a bit of a hunt to find the largest available sizes in Hong Kong.
Hush Puppies has multiple branches in Hong Kong.
6. Cole Haan
Cole and Eddie Haan built this brand in 1928, and they've been making nothing but good shoes since. Shop from sneakers, Oxfords, boots, heels, and more. Sizes can go up to 43, depending on the pair. Shop online if you want to be able to see what is specifically available in your size to save time.
Cole Haan has multiple locations in Hong Kong.
7. Roger Vivier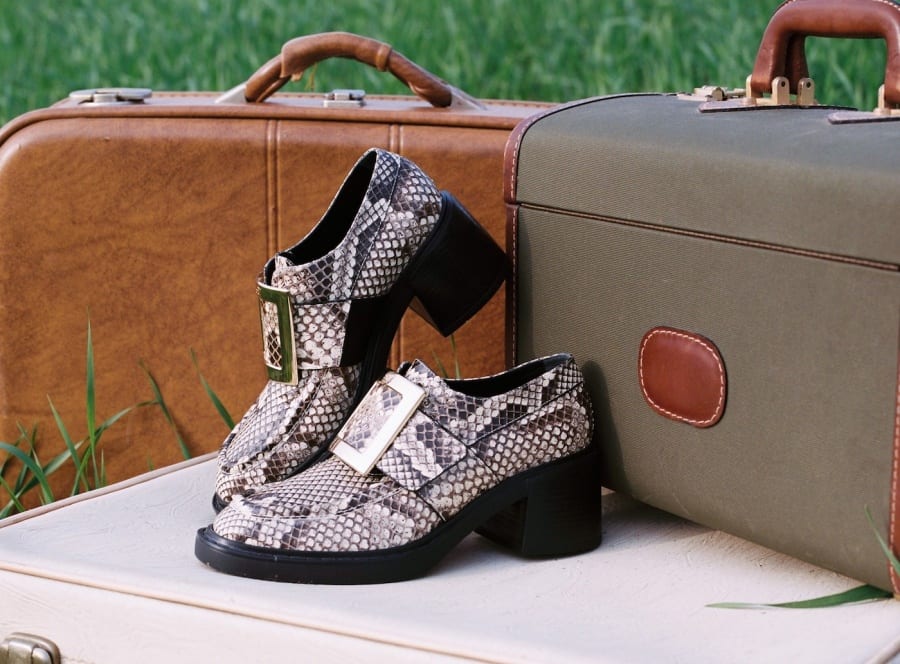 For a touch of luxury, shop at Roger Vivier, known for their signature crystal buckle that's used in almost all of their pairs. Your sneakers will be slicker than the average and your slippers game? Honey, they'll be turning heads as you walk! Roger Vivier also sells matching bags for those that want to take it up a notch. Shoe sizes go up to 42.
Roger Vivier has locations across Hong Kong.